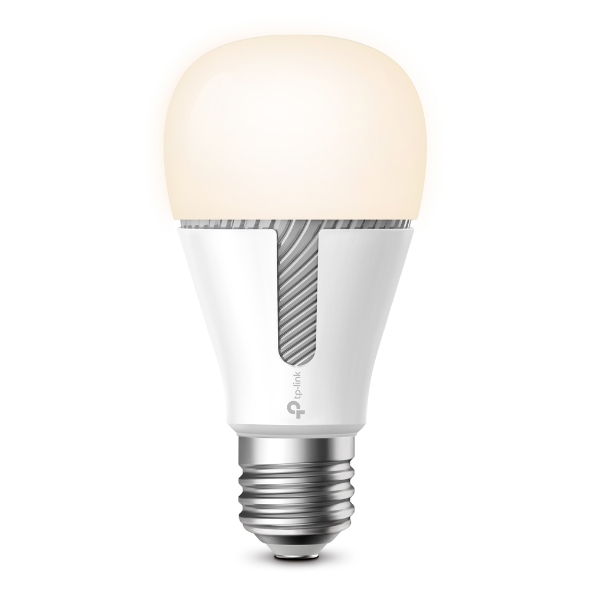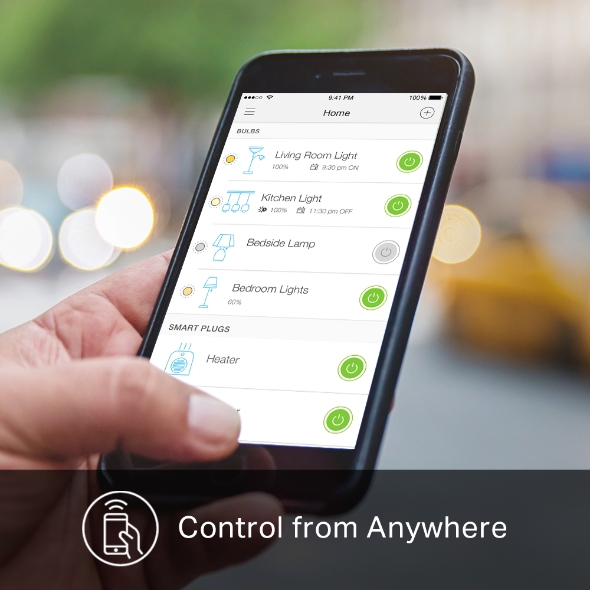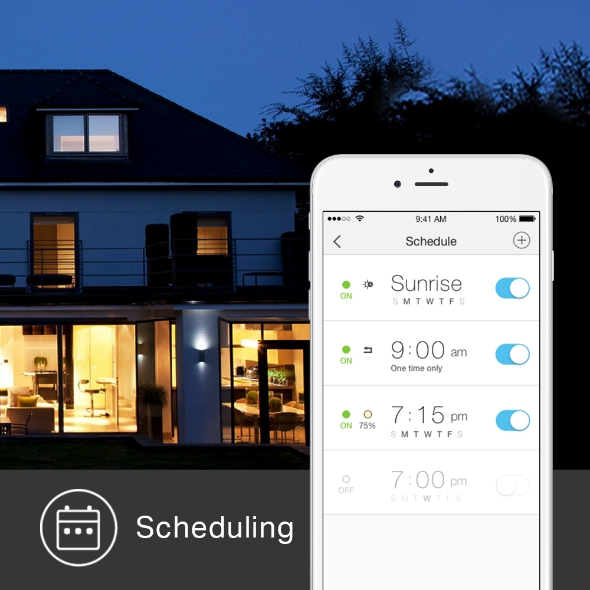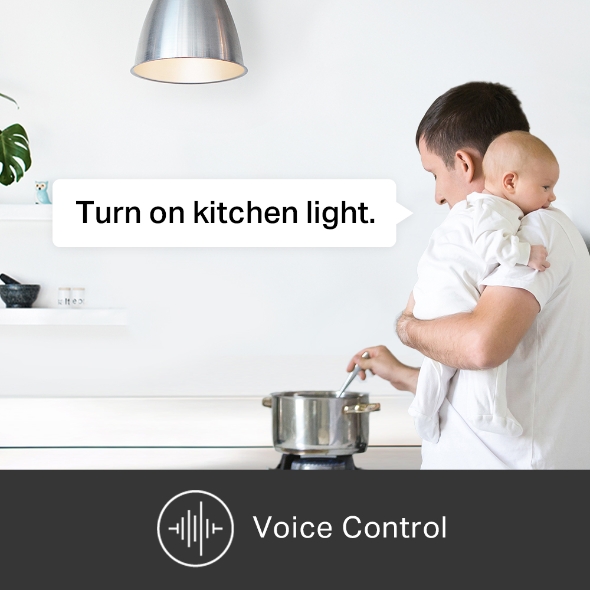 Bombilla Inteligente Kasa, Regulable
Regulable – crea blancos cálidos y acogedores para relajarse después de un largo día o blancos brillantes enérgicos cuando necesita un impulso con la bombilla de luz LED blanca ajustable de Kasa Smart. Ajusta la apariencia con un blanco suave (2500K) a una luz brillante (5000K).
No se requiere Hub – la bombilla LED Kasa Smart Wi-Fi, se conecta a la red Wi-Fi de su hogar. No hay necesidad de un hub o equipo extra.
Controla desde cualquier lugar – controla tu bombilla inteligente desde cualquier lugar con tu smartphone usando la aplicación Kasa Smart (iOS, Android). Atenúa suavemente el brillo de tu bombilla desde cualquier lugar con la aplicación.
Control de voz – usa comandos de voz simples para controlar tu bombilla de luz regulable Kasa Smart con cualquier Amazon Alexa, Google Assistant o Microsoft Cortana. Simplemente di a tu asistente de voz que atenúe sus luces y establezca el ambiente perfecto para la noche de cine.
Blanco automático – configura la bombilla para que ajuste automáticamente su temperatura de color para que coincida con los patrones de luz natural desde el amanecer hasta el anochecer.
Escenas y Programaciones – usa tu aplicación Kasa Smart para programar tu bombilla para que se encienda y apague automáticamente cuando esté en casa o fuera. Combina todas tus luces con otros dispositivos Kasa Smart en una escena y contrólelas con un solo botón. Apaga todas tus luces y prepara el escenario para una cena romántica o una noche de cine.
Título 20 – la bombilla de luz regulable Kasa Smart está certificada para reducir el consumo de energía sin perder calidad.
Configurar y disfrutar
Combina los patrones de luz natural con su
Bombilla LED Kasa Smart ajustable de color blanco.
Blanco Ajustable

No Requiere Hub

Control desde Cualquier Sitio

Control de voz*

Programación
*Connect to an Alexa or Google Assistant for a hands-free experience.
Tunable White
Set your lights to a soft glow in the morning or tune them to full brightness at night with Kasa Smart's tunable white LED light bulb. Control from the Kasa Smart app or use simple voice commands with Alexa or Google Assistant.
Schedules
Use your Kasa Smart app to schedule your light bulb to automatically switch on and off
when you're home or away.
Control from Anywhere
Control your smart light bulb from anywhere with your smartphone using the free Kasa Smart app (iOS, Android).
Turn your light bulb on if it's getting late so you'll arrive to a well-lit home.
Escenas
A ti te gusta que tu luz brille mientras que a ellos les gusta la luz tenue, pero ambos odian ajustar la bombilla constantemente. Resuelve ambos problemas con Kasa Smart. Crea múltiples escenas con diferentes configuraciones y activa la tuya cuando quieras que se ilumine a tu manera.
Escena Teatral

Baja las luces para sumergirte.
en una película.

Escena de Fiesta

Reúne a tus amigos y
establece la iluminación para cualquier ocasión.

Buenas Noches

Apaga todas tus luces, o mantén algunas
para moverse con facilidad en la noche.
Your Voice Has Power
Control your device with simple voice commands and an Amazon Alexa, Google Assistant.

GENERAL
Contenidos del Paquete
(1) Bombilla Kasa Smart, Ajustable
(1) Guía de instalación rápida

Lamp Base
E26
Product Dimensions
60 x 118 mm (2.36 x 4.65 in)
Certification
FCCULDoETitle20
Temperatura de Funcionamiento
-15 ºC~ 40 ºC (5°F ~ 104°F )
Humedad de funcionamiento
10%~90%RH, Sin condensación
Weight
0.134kg (0.295 lb)
Packaging Dimensions
60 x 118 mm (2.36 x 4.65 in)
Comunicación
Protocolo Wi-Fi
IEEE 802.11b/g/n
Frecuencia Wi-Fi
2.4GHz
Requisitos del sistema en App Kasa
iOS 10+, Android 5.0+
Requerimientos de Wi-Fi
Se requiere conexión a internet segura en el hogar
Estado de Trabajo
Tunable
Si (via app y cloud solo)
Typical Lumen Output
800lm
Input Power (Actual power draw in Watts)
10W
Color de Temperatura
2700K-5000K
Voltaje de Entrada nominal
120V~, 60Hz
Beam Angle
220 Grados tipicos
Dimmable
Si (via app y cloud solo)
From United States?
Get products, events and services for your region.