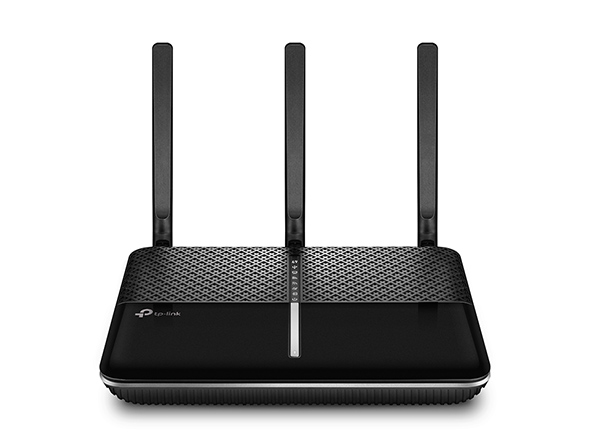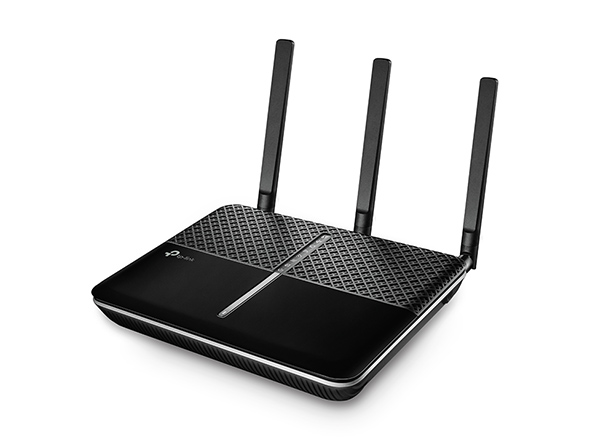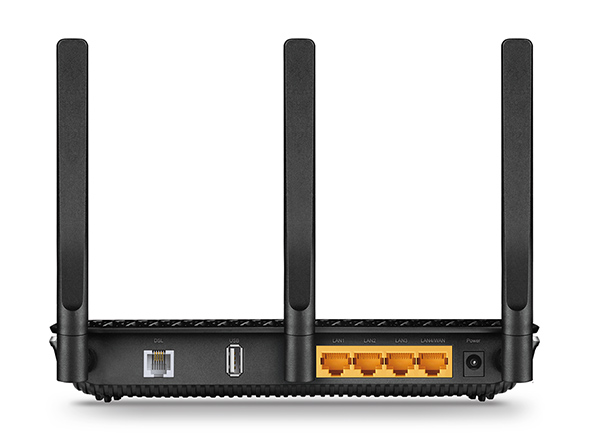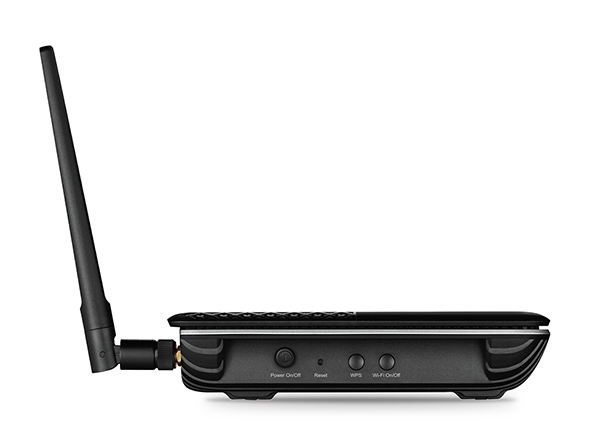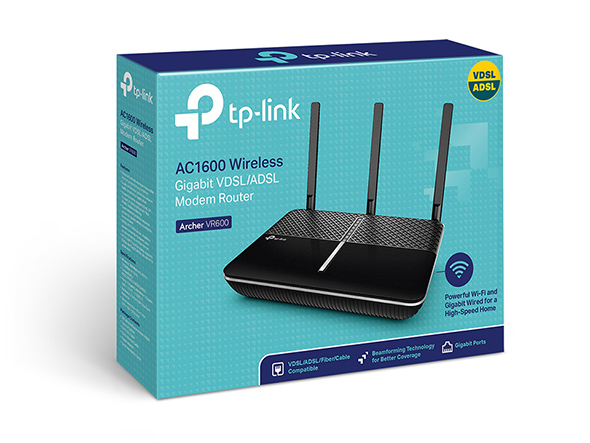 Archer VR600
Módem Router VDSL/ADSL Gigabit Inalámbrico AC1600
Wi-Fi Súper Rápido – Velocidades de 300Mbps (2.4GHz) y 1300Mbps (5Ghz), ideales para juego online, streaming HD y descarga de archivos pesados
Cobertura Superior - 3 Antenas desmontables que ofrecen conexiones inalámbricas estables y cobertura óptima
Conectividad Versátil – Con puertos DSL, EWAN y USB, el Archer VR600 es totalmente compatible con conexiones DSL, accesos de fibra/cable y módems USB 3G/4G
Tecnología Beamforming – Mejora la cobertura inalámbrica y el rendimiento en la banda de 5GHz
Tether App – TP-LINK Tether proporciona una forma sencilla de acceder y gestionar el router con sus dispositivos iOS y Android
Supercharge
Your Wi-Fi
Módem-Router VDSL/ADSL Gigabit Inalámbrico AC1600

Wi-Fi Súper Rápido – Hasta 1.6Gbps
El Archer VR600 explota al completo el potencial del ancho de banda de su conexión de Internet para entregar velocidades inalámbricas de doble banda combinadas de hasta 1.6Gpbs, incluyendo 300Mbps en 2.4GHz y 1300Mbps en 5GHz, eliminando retardos y buffering de su experiencia online.
El Archer VR600 explota al completo el potencial del ancho de banda de su conexión de Internet para entregar velocidades inalámbricas de doble banda combinadas de hasta 1.6Gpbs, incluyendo 300Mbps en 2.4GHz y 1300Mbps en 5GHz, eliminando retardos y buffering de su experiencia online.
Dos redes Wi-Fi dedicadas que soportan más dispositivos y reducen la interferencia inalámbrica para crear conexiones estables.
5GHz 1300Mbps
2.4GHz 300Mbps
Ancho de Banda VDSL Súper Rápido
La última tecnología VDSL2 permite al Archer VR600 ofrecer impresionantes velocidades de banda ancha VDSL de hasta 100Mbps, lo que es casi 5 veces más rápido que ADSL2+. El Archer VR600 sirve como módem DSL y router inalámbrico, combinando dos dispositivos en uno. El puerto integrado DSL soporta todos los estándares de conexión DSL, incluyendo VDSL2, ADSL2+, ADSL2 y ADSL.
The Archer VR600 delivers VDSL broadband speeds of up to 100Mbps, almost five times faster than ADSL2+. It is also compatible with ADSL2+/ADSL2/ADSL. The Archer VR600 serves as a DSL modem and wireless router, combining two devices in one.
Conectividad Backup Versátil
Con múltiples entradas, el Archer VR600 le proporciona una gran variedad de opciones cuando se conecta a Internet. Como backup, el puerto EWAN permite al Archer VR600 aceptar conexiones de módems de cable y fibra mediante un cable Ethernet. Adicionalmente, los dos puertos USB soportan conexiones con módem USB 3G/4G.
The EWAN port allows the Archer VR600 to accept connections from cable and fiber modems via Ethernet cable. Additionally, both of the two USB ports support 3G/4G dongle connections.
Conexión EWAN
Módem Fibra/Cable
Puerto LAN/WAN
Ethernet Cable
3G/4G Dongle Puertos USB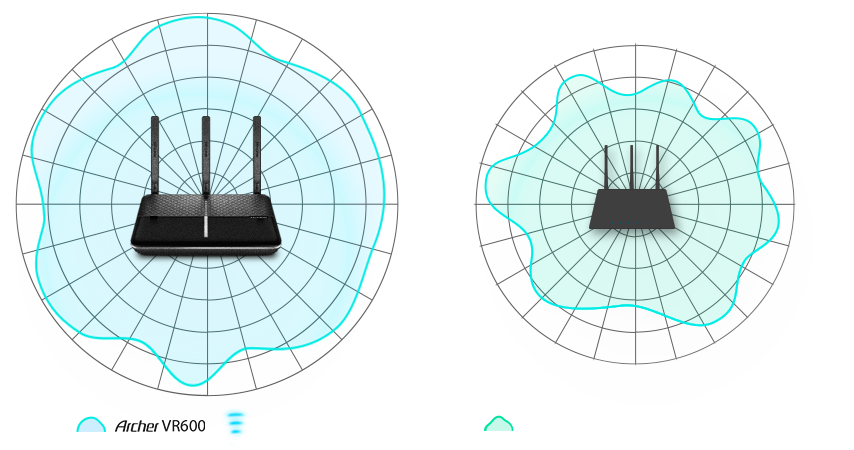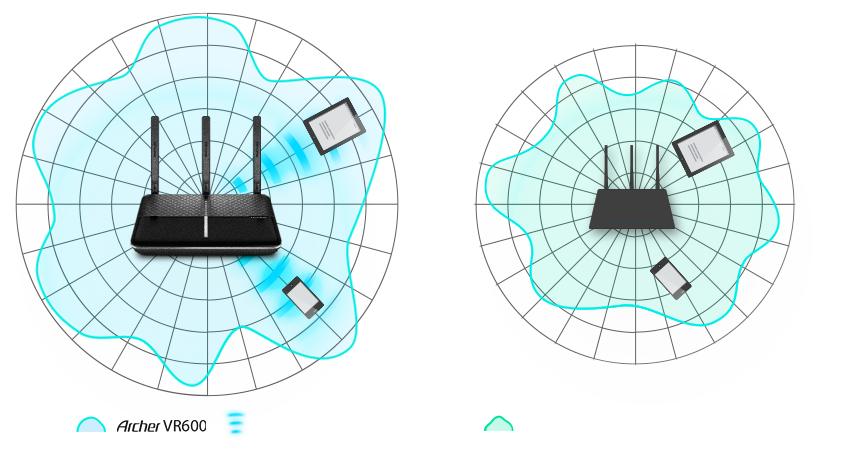 Beamforming Otros Routers sin Beamforming
Estabilidad y Cobertura Superior
Tres antenas externas de alto rendimiento ayudan al Archer VR600 a crear una extensa red doméstica. La tecnología avanzada Beamforming* localiza automáticamente dispositivos inalámbricos y formas específicas, para crear conexiones inalámbricas altamente eficientes.
*El Archer VR600 solo soporta Tecnología Beamforming en la banda de 5GHz
Puertos USBPuertos Gigabit Ethernet
Impresora
Música
Fotos
Videos
TV HD 4K
Escritorio
NAS
Videoconsola
Rendimiento Cableado Ultrarrápido
Para ayudar a los dispositivos cableados a conseguir el máximo rendimiento, los cuatro puertos Ethernet Gigabit del router funcionan 10 veces más rápido que el estándar Ethernet. Conectando un disco duro externo a uno de los puertos USB 2.0 puede compartir archivos, fotos, música y vídeo con cualquier dispositivo en la red.
To achieve optimal wired performance, four Gigabit Ethernet ports operate 10x faster than standard Ethernet. Two USB 2.0 ports allow you to share files, photos, music, and video with any device on the network.
Estética Impresionante
El diseño negro brillante del Archer VR600 hace de él un elemento sofisticado que realza la decoración de cualquier estancia de su domicilio. Los detalles en plata también proporcionan un aura de elegancia, haciendo al router atractivo, cuando está sobre una mesa o montado en la pared. Para mayor comodidad, puede desactivar fácilmente los indicadores LED para evitar molestias en la noche.
Fácil Configuración y Uso
Configure el Archer VR600 en solo unos minutos gracias a su intuitivo interfaz web y a la potente aplicación Tether. Tether también le permite gestionar los ajustes de su red desde cualquier dispositivo iOS o Android, incluyendo controles parentales y compartición de archivos multimedia.
Setup the Archer VR600 in minutes thanks to its intuitive web interface and the powerful Tether app. Tether allows you to manage your network from any Android or iOS device.
Descubra más sobre Tether App>

Red de Invitados

Ofrece a los invitados un acceso Wi-Fi separado de su red principal

Control Parental

Gestiona cuándo y cómo los dispositivos conectados pueden acceder a Internet

Securidad Avanzada

Encriptación WPA-WPA2 proporciona una defensa activa contra los ataques de seguridad
CARACTERÍSTICAS DE HARDWARE
Interface
4 Puertos RJ45 LAN 10/100/1000Mbps
1 Puerto RJ11
2 Puertos USB 2.0

Puertos
3 Gigabit LAN Ports, 1 Gigabit LAN/WAN Port, 1 RJ11 Port,1 USB Port
Botón
Botón WPS Botón LED Botons Wi-Fi (2.4GHz y 5GHz) On/Off Botón Power On/Off
Fuente de Alimentación Externa
12V/2A
Estándares IEEE
IEEE 802.3, IEEE 802.3u, 802.3ab
Estándares VDSL2
ITU G.993.2, Hasta perfiles 17a (POTS)
ITU-T G.993.5 (G.vector)

Estándares ADSL
Rango completo ANSI T1.413 Issue 2,
ITU-T G.992.1(G.DMT),
ITU-T G.992.2(G.Lite),
ITU-T G.994.1 (G.hs),
ITU-T G.995.1

Estándares ADSL2
ITU-T G.992.3 (G.DMT.bis),
ITU-T G.992.4 (G.lite.bis)
Estándares ADSL2+
ITU-T G.992.5
Dimensiones (W X D X H)
216 x 164 x 36.8mm
Tipo de Antena
3 Antenas externas desmontable de doble banda
CARACTERÍSTICAS INALÁMBRICAS
Estándares Inalámbricos
IEEE 802.11a/n/ac 5GHz,
IEEE 802.11b/g/n 2.4GHz
Velocidades Inalámbricas
Soporta programación inalámbrica 2.4GHz y 5GHz
Frecuencia
2.4GHz y 5GHz
Tasa de Señal
1300Mbps en 5GHz y 300Mbps en 2.4GHz
Potencia de Transmision
2.4GHz <20dBm(EIRP)
5GHz <23dBm(EIRP)
Funciones Inalámbricas
Habilitar/Deshabilitar Emisión Inalámbrica, WDS Bridge, WMM y
Estadísticas inalámbricas

Seguridad Inalámbrica
Encriptaciones 64/128-bit WEP, WPA/WPA2, WPA-PSK/WPA-PSK2 y Filtrado MAC Inalámbrico
Calendarizar Inalámbricamente
Support 2.4 GHz and 5 GHz Wireless Schedule
CARACTERÍSTICAS DE SOFTWARE
Calidad de servicio
ATM QoS y Control de Ancho de Banda
Seguridad
NAT Firewall, Control de Acceso y Vinculación de Direcciones IP y MAC
Modos de Funcionamiento
Módem Router VDSL/ADSL, Router Inalámbrico y Router 3G/4G
Administración
Configuración Basada en Web (HTTP), Gestión Remota,
Interfaz de Línea de Comandos, SSL para TR-069, SNMP v1/2c,
Actualización de Firmware basada en Web y Herramientas de Diagnóstico

DHCP
Servidor, Cliente, Lista de Clientes DHCP, Reserva de Direcciones IP y
DHCP Relay

Port Forwarding
Virtual Server, Port Triggering, DMZ, ALG y UPnP
Dynamic DNS
DynDns, NO-IP
VPN Pass-Through
PPTP, L2TP, IPSec Passthrough
VPN
OpenVPN, PPTP VPN, IPSec VPN
Protocolos
Soporta IPv4 y IPv6
ATM/PPP Protocols
ATM Forum UNI3.1/4.0, PPP over ATM (RFC 2364),
PPP over Ethernet (RFC2516), IPoA (RFC1577/2225), MER\IPoE (RFC 1483
Routed), Bridge (RFC1483 Bridge) y PVC – Hasta 8 PVCs

Características Avanzadas
Parental Controls, Network Address Translation (NAT), StaticRouting, DNS Relay, DDNS, IGMP V1/V2/V3
Funciones Avanzadas
Control Parental, Traducción de Direcciones de Red (NAT),
Mapeo de Puertos (Grouping), Rutas Estáticas, RIP
v1/v2 (opcional), DNS Relay,
DDNS e IGMP V1/V2/V3

USB Compartido
Soporta Samba (Almacenamiento)/Servidor FTP/Servidor Multimedia/Servidor de Impresión y Módem 3G/4G
Red de invitados
Red de Invitados 2.4GH y Red de Invitados 5GHz
IPSec VPN
Soporta hasta túneles 10 IPSec VPN
Beamforming
Banda 5GHz
APP
App Tether
Otros
Certificacion
CE, RoHS
Contenidos del Paquete
Modem Router VDSL/ADSL Gigabit Inalámbrico AC1600
Archer VR600
Splitter Externo
Cable DSL RJ11
Cable de Ethernet RJ45
Adaptador de Corriente
Guía de Instalación Rápida

Requisitos del Sistema
Microsoft Windows 98SE, NT, 2000, XP, Vista™ o
Windows 7, 8, 8.1, MAC OS, NetWare, UNIX o Linux
Internet Explorer 11, Firefox 12.0, Chrome 20.0,
Safari 4.0, u otro navegador habilitado para Java
Modem Cable o DSL con suscripción con un Proveedor de Servicios de Internet (para el acceso a Internet)

Ambiente
Temperatura de Funcionamiento: 0℃~40℃ (32℉ ~104℉)
Temperatura de Almacenamiento: -40℃~70℃ (-40℉ ~158℉)
Humedad de Funcionamiento: 10%~90% sin condensación
Humedad de Almacenamiento: 5%~90% sin condensación

SuscripciónTP-Link toma en serio su privacidad. Para obtener más detalles sobre las prácticas de privacidad de TP-Link, consulte la Política de privacidad de TP-Link.
From United States?
Get products, events and services for your region.