Frequently Asked Questions about TPNMS
TPNMS is an SNMP based network management software, which is mainly used to:
Based on SNMP protocol, TPNMS can discover Switches including none TP-Link brand.
Manage and monitor TP-Link Switches and give alarm information for exceptions.
Batch backup configuration and upgrade firmware for TP-Link Switches.
Note: TPNMS is SNMP based software, so TPNMS can only manage those switches that support SNMP function. TP-Link easy smart switches do not support SNMP, so TPNMS cannot manage TP-Link easy smart switches.
Question 1
Can TPNMS manage none TP-Link switches?
No, TPNMS is designed only for TP-Link switches that support SNMP feature, other brands' switches can only be discovered by TPNMS, but cannot be managed or monitored by TPNMS.
Question 2
Why can't I monitor the CPU usage or Memory usage using TPNMS?
Earlier models of TP-Link switches do not support CPU monitoring or Memory monitoring by SNMP, so if you want to use TPNMS to monitor the CPU and Memory usage, please pay attention to the list of the switches that support TPNMS CPU/Memory monitoring.
Switches that support TPNMS based CPU/Memory monitoring including: T1600/T1700/T2600/T2700/T2710/T3700/T3710 serial switches.
Switches that do not support TPNMS based CPU/Memory monitoring including:
T1500G28PCT/SG5412F/SG5428/SG3210/SG3216/SG3424/SG3424P/SL5428E/SL3428/SL3452/SG2008/SG2210P/SG2216/SG2424/SG2424P/SG2452/SL2218/SL2210/SL2428/SL2452
Note: For those models do not support TPNMS CPU/Memory monitoring, you cannot use TPNMS or any other third party NMS software to monitor CPU/Memory usage, but you can use TPNMS to discover, to manage, to back up configuration, to upgrade firmware and to set SNMP trap. If you want to monitor the CPU/Memory, you can try to use Web GUI.
Question 3
What is the Operating System for TPNMS?
Windows XP/Vista/7/8/10
Web Browser: Web Browser: Mozilla Firefox 32 (or above), Google Chrome 37 (or above), Opera 24 (or above), or Microsoft Internet Explorer 8-11
Question 4
What is the topology used by TPNMS to monitor the switches?
Generally speaking, there are the following topology for TPNMS host (PC that installed TPNMS software) and switches.
TPNMS host and Switches are at the same subnet.
TPNMS host and Switches are in different subnets, interconnected by Routing Protocol.
TPNMS host and Switches are connected by VPN tunnel.
TPNMS host and Switches are behind NAT Router.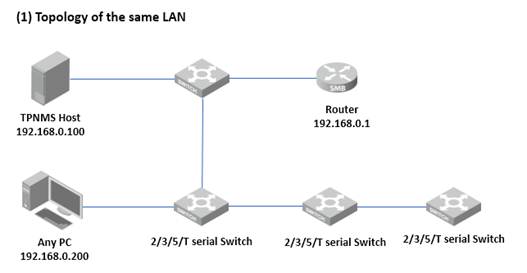 In the LAN, only one host needs to install TPNMS. The host is called as TPNMS Host. And the other hosts in the same LAN can access the TPNMS Host to manage the network. In this topology, you can visit TPNMS interface from Host B by entering "192.168.0.100: 8888" in a web browser. It's recommended to set a static IP address to the TPNMS Host for the convenient login to the TPNMS interface.
The TPNMS must be running all the time when you manage the network.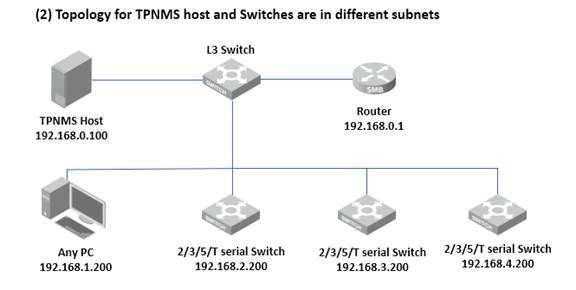 The TPNMS Host and the switches are connected to different ports on the L2+/L3 switch. The TPNMS Host and the switches can access each other via the routing interfaces configured on the L2+/L3 switch. To ensure the switches can be discovered by the TPNMS Host and be managed, configure the switches to send SNMP traps to the IP address of the TPNMS host.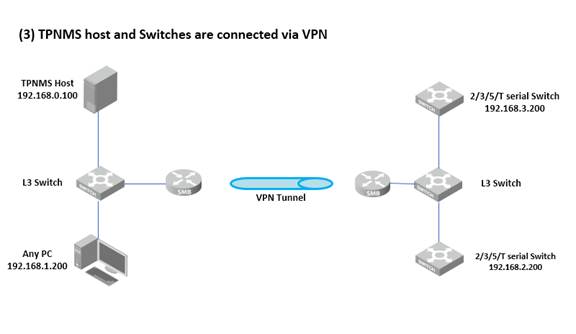 After the VPN tunnel is established, the tpNMS can manage the switches on the other side of the tunnel remotely.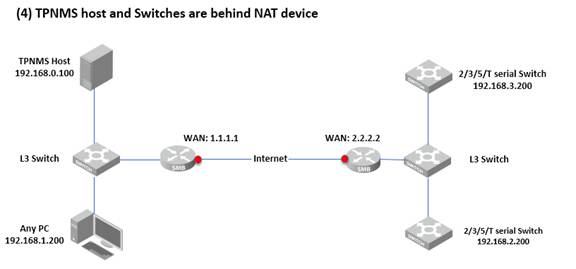 This topology involved NAT device and virtual server, which is not a suggested topology for TPNMS to manage Switches. VPN tunnel is suggested instead. But if your gateway router does not support VPN, you should open port TCP and UDP port 69, 162, 1099, 3306, 8088, and 8888 for the gateway router of TPNMS host and UDP 161 for router of switches.
Question 5
How to fix launch problems if any of the ports is occupied by other processes?
TPNMS will use several ports in its launch process, which include but are not limited to: 69, 162 and 1099. If any of these ports is occupied by the other processes, TPNMS will fail to initialize. The conflicting port and the PID of the process using this port will be displayed in the launch window. Please kill the process with this PID and click Retry to launch the TPNMS again.
For example, the TPNMS encounters with a port conflict in initialization.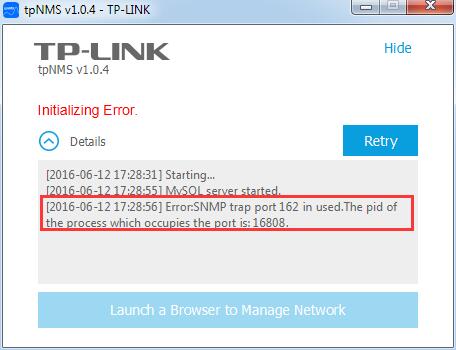 We can see that the conflict port is 162 and the process with PID 16808 is occupying this port.
Open the Processes tab in the Windows Task Manager, Click View and select Select Columns....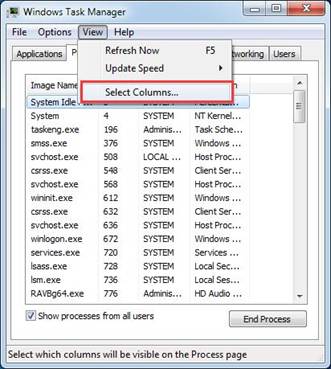 In the pop-up window, select the PID (Process Identification) and click OK.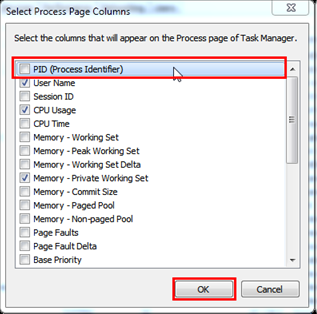 Kill the process that occupying the conflict port. Click the process with the specified PID and click the End Process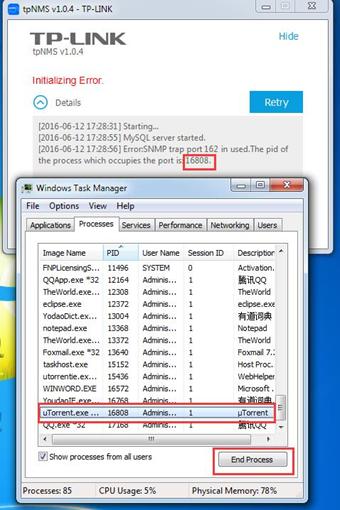 Click "Retry" and launch tpNMS again.
Question 6
What is the username and password for the NMS login page?
The default login username and password are both "admin".
Question 7
How to discover Switches using TPNMS?
Enable SNMP on TP-Link switches and set up the community name. Here we take the example of SNMP_V1 on T1600G-28TS
Step 1: Enable SNMP
Since the discovery of TPNMS is based on SNMP communication, so the first step is to enable SNMP server function on the switches respectively, here I enable SNMP_V1 on T1600G-28TS as an example.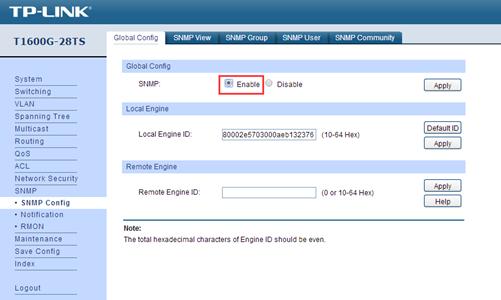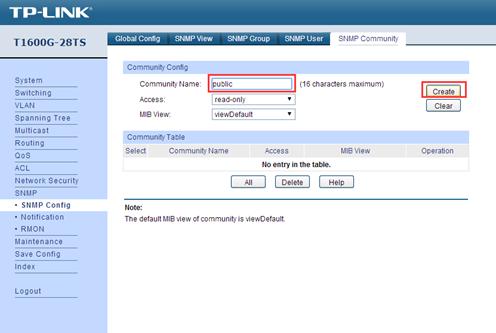 Step 2:
Log in the TPNMS Web Page and go to "Resource"->"Device Discovery"->"Add"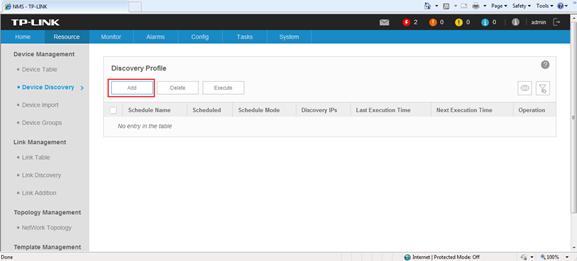 Then fill in the blanks for a random Schedule Name, the IP address of switch and the Read/Write Community name, click on "Apply".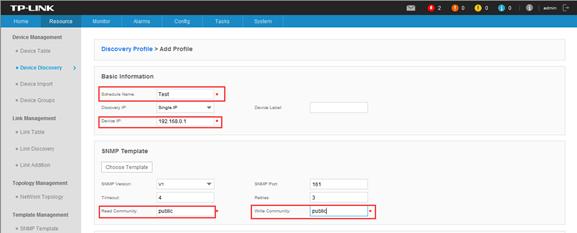 Step 3
Checking the "Schedule Name" and clicking on "Execute" to start discover.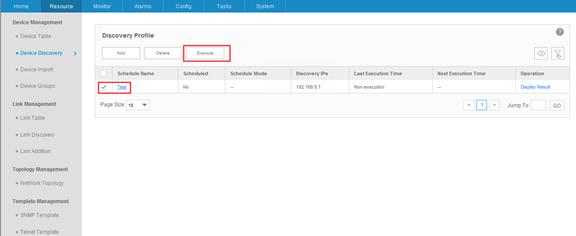 If you have any suggestions about this Article, please kindly give us the suggestions by sending Email to support@tp-link.com
Is this faq useful?
Your feedback helps improve this site.