What Is a WiFi 6 Adapter? How to choose a WiFi 6 adapter
What Is a WiFi 6 Adapter? How to choose a WiFi 6 adapter
WiFi 6 is just over 2 years old, and everyone's still rushing to upgrade their networks with the latest routers.
However, just buying a WiFi 6 router is not enough. For wired devices or wireless devices that do not support WiFi 6, what can you do to experience the full power of the current generation of WiFi?
A WiFi 6 adapter might just be an affordable way to upgrade your network. These adapters take full advantage of your WiFi 6 router, while breathing life into your older-gen devices.
Before you rush out to buy a WiFi 6 adapter, there are still a few questions that need answering: How do wireless adapters work? And which ones are most suitable for your device? Here, we'll dive into several questions and give some tips for choosing the best WiFi 6 adapter.
What is a WiFi 6 adapter?
A WiFi adapter is a network device that connects a desktop computer to a wireless network. Usually, every network device has a built-in adapter, some with a wired adapter and some with a wireless adapter. Laptops, smartphones, tablet computers, and other wireless devices, all have built-in wireless adapters, and can access the network without wiring. Compared with wired adapters, wireless adapters are more flexible and are not limited by Ethernet cables.
A WiFi 6 adapter is a wireless adapter supporting the WiFi 6 standard. It provides WiFi connectivity to a WiFi 6 network.
What does a WiFi 6 adapter do?
Without a WiFi adapter, if you want to connect to your network, you need to connect your device to your router via an Ethernet cable. This is a hassle that leaves your space littered with wires.
A WiFi 6 adapter helps add WiFi to your desktop computer, providing connectivity to a wireless network without wiring.

A WiFi 6 adapter upgrades your existing wireless laptop to support WiFi 6, thus allowing access to a WiFi 6 network and experiencing the full power of WiFi 6.
Does a WiFi 6 adapter give you WiFi?
A WiFi adapter adds WiFi to your device, but it cannot provide WiFi for other devices. Before you use a WiFi adapter, make sure you have a wireless router in your house.
How fast is a WiFi 6 adapter?
The speed of a WiFi 6 adapter advertised by vendors is a theoretical physical rate derived from IEEE Standard 802.11 specifications. In an actual networking environment, the internet speed of a WiFi adapter can achieve is affected by many factors, including building materials, obstacles, volume, and density of traffic. Furthermore, the broadband bandwidth provided by your internet service provider (ISP) determines your internet speed. For example, if you are provided with 20 Mbps for bandwidth, then the speed of your WiFi adapter won't be high. Similarly, the WiFi adapter won't achieve a high speed when you are using a lower-end wireless router.
Types of WiFi 6 adapters
According to the interface type, WiFi adapters can be divided into the following two types: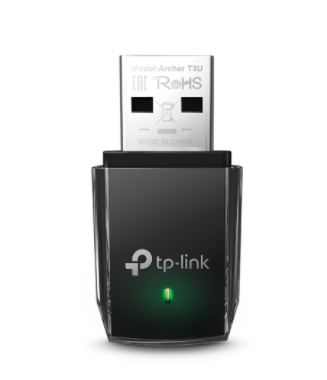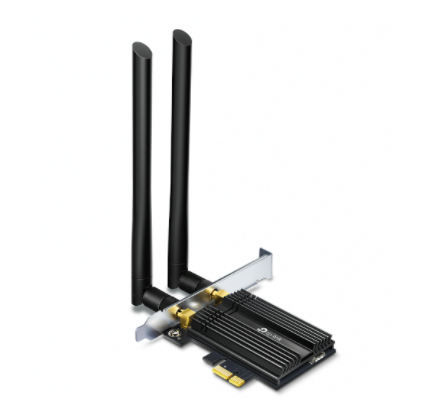 USB wireless adapters: Currently the most common type. These are easily installed by plugging one into the USB port of your computer. They can be installed as long as your computer has an available USB port.

PCIe wireless adapters: Dedicated to desktop computers. You need to remove the chassis cover of your computer and insert one into a slot.
How to choose the right WiFi 6 adapter for your computer
Picking the right WiFi adapter for your computer from the numerous choices can be overwhelming. Here are five factors you can consider when choosing one.
Interface type

—

USB or PCIe
As described in the above part, there are two interface types. A USB wireless adapter can be plugged into the USB port of a computer. They are small in size and easy to carry and install. However, compared with PCIe wireless adapters, USB wireless adapters sacrifice a bit of performance for convenience.
A PCIe wireless adapter is plugged into the computer's PCIe interface. It provides a more stable and faster transmission speed. However, compared with the USB adapter, its installation requires more than just plug-and-play.
So, the question is: should you go with a USB or PCIe? It depends on what you need most, convenience or performance. If you are using a laptop, a USB adapter may be more suitable.
Operating System Compatibility
A WiFi adapter requires specific operating systems and even specific system versions. When buying a WiFi adapter, pay attention to the supported operating systems. You can find the information in the specifications on its packaging.
Choose an adapter that is compatible with your computer's operating system, otherwise, it will be completely useless.
WiFi Speed
Utilizing MIMO or MU-MIMO technology, wireless routers simultaneously transmit data via multiple antennae, dramatically increasing WiFi speed. However, the use of MIMO or MU-MIMO requires clients to support the corresponding features. So choose the adapter that supports the same technology as your wireless router.
WiFi Standards
There are many WiFi standards, IEEE 802.11n (WiFi 4), IEEE 802.11ac (WiFi 5), and IEEE 802.11ax (WiFi 6). Choose an adapter that supports the same or later WiFi standard as your wireless router. The later WiFi standards are compatible with older ones. For example, if you are using a WiFi 6 router, then purchase a WiFi 6 adapter, you'll take full advantage of your WiFi performance.
Build Quality and Other Accessories
High-quality models guarantee reliable performance. In addition to the specifications mentioned above, you should also attach importance to the manufacturer quality of the adapter. Choose a reliable vendor to strike the best balance between quality and cost.
Also, accessories equipped with adapters can be a bonus. For example, Bluetooth is added to provide a connection between your computer and Bluetooth devices. An extra low-profile bracket ensures a PCIe adapter can be installed in a mini tower computer case.
Recommendations of WiFi 6 Adapters
As the leading provider of consumer and business networking products, TP-Link has been consistently ranked as the No. 1 global provider of WLAN devices for 10 years, according to the IDC Quarterly Wireless LAN Tracker, Q4 2020. TP-Link's track record for quality devices has enabled its product line of reliable WiFi adapters.
Archer TX50E & Archer TX3000E: Armed with WiFi 6 technology, the TP-Link AX3000E WiFi 6 Bluetooth 5.0 PCIe Adapter provides unrivaled WiFi 6 Speed, breaking the gigabit barrier with speeds up to 2402 Mbps (5 GHz) + 574 Mbps (2.4 GHz).
Additionally, the TP-Link AX3000E WiFi 6 Bluetooth 5.0 PCIe Adapter is compatible with Bluetooth 5.0 technology, achieving 2× faster speeds and 4× broader coverage than Bluetooth 4.2. You can connect multiple devices like headphones, keyboards, and game controllers, to enjoy a smoother gaming experience than ever before.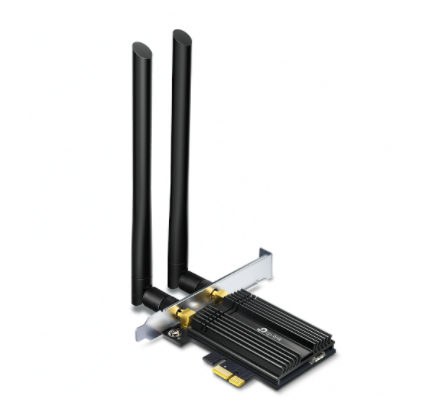 Explore more USB or PCIe adapters at https://www.tp-link.com/en/home-networking/all-adapter/. More PCIe wireless adapters and USB wireless adapters are coming soon. So keep an eye out!
More information about WiFi 6:
WiFi 6 Adapters: The Most Affordable Upgrade to Next-Gen Wireless
TP-Link Brings WiFi 6 to Everyone
From United States?
Get products, events and services for your region.