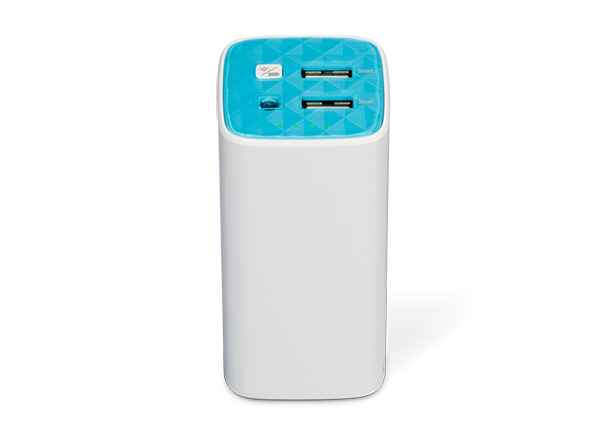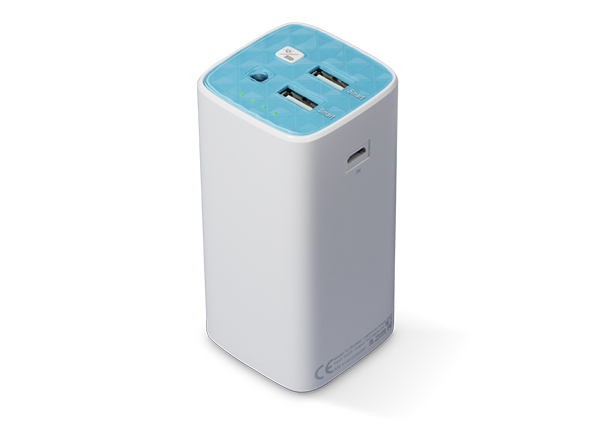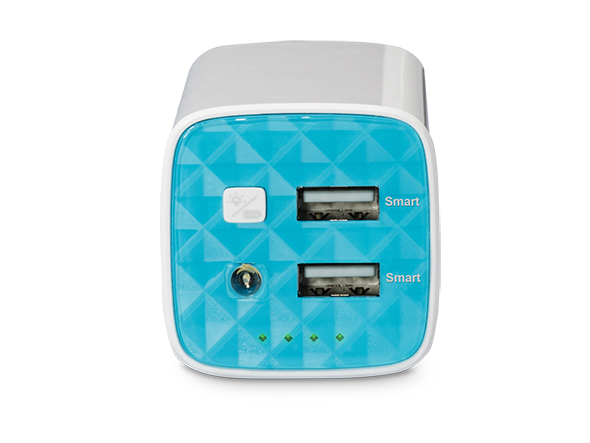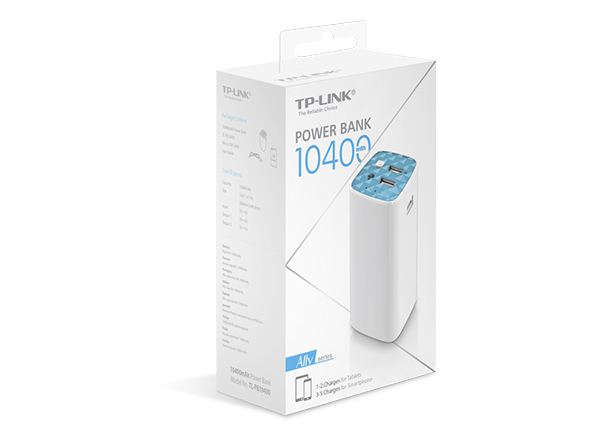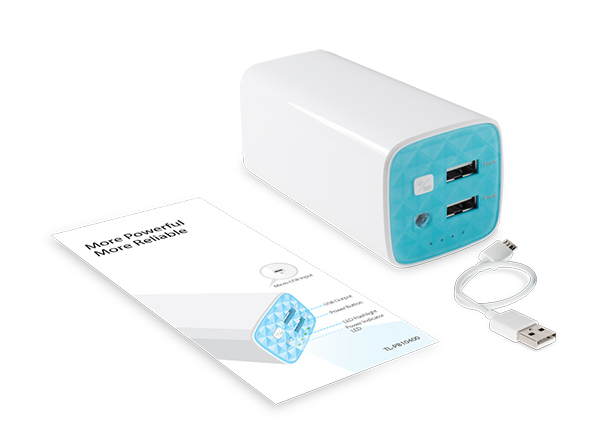 Alta Capacidad de 10400mAh
Dos puertos USB que te permitirán cargar rápidamente dos dispositivos simultáneamente.
Compatible con entradas 5V, dispositivos de carga por USB
Múltiples protecciones de seguridad
Linterna práctica
Intensa Capacidad
Intensa capacidad de 10400mAh que te permirá cargar tu smartphone
de 3 a 5 veces manteniendo tu dispositivo funcionando todo el tiempo.
3-5 veces

carga tu smartphone
* El número de cargas actuales, depende del tamaño de la bateria de tu dispositivo.
Entrega de carga lo más rápida posible
La tecnología de carga inteligente identifica tus dispositivos digitales, y entrega la carga lo más rápido posible para cuando más lo necesites.
Carga Simultánea Super Rápida
Puertos USB duales (5V/2A y 5V/1A) que permiten cargar dos dispositivos al mismo tiempo. Circuito especial incorporado proporciona velocidad para tu smartphone.
5V/1A
5V/2A
Energía confiable
TL-PB10400's multiple protections of short circuit,
over-voltage, over-current, over-charge,
over-discharge, and over-heating ensure
safe and reliable charging.
corto circuito
sobrevoltaje
sobrecorriente
sobrecarga
sobredescarga
sobrecalentado
Energía Eficiente de Alta Velo cidad
Combinando un circuito de alta calidad, el TL-PB10400 reduce en gran medida la pérdida de energía innecesaria durante la carga, garantiza hasta un 90% la eficiencia energética. Puedes cargar tu smartphone de 3 a 5 veces. Ideal para el uso prolongado de dispositivos móviles.
Hasta un

90%
Velocidad de Energía
Eficiente para uso de
dispositivos móviles.
3-5times

charge a smartphone
Funciones Prácticas
Linterna Práctica

La linterna incorporada funciona muy bien en casa
y actividades fuera de la carretera

Indicador de LED Inteligente

Cuatro luces LED funcionan como indicadores de carga de batería
y estado de los dispositivos móviles.
0% - 25%
25% - 50%
50% - 75%
75% - 100%
Compatibilidad Universal
Compatible con casi cualquier dispositivo inteligente como iPhones, iPads, Android, entrada 5V, carga USB.
Presupuesto
Capacity
10400mAh
Input
Hasta 5V/2A
Output
DC 5V/2A y 5V/1A
Interface
1 micro puerto USB, 2 puertos USB 2.0
Button
1 botón para mostrar la capacidad de la batería o encender/apagar la linterna
Lights
4 luces LED que muestran la capacidad restante de la batería
Other function
Linterna
Compatibility
Dispositivos USB cargados de entrada 5V como iPhones, iPads y teléfonos inteligentes Android
Tamaño
3.5×1.7×1.7 pulg.(88.8×44.3×44.3mm)
Tamaño
241g
Package contents
Power Bank TL-PB10400, cable micro USB, bolsa de viaje, Manual
Premios

RECOMMENDATION

TL-PB10400 has received RECOMMENDATION award from TechOn.pl website.

2015, Poland

RECOMMENDATION

TL-PB10400 has received RECOMMENDATION award from Aberto até de Madrugada website.

2015, Portugal
SuscripciónTP-Link toma en serio su privacidad. Para obtener más detalles sobre las prácticas de privacidad de TP-Link, consulte la Política de privacidad de TP-Link.
From United States?
Get products, events and services for your region.