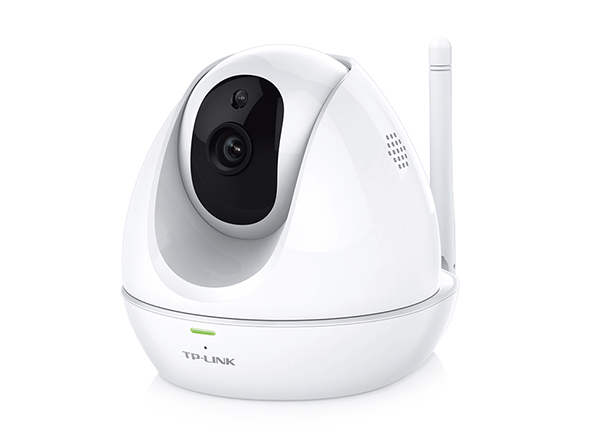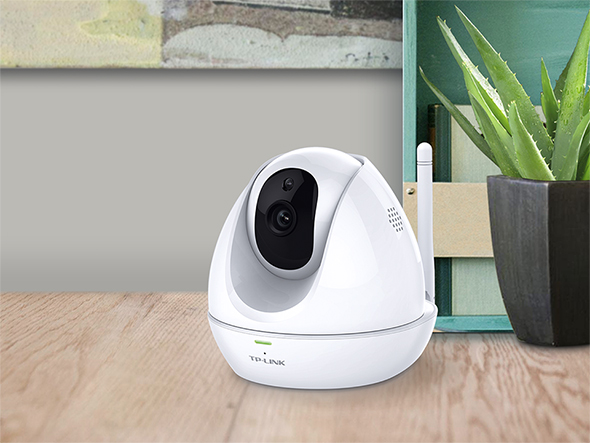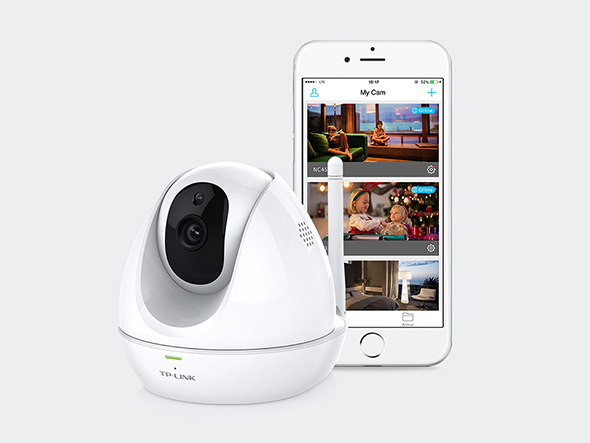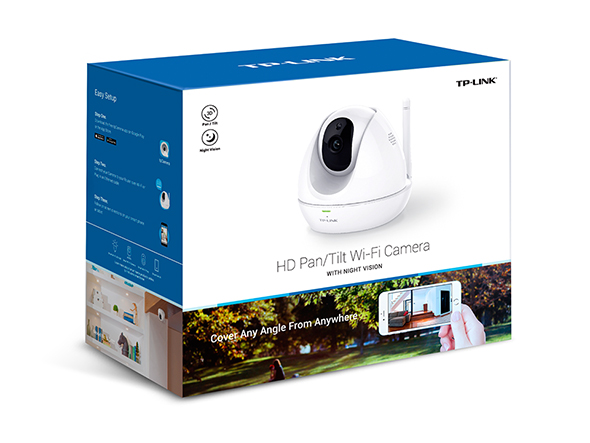 Cámara Wi-Fi de Vista Panorámica e Inclinable en HD CON VISIÓN NOCTURNA
Imagen en HD de 720p - La resolución en HD proporciona imágenes más nítidas y claras
De Vista Panorámica e Inclinable - Vea hasta 360 grados horizontalmente y 150 grados verticalmente.
Visión Nocturna - Sepa qué sucede cuando está oscuro, con hasta 26 pies de visión nocturna.
Detección de sonido y movimiento - Reciba notificaciones por correo electrónico cuando se detecte movimiento o sonido
Audio de 2 vías - Inicie el audio de 2 vías con facilidad para comunicarse con su familia al instante
Almacenamiento en la tarjeta Micro SD - Guarde sus videos e imágenes fácilmente gracias a una ranura SD integrada
*Soporta hasta 32 GB, no se incluye la tarjeta Micro SD
App tpCamera - Utilice la aplicación de tpCamera para acceder al suministro de datos del dispositivo desde cualquier lugar, en cualquier momento
Seguro Desde Cualquier Lugar En Cualquier Ángulo
Cámara Wi-Fi de Vista Panorámica e Inclinable en HD
CON VISIÓN NOCTURNA
NC450
Vista Panorámica e Inclinable Fluida para una Mejor Visualización
El NC450 es su compañero favorable que satisface sus necesidades de vigilancia para el hogar y la oficina, manteniéndolo en contacto con lo que más importa. Con su vista Panorámica e Inclinable fluida y duradera de hasta 300/110 grados, puede girar la cámara a casi cualquier posición que desee y vigilar algo en un área más amplia de su hogar.
Excelente claridad en HD
Con la lente de cristal de la cámara y un sensor CMOS de escaneo progresivo de 1/4", el cual puede capturar video claro y nítido de alta definición de 720p. El LED de infrarrojos le ayuda a la cámara a obtener la visión nocturna con una excelente calidad de imagen.
Sensor CMOS de escaneo progresivo de 1/4"
Porta-objetivos con infrarrojo
LED de infrarrojos
Lente de cristal
Cubierta de la cámara
Tranquilidad por la noche
La cámara cambiará automáticamente a un vídeo de flujo continuo monocromático en la noche y proporciona imágenes claras y detalladas a distancias de hasta 26 pies (7.925 metros) en la oscuridad total. Usted puede saber fácilmente qué está sucediendo durante la noche.
Alerta Instantánea para acontecimientos importantes
El NC450 puede enviarle notificaciones automáticas por correo electrónico cuando se detecte movimiento o sonido y de este modo se mantiene al tanto de lo que está sucediendo de forma inmediata. La ranura para tarjeta Micro SD integrada soporta hasta 32 GB de almacenamiento, lo que le permite guardar imágenes y vídeos para momentos memorables.
Comuníquese con Facilidad
Con la excelente transmisión de audio de 2 vías, puede comunicarse con su familia al instante cuando lo desee.
Cómodo Acceso Remoto para la Vigilancia Diaria
La app tpCamera le permite tomar el control de su cámara Wi-Fi en cualquier momento y en cualquier lugar con acceso a internet. Puede supervisar fácilmente su habitación, grabar vídeo y tomar fotos con el toque de sus dedos.
Vista Panorámica e Inclinable

Visión Nocturna

Detección de Movimiento

Ranura para tarjeta SD
NETWORK
Estándares y Protocolos
Bonjour, TCP/IP, DHCP, ARP, ICMP, FTP, SMTP, NFS,DNS, NTP, HTTP, HTTPS, UDP, ONVIF, RTSP
Seguridad
Multiple password-protected user levels
GENERAL
Contenidos del Paquete
NC450
Power Adapter
Extension Cable
RJ-45 Ethernet Cable
Quick Installation Guide
Passive PoE Injector

Certification
RoHS, FCC, CE
Environment
Operating Temperature: 0°C~40°C (32°F ~104°F)
Storage Temperature: -40°C ~70°C (-40°F ~158°F)
Operating Humidity: 10%~90% non-condensing
Storage Humidity: 5%~90% non-condensing

Dimensions( H X W X D )
5.7 x 4.3 x 4.2 in. ( 144 x 109 x 106 mm )
Packaging Dimensions
10.6 x 8.8 x 5.3 in. (270 x223 x 135mm)
PoE
12V DC, Max 12W
External Power Supply
12V DC, Max 12W
WIRELESS
Wireless Data Rates
IEEE 802.11 b/g/n, Up to 300Mbps
Frequencia
2.4-2.4835GHz
Wireless Transmit Power
<20dBm (EIRP)
Wireless Encryption
WEP, WPA/WPA2, WPA-PSK/WPA2-PSK
CAMARA
Sensor de Imagen
1/4" Progressive scan CMOS sensor
Resolución
1.0 Megapixel (1280 x 720)
Lens
F: 2.0, f: 3.6 mm
Viewing Angle
FOV = 75°
Pan/Tilt Range
Pan range 300° Tilt range 110°
VIDEO/IMAGEN
Compresión de Video
H.264
Frame Rate & Resolutions
Max. 30 fps at 1280x720 (HD)
Video Streaming
Controllable Frame rate
Configuraciones de Imagen
Rotation: Mirror, Flip
Configurable brightness, contrast, saturation
Overlay capabilities: time, date, text
AUDIO
Comunicación de audio
2-Way
Audio Input
Built-in microphone
Audio Output
Built-in speaker
ALARMA Y GESTIÓN DE EVENTOS
Input Trigger
Motion/Sound detection
Notificación
E-mail, App
Almacenamiento
Micro SD Card (support up to 128GB)
Auto Tracking
Motion
INTERFACES
Network Interface
RJ-45 for Ethernet 10/100 Base-T
Power Connector
DC power jack
Botón
Reset/WPS push button
SURVEILLANCE MANAGEMENT
Usuarios
13 simultaneous unicast users
Bundled Management Software
Viewing and recording up to 36 cameras
REQUERIMIENTOS MÍNIMOS DEL SISTEMA
Supported Browser
Microsoft Internet Explorer 8.0 or higher
Firefox 4.0 or higher
Safari 5.0 or higher
Chrome 5.0 or higher
Opera 12.0 or higher
Supported OS
Windows XP or higherMac OS X 10.7 or higheriOS 9.0 or higherAndroid 4.4 or higher
SuscripciónTP-Link toma en serio su privacidad. Para obtener más detalles sobre las prácticas de privacidad de TP-Link, consulte la Política de privacidad de TP-Link.
From United States?
Get products, events and services for your region.