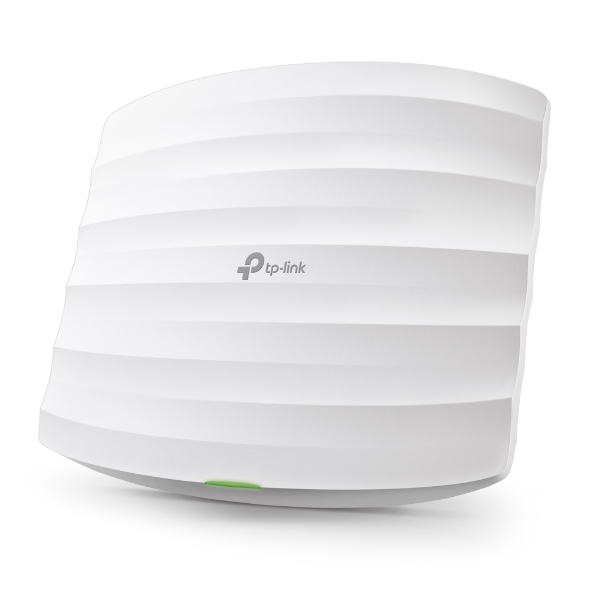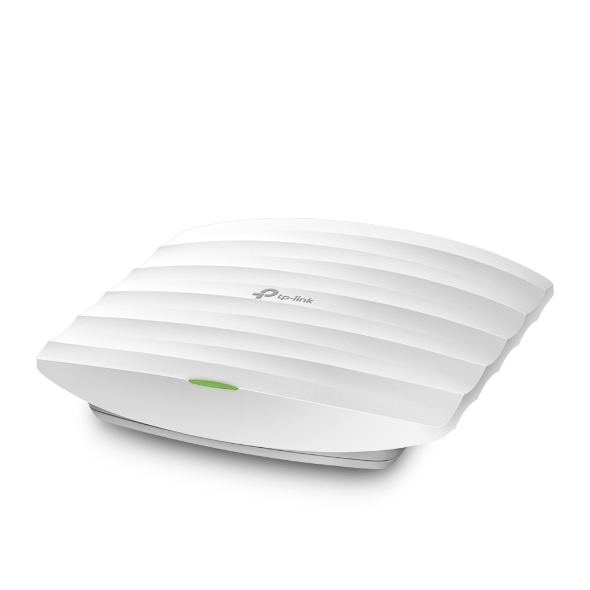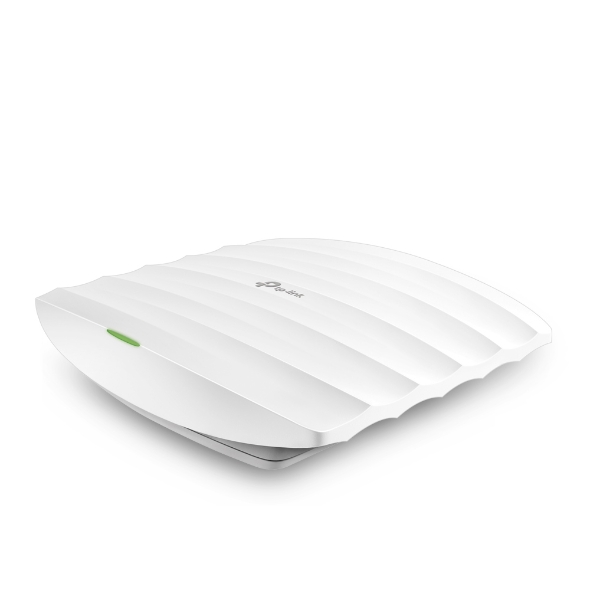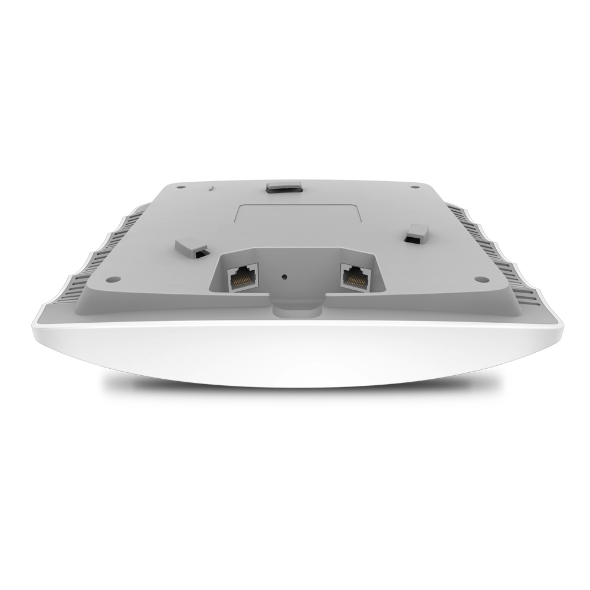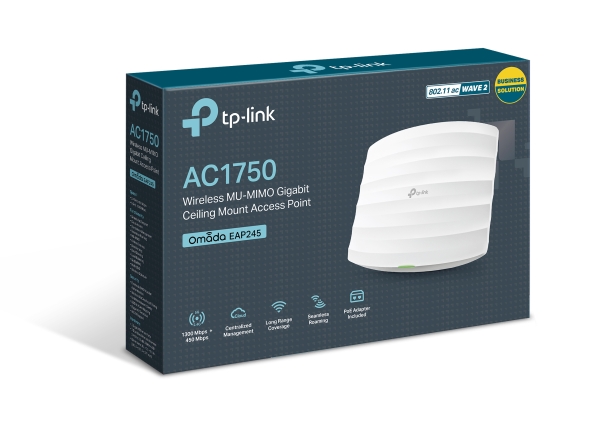 EAP245
Punto de Acceso Gigabit Inalámbrico de Doble Banda AC1750 con Montaje de Techo
Velocidades simultáneas de hasta 450Mbps en 2.4GHz y 1300Mbps en 5GHz haciendo un total de 1700Mbps.
Soporta Roaming Fluído permitiendo que los vídeos y llamadas de voz no se vean afectados por los movimientos de los usuarios
Software Controlador EAP gratuito que permite a los administradores gestionar de manera sencilla cientos de EAPs.
Soporta Alimentación sobre Ethernet (PoE 802.3af/at) para una instalación sencilla.
Red de Invitados segura con múltiples opciones de autenticación (SMS/Facebook Wi-Fi/Voucher, etc.) y abundantes tecnologías de seguridad inalámbrica.
La función Band Steering mueve automáticamente dispositivos de doble banda a la banda de 5GHz para conexiones más rápidas.
El Balanceo de Carga asegura a un gran número de usuarios disfrutar de una mejor experiencia de red en redes empresariales de alta densidad.
Soporta gestión de VLAN para una gestión de la red avanzada.
Solución Wi-Fi MU-MIP AC1750
Clase Empresarial de Élite
Omada EAP245
Performance y Velocidad Wi-Fi Superior
Chisepts QCA empresariales, amplificador de alta potencia dedicado, junto a antena profesional en conjunto con las últimas tecnologías 802.11ac Wave2 MU-MIMO, asegura una velocidad Wi-Fi de 1750 Mbps y una altísima cobertura tanto en la banda de 2.4GHz como en 5GHz.
MU-MIMO

Beamforming

Band Steering

Airtime Fairness
Roaming Fluído
El Roaming Fluído gracias al 802.11k/802.11v permite el cambio automático de los clientes hacia el punto de acceso con la señal óptima de manera transparente y fluída mientras uno se mueve. De esta manera aplicaciones sensibles como VoIP o vídeo conferencias no se interrumpen.
Con roaming fluído
Auto cambio para un señal óptima
Red de Invitados Segura con Wi-Fi Facebook y Login SMS
La red de invitados proporciona un acceso seguro a invitados de manera a compartir la red Wi-Fi. con un portal cautivo que ayuda a mantener a los invitados autorizados el acceso a la red. La posibilidad de autenticar vía SMS o Facebook, simplifica aún más el uso del portal cautivo y así la misma conectividad, potenciando su begocio.
Múltiples Opciones PoE para una Instalación Fácil
EAP245 soporta tanto PoE 802.3af como PoE Pasivo, pudiendo así alimentarse vía switch PoE o con el adaptador PoE suministrado. Si añadimos el aspecto elegante y diseño de fácil montaje para una instalación simple en una pared o techo, ésto permite que los despliegues tanto en paredes como techos sean aún más flexibles y sin esfuerzo.
Segundo Puerto Ethernet Gigabit para Puente
Puerto Ethernet Gigabit 802.3af PoE/ 48V PoE Passivo
Cloud Centralized Management
- Anytime, Anywhere
Omada Hardware Controller OC200 and Omada Software Controller make it easy to manage and monitor the whole Omada network in real-time, while cloud service enables remote and secure access no matter where you find yourself.
Fácil Gestión con la App Omada
Siga las instrccuiones de configuración en la app gratuita Omada para una puesta en marcha en minutos. Omada le permite configurar ajustes, monitorizar es estado de la red y gestionar los clientes, todo desde una table o smartphone.
Click aquí para ver los dispositivos compatibles con la App Omada >
Meet Our New Hero Product!
The OC200 Omada Hardware Controller is dedicated to providing centralized management for the whole Omada network.
Omada Hardware Controller
OC200
Hospitality

TP-Link Omada allows hotels to build reliable WiFi networks. Hotel WiFi network solutions including network topology, design, features, installation, and products are introduced.

Full WiFi coverage and wired connections
Flexible guest control
Seamless roaming
Easy Management

Education

Due to its reliable, scalable, and secure network solution, TP-Link has been widely acknowledged by global customers in the Education market ranging from infant schools with a few APs up to colleges and universities with hundreds of APs.

Easy management
High-density WiFi
Full WiFi coverage and wired connections
VPN and security

Retail

A good wireless network cannot only serve the network office system of the mall, but also bring a more comfortable shopping experience to customers. The TP-Link Omada SDN Solution empowers store owners to create a modern and compelling in-store experience for every customer.

Boost online business
Full WiFi coverage
Seamless roaming
High-concurrent clients
Easy management
City Seasons Hotel

Improving Guest Satisfaction and Loyalty with Great Wi-Fiat City Seasons Hotel

City Seasons Hotel

Improving Guest Satisfaction and Loyalty with Great Wi-Fiat City Seasons Hotel

"City Seasons Hotels, staff and customers are extremely satisfied with the TP-Link Wi-Fi solution, as well as management features that allow IT administrators to centrally manage the network, generate temporary guest tokens, load balance the clients and limit access rights."

Emirates Hills - Villa 23

TP-LinkHelps Emirates Hills-Villa 23 Build a Reliable and Efficient Network

Emirates Hills - Villa 23

TP-LinkHelps Emirates Hills-Villa 23 Build a Reliable and Efficient Network

"With the project going into the next phase, the Villa has already overcome some of its Wi-Fi Internet connectivity following the implementation of TP-Link's solutions."
CARACTERÍSTICAS DE HARDWARE
Interface
2 Puertos Gigabit Ethernet (RJ-45)(Soporta IEEE802.3at PoE y PoE Pasivo)* la v1 de hardware tiene 1 puerto y no cuenta con PoE pasivo (incluye adaptador de corriente).
Cerradura de Seguridad Física
Sí
Botón
Reset
Fuente de Alimentación
802.3af/A PoE
PoE Pasivo 48V (+4,5pins; -7,8pins. Adaptador PoE incluido)
Consumo de Energía
12.3 W
Dimensiones (W X D X H)
180*180*47.5mm. (7.1 x 7.1 x 1.9in)
Tipo de Antena
Antena Omnidireccional Interna
2.4GHz: 3* 3.5dBi
5GHz: 3*4dBi
Montaje
Montaje en Techo /Pared (Kit incluído)
Watch Dog por Hardware
Sí
CARACTERÍSTICAS INALÁMBRICAS
Estándares Inalámbricos
IEEE 802.11ac/n/g/b/a
Frecuencia
2.4GHz y 5GHz
Tasa de Señal
5GHz:Hasta 1300Mbps
2.4GHz:Hasta 450Mbps

Funciones Inalámbricas
Multiples SSIDs(Hasta 16 SSIDs, 8 por banda)
Habilitar/deshabilitar Radio Wi-Fi
Asignación Automática de Canal
Control de Potencia de Transmisión(Ajuste de Potencia Transmitida en dBm)
QoS(WMM)
MU-MIMO
Roaming Fluído
Band Steering
Balanceo de Carga
Airtime Fairness
Beamforming
Límite de Velocidad
Programación de Reinicio
Programación Inalámbrica
Estadísiticas Inalámbricas basadas en SSID/AP/Cliente

Seguridad Inalámbrica
Autenticación mediante Portal Cautivo
Control de Acceso
Filtrado de Direcciones MAC Inalámbricas
Aislamiento entre Clientes Inalámbricos
Mapeo de VLAN a SSID
Rogue AP Detection
Soporte 802.1X
64/128/152-bit WEP / WPA / WPA2-Enterprise,
WPA-PSK / WPA2-PSK

Potencia de Transmisión
CE:
<20dBm(2.4GHz)
<23dBm(5GHz)
FCC:
<24dBm(2.4GHz)
<24dBm(5GHz)

ADMINISTRACIÓN
Omada App
Yes
Centralized Management
Omada Software Controller
OC200
APP support
Sí
Cloud Access
Sí (Vía OC200 o Controlador Software Omada)
EAP Controller Software
Sí
Alertas de Correo Electrónico
Sí
LED ON/OFF Control
Sí
Management MAC Access Control
Sí
SNMP
Sí
System Logging Local/Remote Syslog
SysLog Local/Remoto
Telnet
Sí
SSH
Yes
Web-based Management
HTTP/HTTPS
L3 Management
Sí
Multi-site Management
Sí
Management VLAN
Sí
Zero-Touch Provisioning
Yes. Requiring the use of Omada Cloud-Based Controller.
Otros
Certificacion
CE, FCC, RoHS
Contenidos del Paquete
Punto de Acceso Gigabit Inalámbrico de Doble Banda AC1750 MU-MIMO EAP245
Adaptador PoE Pasivo Gigabit
Fuente de Alimentación
Kits de Montaje
Guía de Instalación

Requisitos del Sistema
Microsoft Windows XP, Vista, Windows 7, Windows 8, Windows10
Ambiente
Temperatura de Funcionamiento: 0℃~40℃ (32℉~104℉)
Temperatura de Almacenamiento: -40℃~70℃ (-40℉~158℉)
Humedad de Funcionamiento: 10%~90% sin condensación
Humedad de Almacenamiento: 5%~90% sin condensación

*Los ratios de señal inalámbrica máxima corresponden a los ratios físicos derivados de las especificaciones del estándar IEEE 802.11. La velocidad de datos y cobertura inalámbricos no están garantizados y pueden variar su resultado según 1) factores ambientales, incluyendo materiales del edificio, objetos físicos, y obstáculos, 2) condiciones de la red, incluyendo interferencias locales, volumen y densidad de tráfico, localización de producto, complejidad de la red, sobrecarga de la red, y 3) limitaciones del cliente, incluyendo el rendimiento nominal, localización, conexión, calidad y condición del cliente.
From United States?
Get products, events and services for your region.