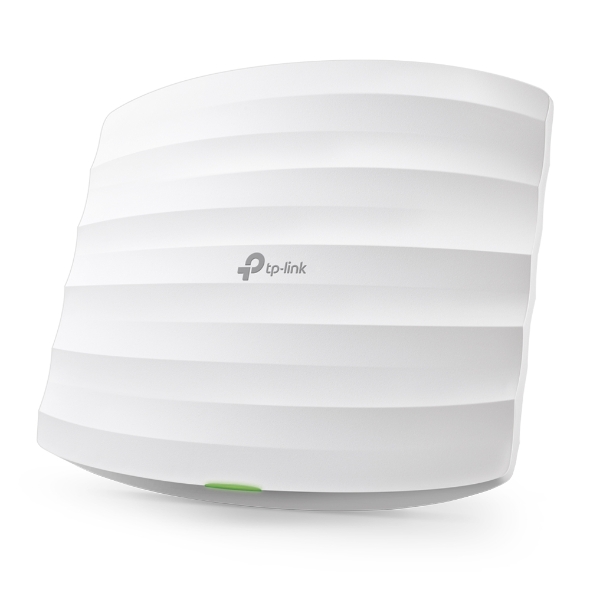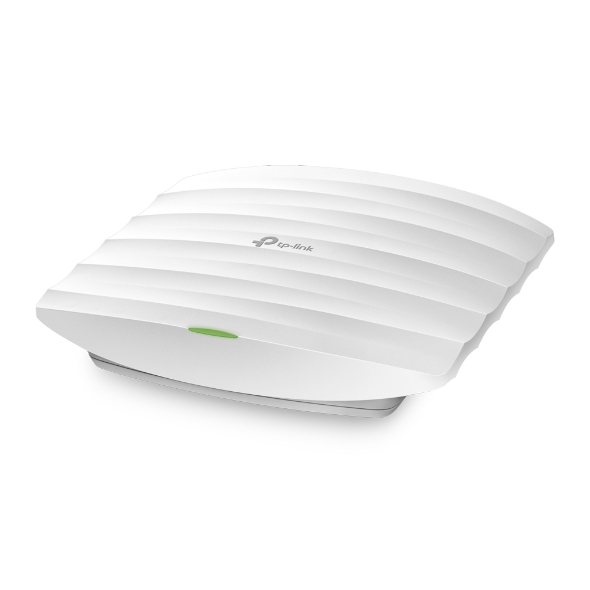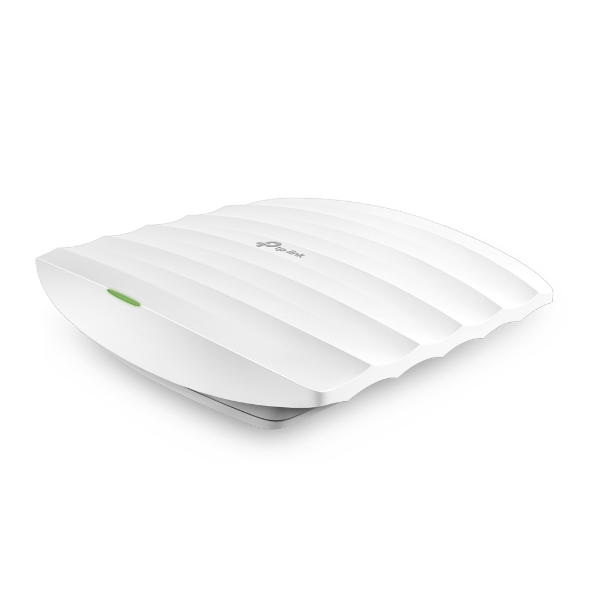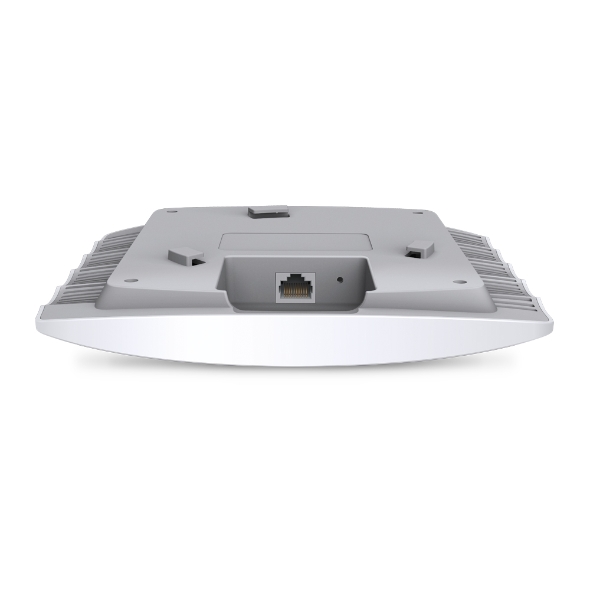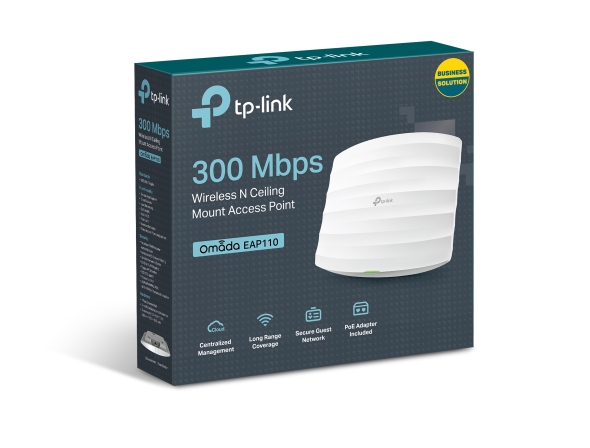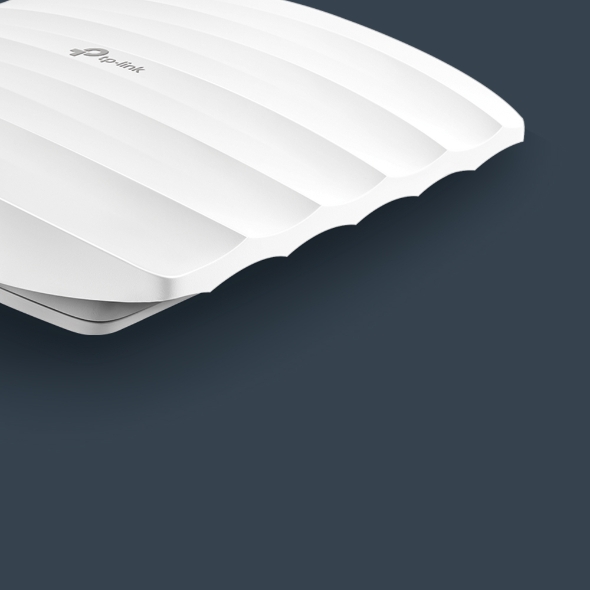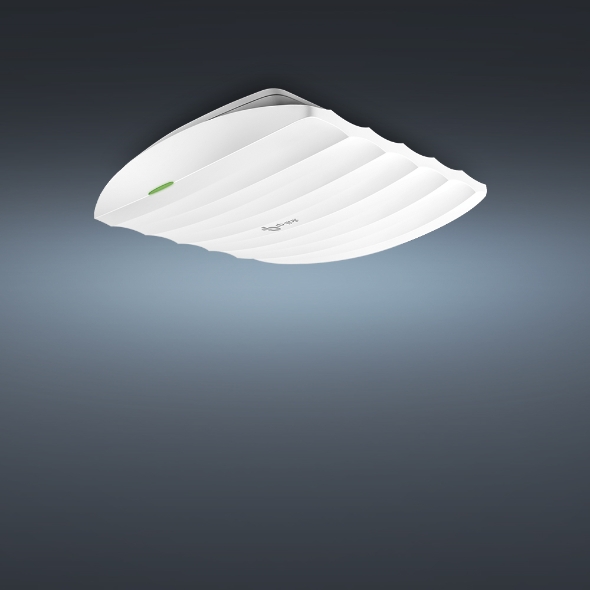 EAP110
Punto de Acceso Inalámbrico N a 300Mbps, de Montaje en Techo
El Software Gratuito Controlador EAP Omada permite a los administradores gestionar fácilmente cientos de EAPs
Soporta PoE pasivo para una instalación de hasta 100 metros
Diseño de montaje en techo con chasis haciendo su despliegue en una pared o techo muy fácil
El Portal Cautivo proporciona un método de autenticación para los clientes Wi-Fi
Autenticación WiFi por Facebook o SMS ayuda a potenciar su negocio
El Multi-SSID divide en múltiples redes inalámbricas para diferentes usuarios
La seguridad Wi-Fi a nivel empresarial, ayuda a disminuir las amenazas de seguridad de la red
Soporte de VLAN de gestión para una gestión de red mejorada
Punto de acceso de montaje en techo de clase ejecutiva
Colocación Flexible
Diseño de montaje fácil y PoE
La apariencia elegante del EAP y el diseño de montaje fácil con chasis hacen que sea fácil integrarse perfectamente en cualquier superficie de pared o techo para combinar con la mayoría de las decoraciones interiores. EAP110 admite PoE pasivo para que la implementación sea fácil y flexible.
Diseño compacto
Despliegue flexible
PoE pasivo
Omada SDN: solución de nube más inteligente para redes comerciales
La plataforma de redes definidas por software (SDN) de Omada integra dispositivos de red que incluyen puntos de acceso, conmutadores y puertas de enlace, garantizando una poderosa red comercial con mayor eficiencia, mayor seguridad y mayor confiabilidad.
PA Wi-Fi 6 para ambientes de alta densidad
PA montaje en techo EAP110
Pa pared
PA Exterior
Switches PoE JetStream
Router seguridad SafeStream
Acceso Nube
Omada
Controlador en la nube
Gestión de la nube centralizada sin problemas:
Gestión de la nube 100% centralizada de toda la red desde diferentes sitios, todo controlado desde una única interfaz en cualquier lugar, en cualquier momento.
Portal cautivo
Red de invitados con soporte para Facebook y SMS
El portal cautivo ayuda a mantener solo invitados autorizados para usar la red, presentando dispositivos con un método de autenticación conveniente y fácil de usar para otorgar acceso a Wi-Fi. La incorporación de la autenticación por SMS y Facebook simplifica aún más el portal cautivo para simplificar la conectividad e impulsar su negocio.
Administración fácil con la aplicación Omada
Sigue las instrucciones de configuración en la aplicación gratuita Omada para configurarlo en minutos. Omada permite configurar ajustes, monitorizar el estado de la red y administrar clientes, todo desde la comodidad de un teléfono inteligente o tableta.
Pulsa para ver dispositivos compatibles con la app Omada App >
Hospitality

TP-Link Omada allows hotels to build reliable WiFi networks. Hotel WiFi network solutions including network topology, design, features, installation, and products are introduced.

Full WiFi coverage and wired connections
Flexible guest control
Seamless roaming
Easy Management

Education

Due to its reliable, scalable, and secure network solution, TP-Link has been widely acknowledged by global customers in the Education market ranging from infant schools with a few APs up to colleges and universities with hundreds of APs.

Easy management
High-density WiFi
Full WiFi coverage and wired connections
VPN and security

Retail

A good wireless network cannot only serve the network office system of the mall, but also bring a more comfortable shopping experience to customers. The TP-Link Omada SDN Solution empowers store owners to create a modern and compelling in-store experience for every customer.

Boost online business
Full WiFi coverage
Seamless roaming
High-concurrent clients
Easy management
Kos Aktis Art Hotel

TP-Link Provides Better Wi-Fi for the Unique Destination in Greece

Kos Aktis Art Hotel

TP-Link Provides Better Wi-Fi for the Unique Destination in Greece

"Broad coverage, high performance, portal service, and easy management—the TP-Link Omada Solution had all the features we needed and the right price. The professionalism and qualifications of the TP-Link partner team contributed to our ability to provide an excellent hotel experience for our customers." —Michael Chatzistergos, General Manager of Kos Aktis Art Hotel.

Barranquilla Plaza Hotel

TP-Link Helps Barranquilla Plaza Hotel Build a Reliable and Efficient Network

Barranquilla Plaza Hotel

TP-Link Helps Barranquilla Plaza Hotel Build a Reliable and Efficient Network

"HBP management has expressed intense satisfaction with their newly implemented solution and 100% of the staff has reported improved internet service. TP-Link's Omada Solution provided the reliable, high-performance wireless network that HBP and its guests demanded."

Chase Grammar School

TP-Link Helps Chase Grammar School Accelerate Learning with BYOD

Chase Grammar School

TP-Link Helps Chase Grammar School Accelerate Learning with BYOD

"The installation was extremely straightforward. It was a simple matter of plug and play. The cluster function in particular saved me many hours con¬figuring each access point. On a day-to-day basis I can log into the closest access point to see how the whole network is performing and make any tweaks necessary." —Leo Li, Director for Administration at Chase Grammar School

Ilyas & Mustafa Galadari Group

TP-Link Provides Wireless Coverage to the Staff Accommodation in Dubai

Ilyas & Mustafa Galadari Group

TP-Link Provides Wireless Coverage to the Staff Accommodation in Dubai

"Employees reported great satisfaction with the wireless experience. TP-Link's EAP Solution provides the reliable, high-performance wireless network to the Staff Accommodation."
CARACTERÍSTICAS DE HARDWARE
Interface
1*Puerto Fast Ethernet (RJ-45) (Soporta PoE Pasivo)
Botón
Reset
Fuente de Alimentación
Alimentador PoE Pasivo 24VDC / 0.5A
Consumo de Energía
2.8W
Dimensiones (W X D X H)
7.5×6.7×1.2 in (189.5×170.5×29.7mm)
Dimensiones
189.4×172.3×29.5mm. (7.5×6.8×1.2 in.)
Tipo de Antena
2 Internas de 4dBi Omnidireccionales
Montaje
Montaje en Techo / Pared (Kits incluidos)
CARACTERÍSTICAS INALÁMBRICAS
Wireless Client Capacity
100+**
Estándares Inalámbricos
IEEE 802.11n, IEEE 802.11g, IEEE 802.11b
Frecuencia
2.4-2.4835GHz
Tasa de Señal
11n: Hasta 300Mbps (dinámico)
11g: Hasta 54Mbps (dinámico)
11b: Hasta 11Mbps (dinámico)

Sensibilidad de Recepción
300M: -71dBm@10% PER
150M: -75dBm@10% PER
54M: -78dBm@10% PER
11M: -93dBm@8% PER
6M: -92dBm@10% PER
1M: -96dBm@8% PER

Funciones Inalámbricas
Múltiples SSIDs (Hasta 8 SSIDs)
Habilitar/Deshabilitar Radio Inalámbrica
Asignación de Canal Automático
Control de Potencia de Transmisión (Potencia de Transmisión Ajustable en dBm)
QoS(WMM)
Límite de Velocidad
Balanceo de Carga
Horario Inalámbrico
Estadísticas Inalámbricas basadas en SSID/Punto de Acceso/Cliente

Seguridad Inalámbrica
Autenticación mediante Portal Cautivo
Control de Acceso
Filtrado de Direcciones Mac Inalámbrico
Aislamiento Inalámbrico Entre Clientes
Mapeo SSID a VLAN
Detección de Punto de Acceso No Autorizado
Soporta 802.1X
64/128/152-bit WEP / WPA / WPA2-Enterprise,WPA-PSK / WPA2-PSK

Potencia de Transmisión
CE:
<19dBm(EIRP)
FCC:
<21dBm

ADMINISTRACIÓN
Omada Cloud Access
Sí
Omada App
Sí
Omada Cloud Controller
Sí
Centralized Management
• Omada Hardware Controller (OC300)• Omada Hardware Controller (OC200)• Omada Software Controller
Omada Controller Software
Sí
Cloud Access
Yes (Through OC300, OC200, or Omada Software Controller)
Alertas de Correo Electrónico
Sí
LED ON/OFF Control
Sí
Management MAC Access Control
Sí
SNMP
v1,v2c
System Logging Local/Remote Syslog
Local/ Syslog Remoto
Telnet
Yes
SSH
Sí
Web-based Management
HTTP/HTTPS
L3 Management
Yes
Multi-site Management
Yes
Management VLAN
Sí
Otros
Certificacion
CE, FCC, RoHS
Contenidos del Paquete
Punto de Acceso de Montaje en Techo Inalámbrico N a 300Mbps EAP110
Adaptador PoE Pasivo,
Cable de Alimentación,
Kit de Montaje
Guía de Instalación

Requisitos del Sistema
Microsoft Windows 8/7/Vista/XP
Ambiente
Temperatura en Funcionamiento: 0°C~40°C (32℉~104℉)
Temperatura de Almacenaje: -40℃~70℃ (-40℉~158℉)
Humedad en Funcionamiento: 10%~90% sin condensación
Humedad de Almacenamiento: 5%~90% sin condensación

*Los ratios de señal inalámbrica máxima corresponden a los ratios físicos derivados de las especificaciones del estándar IEEE 802.11. La velocidad de datos y cobertura inalámbricos no están garantizados y pueden variar su resultado según 1) factores ambientales, incluyendo materiales del edificio, objetos físicos, y obstáculos, 2) condiciones de la red, incluyendo interferencias locales, volumen y densidad de tráfico, localización de producto, complejidad de la red, sobrecarga de la red, y 3) limitaciones del cliente, incluyendo el rendimiento nominal, localización, conexión, calidad y condición del cliente.
‡ El aprovisionamiento Zero-Touch requiere el uso del controlador basado en la nube Omada.
From United States?
Get products, events and services for your region.