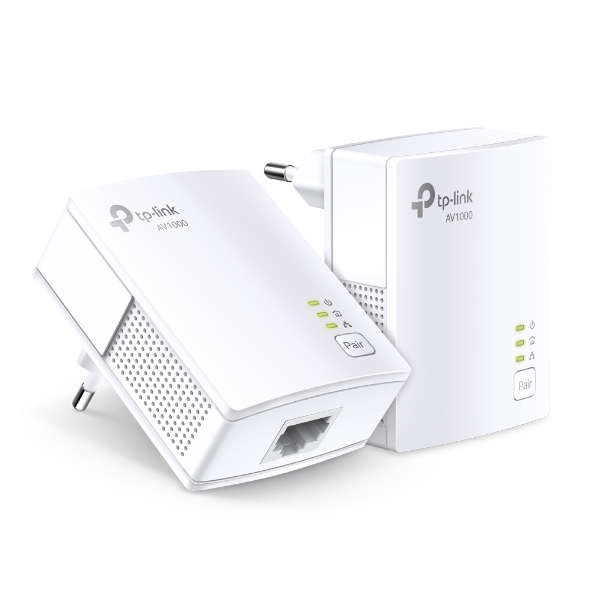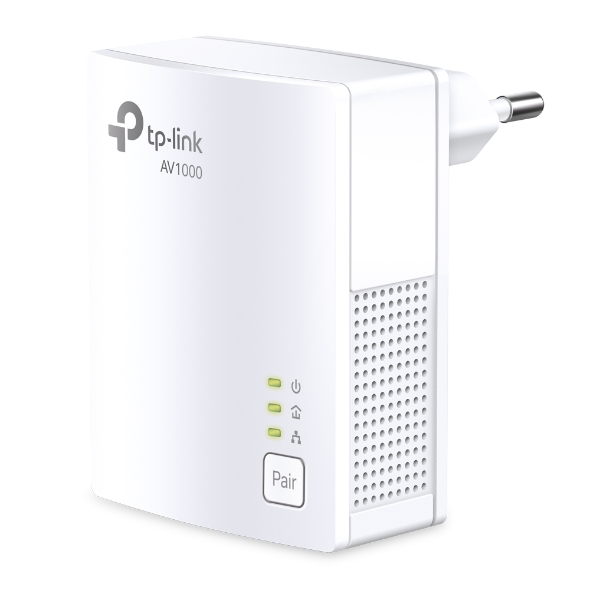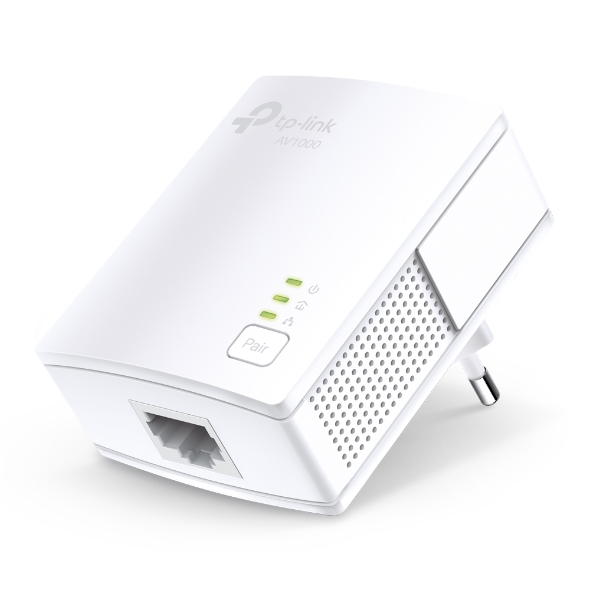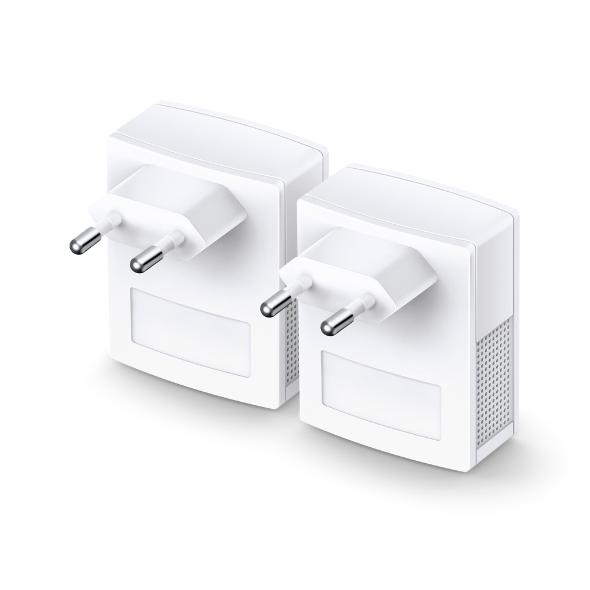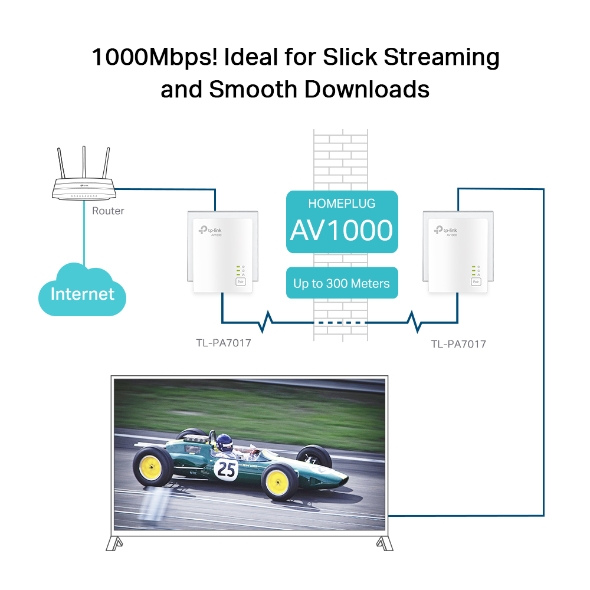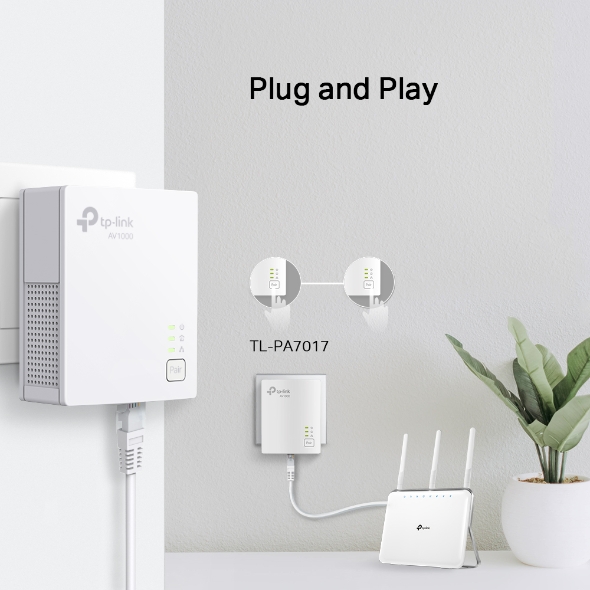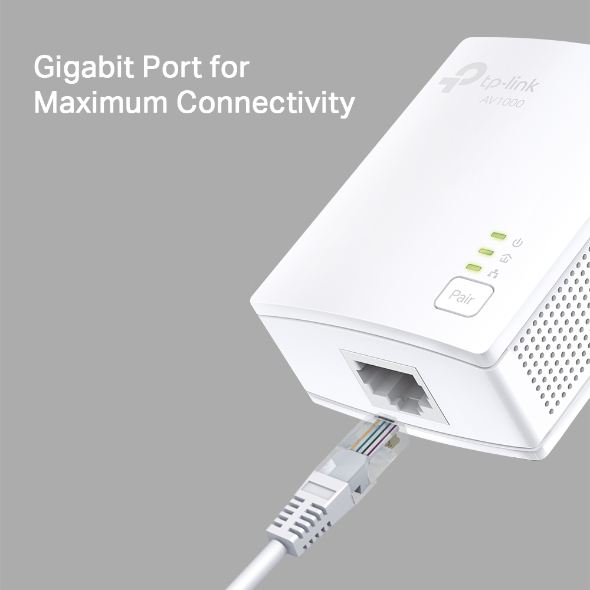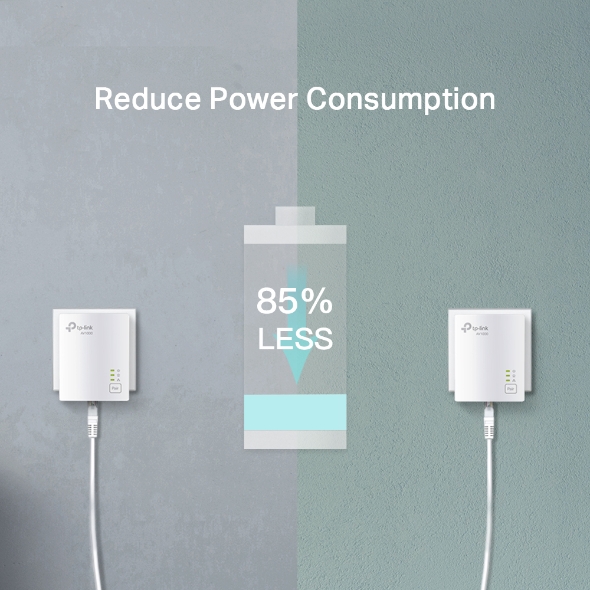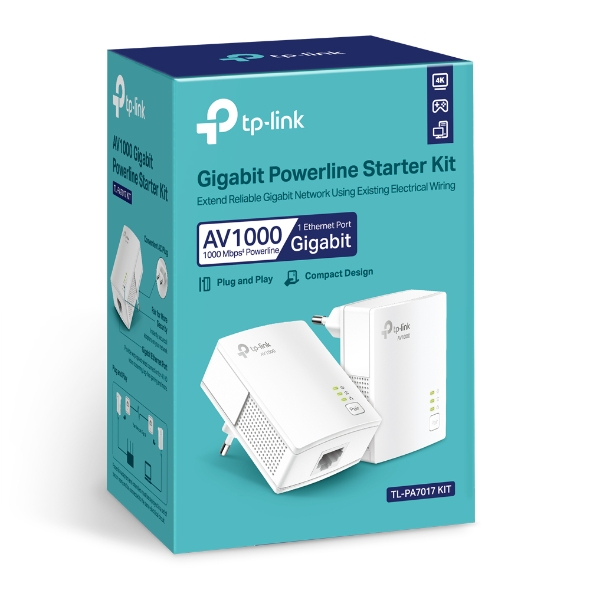 TL-PA7017 KIT
AV1000 Gigabit Powerline Starterkit
HomePlug AV2-standaard – hoge overdrachtssnelheden tot wel 1000 Mbps die al jouw online behoeften ondersteunen

Gigabit-poort – biedt beveiligde bedrade netwerken voor desktops, smart-tv's of gameconsoles

Plug and play – stel het powerline-netwerk in en geniet direct van snelle, naadloze bedrade/draadloze verbindingen

Gepatenteerde energiebesparingsmodus – vermindert automatisch het stroomverbruik tot wel 85%
Breid het gigabit-netwerk betrouwbaar uit via de elektriciteitskabels
AV1000 Gigabit Powerline Starterkit
TL-PA7017 KIT
AV1000-snelheden en 300 meter bereik
Door middel van de geavanceerde HomePlug AV2-technologie biedt de TL-PA7017 KIT een stabiele en supersnelle bedrade verbinding met overdrachtssnelheden tot wel 1000 Mbps* tot 300 meter via het bestaande stroomnet. Stream in HD, game online en download grote bestanden zonder onderbrekingen dankzij de betrouwbare Powerline-verbindingen.
Router
TL-PA7017
TL-PA7017
Internet
HOMEPLUG
AV1000
Tot 300 meter
Gigabit-poort voor maximale connectiviteit
Met één gigabit ethernetpoort zorgt de TL-PA7017 KIT ervoor dat bandbreedte-intensieve apparaten snel verbinding kunnen maken met internet en dat het streamen van Ultra HD video's vloeiend verloopt. Hierdoor is de TL-PA7017 KIT de perfecte partner voor home entertainment.
Plug and play:
geen configuratie nodig
Sluit een Powerline-adapter aan op de router; steek de andere Powerline-adapter in het stopcontact in een andere kamer en klaar ben je!
Koppelen voor meer bescherming
Druk vervolgens op iedere adapter op de pair-knop
om een veilig netwerk tot stand te brengen.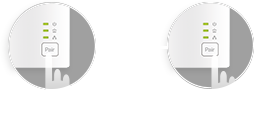 Verminder het stroomverbruikt tot wel 85%
De TL-PA7017 KIT is een nieuwe generatie powerline-adapter. Hij heeft een praktisch ontwerp en een geavanceerde energiebesparingsmodus die automatisch overgaat van de 'werkmodus' naar de energiebesparingsmodus' waardoor het energieverbruik tot wel 85% vermindert.*
*Werkelijke gegevens zullen variëren door netwerkomstandigheden en omgevingen.
85%
MINDER
Functionaliteit van de Hardware
Stekkertype
EU, VK, VS
Standaarden en protocollen
HomePlug AV2, HomePlug AV, IEEE 1901, 
IEEE 802.3, IEEE 802.3u, IEEE 802.3ab
Interface
Gigabit-ethernetpoort
Knop
Pair/Reset button
Energieverbruik
Maximaal: 2,7 W (220 V/50 Hz)
Standaard: 2,3 W (220 V/50 Hz)
Stand-by: 0,5 W (220 V/50 Hz)
LED-Indicator
Aan/uit, PLC, ethernet
Afmetingen ( B x D x H )
65 x 52 x 28,5 mm
BEREIK
300 meter via het stroomnet
Overige
Certificatie
CE, RoHS

Pakketinhoud
Powerline-ethernetadapter
Ethernetkabel (RJ45) 2 meter
Snelle installatiegids
Systeemvereisten
Windows 2000/XP/2003/Vista, Windows 7/8/8.1, Mac, Linux

Omgeving
Gebruikstemperatuur: 0°C~40℃
Bewaartemperatuur: -40°C~70℃
Rel. luchtvochtigheid gebruik: 10%~90%, niet-condenserend
Rel. luchtvochtigheid bewaren: 5%~90%, niet-condenserend
*1.Compatibel met alle standaard HomePlug AV en AV2 Powerline-adapters. Dit product is mogelijk niet compatibel met routers of gateways met firmware die is gewijzigd, is gebaseerd op opensourceprogramma's, niet-standaard of verouderd is.
*2.Maximale draadloze signaalfrequentie op basis van specificaties van de IEEE 802.11-standaard. De werkelijke draadloze gegevensdoorvoer en het draadloos bereik kunnen niet gegarandeerd worden en variëren op basis van 1) omgevingsfactoren, met inbegrip van bouwmaterialen, fysieke objecten en obstakels, 2) netwerkomstandigheden, met inbegrip van lokale interferentie, omvang en dichtheid van het verkeer, locatie van het product, complexiteit van het netwerk en overhead, en 3) clientbeperkingen, met inbegrip van nominaal vermogen, locatie, verbinding, kwaliteit en toestand van de client.
*3.Maximale draadloze signaalfrequentie van Powerline op basis van specificaties van Homeplug AV/AV2. De werkelijke gegevensdoorvoer en het bereik van Powerline kunnen niet gegarandeerd worden en variëren op basis van netwerkomstandigheden en omgevingsfactoren met inbegrip van elektrische interferentie, omvang van het verkeer en het netwerk, AFCI-schakelaar en of de Powerline-adapter op een aparte stroomkring is aangesloten.
Subscription
TP-Link hecht veel waarde aan privacy. Voor meer informatie over ons privacybeleid kan je onze Privacy Policy bekijken.
From United States (English)?
Check products and services for your region.