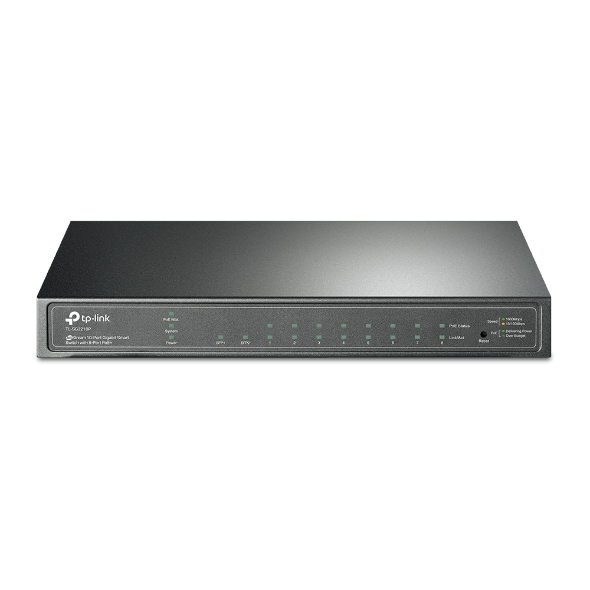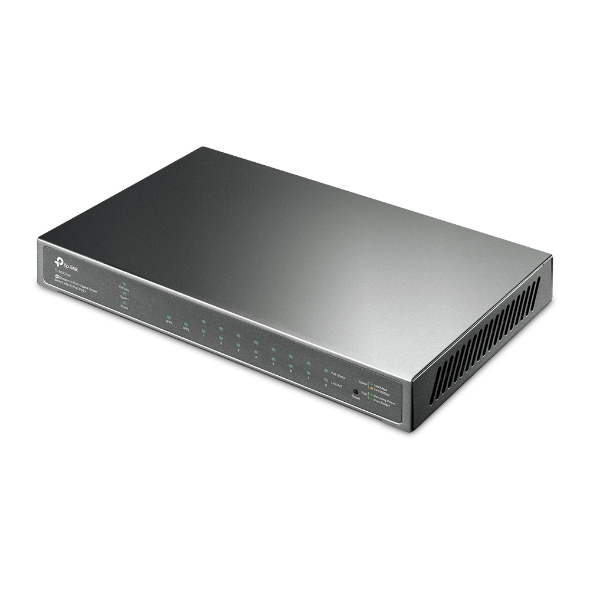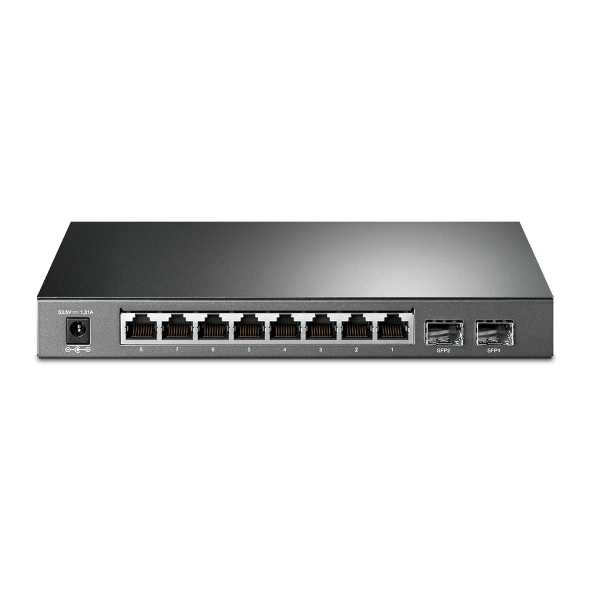 JetStream 8-Port Gigabit Smart PoE+ Switch with 2 SFP Slots
61 W PoE Προϋπολογισμός : 8 × 802.3af / at-compliant PoE + ports με συνολική τροφοδοσία 61 W * .
Πλήρεις θύρες Gigabit : 8 × gigabit PoE + θύρες και 2 × gigabit SFP Slots παρέχουν συνδέσεις υψηλής ταχύτητας.
Ενσωματωμένο στο Omada SDN : Zero-Touch Provisioning (ZTP) ** , Centralized Cloud Management και έξυπνη παρακολούθηση.
Κεντρική διαχείριση : Πρόσβαση στο cloud και εφαρμογή Omada για εξαιρετικά ευκολία και εύκολη διαχείριση.
Ισχυρές στρατηγικές ασφαλείας : IP-MAC-Port Binding, ACL, Port Security, DoS Defend, Storm Control, DHCP Snooping, 802.1X, Radius Authentication και άλλα.
Βελτιστοποιημένες εφαρμογές φωνής και βίντεο : L2 / L3 / L4 QoS και IGMP.
Ευέλικτη διαχείριση : Λειτουργίες διαχείρισης WEB / CLI, SNMP και RMON προσφέρουν άφθονα χαρακτηριστικά διαχείρισης.
Μάθετε περισσότερα σχετικά με την τεχνολογία TP-Link PoE>

Κεντρική διαχείριση
Επαγγελματικός Smart
Switch10-θυρών Gigabit με PoE + 8 θυρών
Εύκολο στη χρήση, PoE switch πολλαπλών χρήσεων με ισχυρή απόδοση
TL-SG2210P
Κεντρική
διαχείριση cloud

Ενσωμάτωση πλατφόρμας Omada SDN

Προηγμένες δυνατότητες
L2 +

Στατική δρομολόγηση, ACL,
IGMP Snooping και άλλα

Άφθονες
στρατηγικές ασφάλειας


Προστασία επενδύσεων περιοχής LAN

Έξοδος PoE +

8 θύρες PoE + με συνολικό
προϋπολογισμό ισχύος 61 W *
Δίκτυο που καθορίζεται από λογισμικό (SDN) με Cloud Access
Η πλατφόρμα Omada's Software Defined Networking (SDN) ενσωματώνει συσκευές δικτύου, συμπεριλαμβανομένων σημείων πρόσβασης, διακοπτών και πυλών, παρέχοντας 100% κεντρική διαχείριση cloud Το Omada δημιουργεί ένα εξαιρετικά επεκτάσιμο δίκτυο - όλα ελέγχονται από μία μόνο διεπαφή. Παρέχονται απρόσκοπτες ασύρματες και ενσύρματες συνδέσεις, ιδανικές για χρήση σε φιλοξενία, εκπαίδευση, καταστήματα λιανικής, γραφεία και άλλα.
Switches για Παρακολούθηση

For general surveillance, TP-Link has designed a variety of PoE Switches to meet the requirements of most IPCs. Many robust features provide value well beyond basic networking needs, creating a versatile and reliable surveillance network to grow your business.

Long-Range PoE
Auto Camera Recovery
Enhanced Network Security

Φιλοξενία

TP-Link Omada allows hotels to build reliable WiFi networks. Hotel WiFi network solutions including network topology, design, features, installation, and products are introduced.

Full WiFi coverage and wired connections
Flexible guest control
Seamless roaming
Easy Management

Εκπαίδευση

Due to its reliable, scalable, and secure network solution, TP-Link has been widely acknowledged by global customers in the Education market ranging from infant schools with a few APs up to colleges and universities with hundreds of APs.

Easy management
High-density WiFi
Full WiFi coverage and wired connections
VPN and security
Soborka ISP

TP-Link Helps ISP Soborka Provide Better Service for Subscribers

Soborka ISP

TP-Link Helps ISP Soborka Provide Better Service for Subscribers

"TP-Link's products offer tremendous value, which allowed us to reduce the cost of updating our large network without compromising performance. Our customers are much more satisfied with the network since the upgrade. It has done a lot to improve our reputation." —Soborka's CEO
HARDWARE FEATURES
Standards and Protocols
IEEE 802.3i, IEEE 802.3u, IEEE 802.3z, IEEE 802.3ab,IEEE 802.3ad, IEEE 802.3af, IEEE 802.3at, IEEE 802.3x, IEEE 802.1d, IEEE 802.1s,IEEE 802.1w, IEEE 802.1q, IEEE 802.1p, IEEE 802.1x
Interface
8 θύρες 10/100 / 1000Mbps RJ45
2 1000Mbps υποδοχές SFP
(Αυτόματη διαπραγμάτευση / Αυτόματο MDI / MDIX)
Network Media
10BASE-T: Καλώδιο UTP κατηγορίας 3, 4, 5 (μέγιστο 100m)
100BASE-TX / 1000Base-T: Καλώδιο κατηγορίας UTP κατηγορίας 5, 5e ή παραπάνω (μέγιστο 100m)
1000BASE-X: MMF, SMF
Fan Quantity
Χωρίς ανεμιστήρα
Power Supply
100 ~ 240VAC, 50 / 60Hz
Εξωτερικός προσαρμογέας ισχύος (Έξοδος: 53.5VDC / 1.31A)
Power Consumption
• 10,3 W (220 V / 50 Hz) (χωρίς σύνδεση PD)
• 74,4 W (220 V / 50 Hz) (με 61 W PD συνδεδεμένο)
PoE Ports (RJ45)
• Πρότυπο: 802.3af / at compliant
• Θύρες PoE: 8 θύρες
• Τροφοδοσία: 61 W *
Dimensions ( W x D x H )
8.2 x 4.9 x 1.0 in (209 x 126 x 26mm)
PERFORMANCE
Bandwidth/Backplane
20 Gbps
Packet Forwarding Rate
14.88 Mpps
MAC Address Table
8K
Packet Buffer Memory
4.1 Mbit
Jumbo Frame
9 KB
SOFTWARE FEATURES
Quality of Service
• 802.1p CoS/DSCP priority• 8 priority queues• Priority Schedule Mode- SP (Strict Priority)- WRR (Weighted Round Robin)• Queue Weight Config• Bandwidth Control- Port/Flow based Rating Limit• Smoother Performance• Storm Control- Multiple Control Modes(kbps/ratio)- Broadcast/Multicast/Unknown-Unicast Control
L2 and L2+ Features
• 16 IP Interfaces- Support IPv4/IPv6 Interface• Static Routing- 32 IPv4/IPv6 Static Routes• DHCP Server• DHCP Relay- DHCP Interface Relay- DHCP VLAN Relay• DHCP L2 Relay• Static ARP• Proxy ARP• Gratuitous ARP• Link Aggregation- Static link aggregation- 802.3ad LACP- Up to 8 aggregation groups and up to 8 portsper group• Spanning Tree Protocol- 802.1D STP- 802.1w RSTP- 802.1s MSTP- STP Security: TC Protect, BPDU Filter/Protect,Root Protect• Loopback Detection• Flow Control- 802.3x Flow Control• Mirroring- Port Mirroring- CPU Mirroring- One-to-One- Many-to-One- Flow-Based- Ingress/Egress/Both• Device Link Detect Protocol (DLDP)• 802.1ab LLDP/ LLDP-MED
VLAN
• VLAN Group- Max. 4K VLAN Groups• 802.1Q tag VLAN• MAC VLAN• Protocol VLAN• GVRP• Voice VLAN
Access Control List
• Support up to 230 entries• Time-Range- Time Slice- Week Time-Range- Absolute Time-Range- Holiday• Time-based ACL• MAC ACL- Source MAC- Destination MAC- VLAN ID- User Priority- Ether Type• IP ACL- Source IP- Destination IP- IP Protocol- TCP Flag- TCP/UDP Source Port- TCP/UDP Destination Port- DSCP/IP TOS• IPv6 ACL• Combined ACL• Rule Operation- Permit/Deny• Policy Action- Mirror- Rate Limit- Redirect- QoS Remark• ACL Rules Binding- Port Binding- VLAN Binding• Actions for flows- Mirror (to supported interface)- Redirect (to supported interface)- Rate Limit- QoS Remark
Security
• AAA• 802.1X- Port based authentication- MAC (Host) based authentication- Authentication Method includes PAP/EAP-MD5- MAB- Guest VLAN- Support Radius authentication andaccountability• IP/IPv6-MAC Binding- 512 Binding Entries- DHCP Snooping- DHCPv6 Snooping- ARP Inspection- ND Detection• IP Source Guard- 253 Entries- Source IP+Source MAC• IPv6 Source Guard- 183 Entries- Source IPv6 Address+Source MAC• DoS Defend• Static/Dynamic/Permanent Port Security- Up to 64 MAC addresses per port• Broadcast/Multicast/Unicast Storm Control- kbps/ratio control mode• Port Isolation• Secure web management through HTTPS withSSLv3/TLS 1.2• Secure Command Line Interface (CLI)management with SSHv1/SSHv2• IP/Port/MAC based access control
MANAGEMENT
Omada App
Yes
Centralized Management
• Omada Hardware Controller (OC300)
• Omada Hardware Controller (OC200)
• Omada Software Controller
Cloud Access
Yes (Through OC300, OC200, or Omada Software Controller)
Management Features
• Web-based GUI
• Command Line Interface (CLI) through telnet
• SNMPv1/v2c/v3
• SNMP Trap/Inform
• RMON (1,2,3,9 groups)
• SDM Template
• DHCP/BOOTP Client
• Dual Image, Dual Configuration
• CPU Monitoring
• Cable Diagnostics
• EEE
• SNTP
• System Log
OTHERS
Certification
CE, FCC, RoHS
Package Contents
TL-SG2210P
Τροφοδοτικό
Οδηγός εγκατάστασης
Καουτσούκ πόδια
System Requirements
Microsoft® Windows® 98SE, NT, 2000, XP, Vista ™ ή Windows 7/8, MAC® OS, NetWare®, UNIX® ή Linux.
Environment
Θερμοκρασία λειτουργίας: 0 ℃ ~ 40 ℃ (32 ℉ ~ 104 ℉);
Θερμοκρασία αποθήκευσης: -40 ℃ ~ 70 ℃ (-40 ℉ ~ 158 ℉)
Υγρασία λειτουργίας: 10% ~ 90% χωρίς συμπύκνωση
Υγρασία αποθήκευσης: 5% ~ 90% χωρίς συμπύκνωση
*Οι υπολογισμοί του προϋπολογισμού PoE βασίζονται σε εργαστηριακές δοκιμές. Ο πραγματικός προϋπολογισμός ισχύος PoE δεν είναι εγγυημένος και θα διαφέρει ως αποτέλεσμα περιορισμών πελατών και περιβαλλοντικών παραγόντων.
**Το Zero-Touch Provisioning απαιτεί τη χρήση του Omada Cloud-based Controller.
ΕγγραφήΗ TP-Link λαμβάνει σοβαρά υπόψη το απόρρητό σας. Για περισσότερες λεπτομέρειες σχετικά με τις πρακτικές απορρήτου της TP-Link, ανατρέξτε στην ενότητα Πολιτική απορρήτου του TP-Link.
Από United States?
Λάβετε προϊόντα, εκδηλώσεις και υπηρεσίες για την περιοχή σας.