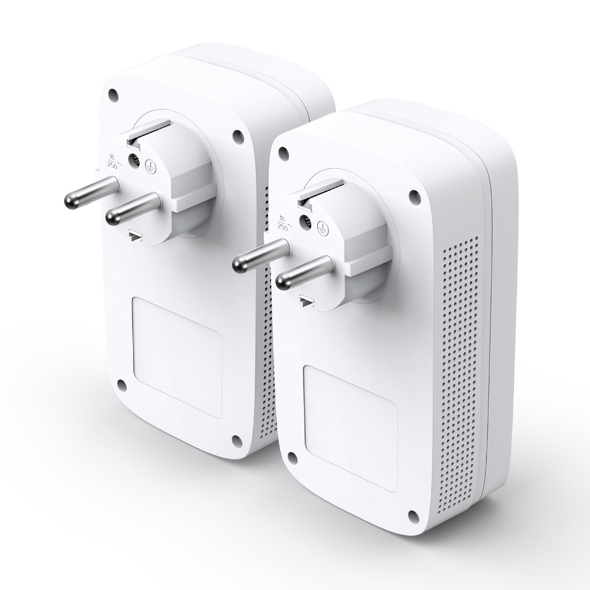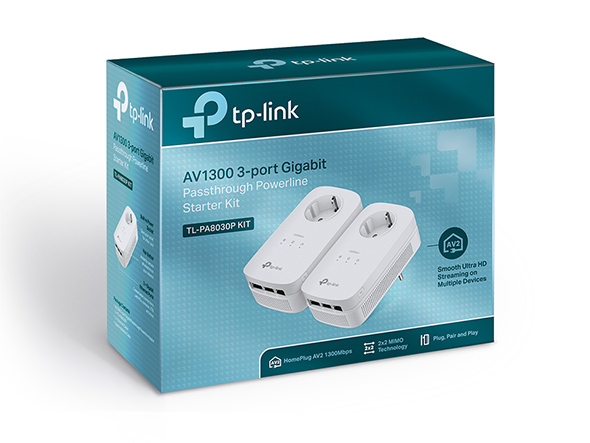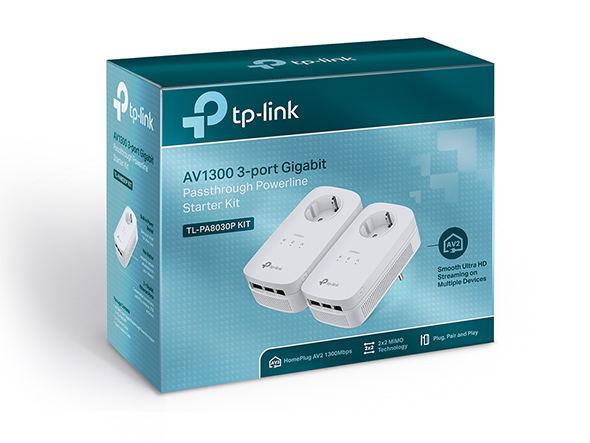 TL-PA8030P KIT
Kit d'adaptateurs CPL AV1200 3 ports Gigabit avec prise gigogne
Conforme à la norme HomePlug AV2, et offrant un débit allant jusqu'à 1200Mbps, c'est le support de tous vos besoins réseaux.
Les 3 ports Gigabit fournissent des connexions sécurisées aux clients du réseau, aux smart TV ou aux consoles de jeux.
La prise femelle intégrée, vous garanti qu'aucune prise électrique n'est perdue.
Branchez et utilisez, aucune configration n'est requise
Jusqu'à 1200Mbps!
Parfait pour les utilisations consommatrices de bande passante.
Grâce à la technologie HomePlug AV2, le Kit TL-PA8030P de TP-LINK est le premier élément de la nouvelle génération d'adaptateurs CPL capables de transmettre les données encore plus rapidement via un réseau électrique.
*La fonctionnalité MiMo et HomePlug AV2 améliore de manière significative les débits en particulier pendant les pics d'utilisation.
Ligne Neutre/Ligne Terre
avec Beamforming
Portée accrue
La technologie Beamforming MIMO augmente la performance des flux de portée, ce qui augmente la bande passante.
Longue Distance Longue Distance
MIMOSISO
Haute capacité de transmission ; Connexions plus stables
La fonctionnalité MiMo utilise deux liens dans un réseau électrique avec mise à la terre pour améliorer les performances.
Ligne Neutre
Ligne
Ligne Terre
MIMOSISO
Note:
MIMO - Multi-input Multi-output
SISO - Single-input Single-output
3 Ports Gigabit
pour une connectivité maximale
Equipé de trois ports Ethernet Gigabit, le TL-PA8030P permet aux utilisateurs de connecter trois appareils gourmand en bande passante dans une pièce et de garantir de multiples transmissions de vidéos HD, des jeux en ligne ou des transferts vers un NAS le tout simultanément et à grande vitesse !
Game Console
4K TV
Computer
Plug and Play,
aucune configuration requise
Le kit TL-PA8030P Kit est facile à mettre en oeuvre : 1. Brancher les adaptateurs dans une prise électrique 2. Relier les appareils aux adaptateurs par un cordon Ethernet et c'est fini !
Prise électrique gigogne pour plus de possibilités
Grâce à sa prise électrique gigogne le TL-PA8030PKIT est extrêmement pratique pour votre réseau domestique. La prise de courant femelle permet de relier un périphérique ou une prise multiple à l'adaptateur, comme s'il s'agissait d'une prise normale.
*Puissance de sortie jusqu'à 16A permettant aux
équipements électriques d'être branchés.
Réduction de la consommation électrique jusqu'à 85%
Le TL-PA8030PKIT, appartenant à la nouvelle génération d'adaptateurs CPL, avec son design pratique et son mode veille sophistiqué, passe Automatiquement du mode 'Actif' au mode 'Veille' et réduit sa consommation d'énergie jusqu'à 85%.*.
Working mode
Power-Saving mode
Produits relatifs
TL-PA8030P

TL-PA8010P

AV1200 Gigabit Passthrough Powerline Starter Kit

TL-PA8010P KIT

HomePlug AV2 Standard

√

√

Powerline Speed

1200Mbps

1200Mbps

Ethernet Port

3 Gigabit Ports

1 Gigabit Port

Extra Power Socket

√

√

One Button Security

√

√

Power Saving Mode

85%

85%
CARACTERISTIQUES MATERIELLES
Type de prise
EU
Standards et Protocoles
HomePlug AV2, HomePlug AV, IEEE 1901, IEEE 802.3, IEEE 802.3u, IEEE 802.3ab
Interface
3 ports Ethernet Gigabit, Prise électrique femelle 2P+T
Bouton
Bouton Pair (Reset)
Consommation
Maximum : 6W (220V/50Hz)
Typique : 6W (220V/50Hz)
Veille : 0.5W (220V/50Hz)
Témoins lumineux
Alimentation, CPL et Ethernet
Dimensions (LxPxH)
131×72×42 mm
Gamme
300 m dans le réseau électrique
Puissance de sortie de la prise gigogne
16 A
Autres
Certification
CE, RoHS
Contenu de l'emballage
2 TL-PA8030P
2 cordons Ethernet de 2m
1 CD de ressources
1 Guide d'installation rapide
Système requis
Windows 2000/XP/2003/Vista, Windows 7/8, Mac, Linux
Environnement
Température de fonctionnement : 0 à 40°C
Température de stockage : -40 à 70°C
Humidité relative de fonctionnement : 10% à 90% sans condensation
Humidité relative de stockage : 10% à 90% sans condensation
Revues de presse
Récompenses

Recommended Product

TL-PA8030P KIT was recommended by Redes Zone

2015, Spain

Recommended Product

TL-PA8030P KIT was recommended by Computer Hoy

2015, Spain

Very Good

TL-PA8030P KIT has received Very Good award from CHIP Magazine.

2015, Germany

Ranked #1

TL-PA8030P KIT was ranked #1 by SmallNetBuilder

2015, U.S.A

Best Buy

TL-PA8030P KIT has received Best Buy award from Sunday times

2015, UK
The theoretical maximum channel data transfer rate is derived from HomePlug AV2 specifications. Actual data transfer rate will vary from network environment including: distance, network traffic, noise on electrical wires, building material and construction, quality of electrical installation and other adverse conditions.
Actual data will vary because of the network conditions and environment factors.
SubscriptionTP-Link prend votre vie privée au sérieux. Pour plus de détails sur la politique de confidentialité de TP-Link, veuillez consultez la page suivante Politique de confidentialité de TP-Link .
From United States (English)?
Check products and services for your region.