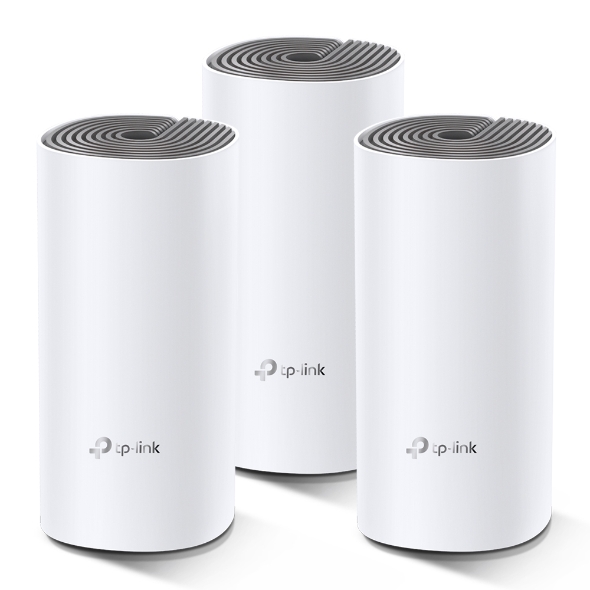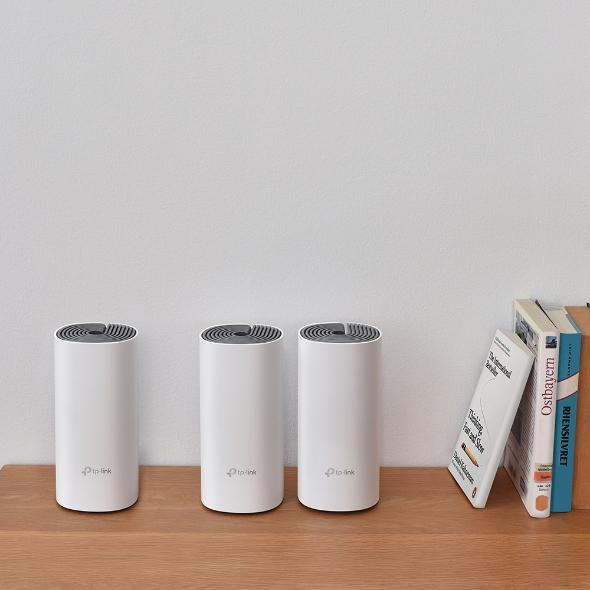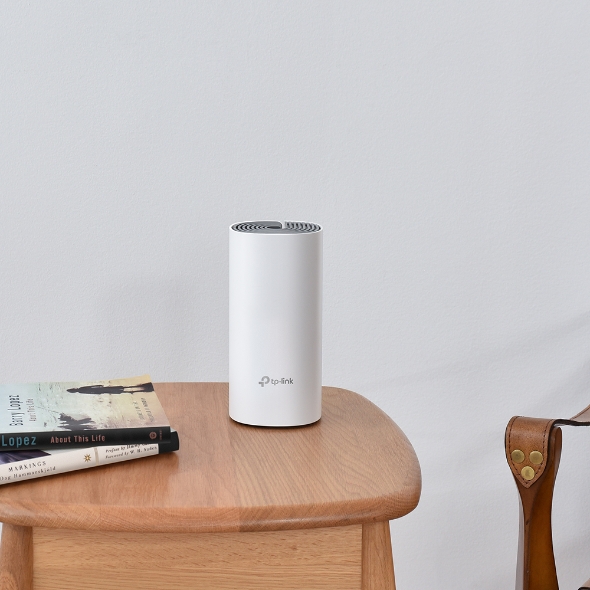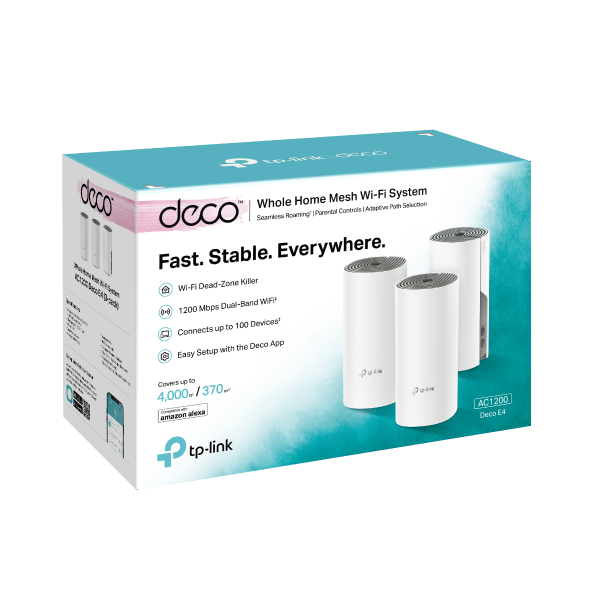 AC1200 Whole Home Mesh Wi-Fi System
Deco uses a system of units to achieve seamless whole-home Wi-Fi coverage — eliminate weak signal areas once and for all!
With advanced Deco Mesh Technology, units work together to form a unified network with a single network name. Devices automatically switch between Decos as you move through your home for the fastest possible speeds.
A Deco E4 two-pack delivers Wi-Fi to an area of up to 2,800 square feet (EU version). And if that's not enough, simply add more Decos to the network anytime to increase coverage.
Deco E4 provides fast and stable connections with speeds of up to 1167 Mbps and works with major internet service provider (ISP) and modem.
Deco can handle traffic from even the busiest of networks, providing lag-free connections for up to 100 devices.
Parental Controls limits online time and block inappropriate websites according to unique profiles created for each family member.
Setup is easier than ever with the Deco app there to walk you through every step.
Fast. Stable. Everywhere.
Whole Home Mesh Wi-Fi System
AC1200 Dual-Band Wi-Fi
Deco E4
Wi-Fi Dead-Zone Killer
Deco E4 is the simplest way to guarantee a strong Wi-Fi signal in every corner of your home up to 2800 Square feet(2-pack).Wireless connections and optional Ethernet backhaul work together to link Deco units, providing even faster network speeds and truly seamless coverage.Want more coverage? Simply add another Deco.
2.4 GHz wireless connection
5 GHz wireless connection
Optional Ethernet backhaul
Seamless Roaming with One Wi-Fi Name
TP-Link Mesh means Deco units work together to form one unified network. Your phone or tablet automatically connects to the fastest Deco as you move through your home, creating a truly seamless Wi-Fi experience.
No More Buffering
Network speeds three times faster than previous generation routers, thanks to 802.11ac wireless technology, make Deco capable of providing a lag-free connection to up to 100 devices.
Single-application
connections for up to
100
devices
Testing of multiple applications conducted by TP-Link in December 2018.
2-in-1 Router and Access Point Modes
Flexible and multifunctional, the Deco E4 includes a variety of features allowing it to serve as a router or access point. Just choose the mode for your actual network demands and experience the maximum wireless flexibility.
Router (Default)

Instantly generate a private
wireless network.

Access Point

Create Wi-Fi access for any
existing wired network.
Robust Parental Controls
Simple, intuitive parental controls make it easy to
keep your children safe while they're online.
Easily create a profile for each family member and set custom time limits and online time allowances.

Keep your family safe online with one-touch security settings that block websites based on age-appropriateness.

Set limits on how much time each person in your family can spend online.

Check out which sites your children visit and how much time they spend on each to ensure your children are safe while they're having fun online.

Take a break from Wi-Fi for dinner and family game nights. Just tap a button to suspend internet access for everyone in your home.
All Decos Can Work Together
Deco E4 is compatible with every other Deco model to form a Mesh network. Expand Mesh Wi-Fi coverage anytime by simply adding more Decos.
Wi-Fi Made Easy
App-Based Setup

Installing Deco E4 is fast and easy. Just unpack the system, download the Deco app and follow its onscreen directions.

Learn how to set up the Deco system >>

Easy Management

Manage your Wi-Fi at home or away in the Deco app, including seeing the connected devices, prioritizing your devices, setting up a guest network and more.

Voice Control

Pair with Alexa to control Deco E4 with simple voice commands. Enjoy the convenient life.
Gestion du réseau Deco du bout des doigts !
L'application Deco offre le moyen le plus simple de configurer, gérer et surveiller votre système Deco WiFi Mesh via vos appareils iOS ou Android.
L'installation est beaucoup plus facile
Déballez votre Deco, installez l'application, puis suivez simplement les instructions à l'écran. L'application Deco se chargera du reste et mettra votre réseau en marche en quelques minutes.
Connectez Deco à votre Box et allumez vos appareils

Téléchargez et lancer l'application Deco

Suivez les instructions pour configurer votre système Deco
Administration Simple
Deco facilite la gestion de votre réseau WiFi où que vous soyez, que vous soyez sur le canapé, au travail ou ailleurs.
Tableau de bord explicite

Affichez l'état de fonctionnement de votre réseau, vérifiez les périphériques connectés et bénéficiez de toutes les fonctionnalités offertes par votre routeur.

Plusieurs boitiers Deco, Une App

L'application Deco gère tous vos réseaux et appareils Deco connectés à votre Deco WiFi.

Vérifiez les appareils connectés

Affichez la liste de vos appareils connectés, avec la possibilité de suspendre et de permettre à nouveau l'accès à Internet, de tester le débit Internet et de hiérarchiser ou de bloquer certains appareils.

Gestion à distance

Prenez le contrôle du réseau à distance depuis votre téléphone, peu importe où vous vous trouvez.
Contrôle Parental Puissant
Un contrôle parental simple et intuitif qui facilite la sécurité de vos enfants lorsqu'ils sont en ligne.
Créez facilement un profil pour chaque membre de la famille et définissez des limites de temps personnalisées et des limites de temps en ligne. Attribuez des périphériques aux profils afin que les règles s'étendent aux périphériques individuels ainsi qu'aux membres de la famille.

Protégez votre famille en ligne grâce aux paramètres de sécurité par simple pression d'une touche qui bloquent le contenu en fonction de l'âge.

Fixez une limite au temps que chaque membre de votre famille peut passer en ligne.

Vous pouvez vérifier quels sites vos enfants visitent et combien de temps ils consacrent à chacun. C'est un excellent moyen de savoir que vos enfants sont en sécurité tout en s'amusant en ligne.

Faites une pause WiFi lors du dîner et lors des soirées en famille. Appuyez simplement sur un bouton pour suspendre l'accès à Internet pour tous les membres de votre foyer.
Application intuitive chargée de fonctions très utiles
Rapport d'activités Web mensuel
Consultez une liste complète des détails de votre réseau chaque mois, y compris l'utilisation, le contenu bloqué, les menaces à la sécurité, etc.
Automatisation de la maison
Simplifiez-vous la vie avec de puissants outils d'automatisation et de commande vocale.
*Actuellement uniquement sur Deco M9 Plus
Raccourcis pratiques
Contrôlez de manière flexible tous les appareils depuis votre téléphone ou votre tablette en un seul clic.
*Actuellement uniquement sur Deco M9 Plus
Protégez votre réseau
Antivirus intégré vous aide à vous défendre contre les sites Web malveillants et à protéger vos paiements en ligne.
*Actuellement uniquement sur Deco M9 Plus, Deco P7 et Deco M5
Prioritisez vos appareils
Choisissez quels appareils ont toujours les connexions les plus rapides
ou définir la priorité pour une durée spécifique.
Définir les priorités d'application
Allouez plus de bande passante pour les activités les plus importantes pour vous avec des contrôles simples.
*Actuellement uniquement sur Deco M9 Plus, Deco P7 et Deco M5
Partagez le WiFi avec des amis
Configurez des profils WiFi distincts pour les invités et partagez le mot de passe avec eux
pour permettre un accès Web plus facile.
Vérifiez votre débit
Lancez un test de débit pour vous assurer que vous bénéficiez des vitesses Internet pour lesquelles vous payez.
Affichez tous les appareils de votre réseau et constatez combien de bande passante que chacun utilise.
Besoin d'aide ?
Vous avez des questions sur Deco ? L'aide est toujours à portée de clic. Trouvez les réponses dans l'application Deco et n'hésitez pas à nous contacter d'un simple clic.
Support
Remarques: les interfaces et les fonctions des applications peuvent varier légèrement en fonction de la version de l'application et des modèles Deco.
WIFI
Standards
Wi-Fi 5IEEE 802.11ac/n/a 5 GHzIEEE 802.11n/b/g 2.4 GHz
Débits WiFi
AC12005 GHz: 867 Mbps (802.11ac)2.4 GHz: 300 Mbps (802.11n)
Couverture WiFi
3-4 Bedroom Houses (3-pack)

---

TP-Link Mesh TechnologyOptional Ethernet backhaul work together to link Deco units to provide seamless coverage2× Antennas (Internal)Multiple antennas form a signal-boosting array to cover more directions and large areas
Capacité WiFi
Medium

---

Dual-BandDistribute devices to different bands for optimal performanceMU-MIMOSimultaneously communicates with multiple MU-MIMO clients
Modes de Fonctionnement
Router ModeAccess Point Mode
MATERIEL
Ports Ethernet
2× 10/100 Mbps Ports *Per Deco Unit
Boutons
Reset Button
Sécurité
Chiffrement WiFi
WPA-Personal
WPA2-Personal
Sécurité Réseau
SPI FirewallAccess Control
Réseau Invité
1× 5 GHz Guest Network1× 2.4 GHz Guest Network
LOGICIEL
Protocoles
IPv4 IPv6
Contrôle Parental
URL FilteringTime Controls
Types WAN
Dynamic IPStatic IPPPPoEPPTPL2TP
Gestion des Priorités
QoS by Device
Service Cloud
OTA Firmware UpgradeTP-Link ID DDNS
Transfert NAT
Port Forwarding
UPnP
IPTV
IGMP ProxyIGMP SnoopingBridge Tag VLAN
DHCP
Address ReservationDHCP Client ListServer
DDNS
TP-Link
Administration
Deco App
DONNEES DE TEST
Puissance Transmission WiFi
CE:<20 dBm (2.4 GHz)<23 dBm (5 GHz)FCC:<30 dBm
PHYSIQUE
Dimensions (L×P×H)
90.7 × 90.7 × 190 mm
Contenu de la boite
Deco E4 (3-pack)1 Deco E4R Unit + 2 Deco E4S Units1 RJ45 Ethernet Cable3 Power AdaptersQuick Installation GuideDeco E4 (2-pack)1 Deco E4R Unit + 1 Deco E4S Unit1 RJ45 Ethernet Cable2 Power AdaptersQuick Installation Guide
Autres
Système requis
Android 5.0 or later
iOS 9.0 or later
*Note: The minimum system requirements will be updated alongside updates to the app, subject to official website information.
Certifications
CE, FCC, IC, NCC, BSMI, IDA, RCM, JPA, JRF, VCCI, KC, RoHS
Environnement
Operating Temperature: 0℃~40℃
Storage Temperature: -40℃~70℃
Operating Humidity: 10%~90% non-condensing
Storage Humidity: 5%~90% non-condensing
De United States?
Infos produits, événements, services pour votre pays.