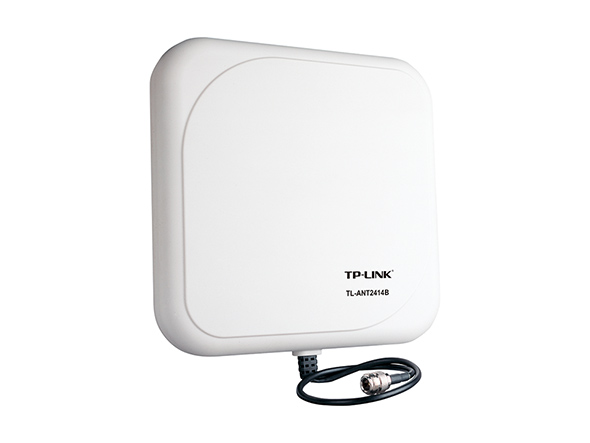 TL-ANT2414B
Antenne directionnelle d'extérieur 14 dBi pour réseaux 2,4 GHz
Le fonctionnement directionnel 14 dBi assure une connexion point à point étendue, aussi bien en intérieur qu'en extérieur
Installation flexible grâce au câble faible perte CFD-200 de 1 m.
Connecteur femelle N, fonctionne avec la plupart des points d'accès et des routeurs sans fil
Propose des kits de montage faciles à installer
Fonctions
L'antenne directionnelle TL-ANT2414B fonctionne dans la bande 2,4 GHz et offre un fonctionnement directionnel 14 dBi, ce qui accroît considérablement la plage sans fil et offre des performances sans fil plus élevées. L'antenne est dotée du connecteur femelle N qui garantit une plus grande compatibilité avec la plupart des équipements sans fil. En outre, sa conception robuste permet de l'utiliser normalement en extérieur, y compris dans des conditions extrêmes.

Bénéficiez d'une connectivité sans fil à haut débit et sur de grandes distances, dans n'importe quelle pièce ou bureau. Aucune configuration ou installation de logiciel requise.
Facile à utiliser
L'installation du modèle TL-ANT2414B est simple et rapide. Cette antenne est compatible avec la majorité des périphériques sans fil (points d'accès, routeurs, ponts et adaptateurs réseau) disponibles sur le marché disposant d'une antenne externe amovible.
Peru WISP

TP-Link Helps WISP to Provide Reliable Wireless Connectivity in Peru

Peru WISP

TP-Link Helps WISP to Provide Reliable Wireless Connectivity in Peru

"The performance of CPE was better than expected, working stable even with -85 dBm of received power." —David Grillo, Engineer, Kroton
Antenne
Fréquence
2.4GHz
Gain
14dBi
VSWR(MAX.)
1.5:1
Largeur de faisceau HPOL
30
VPOL Beamwidth
30
Polarisation
Linear; Vertical
Type
Directional
Type de connecteur
N Female(Jack)
Longueur du câble d'extension/rallonge
CFD-200 ; 100cm
Montage
Pole Mount/Wall Mount
Application
Outdoor
Portée approximative à 1/11/54 Mbps
5km/3km/440m
Accessoire optionnel
TL-ANT24EC6N TL-ANT24EC12N TL-ANT24SP TL-ANT24PT
Contenu de l'emballage
14dBi Panel Directional outdoor Antenna
Installation mounting kits
User Guide

SubscriptionTP-Link prend votre vie privée au sérieux. Pour plus de détails sur la politique de confidentialité de TP-Link, veuillez consultez la page suivante Politique de confidentialité de TP-Link .
De United States?
Infos produits, événements, services pour votre pays.