How to set up Bandwidth Control on TL-MR3020 (Router mode--new logo)?
Ce document concerne les modèles suivants :
We will show you how to set bandwidth limits minimize the impact caused when the connection is under heavy load.
Here takes TL-MR3020 for demonstration.
Bandwidth Control can only be set up after the product has been successfully configure as a 3G/4G router, wireless router or WISP client router.
1. Follow the instructions below to configure the router.
How to configure 3G/4G Router Mode on TL-MR3020 (new logo)?
How to configure Wireless Router Mode on TL-MR3020 (new logo)?
How to configure WISP Client Router Mode on TL-MR3020 (new logo)?
2. Go to Advanced > Bandwidth Control.
3. Enable Bandwidth Control and enter the Total Upstream Bandwidth and Total Downstream Bandwidth.

4. Click Save.
5. Click Add and fill in the blanks.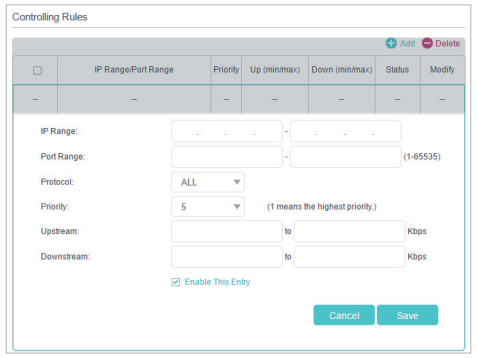 • IP Range: Enter the IP range of your devices that you want to apply Bandwidth Control to.
• Port Range: Enter the Port range of the protocols.
• Protocol: Select the protocols of services that you want to control.
• Priority: Select priority from 1 to 5. 1 means the highest priority.
• Upstream/Downstream: Enter the minimum and maximum upstream/ downstream bandwidth you want to allocate.
6. Click Save.
Get to know more details of each function and configuration please go to Download Center to download the manual of your product.
Est-ce que ce FAQ a été utile ?
Vos commentaires nous aideront à améliorer ce site.
Newsletter TP-LinkTP-Link prend votre vie privée au sérieux. Pour plus de détails sur la politique de confidentialité de TP-Link, veuillez consultez la page suivante Politique de confidentialité de TP-Link .
De United States?
Infos produits, événements, services pour votre pays.