How to configure the AC VDSL/ADSL Modem Router to work with IPTV service (new logo)?
Ce document concerne les modèles suivants :
I want to: Configure the modem router to enable Internet Protocol Television (IPTV) Services.
For example, I already bought IPTV service, but this service can only be delivered through the Internet. Therefore, I need to configure my modem router first.
How can I do that?
Here takes Archer VR2800 as demonstration.
1. Log in the web interface of the modem router. You can refer to How to log into the web-based interface of the AC VDSL/ADSL Modem Router (new logo)?
2. Go to Advanced > IPTV to open the configuration page.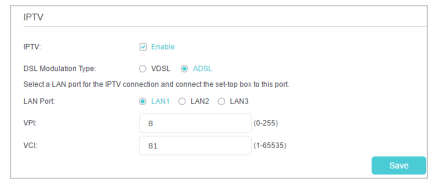 3. Click Enable IPTV to enable this function.
4. Select your DSL modulation type.
5. Specify a LAN port for IPTV connection and connect the settop box to this port.
6. If you select VDSL modulation type, check to enable VLAN and set the VLAN ID. If you select ADSL, fill in PVC parameters (VPI and VCI). VLAN ID and PVC parameters are all provided by your IPTV service provider.
7. Click Save to make the settings effective.
Done!
Modem router configuration is complete! You may still need to configure settings on your set-top box before enjoying your IPTV service.
Get to know more details of each function and configuration please go to Download Center to download the manual of your product.
Est-ce que ce FAQ a été utile ?
Vos commentaires nous aideront à améliorer ce site.
Newsletter TP-LinkTP-Link prend votre vie privée au sérieux. Pour plus de détails sur la politique de confidentialité de TP-Link, veuillez consultez la page suivante Politique de confidentialité de TP-Link .
De United States?
Infos produits, événements, services pour votre pays.