How to set up my TD-W8950ND for TPG IPTV
Before you begin, please note:
1. The TPG IPTV Trial service is currently only available to customers using ADSL2+ at TPG IPTV enabled exchanges.
2. The computer which you wish to watch IPTV from must be connected by wired (Ethernet) connection.
Configuration for IPTV:
1. Open your browser and enter 192.168.1.1 in your address bar, then press "Enter".

2. Enter the username and password of your modem. By default it will be Username: "admin" and Password: "admin" or if you have changed this, please enter the new username and password.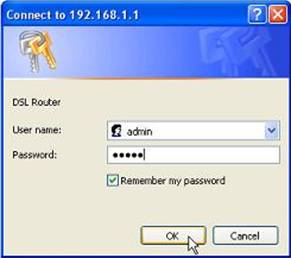 3. Click on "Advanced Setup" on the left side and click on "WAN"
4. Please check whether you have a 8/35 PPPoE connection, and the IGMP/QoS are Enabled. If yes, please go to Step 4. If no, please click Edit. If you have no WAN connection, please click Add to add a new connection.

5. Please make sure the VPI/VCI is 8/35. Please check "Enable Quality Of Service" checkbox, then click "Next".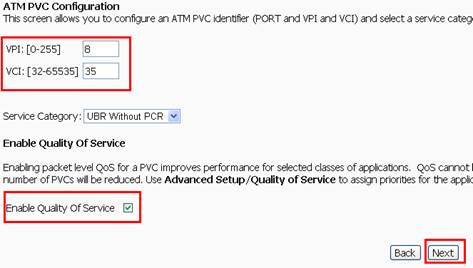 6. Choose "PPP over Ethernet (PPPoE)", click "Next".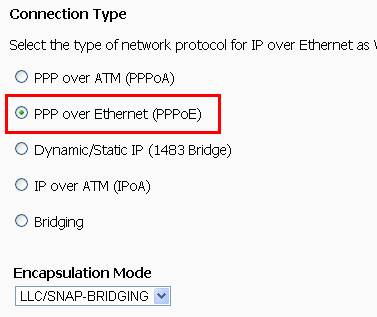 7. Enter your TPG Username and Password, you must make sure they are right. Then click "Next".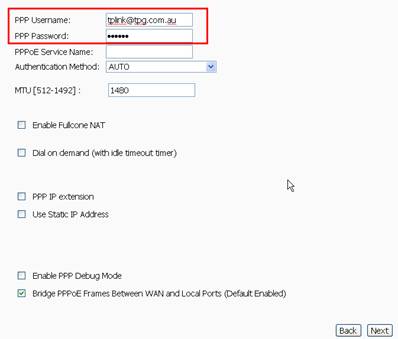 8. Check "Enable IGMP Multicast" and "Enable WAN Service", and click "Next".

9. At last, check whether the VPI/VCI is right, whether IGMP Multicast and Quality Of Service are enabled. Then, please click the "Save" button.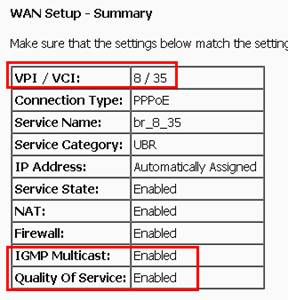 10. Click on "Advanced Setup" on the left side and click on "WAN" again. Then click "Add" button. The VPI/VCI is 0/35, choose "Enable Quality Of Service", then click "Next".

11. Choose "Bridging" and click "Next".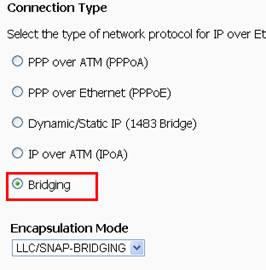 12. Choose "Enable Bridge Service" and click "Next".

13. At last, please check the summary. If everything is right, click "Save" button.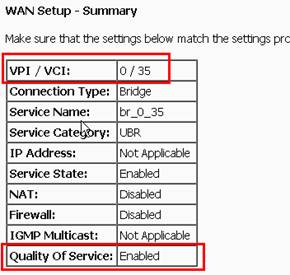 14. Now, please go to Advanced Setup->WAN, you can find two connections. Check all the information and click "Save/Reboot" button.

15.
After the reboot, please go to
https://cyberstore.tpg.com.au/register/iptv.php
to register for your Free TPG IPTV account.
You must then follow the step-by-step guide to finish the on-line installation.
If you require assistance with this, please contact TPG Technical Support on 1300 360 855.
NOTE:
1. The username and password are usually the same as your ADSL account;
3. In the "modem setup instruction" page, please choose "Other Modem";
4.
Once you have registered and configured your modem, you can begin viewing the TPG IPTV service. Please visit the TPG IPTV website at
http://www.tpg.com.au/iptv
, then log in with your username and password and enjoy your Free TPG IPTV service.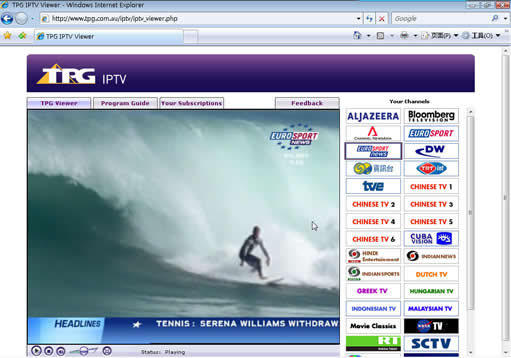 Is this faq useful?
Your feedback helps improve this site.
From United States?
Get products, events and services for your region.