Jan.2020

07
TP-Link® Launches AX1800 Dual-Band Wi-Fi 6 Router Archer AX20 at CES 2020
LAS VEGAS, January 7, 2020 — TP-Link®, a leading global provider of consumer and business networking products, today announced Archer AX20. This dual-band Wi-Fi 6 router is destined to bring the dual-band experience to a whole new level, with fine-tuned functionalities for daily use.
The latest Wi-Fi 6 standard boosts speeds, expands coverage, reduces latency, and prevents dropped connections for homes with numerous devices. Equipped with dual-band Wi-Fi 6, Archer AX20 keeps your streaming experience smooth even when there are dozens of devices connected to your Wi-Fi. Abundant features — including HomeCare™ Pro, USB Sharing, WPA3, and more — help you easily customize your home network and keep your network safe.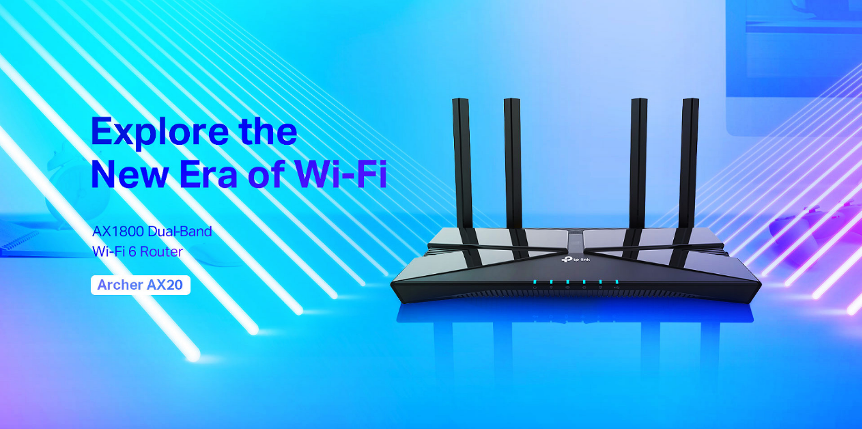 Faster Speeds, Less Congestion
Archer AX20 transmits maximum Wi-Fi throughput for multiple devices without bumping up latency thanks to the introduction of OFDMA technology. With 1024-QAM and a higher symbol rate, Archer AX20 provides a 40% faster top speed on the 5 GHz band when compared to a 5 GHz Wi-Fi 5 signal. While 2.4 GHz Wi-Fi 6 signals have a 90% speed improvement versus a 2.4 GHz Wi-Fi 4 signal. With shared Wi-Fi becoming less taxing, streaming just got that much better.
Dual-Band Wi-Fi 6
Archer AX20 is TP-Link's first entry-level Wi-Fi 6 router with a dual-band Wi-Fi 6 structure. Wi-Fi 6 introduces Target Wake Time (TWT) and longer guard intervals to achieve better power preservation and signal reception.
This setup will help realize the future of IoT. Since most IoT devices work on the 2.4 GHz band, with Archer AX20, you will enjoy every Wi-Fi 6 feature, whether you're streaming 8K videos, downloading your favorite movie collection, or controlling IoT.
Broader Coverage and Greater Stability
Coverage is also getting a boost with Wi-Fi 6. The newly introduced longer Guard Interval (GI) protects Wi-Fi signals from interruptions and consequently expands range. The longer GI, Beamforming technology, and 4 antennas let Archer AX20 cover a broader area. Feel free to move around while enjoying stable Wi-Fi throughout your home.
Powerful Processing Ability
Equipped with a 1.5 GHz quad-core CPU, Archer AX20 forwards network requests with minimal delays and is highly responsive to every click made. Compared to its Wi-Fi 5 predecessor, it pushes even higher throughput without compromising latency.
Abundant Features
Today, routers perform more than just a simple network gateway. With built-in HomeCare™ Pro, you can enjoy an up-to-date antivirus service, limit time spent online, and block specific content. A USB port enables you to share files across your home network or set up your own private cloud storage via the TP-Link Dynamic DNS service (or using public IP). WPA3, the latest Wi-Fi encryption method, is also available to prevent brute-force attacks.
Dual-Band Wi-Fi 6: Experience faster speeds, greater capacity, and reduced network congestion thanks to the latest Wi-Fi 6 technology.
Next-Gen 1.8 Gbps Speeds: Enjoy smooth streaming, downloading, and gaming with Wi-Fi speeds up to 1.8 Gbps — all without buffering.†
Connect More Devices: Wi-Fi 6 technology communicates more data to more devices using revolutionary OFDMA and MU-MIMO technology while simultaneously reducing lag.△§
Quad-Core Processing: The 1.5 GHz quad-core CPU ensures communication between your router and all connected devices are smooth.
Extensive Coverage: Beamforming, External FEM, and four antennas combine to deliver focused reception to devices far away.
Increased Battery Life: Target Wake Time technology reduces your devices' power consumption to extend battery life.‡
USB Easy Sharing: A USB 2.0 Port allows you to easily share files within your network or build a private Cloud Storage.
WPA3: The latest encryption technology eliminates brute-force attacks and provides better security.*
Easy Setup: Set up your router in minutes with the powerful TP-Link Tether App.
Backwards Compatible: Supports all previous 802.11 standards and all Wi-Fi devices.
About TP-Link
Founded in 1996, TP-Link is a global provider of reliable networking devices and accessories, involved in all aspects of everyday life. The company is consistently ranked by analyst firm IDC as the No. 1 provider of Wi-Fi products,3 supplying distribution to more than 170 countries and serving hundreds of billions of people worldwide.
As one of the world's leading companies in the networking industry, TP-Link has two decades of iterative inventing and testing. To realize the vision of making a superior digital life available to all, we're combining the latest technology and know-how into products ideal for multi-device usage scenarios.

For more information about TP-LINK, please visit us online at www.tp-link.com or follow us on:
- Facebook: facebook.com/tplink
- Twitter: twitter.com/tplink
- YouTube: youtube.com/tplinktech
- LinkedIn: linkedin.com/company/tp-link-technologies-co-ltd/

Media Contact
pr@tp-link.com
From United States?
Get products, events and services for your region.