How to Pick Your First Smart Doorbell
Face it: When you hear the doorbell ringing unexpectedly, what comes to mind is more suspicion than excitement. Chances are that it's somebody trying to survey the local neighborhood, some neighbors from down the street that's impossible to deal with, or some old-school ding-dong-ditch. You want to know who's at the door so you have a chance to pretend you were not at home, this might take the form of you stealthily peeking out from the curtains.
When you're not at home, it's still a good idea to keep an eye out for what's happening in front of your door. Crimes happen daily. You want to know if there is a burglar scouting for a chance to break into your home.
That's why you need a smart video doorbell. It will send you notifications when the doorbell is ringing and record videos for you to playback anytime, anywhere. With just a little smart doorbell, you'll have peace of mind.
So that leads us to the big question: how do you pick your first smart doorbell?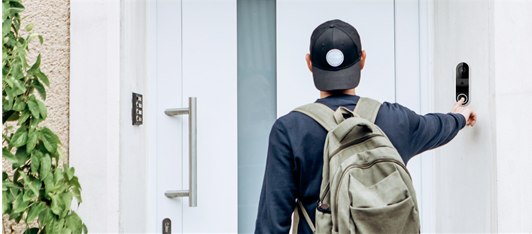 Check the following list to choose the right doorbell for you.
Real-World Scenarios
If you have a clear picture of what you intend to use it for, the decision making will be much easier. Do you want to be able to talk with your visitors? Do you need motion-triggered recording, so that you can get notifications when someone is lingering at your door? Where do you want to store the recorded videos, locally (which needs an SD card) or on the cloud (paid service). Your real needs are what matters. The following table can be used as a reference.
Doorbell Specifications

Storage: Local / Cloud

Video Resolution

Field of View: A larger angle allows a wider view.

Motion Recording: Records video when movement is detected.

Two-Way Audio

Night Vision
Compatibility
Compatibility has always been a problem hindering the development of home automation. If you already have other smart devices at home, you may want a doorbell that can work with your other devices like your smart lock. They can create a smart ecosystem together. If you are a total beginner in the smart home realm, you can start by picking a reliable brand with a comprehensive inventory of smart devices. You are paving the way for a smarter life.
Voice Control Supported
Voice control is a very important indicator of "smart." If your doorbell can pair with Amazon Alexa, Google Assistant, or Samsung SmartThings, then you can control your home with voice commands, which means you can have your own virtual assistant to do things for you. Truly smart interaction!
App Management
App management is important for smart devices. It provides an easy way to manage and control your devices anywhere. Many smart home devices have their own dedicated app which can be used to manage an array of devices and the related system. It's better to have one app to control your future smart home rather than switching between different apps.
Security-Related Parameters
You may find it difficult to read the kaleidoscope of technical parameters of a device, but there's no need to do that. You definitely don't want to miss security-related ones.
Hopefully, the above suggestions help you choose a suitable smart doorbell. If you're all ready to jump into a smart living, Kasa Smart devices are a good starting point. Stay tuned for the latest Kasa Smart doorbell and other smart devices. Get started today and enjoy living smart!
Find Smart Home Security.
Sign Up for News & OffersTP-Link takes your privacy seriously. For further details on TP-Link's privacy practices, see TP-Link's Privacy Policy.
From United States?
Get products, events and services for your region.