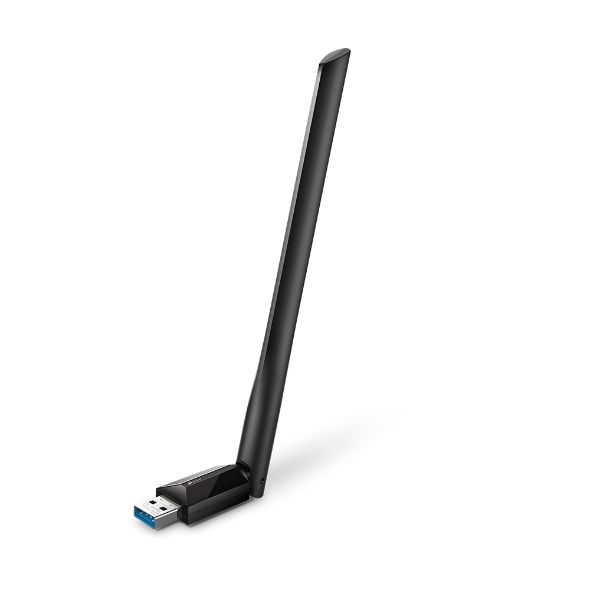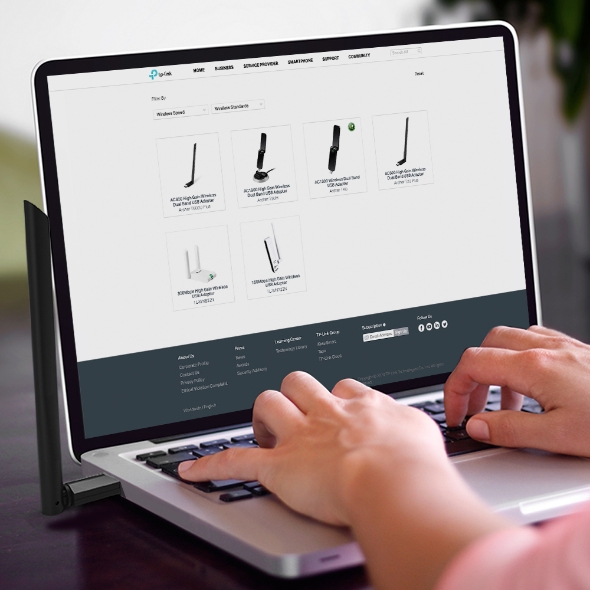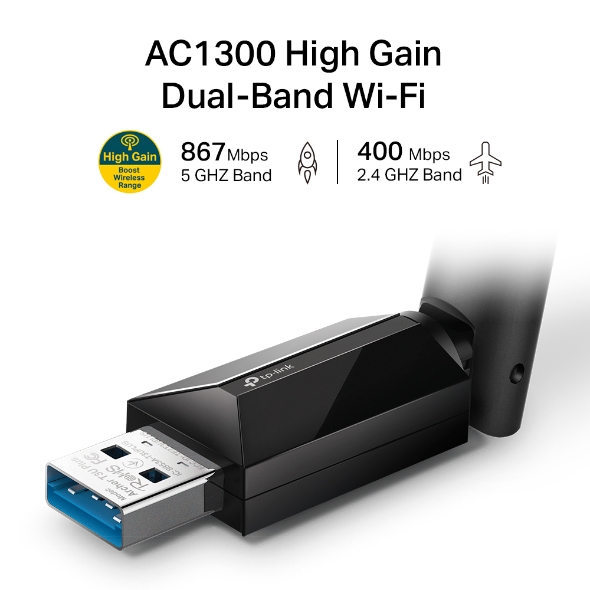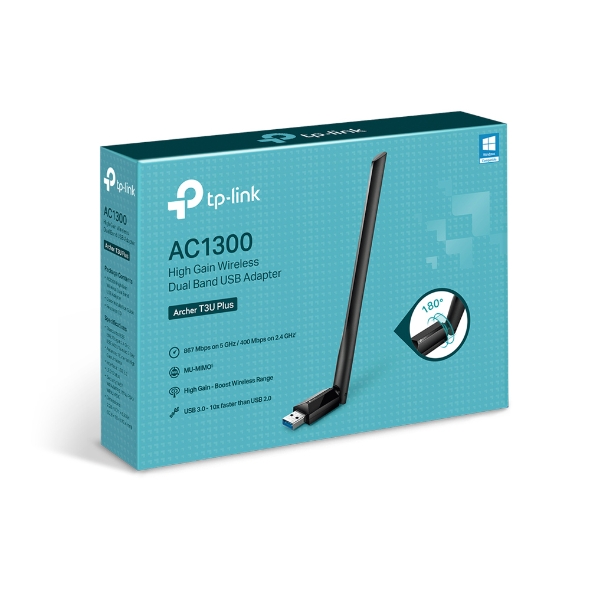 Archer T3U Plus
Próximamente
Adaptador USB Inalámbrico Banda Dual AC1300 Alta Ganancia
AC1300 Velocidad Ultrarápida — AC1300 (867 Mbps en la banda de 5 GHz o 400 Mbps en la banda de 2.4 GHz) Wi-Fi banda dual asegura que todos tus equipos funcionen su velocidad máxima
Tecnología MU-MIMO Technology — Mejora el rendimiento y la eficiencia de toda la red con la tecnología MU-MIMO
Wi-Fi Banda Dual — Las bandas de 2.4 GHz y 5 GHz proporcionan conectividad flexible, dando a los dispositivos acceso a los routers de Wi-Fi AC para velocidads más rápidas y una cobertura extendida
Antenas de Alta Ganancia — Las antenas externas de alta ganancia avanzadas mejoran en gran medida la potencia de la señal de recepción y transmisión del adaptador USB
Soporta los Sistemas Operativos más Recientes — Completamente compatible con Windows 10/8.1/8/7/XP y macOS
Antenas Wi-Fi de Alta Ganancia te Potencian Donde Quiera que Estés
Adaptador USB Banda Dual Wi-Fi AC1300 Alta Ganancia
Archer T3U Plus
Mayores Velocidades, Mejores Conexiones
El Archer T3U Plus recibe las señales Wi-Fi en dos bandas separadas para todas tus necesidades online. Elige la banda de 2.4 GHz para una navegación de hasta 400 Mbps, envío de correos y redes sociales o cambia a 5 GHz para lograr hasta 867 Mbps y asi jugar en red, para transmisiones HD y descarga de grandes archivos.
Small Body, Big Energy
Two Antennas Built in one
With two high-gain antennas built in one, Archer T3U Plus boosts your signal reception and data transmission much significantly than traditional single-antenna WiFi adapter. It means greater WiFi coverage and more stable WiFi connection without WiFi drops and lag, even from father away or across multiple walls.
Archer T3U Plus

2× External Antennas

Traditional

1× External Antenna
Router MU-MIMO
Adaptador Regular
Router MU-MIMO
Adaptador MU-MIMO
Rendimiento Mejorado con
MU-MIMO
La tecnología MU-MIMO proporciona dos flujos de datos simultáneos, mejorando el rendimiento y la eficiencia de toda la red cuando se une a un router compatible con MU-MIMO.
Antena Omnidireccional, Ajustable
Gira y ajusta la antena Omnidireccional para mejorar la experiencia de usuario y el rendimiento en diferentes entornos.
Configuración Fácil
Una interfaz de usuario amigable asegura una instalación simple.
Seguridad Avanzada
El Estándar de encriptación WPA/WPA2 mantiene las conexiones inalámbricas seguras de intrusos.
Sistemas Operativos
Soporta los sistemas operativso como Windows 10/8.1/8/7 y macOS.
CARACTERÍSTICAS DE HARDWARE
Interface
USB 3.0
LED
Estado
Dimensiones
57.8 × 18 × 173.4 mm (2.28 × 0.71 × 6.83 in )
Antena
2 Antenas de Externas de Alta Ganancia
CARACTERÍSTICAS INALÁMBRICAS
Estándares Inalámbricos
IEEE 802.11b/g/n 2.4 GHz, IEEE 802.11a/n/ac 5 GHz
Tasa de Señal
5 GHz:11ac: Up to 867 Mbps(dynamic)11n: Up to 300 Mbps(dynamic)11a: Up to 54 Mbps(dynamic)2.4 GHz:11n: Up to 400 Mbps(dynamic)11g: Up to 54 Mbps(dynamic)11b: Up to 11 Mbps(dynamic)
Sensibilidad de Recepción
5 GHz:11ac VHT80: -62dBm11ac VHT40: -64dBm11ac VHT20: -68dBm11n HT40: -71dBm11n HT20: -73dBm11a 54Mbps: -77dBm2.4 GHz:11n HT40: -70dBm11n HT20: -71dBm11g 54Mbps: -73dBm11b 11Mbps: -87dBm
Potencia de Transmision
5 GHz: 20dBm(FCC) / 20dBm(CE) (EIRP)2.4 GHz : 18dBm(FCC) / 18dBm(CE) (EIRP)
Modos Inalámbricos
Modo Infraestructura
Seguridad Inalámbrica
WEP, WPA/WPA2, WPA-PSK/WPA2-PSK
Otros
Certificacion
FCC, CE, RoHS
Contenidos del Paquete
Adaptador USB Banda Dual inalámbrica AC1300 Alta Ganancia
Guía de Instalación Rápida
CD de recursos
Requisitos del Sistema
Windows 10/8.1/8/7 (32/64 bit)
Ambiente
Temperatura de Funcionamiento: 0°C~40°C (32°F~104°F)
Temperatura de Almacenamiento: -40°C~70°C (-40°F~158°F)
Humedad de Funcionamiento: 10%~90% sin condensación
Humedad de Almacenamiento: 5%~90% sin condensación
* Las velocidades máximas de señal inalámbrica son las velocidades físicas derivadas de las especificaciones IEEE Standard 802.11. El rendimiento real de datos inalámbricos y la cobertura inalámbrica, y el número de dispositivos conectados no están garantizados y variarán como resultado de las condiciones de la red, las limitaciones de AP y los factores ambientales, incluidos los materiales de construcción, los obstáculos, el volumen y la densidad del tráfico y la ubicación de AP.
From United States?
Get products, events and services for your region.