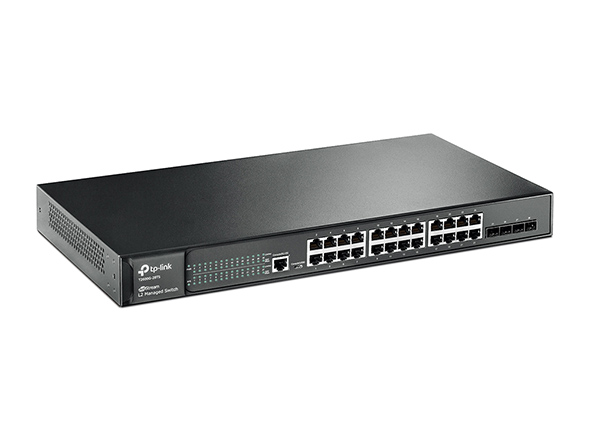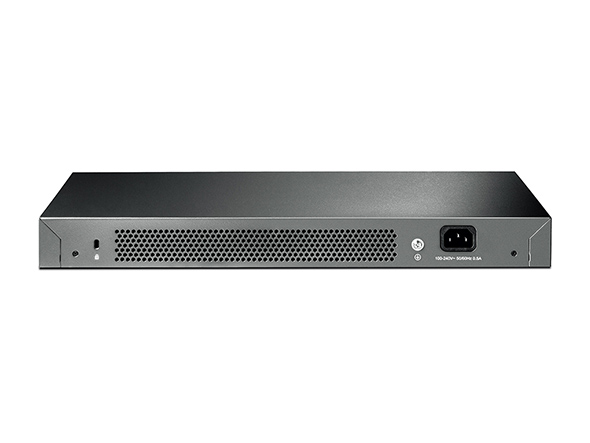 T2600G-28TS (TL-SG3424)
Switch Administrable L2 de 24 Puertos Gigabit con 4 Ranuras SFP JetStream
Las conexiones Ethernet Gigabit en todos los puertos proporcionan una máxima velocidad de transferencia de datos
La Característica de L2+ --- Enrutamiento Estático, ayuda a enrutar el tráfico interno para un uso más eficiente de los recursos de la red
Enlace del Puerto IP-MAC, ACL, Seguridad de Puertos, Defensa DoS, Control de tormentas, DHCP Snooping, Autenticación de 802.1X y Radius que proporcionan estrategias de seguridad robustas
L2 / L3 / L4 QoS e IGMP snooping optimizan las aplicaciones de voz y video
Soporta IPv6 con doble apilamiento IPv4 / IPv6, MLD snooping, descubrimiento de vecinos IPv6
Los modos de Web, CLI (Puerto de Consola, Telnet, SSH), SNMP, RMON y la Imagen Dual ofrece una gran variedad de características de administración
Para Qué Sirve Este Producto
El Switch Administrable L2 Gigabit JetStream de TP-LINK, el T2600G-28TS proporciona 24 Puertos de 10/100/1000Mbps y 4 Ranuras SFP Gigabit. El switch proporciona un alto rendimiento, características superiores de L2 y L2+ como enrutamiento estático, QoS a nivel empresarial y otras estrategias de seguridad avanzadas. Las funciones de Enlace IP-MAC-Puerto, y ACL (Access Control List - Lista de Control de Acceso) protegen contra los ataques de las tormentas de difusión, ARP y DoS (Denial of Service - Negación de servicio), etc. La Calidad del Servicio (QoS, L2 a L4) proporciona capacidades de administración de tráfico mejoradas para mover su información más rápido y sin problemas. Por otra parte, las interfaces de administración a través de Internet de fácil uso, junto con CLI, SNMP, RMON y la Imagen Dual, configuración más rápida y con menos tiempo de inactividad. Para los grupos de trabajo y departamentos que requieren un Switch L2 sensible al precioy con capacidad gigabit, el Switch Administrable L2 de 24 Puertos Gigabit JetStream de TP-LINK, el T2600G-28TS le ofrece la solución ideal para redes.
Sistema de Redes Seguro
El switch administrable L2 JetStream de TP-LINK T2600G-28TS proporciona el Enlace de IP-MAC-Puerto, Seguridad de Puertos, Control de tormentas y Snooping DHCP que protegen contra tormentas de difusión, Ataques ARP, etc. Integra algunos ataques de DoS típicos para seleccionar. Puede proteger estos ataques más fácilmente que nunca antes. Por otra parte, la característica de las Listas de Control de Acceso (ACL, L2 a L4) restringe el acceso a recursos de red sensibles negando paquetes basados en la dirección MAC de origen y destino, la dirección IP, los puertos TCP/UDP e incluso el ID de VLAN. Por otra parte, el switch soporta la autenticación de 802.1X, que se usa en conjunto con un servidor RADIUS para requerir alguna información de autenticación antes de que se permita el acceso a la red. Soporta la función VLAN invitado para permitir que los que no son clientes de 802.1X tengan acceso al recurso de red específico.
Características de QoS Avanzadas
Para integrar el servicio de voz, datos y video en un tráfico basándose en una gran variedad de medios incluyendo las direcciones IP o MAC, número de puerto UDP o TCP , etc, para asegurar que la voz y video siempre sean claros, sin problemas y sin fluctuaciones de fase. Junto con el VLAN de voz, el switch soporta las aplicaciones de voz que funcionarán con muchos menos problemas de desempeño.
Gran variedad de Características de L2 y L2+
El T2600G-28TS soporta una línea completa de características de L2, incluyendo el VLAN de etiqueta 802.1Q, Duplicación de Puertos (Port Mirroring), STP/ RSTP/ MSTP, Protocolo de Control de Agregación de Enlaces y la función de Control de Flujo de 802.3x. Any more, el switch ofrece características avanzadas para el mantenimiento de la red. Como Detección de Conexión en Bucle, Diagnóstico de Cable e IGMP Snooping. IGMP snooping asegura que el switch reenvíe de manera inteligente, flujo multidifusión únicamente a los subscriptores adecuados mientras el filtrado y estrangulamiento IGMP restringe a cada subscriptor a nivel puerto para prevenir el acceso multidifusión no autorizado. Por otra parte, T2600G-28TS soporta la característica L2+ - enrutamiento estático, la cual es una forma simple para proporcionar segmentación de la red con enrutamiento interno a través del switch y ayuda a que el tráfico de la red tenga un uso más eficiente.
Soporte de IPv6
El T2600G-28TS soporta varias funciones de IPv6 como Doble Apilamiento de IPv4 / IPv6, MLD Snooping, IPv6 ACL*, DHCPv6 Snooping*, Interfaz de IPv6 *, Descubrimiento de PMTU (Path Maximum Transmission Unit – Unidad de Transmisión Máxima de Ruta) y Descubrimiento de Vecinos de IPv6 (IPv6 Neighbor Discovery), los cuales garantizan que su red esté lista para NGN (Next Generation Network - Red de la Siguiente Generación) sin actualizar su equipo de red.
OAM*
El T2600G-52TS proporciona las funciones de 802.3ah OAM y DLDP (Device Link Detection Protocol – Protocolo de Detección del Enlace del Dispositivo) mejorando el monitoreo y solucionando problemas de las redes Ethernet, ayuda a facilitar la administración de la red.
Características de Administración a Nivel Empresarial
El T2600G-28TS es fácil de usar y administrar. Soporta varias características de administración estándar de fácil manejo, como GUI (Graphical User Interface – Interfaz Gráfica para el Usuario) basada en la web intuitiva o CLI (Command Line Interface - Interfaz de Línea de Comando) de norma de la industria, ya sea que el tráfico de administración pueda ser protegido a través de las encriptaciones de SSL o SSH. SNMP (v1/v2c/v3) y RMON soportan que el switch sea sondeado para obtener información valiosa del estatus y enviar traps (interrupciones) en eventos anormales.
*Esta característica estará disponible en el firmware más reciente.
CARACTERÍSTICAS DE HARDWARE
Estándares y Protocolos
IEEE 802.3i, IEEE 802.3u, IEEE 802.3ab, IEEE802.3z,
IEEE 802.3ad, IEEE 802.3x, IEEE 802.1d, IEEE 802.1s,
IEEE 802.1w, IEEE 802.1q, IEEE 802.1x, IEEE 802.1p
Interface
24 10/100/1000Mbps RJ45 Ports
(Auto Negotiation/Auto MDI/MDIX)
4 1000Mbps SFP Slots
1 RJ45 Console Port
1 Micro-USB Console Port

Medios de Red
10BASE-T: UTP category 3, 4, 5 cable (maximum 100m)
100BASE-TX/1000Base-T: UTP category 5, 5e or above cable
(maximum 100m)
1000BASE-X: MMF, SMF

Cantidad de Ventiladores
Fanless
Cerradura de Seguridad Física
Yes
Fuente de Alimentación
100~240VAC, 50/60Hz
Consumo de Energía
Maximum: 19.15W (220V/50Hz)
Dimensiones (W X D X H)
17.32 * 8.7 * 1.73 in. (440 * 220 * 44 mm)
Montaje
Rack Mountable
Consumo Máximo de energía
15.33W (220V/50Hz)
Disipación Máxima de Calor
52.30 BTU/h
RENDIMIENTO
Ancho de Banda / Backplane
56Gbps
Tasa de Reenvío de Paquetes
41.67Mpps
Tabla de MAC Address
16k
Jumbo Frame
9216 Bytes
CARACTERÍSTICAS DE SOFTWARE
Calidad de servicio
Support 802.1p CoS/DSCP priority
Support 8 priority queues
Queue scheduling: SP, WRR, SP+WRR
Port/Flow- based Rate Limiting
Voice VLAN

Características de L2 y L2 +
Static Routing、DHCP Relay*
IGMP Snooping V1/V2/V3
802.3ad LACP (Up to 14 aggregation groups, containing 8 ports per group)
Spanning Tree STP/RSTP/MSTP
BPDU Filtering/Guard
TC/Root Protect
Loopback detection
802.3x Flow Control
L2PT*

VLAN
Supports up to 4K VLANs simultaneously (out of 4K VLAN IDs)
802.1Q/ MAC/Protocol-based/Private VLAN
GARP/GVRP

Lista de control de acceso
L2~L4 package filtering based on source and destination MAC address,
IP address, TCP/UDP ports, 802.1p, DSCP, protocol and VLAN ID
Time Range Based

Seguridad
IP-MAC-Port Binding
AAA*
802.1x and Radius Authentication
DoS Defend
Dynamic ARP Inspection (DAI)
SSH v1/v2
SSL v3/TLSv1
Port Security
Broadcast/Multicast/Unknown-unicast Storm Control

IPv6
Dual IPv4/IPv6 stack
Multicast Listener Discovery (MLD) Snooping
IPv6 neighbor discovery (ND)
Path maximum transmission unit (MTU) discovery
Internet Control Message Protocol (ICMP) version 6
TCPv6/UDPv6
IPv6 ACL*
DHCPv6 Snooping*
IPv6 Interface*

Aplicaciones IPv6
DHCPv6 Client
Ping6
Tracert6
Telnet(v6)
IPv6 SNMP
IPv6 SSH
IPv6 SSL
Http/Https
IPv6 TFTP
IPv6 ACL*
IPv6 Interface*
IPv6 Routing*
DHCPv6 Relay*
DHCPv6 Snooping*

Administración
Web-based GUI and CLI management
SNMP v1/v2c/v3,compatible with public MIBs and TP-LINK private MIBs
RMON (1, 2, 3, 9 groups)
sFlow*
PPPoE Circuit ID*
DHCP Relay*
DHCP Server*
DHCP/BOOTP Client, DHCP Snooping, DHCP Option82
Dual Image
CPU Monitoring
Port Mirroring
Time Setting: SNTP
Integrated NDP/NTDP feature
Firmware Upgrade: TFTP & Web
System Diagnose: VCT
SYSLOG & Public MIBS
Password Recovery*

Otros
Certificacion
CE, FCC, RoHS
Contenidos del Paquete
Switch
Power Cord
Installation Guide
Resource CD
Rackmount Kit
Rubber Feet

Requisitos del Sistema
Microsoft® Windows® 98SE, NT, 2000, XP, Vista™ or Windows 7/8, MAC® OS, NetWare®, UNIX® or Linux.
Ambiente
Operating Temperature: 0℃~40℃ (32℉~104℉);
Storage Temperature: -40℃~70℃ (-40℉~158℉)
Operating Humidity: 10%~90% non-condensing
Storage Humidity: 5%~90% non-condensing

From United States?
Get products, events and services for your region.