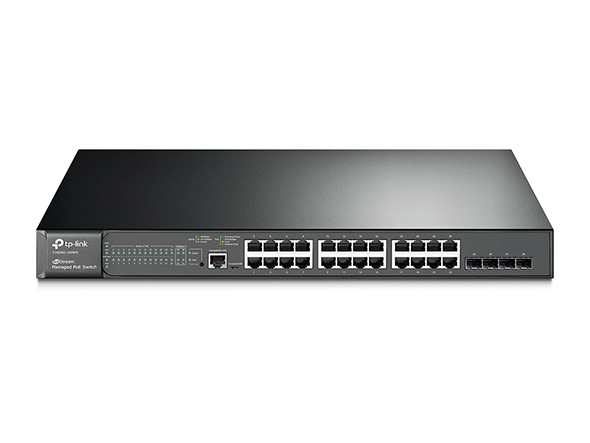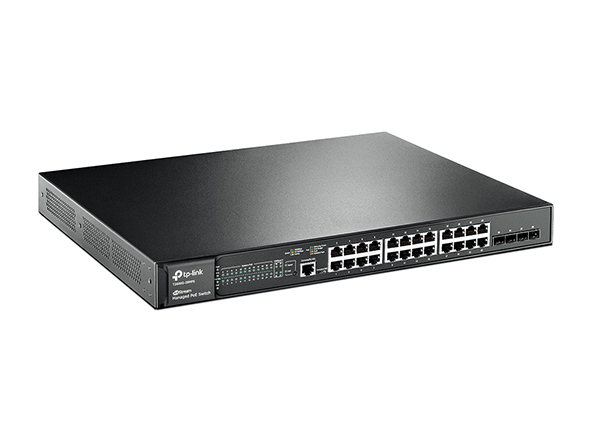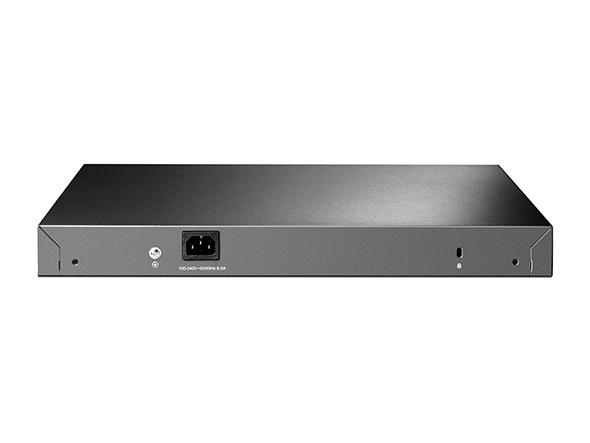 Switch Gestionable Gigabit L2 JetStream PoE+ de 24 Puertos con 4 Ranuras SFP
Soporte del estándar 802.3at/af POE+ en sus 24 puertos, con un suministro de energía total de 384W

Características L2+ —— Enrutamiento Estático, ayuda a enrutar el tráfico interno par us uso más eficiente de los recurdos de la red

Vinculación Puerto-MAC-IP, ACL, Seguridad por Puerto, Defensa DoS, Control de Tormentas, DHCP Snooping, Autenticación 802.1X y Radius que proporciona robustas estrategias de seguridad
QoS L2/L3/L4 y IGMP snooping optimizan aplicaciones de voz y vídeo
Soporta IPv6 con dual stack IPv4/IPv6, MLD snooping, IPv6 neighbor discovery

Web, CLI (Console Port, Telnet, SSH), SNMP, RMON and Dual Image bring abundant management policies Web, CLI (Puerto de Consola, Telnet, SSH), SNMP, RMON e Imagen Dual aportan múltiples políticas de gestión
¿Para qué sirve este producto?
El TP-LINK T2600G-28MPS es un Switch JetStream Gestionable L2 con 24 puertos 10/100/1000Mbps que soporta el estándar 802.3at/af PoE+, con un total de energía suministrada de 384W, permitiendo a los clientes el poder y la flexibilidad de desplegar puntos de acceso inalámbricos o una red IP de cámaras de vigilancia. Además proporciona un alto rendimiento en enrutamiento estático en conjunto con PoE, QoS de gama empresarial, caracterísitcas de seguridad y L2 avanzadas. Con todas éstas características avanzadas, el Switch JetStream Gigabit Gestionable PoE L2 es la elección ideal como solución de red para pequeñas y medianas empresas.
Características de Capa 2 / L2+ incluyen OAM, L2PT y sFlow cumplen con las necesidades de ISP's, mientras que la unión IP-MAC-Puerto-VID y Listas de Control de Acceso protegen contra tormentas de Broadcast, ataques ARP, ataques de Denegación de Servicio (DoS). La Calidad de Servicio (QoS) proporciona una capacidad de gestión avanzada asegurando una transferencia de los datos importantes rápida, incluso si la red se encuentra muy ocupada. Además, la interfaz web de fácil manejo, en conjunto con CLU, SNMP, RMON e Imagen Dual significa un setup y configuración rápido con menos tiempos de parada. El T2600G-28MPS es la solución de red perfecta para grupos de trabajo con control de gastos y para departamentos que quieren actualizar y potenciar su red a velocidades gigabit.
Energía sobre Etherenet conforme a estándar IEEE 802.3at/af
El T2600G-28MPS soporta 24 puertos conformes al estándar PoE IEEE 802.3at/af y ofrece un suministro total de energía de 384W. Monte puntos de acceso, cámeras de seguridad, teléfonos IP o cualquier otro dispositivo PoE de manera rápida y fácil, sin la complicación y el gasto de montar el cableado elétrico.
Networking Seguro
Características de seguridad incluyendo Unión IP-MAC-Puerto-VID, Seguridad de Puerto, Control de Tormentas y DHCP Snooping, protegen contra un rango de amenazas de red. Una lista integrada de los ataques más comúnes DoS se encuentra disponible, haciendo aún más facil su prevención. Además las Listas de Control de Acceso (ACL, L2 a L4) restringen el acceso a recursos sensibles de la red denegando paquetes en base a la dirección MAC, IP, puertos TCP/UDP, o ID de VLAN. El acceso a la red por parte de usuarios se puede controlar vía autenticación 802.1X, que funciona con un servidor RADIUS/Tacacs+ permitiendo el acceso solamente a usuarios que proporcionan credenciales válidas.
QoS Avanzadao
La prioridad del tráfico de voz y vídeo se puede basar en la dirección IP, MAC, número de puerto TCP, UDP y más opciones. Con la Calidad de Servicio, los servicios de voz y vídeo se mantienen estables incluso cuando el ancho de banda se encuentra restringido.
Abundantes funcionalidades L2 y L2+
El T2600G-28MPS soporta una completa gama de funcionalidades L2, incluyendo etiquetado VLAN 802.1Q, Port Mirroring, STP/RSTP/MSTP, Protocolo de Control de Agregación de Enlace y función de Control de Flujo 802.3x. Un avanzado IGMP Snooping asegura que el switch reenvíe de manera inteligente el flujo de datos multicast solamente a los suscriptores apropiados, eliminando el tráfico no necesario, mientras que el filtrado y regulación IGMP restringe a cada suscriptor a nivel de puerto previniendo el acceso multicast no autorizado. El enrutamiento estático, una funcionalidad L2+, permite una segmentación simple de la red y enruta el tráfico interno del switch, obteniendo una eficiencia mejorada.
Caracterísitcas ISP
Las funcionalidades sFlow, QinQ, Inserción ID PPPoE L2PT y autenticación IGMP, implementadas teniendo en cuenta a los proovedores de servicios. developed with service providers in mind. La solución de problemas y facilidad de monitorización se obtiene gracias a OAM 802.3ah y al Protocolo de Enlace de Dispositivos.
Soporte IPv6
El T2600-28MPS soporta varias funciones IPv6 como por ejemplo Stack Dual IPv4/IPv6, MLD Snooping, IPv6 ACL, DCHPv6 Snooping, Inferfaz IPv6, Path Maximum Transmission Unit (PMTU) Discovery e IPv6 Neighbor Discovery, lo que garantiza que la red está preparada para la Siguiente Generación de Red (NGN) sin necesidad de renovar el equipamiento de red.
Funcionalidades de Gestión de Nivel Empresarial
El T2600G-28MPS es fácil de utilizar y gestionar. Soporta varias funcionalidades de gestión amigable estándar, como por ejemplo un intuitivo Interfaz Gráfico de Usuario (GUI) o Interfaz de Línea de Comandos (CLI) industrial-estándar, o administración de tráfico que puede ser protegido mediante encriptación SSL o SSH. SNMP (V1/2/3) y RMON que permiten al switch sondear la información de estado y enviar alarmas en eventos extraños. También soporta Imagen Dual, lo que reduce el tiempo de inactividad de los switches.
Hospitality

TP-Link Omada allows hotels to build reliable WiFi networks. Hotel WiFi network solutions including network topology, design, features, installation, and products are introduced.

Full WiFi coverage and wired connections
Flexible guest control
Seamless roaming
Easy Management

Education

Due to its reliable, scalable, and secure network solution, TP-Link has been widely acknowledged by global customers in the Education market ranging from infant schools with a few APs up to colleges and universities with hundreds of APs.

Easy management
High-density WiFi
Full WiFi coverage and wired connections
VPN and security

Switches for Business WiFi

For small and medium-sized businesses, a network switch is the fundamental component to build their business network. TP-Link offers an extensive portfolio of network switches with abundant functions and flexible options for every stage of your business growth.

High-Speed Wired LAN Network
Manage with Ease
Abundant Security Strategies
Lower Yours Costs
Comprehensive Products
Barranquilla Plaza Hotel

TP-Link Helps Barranquilla Plaza Hotel Build a Reliable and Efficient Network

Barranquilla Plaza Hotel

TP-Link Helps Barranquilla Plaza Hotel Build a Reliable and Efficient Network

"HBP management has expressed intense satisfaction with their newly implemented solution and 100% of the staff has reported improved internet service. TP-Link's Omada Solution provided the reliable, high-performance wireless network that HBP and its guests demanded."
CARACTERÍSTICAS DE HARDWARE
Estándares y Protocolos
IEEE 802.3i, IEEE 802.3u, IEEE 802.3ab, IEEE802.3z, IEEE 802.3ad, IEEE 802.3x, IEEE 802.1d, IEEE 802.1s, IEEE 802.1w, IEEE 802.1q, IEEE 802.1x, IEEE 802.1p
Interface
24 Puertos RJ45 10/100/1000Mbps
(Auto Negociación/Auto MDI/MDIX)
4 Ranuras SFP 1000Mbps
1 Puerto de Consola RJ45
1 Puerto de Consola Micro-USB
Medios de Red
10BASE-T: Cable UTP Categoría 3,4, 5 (máximo 100m)
100BASE-TX/1000Base-T: Cable UTP Categoría 5, 5e o superior
(máximo 100m)
1000BASE-X: MMF, SMF
Cantidad de Ventiladores
2
Cerradura de Seguridad Física
Si
Fuente de Alimentación
100~240VAC, 50/60Hz
Consumo de Energía
Máximo (PoE on): 468.7W (110V/50Hz)
Puertos PoE+ (RJ45)
Estándar: 802.3at/af
Puertos PoE+: 24 Puertos
Suministro de Energía: 384W
Dimensiones (W X D X H)
440*330*44 mm (17.3*13*1.7 in.)
Montaje
Montaje en Rack
Consumo Máximo de energía
29.02W (220V/50Hz sin equipos PD conectados)
468.7W (110V/60Hz con 384W equipos PD conectados)
Disipación Máxima de Calor
99.02 BTU/h (sin equipos PD conectados)
1599.20 BTU/h (con 384W equipos PD conectados)
RENDIMIENTO
Capacidad de Switcheo
56Gbps
Tasa de Reenvío de Paquetes
41.7Mpps
Tabla de MAC Address
16k
Jumbo Frame
9KB
CARACTERÍSTICAS DE SOFTWARE
Calidad de servicio
Soporta prioridad CoS/DSCP 802.1p
Soporta 8 colas de prioridad
Planificación de colas: SP, WRR, SP+WRR
Limitación de Tasa basada en Puerto/Flujo
Voz VLAN
Características de L2 y L2 +
Rutas Estáticas
DHCP Relay
Servidor DHCP
IGMP Snooping V1/V2/V3
802.3ad LACP(Hasta 14 grupos de agregación,conteniendo 8 puertos por grupo)
Spanning Tree STP/RSTP/MSTP
BPDU Filtering/Guard
Protección TC/Root
Loopback detection
Control de Flujo 802.3x
L2PT
VLAN
Supports up to 4K VLANs simultaneously (out of 4K VLAN IDs)
802.1Q/MAC/Protocol-based/Private VLAN
GARP/GVRP
Lista de control de acceso
L2~L4 package filtering based on source and destination MAC address, IP address, TCP/UDP ports, 802.1p,DSCP, protocol and VLAN ID
Time Range Based

Seguridad
Vinculación IP-MAC-Puerto-VID
AAA
Autenticación Radius y 802.1x
Defensa DoS
Inspección ARP Dinámica (DAI)
SSH v1/v2
SSL v3/TLSv1
Seguridad por Puerto
Control de Tormentas Broadcast/Multicast/Unicast-desconocido
IPv6
Dual IPv4/IPv6 stack
Multicast Listener Discovery (MLD) Snooping
IPv6 neighbor discovery (ND)
Path maximum transmission unit (MTU) discovery
Internet Control Message Protocol (ICMP) version 6
TCPv6/UDPv6
IPv6 ACL
DHCPv6 Snooping
IPv6 Interface

Aplicaciones IPv6
Cliente DHCPv6
Ping6
Tracert6
Telnet(v6)
IPv6 SNMP
IPv6 SSH
IPv6 SSL
Http/Https
IPv6 TFTP
IPv6 ACL
Interfaz IPv6
Enrutamiento IPv6
DHCPv6 Snooping

Administración
Gestión CLI y GUI basada en Web
SNMP v1/v2c/v3,compabile con MIBs públicos y MIBs privados de TP-LINK
RMON (1, 2, 3, 9 grupos)
sFlow
PPPoE Circuit ID
DHCP/BOOTP Client, DHCP Snooping, DHCP Option82
Imagen Dual
Port Mirroring
Monitorización de CPU
Configuración Horaria: SNTP
Funcionalidad NDP/NTDP Integrada
Actualización de Firmware: TFTP & Web
Diagnóstico de Sistema: VCT
SYSLOG & MIBS Públicas
Recuperación de Contraseñas

Otros
Certificacion
CE, FCC, RoHS
Contenidos del Paquete
Switch
Cable de Alimentación
Guía de Instalación
CD de Recursos
Kit de Montaje en Rack
Pies de Goma

Requisitos del Sistema
Microsoft® Windows® 98SE, NT, 2000, XP, Vista™ o Windows 7/8, MAC® OS,
NetWare®, UNIX® o Linux.
Ambiente
Temperatura de Funcionamiento: 0℃~40℃ (32℉~104℉);
Temperatura de Almacenamiento: -40℃~70℃ (-40℉~158℉)
Humedad de Funcionamiento: 10%~90% sin condensación
Humedad de Almacenamiento: 5%~90% sin condensación
From United States?
Get products, events and services for your region.