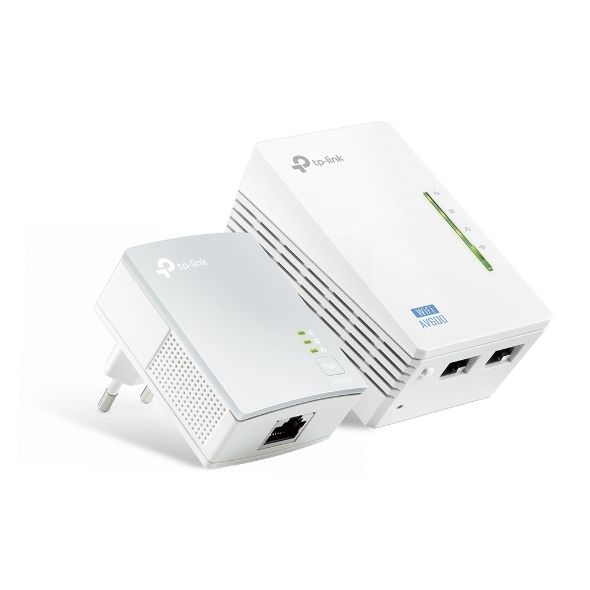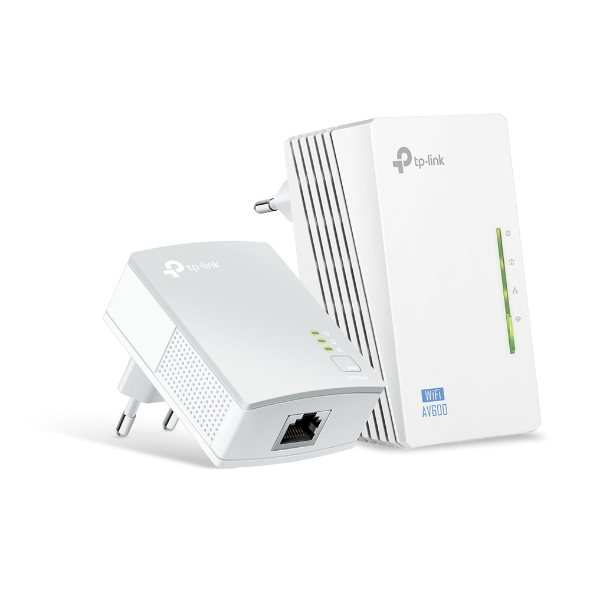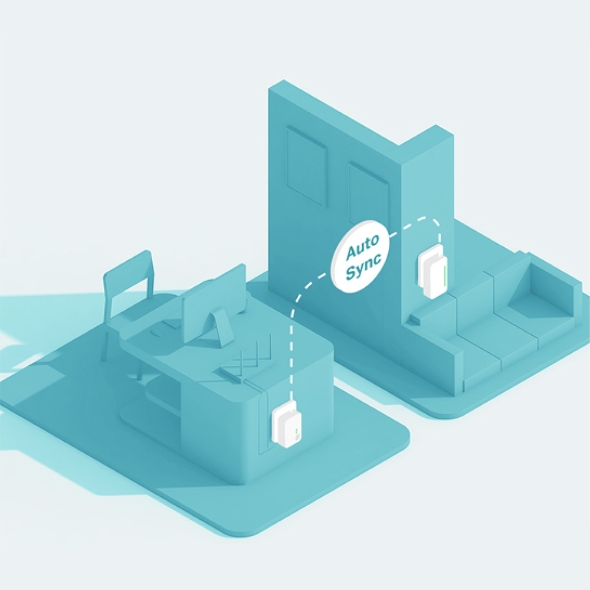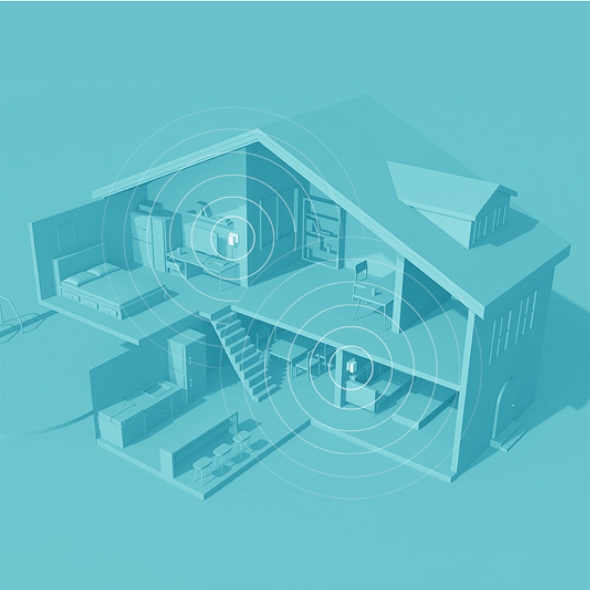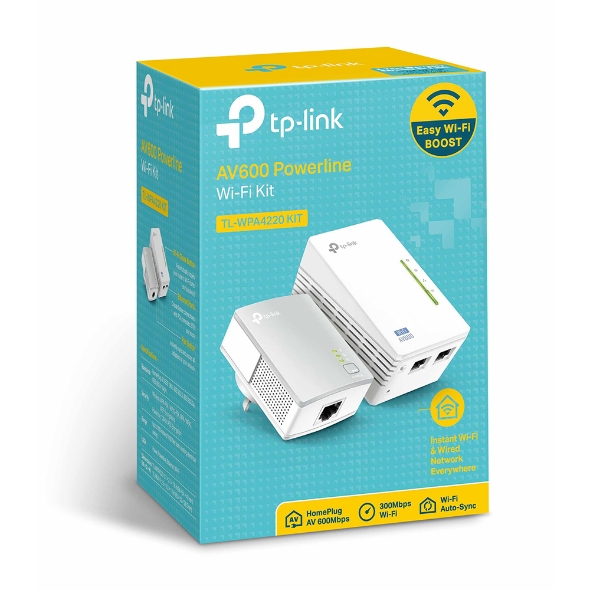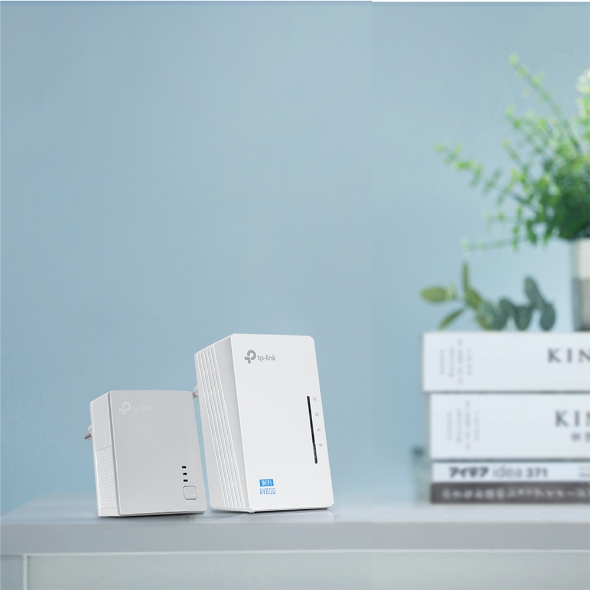 TL-WPA4220KIT
Kit de démarrage Extenseur CPL AV500 Wi-Fi N 300
Extension de portée d'un simple appui sur le bouton Wi-Fi Clone, simplifie la configuration de votre réseau Wi-Fi et vous aide à construire un réseau domestique unifié sans difficultés.
La norme Homeplug AV permet des débits théoriques jusqu'à 500Mbps via un réseau électrique domestique, c'est idéal pour diffuser des vidéos 3D ou HD fluides et les jeux en ligne.
Etend le réseau sans fil à 300Mbps jusqu'aux zones d'ombres de votre domicile ou de votre bureau.
Fonctionnalités
Le TL-WPA4220 KIT de TP-LINK étend votre connexion Internet dans chaque pièce de la maison via le réseau électrique. Il comporte un bouton de clonage Wi-Fi permettant d'étendre la couverture réseau, ce qui signifie qu'il peut copier automatiquement le SSID et le mot de passe de votre routeur compatible WPS. De cette façon, TL-WPA4220 simplifie la configuration Wi-Fi et vous permet une itinérance Wi-Fi aisée à domicile.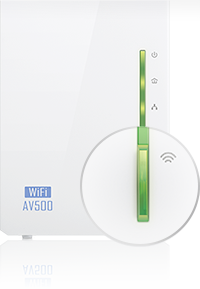 Extension de portée instantanée
Avec son bouton de clonage Wi-Fi permettant d'étendre la couverture réseau, le TL-WPA4220 peut copier automatiquement le nom du réseau sans fil (SSID) et le mot de passe de votre routeur à la simple pression d'un bouton. Après avoir appuyé sur le bouton, vous pouvez placer l'adaptateur CPL où vous avez besoin d'un accès filaire ou sans fil et profiter d'un réseau homogène à à votre domicile ou votre bureau.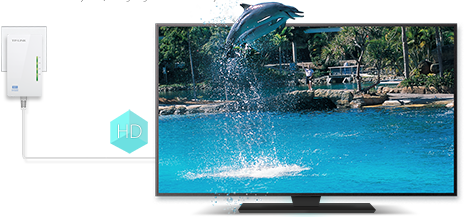 Jusqu'à 500Mbps - Idéal pour la diffusion de vidéos HD
Avec la technologie évoluée HomePlug AV, le TL-WPA4220 KIT fournit, un débit stable allant jusqu'à 500 Mbps sur une longueur de 300 mètres. Il est un excellent choix pour une solution d'interconnexion des : ordinateurs, consoles de jeux, décodeurs TV, imprimantes et NAS à domicile comme au bureau.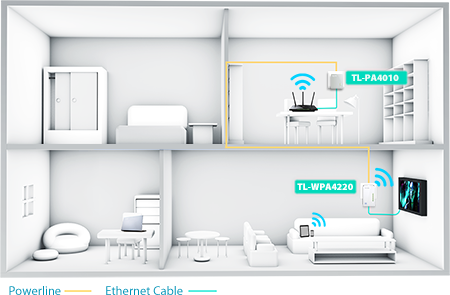 Etendez la couverture WiFi à toutes les pièces
Avec un débit maximal de 300Mbps, vous pouvez sans effort étendre votre couverture sans fil en utilisant le réseau CPL pour diffuser et partager les données de vos appareils WIFI dans toutes les pièces de votre domicile ou de votre bureau.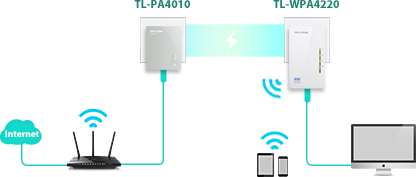 Branchez et Utilisez
Vous pouvez configurer un réseau CPL en quelques minutes avec les adapateurs CPL TP-LINK, branchez et utilisez. En outre, les boutons "Pair" des adaptateurs peuvent être utilisés pour sécuriser et gérer plusieurs adaptateurs Powerline de votre réseau CPL domestique.
1. Branchez un adaptateur CPL à proximité de votre connexion internet (Box ou modem routeur)
2. Connectez des adaptateurs supplémentaires pour relier : Ordinateurs de bureau ou portables, télévision ou d'autres appareils via un câble Ethernet ou via le Wi-Fi. C'est tout !
* Nous vous recommandons : Appuyez sur les boutons Pair pour chiffrer les données et sécuriser le réseau CPL. Remarque : les adaptateurs CPL doivent être utilisés par deux ou plus.
CARACTERISTIQUES MATERIELLES
Type de prise
EU
Standards et Protocoles
HomePlug AV, IEEE802.3, IEEE802.3u, IEEE802.11b/g/n
Interface
2 ports 10/100Mbps Ethernet
Bouton
Pair, Reset, W-iFi/Clonage Wi-Fi
Consommation
Maximum : 7.608W (220V/50Hz)
Typique : 7.216W (220V/50Hz)
Veille : 4.610W (220V/50Hz)
Témoins lumineux
Alimentation, CPL, Ethernet, WiFi/clonage Wi-Fi
Dimensions (LxPxH)
94×54×40mm
Gamme
300 m dans le réseau électrique
Compatibilité
Compatible with all HomePlug AV & AV2 standard powerline adapters
Vitesses de transmission
Powerline: up to 600 MbpsEthernet: 10/100 Mbps
Caractéristiques WiFi
Fréquence
2.4-2.4835GHz
Débit du signal
11n : Jusqu'à 300 Mbps (dynamique)
11g : Jusqu'à 54 Mbps (dynamique)
11b : Jusqu'à 11 Mbps (dynamique)
Sensibilité de réception
270M: -68dBm@10% PER
130M: -68dBm@10% PER
108M: -68dBm@10% PER
54M: -68dBm@10% PER
11M: -85dBm@8% PER
6M: -88dBm@10% PER
1M: -90dBm@8% PER
Puissance de transmission
CE:<20dBm(2.4GHz)
FCC:<30dBm
Sécurité WiFi
64/128-bit WEP / WPA / WPA2,WPA-PSK / WPA2-PSK
Fonctions avancées
Activer/désactiver WiFi, WMM, Statistiques WiFi
Puissance de transmission
CE:<20dBm(2.4 GHz)
FCC:<30dBm
CARACTERISTIQUES LOGICIELLES
Administration
TP-Link tpPLC AppOr download new tpPLC Utility on PCs: www.tp-link.com/support/download.
Technologie de modulation
OFDM (PLC)
Chiffrement
CPL : Chiffrement 128 bits AES
Wi-Fi : WEP, WPA/WPA2, WPA-PSK/WPA2-PSK
Autres
Certification
CE, FCC, RoHS
Contenu de l'emballage
Adaptateur TL-WPA4220 + TL-PA4010
Cordons Ethernet RJ45 de 2m
Mini CD de ressources
Guide d'installation rapide
Système requis
Windows 2000/XP/2003/Vista, Windows 7/8, Mac, Linux
Environnement
Température de fonctionnement : 0 à 40°C
Température de stockage : -40 à 70°C
Humidité relative de fonctionnement : 10% à 90% sans condensation
Humidité relative de stockage : 10% à 90% sans condensation
Revues de presse
Récompenses

Test Winner

TL-WPA4220KIT was nominated "Test Winner" by CHIP in Germany

2013, Germany

Recommended

TL-WPA4220KIT won "Recommended" from RedesZone in Spain

2013, Spain

TL-WPA4220KIT was nominated "Preis-Leistungs-Sieger" by Computerbild in issue 20/2013.

2013, Germany

Best Value

TL-WPA4220KIT won Best Value Award from PC Market magazine in Hongkong, China.

2013, Hongkong, China

Recommended

TL-WPA4220KIT/Tl-WPA4220 received a Recommended Award from AVForums

2013, UK

testergebnis befriedigend

TL-WPA4220KIT was nominated "testergebnis befriedigend " by AudioVideoFotoBild.

2014, Germany

Value Award

TL-WPA4220KIT won Value Award from Hardware Heaven in UK.

2014, UK

HWM Magazine

TL-WPA4220KIT won the Gold Award from HWM magazine in Malaysia

2014, Malaysia
The theoretical maximum channel data transfer rate is derived from HomePlug AV specifications. Actual data transfer rate will vary from network environment including: distance, network traffic, noise on electrical wires, building material and construction, quality of electrical installation and other adverse conditions.
SubscriptionTP-Link prend votre vie privée au sérieux. Pour plus de détails sur la politique de confidentialité de TP-Link, veuillez consultez la page suivante Politique de confidentialité de TP-Link .
From United States?
Check products and services for your region.