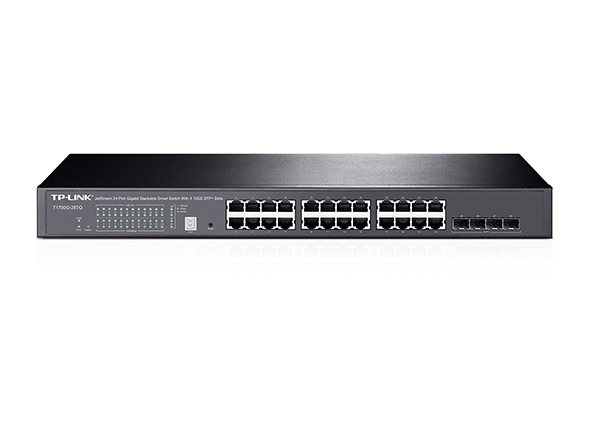 T1700G-28TQ
24portový gigabitový stohovatelný Smart Switch JetStream se 4 10GE SFP+ Sloty
Skutečné fyzické stohování podporuje až 6 jednotek a 40Gbit/s obousměrnou šířku pásma pro vysokou rozšiřitelnost a efektivní redundanci
10G SFP+ porty pro stohování a/nebo uplink (přenos směrem od koncového zařízení k základnové stanici) poskytují podporu aplikacím náročným na šířku pásma a tím dochází k uvolnění blokací a plynulému přenosu dat
Funkce L2+, funkce Static Routing pomáhá směrovat interní přenos dat a tím napomáhá efektivnímu využití všech síťových zdrojů
Funkce pokročilého zabezpečení zahrnují IP-MAC-port Binding, ACL, zabezpečení portů, ochrana proti útokům DoS, Storm control, DHCP Snooping, ověřování 802.1X a protokol Radius
Podpora IPv6 poskytuje duální implementaci IPv4/IPv6, MLD snooping a IPv6 neighbor discovery
Řídící režimy WEB/CLI, SNMP, RMON a Dual Image rozšířené řízení
K čemu slouží tento produkt
Gigabitový stohovatelný chytrý switch TP-LINK T1700G-28TQ, je navržen tak ,aby vám pomohl vytvořit síť, která je vysoce dostupná, rozšířitelná a stabilní. Switch je vybaven 24mi 10/100/100Mbit/s RJ-45 porty a 4mi jednoúčelovými 10G SFP+ sloty, které mohou být použity pro uplinky a/nebo stohování, což poskytuje silné propojení přístupu a agregace. Přináší vynikající výkon, výkonné funkce L2 a L2+, řízení síťového provozu QoS na podnikové úrovni a efektivní strategie zabezpečení. Kromě toho s fyzickým stohováním, což zlepšuje výkon, a zjednodušeným ovládáním je T1700G-28TQ schopný poskytnout cenově výhodné řešení sítí pro malé a střední podniky.
Fyzické stohování
Technologie fyzického stohování spojuje několik zařízení do sjednoceného systému, který jim dovoluje společně pracovat a být ovládán jako samostatná jednotka, což zlepšuje výkon a zjednodušuje ovládání. Systém stohování T1700G-28TQs podporuje až 40G oboustrannou seskupenou šířku pásma s vestavěnou redundancí a poskytuje automatické zajištění proti výpadku. Switch podporuje seskupovat až 6 jednotek, což umožňuje poskytnout až 144 GE portů, 12 dostupných 10G SFP uplinků a kapacitu spínání 768Gbit/s a nabízí velké možnosti dalšího vývoje a flexibilitu pro budoucí potřeby rozšíření sítě.
Široká paleta funkcí na 2. síťové vrstvě (L2 a L2+)

T1700G-28TQ podporuje bohaté funkce L2, včetně 802.1Q Tag VLAN, izolace portů, zrcadlení portů, STP/RSTP/MSTP, řízení agregace linek a řízení toku 802.3x. Switch dále nabízí pokročilé funkce pro správu sítě, např. detekci smyček, diagnostiku kabelů a IGMP Snooping. Funkce IGMP Snooping zajišťuje, aby switch inteligentně předával datový proud vysílání multicast pouze příslušným odběratelům, zatímco funkce IGMP Throttling & Filtering omezuje každého odběratele na úrovni portu, aby zabránila neoprávněnému přístupu k datovému proudu multicast. Navíc T1700G-28TQ podporuje funkci L2+—statické směrování, která jednoduchým způsobem poskytuje segmentaci sítě s interním směrováním pro efektivnější tok dat v síti.
Zabezpečení sítě
T1700-28TQ poskytuje IP-MAC-Port Binding, Port Security, Storm control a DHCP Snooping, což chrání síť před broadcastovými bouřemi, ARP útoky atd. Funkce kontrolních seznamů přístupů (ACL, L2 až L4) omezuje přístup k citlivým síťovým zdrojům odepíráním určitých packetů na základě adres MAC, IP, TCP/UDP portů a VLAN ID zdroje i cíle. Mimoto switch podporuje 802.1X, což umožňuje ověření síťového klienta přes externí Radius server. Funkce Guest VLAN umožňuje přístup non-802.1X klientů k určitým síťovým zdrojům.
Pokročilé funkce QoS
Pro podporu hlasových, datových a video služeb v jedné síti používá switch bohaté QoS politiky. Administrator může určit priority přenosu na základě mnoho faktorů zahrnující Port Priority, 802.1P Priority a DSCP Priority pro zajištění, že hlas a video jsou vždycky jasné, plynulé a bez sekání.
Funkce na úrovni řízení podniku
T1700G-28TQ je snadno použitelný a ovladatelný. Podporuje různé uživatelsky přívětivé standardní řídící funkce, jako jsou intuitivní webové grafické uživatelské rozhraní (GUI) nebo průmyslově standardizovaný příkazový řádek (CLI), SNMP (v1/2/3) a RMON podpora. To umožňuje, aby switch poskytoval užitečné informace a odesílal hlášení o mimořádných událostech. Rozsáhlé řízení podporující IPv6 zajišťuje hladkou migraci do sítí založených na IPv6. Kromě toho je také podporováno Dual Image pro zlepšení spolehlivosti a provozuschopnosti sítě.
10-gigabitové cenově dostupné řešení switchů pro rozrůstající se malé a střední podniky
Řada T1700 10-gigabitových Smart switchů
Ve světě expandujících podniků a rostoucí virtualizace, cloudově založených službách a aplikacích, jako jsou VoIP, HD video streaming a vzdálený dozor pomocí IP kamer, potřebují malé a střední podniky jednoduše vyvinout spolehlivost a tím zajistit vysokou rozšiřitelnost, velkou šířku pásma a lepší výkonnost. Řada chytrých 10G switchů TP-LINK T1700 představuje ideální řešení, které splňuje tyto požadavky. Tato řada zahrnuje plně 10-gigabitový smart switch T1700X-16TS a stohovatelný gigabitový smart switch T1700G-28TQ s 10G uplinkem, z nichž oba poskytují vysokou úroveň výkonu, rozšiřitelnosti a cenovou dostupnost, což malé a střední podniky vyžadují od řešení 10G sítí.
PLNĚ 10-GIGABITOVÝ
SMART SWITCH
12-portový 10GBase-T smart switch
se 4mi 10gigabitovými SFP+ sloty
Nestárnoucí technologie
10GBase-T
Do nedávna byla 10ti-gigabitová konektivita dostupná pouze v nákladných technologiích optických vláken, které podporovaly vysoko-rychlostní přístup k páteřní síti nebo k prostředí datových center.
Dnes se stávají technologie 10GBase-T běžnější a cenově dostupnější. Nízko-latentní Line-Rate 10G měděný Base-T je zpětně kompatibilní s rychlým a gigabitovým Ethernetem a může být automaticky převáděn mezi vysoko a nízko rychlostními připojeními. Nejdůležitější je, že 10GBase-T poskytuje cenově výhodnou metodu pro migraci z původní sítě do 10G sítě ethernet využitím existujících kabelů CAT5e/CAT6 RJ-45 pro krátká připojení (až 55m) a CAT6A/CAT7 pro dlouhá připojení (až 100m). To snižuje potřebu komplikovaných kabelových propojení a ve výsledku to znamená významné úspory pro zákazníky.
16 10ti-gigabitových portů,
Přepínací kapacita 320Gbit/s
T1700X-16TS je vybaven 12ti 10GBase-T RJ45 porty a čtyřmi specializovanými SFP+ sloty pro optický kabel, což dokáže podporovat až 320Gbit/s kombinované přepínající šířky pásma. To zajišťuje výbornou flexibilitu, uvolňuje zahlcení spojené s aplikacemi náročnými na šířku pásma a garantuje plynulý přenos dat.
GIGABITOVÝ STOHOVATELNÝ
S 10TI-GIGABITOVÝM UPLINKem
24-portový gigabitový stohovatelný smart switch
se 4mi 10GE SFP+ sloty
Fyzické stohování
S technologií skutečného fyzického stohování může být stohováno až šest jednotek T1700G-28TQ s jedinou IP adresou.
To poskytuje lepší rozšiřitelnost, jednoduché řízení a zvýšenou redundanci pro zhuštěné rozmístění. Další výhodou je možnost efektivního rozšíření sítě v budoucnosti.
6 jednotek

Technologie skutečného fyzického stohování až šesti jednotek podporuje zjednodušení sítě

144 GE portů

Až 144 gigabitových ethernetových portů v jedné sadě

24 10G SFP+

Až 24 10ti-gigabitových SFP+ slotů v jedné sadě

768 Gbit/s

Přepínací kapacita až 768Gbit/s pro agregované sítě

1 IP adresa

S identifikací všech jednotek pouze jedinou IP adresou je konfigurace a monitorování celé sady snadné
Design bez ventilátoru pro tichý chod
T1700G-28TQ využívá design bez ventilátoru, což snižuje okolní hluk ve vaší kanceláři. Odebrání ventilátoru také snižuje spotřebu a napomáhá vám sestavit cenově úspornější síť.
Vlastnosti softwaru
L2+ Static Routing

Jednoduchá segmentace sítě s interním směrováním pomocí switche dovoluje zařízením v různých VLAN sítích/podsítích společně komunikovat a vytvořit efektivnější tok dat v síti.

Abundant L2 Features

Zařízení řady T1700 jsou vybavena úplnou sestavou funkcí L2, což splňuje vaše nynější i budoucí potřeby pro jednotnou síť a mobilitu.

802.1Q/MAC/Protocol/Private VLAN1

Link Aggregation Group (LAG)

IGMP & MLD Snooping

Multicast VLAN

Robustní zabezpečovací strategie

Podpora mnoha strategií zabezpečení vám umožňuje vytvořit bezpečnou, jednotnou síť zamezením neautorizovaných přístupů, externích útoků a infiltrace malwarů.

Access Control List (ACL)

DHCP Snooping

802.1x Authentication

IP-MAC-Port Binding

Komplexní funkce QoS

Pokročilé ovládání poskytuje optimalizovaný výkon sítě a efektivní doručení časově závislých dat.

Port-Based or 802.1p-Based Prioritization

Layer 3-Based (DSCP) Prioritization

Rate Limit

Voice VLAN

Podpora IPv6

Řada T1700 nabízí obsáhlé funkce IPv6 zahrnující IPv6 řízení, statické směrování, ACL a QoS2, což usnadňuje přenos do sítí založených na IPv6 a chrání hodnotu vaší investice.

Dual Image

Firmware dual image snižuje prostoje při aktualizaci firmwaru. Záložní image je také aktivován v případě jakékoli chyby, která se vyskytne v aktivním image.
1 Pouze T1700X-A6TS podporuje soukromou VLAN
2 IPv6 statické směrování/ACL/QoS bude podporováno příštím vydání firmwaru
Specifikace hardwaru
T1700X-16TS
T1700G-28TQ
10/100/1000Mbps RJ45 Ports
-
24
10GBase-T RJ45 Ports
12
-
Uplink
4 Dedicated 10G SFP+
4 Dedicated 10G SFP+
Switching Capacity
320Gbps
128Gbps
Dimensions(W×D×H)
17.3×8.7×1.73 in.


(440×220×44mm)

17.3×7.1×1.73 in.


(440×180×44mm)

Fan Quatity
Two Smart Fans
Fanless
Find More Details
Go>
Go>
Příslušenství
10GBase-SR SFP+ LC Transceiver

850nm transceiver s několika režimy
Maximální vzdálenost 300m
Konektor LC/UPC

TXM431-SR

10GBase-LR SFP+ LC Transceiver

1310nm jednorežimový transceiver
Maximální vzdálenost 10km
Konektor LC/UPC

TXM431-LR

1m/3m SFP+ kabel pro přímé připojení

Délka kabelu 1m/3m
Konektor SFP+ na obou stranách

TXC432-CU1M / TXC432-CU3M
HARDWARE FEATURES
Standards and Protocols
IEEE 802.3i, IEEE 802.3u, IEEE 802.3ab, IEEE802.3z, IEEE 802.3ae, IEEE 802.3ad, IEEE 802.3x, IEEE 802.1d, IEEE 802.1s, IEEE 802.1w, IEEE 802.1q, IEEE 802.1x, IEEE 802.1p
Interface
24 10/100/1000Mbps RJ45 Ports
4 fixed 10G SFP+ Slots

Network Media
10BASE-T: UTP category 3, 4, 5 cable (maximum 100m)
100BASE-TX/1000Base-T: UTP category 5, 5e or above cable (maximum 100m)
1000BASE-X: MMF, SMF
10GBASE-LR
10GBASE-SR

Fan Quantity
Fanless
Physical Security Lock
Yes
Power Supply
100-240V, 50/60Hz
Power Consumption
21.8W
Weight
2.8kg
Dimensions ( W x D x H )
17.32 * 7.1 * 1.73 in. (440 * 180 * 44 mm)
Mounting
Rack Mountable
Max Power Consumption
21.8W (220V/50Hz)
Max Heat Dissipation
74.38 BTU/h
PHYSICAL STACKING
Installable SFP+ Transceivers and Direct Attach Copper (DAC) Cables
TXM431-SR
TXM432-LR
TXC432-CU1M
TXC432-CU3M

Max Number of Stacking Ports Installable
2 SFP+
No. of Units Per Stack
Up to 6 units
Stacking Speed (Per Port)
20Gbps (Full-Duplex)
PERFORMANCE
Switching Capacity
Up to 128Gbps for a standalone switch
Packet Forwarding Rate
Up to 95.2Mpps for a standalone switch
MAC Address Table
16K
Packet Buffer Memory
1.5MB
Jumbo Frame
9KB
Number of Static Routes
32 IPv4
Number of IP Interfaces
16
SOFTWARE FEATURES
Quality of Service
Support 802.1p CoS/DSCP priority
Support 8 priority queues
Queue scheduling: SP, WRR, SP+WRR
Port/Flow- based Rate Limiting
IPv6 QoS*
Voice VLAN

L2 and L2+ Features
Static Routing
DHCP Relay*
IGMP Snooping V1/V2/V3
802.3ad LACP (Up to 14 aggregation groups, containing 8 ports per group)
Spanning Tree STP/RSTP/MSTP
BPDU Filtering/Guard
TC/Root Protect
Loopback detection
802.3x Flow Control
LLDP, LLDP-MED*

VLAN
Supports up to 4K VLANs simultaneously (out of 4K VLAN IDs)
MAC/Protocol-based VLAN

Access Control List
L2~L4 package filtering based on source and destination MAC address, IP address, TCP/UDP ports
IPv6 ACL*

Security
AAA*
Port Security
DHCP Snooping
IP-MAC-Port Binding
ARP Inspection
802.1x and Radius Authentication
SSH v1/v2
SSL v3/TLSv1
Broadcast/Multicast/Unknown-unicast Storm Control
Dos Defend

IPv6
Dual IPv4/IPv6 stack
Multicast Listener Discovery (MLD) Snooping
IPv6 neighbor discovery (ND)
Path maximum transmission unit (MTU) discovery
Internet Control Message Protocol (ICMP) version 6
TCPv6/UDPv6

IPv6 Applications
DHCPv6 Client
Ping6
Tracert6
Telnet (v6)
IPv6 SNMP
IPv6 SSH
IPv6 SSL
Http/Https
IPv6 TFTP

Management
Web-based GUI and CLI management
SNMP v1/v2c/v3,compatible with public MIBs and
TP-LINK private MIBs
RMON (1, 2, 3, 9 groups)
CPU Monitoring
Port Mirroring
Firmware Upgrade: TFTP & Web
System Diagnose: VCT
SYSLOG & Public MIBS
Dual Image


*These features will be supported in a future firmware release.
OTHERS
Certification
CE, FCC, RoHS
Package Contents
T1700G-28TQ
Power Cord
Installation Guide
Resource CD
Rackmount Kit
Rubber Feet

System Requirements
Microsoft® Windows® XP, Vista™ or Windows 7, Windows 8/8.1, MAC® OS, NetWare®, UNIX® or Linux.
Environment
Operating Temperature: 0℃~40℃ (32℉~104℉);
Storage Temperature: -40℃~70℃ (-40℉~158℉)
Operating Humidity: 10%~90%RH non-condensing
Storage Humidity: 5%~90%RH non-condensing

From United States (English)?
Check products and services for your region.