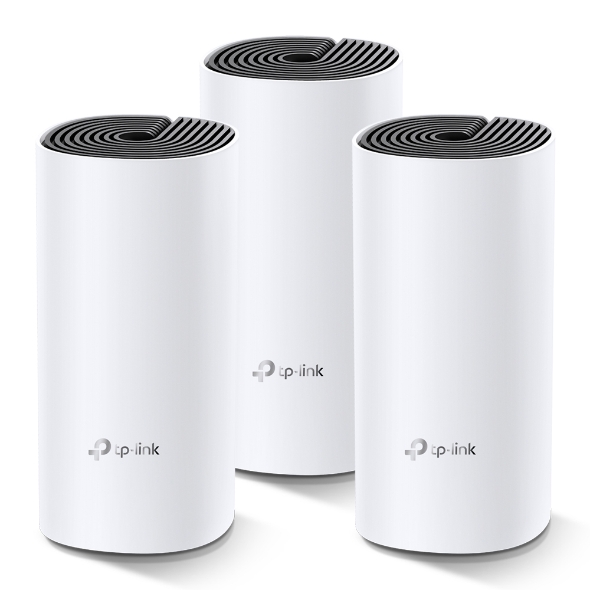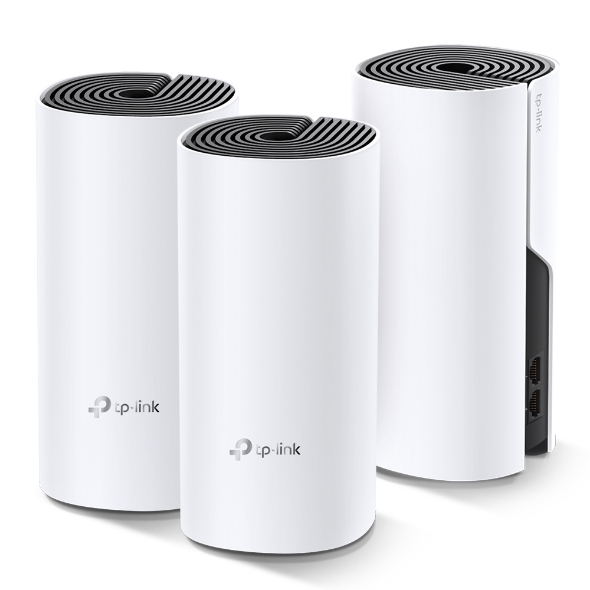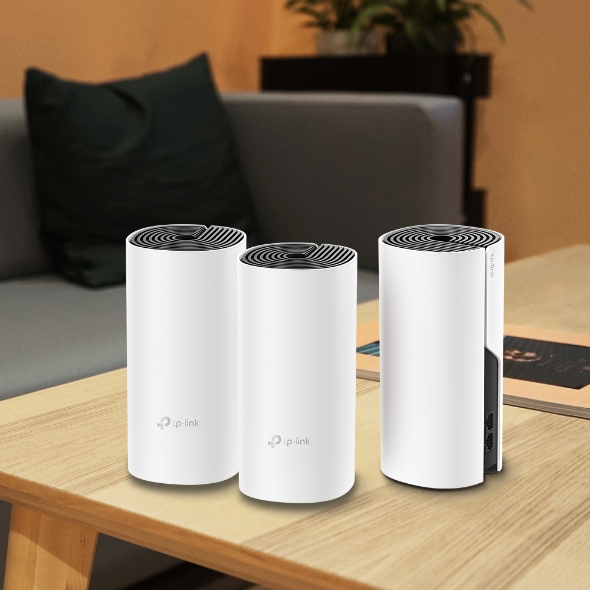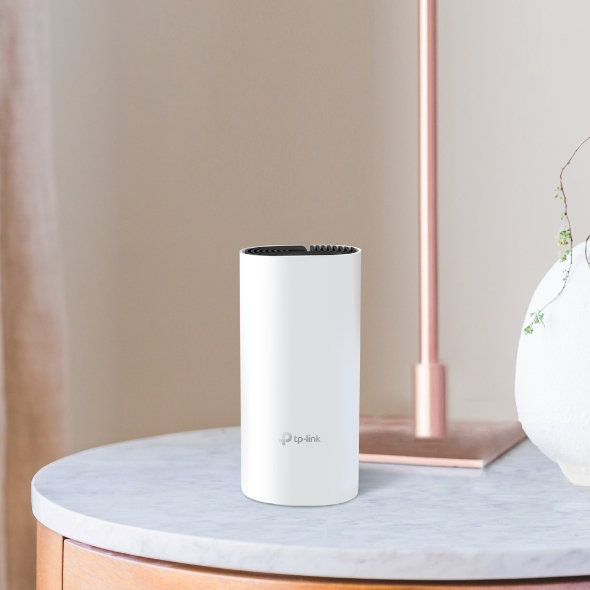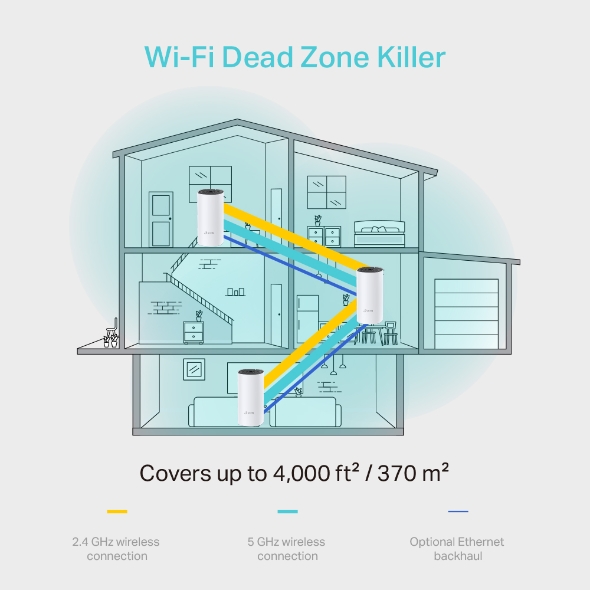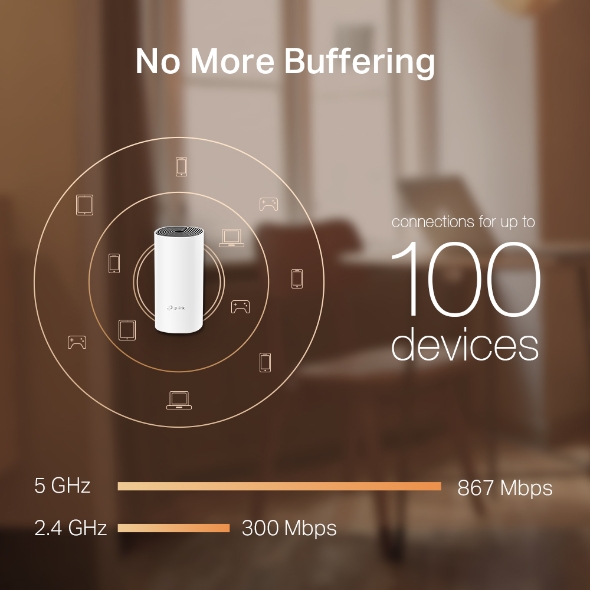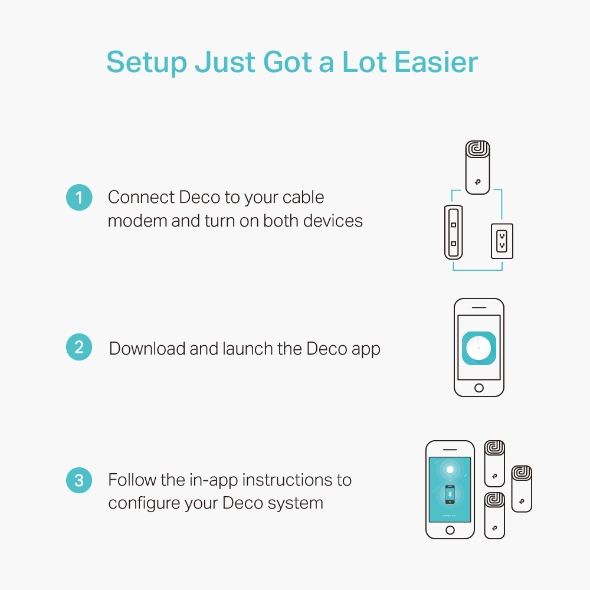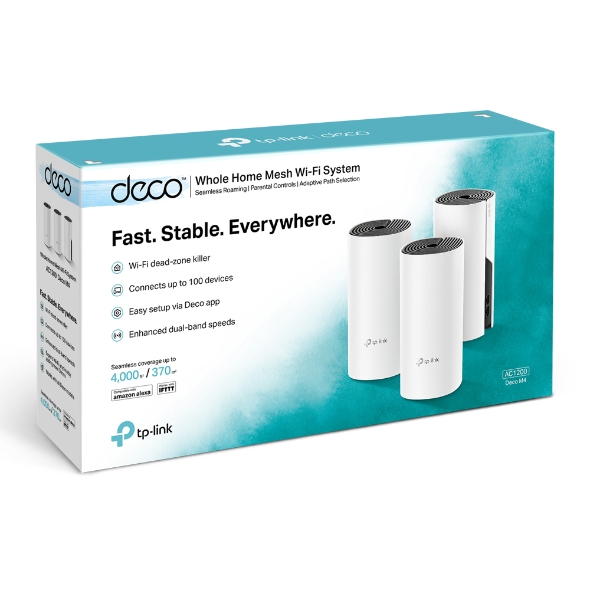 Sistema Wi-Fi Mesh para toda la Casa AC1200
Deco usa un sistema de unidades para lograr una cobertura Wi-Fi perfecta para el hogar — ¡Elimina las zonas de baja señal de una vez por todas!
Con la avanzada tecnología Deco Mesh, los dispositivos Deco trabajan juntos para formar una red unificada en tu hogar, con el mismo nombre de red. Los dispositivos cambian automáticamente entre Decos a medida que te desplazas por tu hogar para obtener las velocidades más rápidas posibles.
Un pack de 2 Deco M4 proporciona Wi-Fi en un área de hasta 260 metros cuadrados. Si necesita cubrir un área mayor, simplemente añade en cualquier momento más Decos a tu red para aumentar la cobertura.
Deco M4 proporciona conexiones rápidas y estables con velocidades de hasta 1167 Mbps y funciona con los routers de los principales operadores del mercado.
Deco puede gestionar el tráfico incluso en redes muy saturadas, proporcionando conexiones sin retardo a más de 100 dispositivos.
El Control Parental limita el tiempo en línea y bloquea sitios webs inapropiados, de acuerdo con los perfiles únicos creados para cada miembro de la familia.
La configuración es muy sencilla. La app Deco te guía paso a paso.
Rápido. Estable. En todas partes.
Sistema Wi-Fi en malla para toda la casa Wi-Fi de
doble banda AC1200
Experimente Wi-Fi como nunca antes
Deco M4 utiliza la tecnología TP-Link Mesh para cubrir toda la casa con un potente Wi-Fi. Varias unidades trabajan juntas a la perfección para crear una red doméstica como nunca antes se había experimentado.
Elimina las Zonas Sin WiFi
Deco M4 es la forma más sencilla de garantizar una fuerte señal Wi-Fi en cada rincón del hogar hasta 260 metros cuadrados (paquete de 2, versión UE) † . Las conexiones inalámbricas y el backhaul Ethernet opcional funcionan juntos para vincular las unidades Deco, proporcionando velocidades de red aún más rápidas y una cobertura verdaderamente perfecta.
¿Más cobertura? Simplemente hay que agregar otro Deco.
Conexión inalámbrica de 2,4 GHz Conexión inalámbrica de
5 GHz
Backhaul Ethernet opcional
Roaming sin interrupciones con un nombre de Wi-Fi
TP-Link Mesh significa que las unidades Deco trabajan juntos para formar una red unificada. El teléfono o tablet se conecta automáticamente al Deco más rápido a medida que uno se desplaza por el hogar, creando una experiencia Wi-Fi realmente perfecta ‡ .
No más búfer
Las velocidades de red tres veces más rápidas que los router de la generación anterior, gracias a la tecnología inalámbrica 802.11ac, hacen que Deco sea capaz de proporcionar una conexión sin demoras a hasta 100 dispositivos † .
Conexiones de
aplicación única
para hasta
100
dispositivos
Dispositivos domésticos inteligentes
Descarga de alta velocidad
Funcionamiento fluido para múltiples aplicaciones
* Pruebas de múltiples aplicaciones realizadas por TP-Link en diciembre de 2018.
Modos de punto de acceso y enrutador 2 en 1
Flexible y multifuncional, Deco M4 incluye una variedad de características que le permiten servir como router o punto de acceso. Simplemente elige el modo para las demandas reales de red y así experimentar la máxima flexibilidad inalámbrica.
Router (predeterminado)

Generar instantáneamente una
red inalámbrica privada .

Punto de acceso

Cree acceso a Wi-Fi para cualquier
red cableada existente.

Extensor de alcance*

Ampliar el alcance de Wi-Fi para
eliminar zonas muertas.
* El modo enxtensor de alcance requiere actualizar el firmware a la última versión, que se lanzará pronto.
Wi-Fi hecho fácil
Configuración basada en aplicaciones

La instalación de Deco M4 es rápida y sencilla. Solo hay que desempaquetar el sistema, descargar la aplicación Deco y seguirlas instrucciones en pantalla.

Aprender a configurar el sistema Deco >>

Manejo sencillo

Administrar la Wi-Fi en casa o fuera de ella en la aplicación Deco, lo que incluye ver los dispositivos conectados, priorizar dispositivos, configurar una red para invitados y más.
Controles parentales robustos
Los controles parentales simples e intuitivos facilitan
la seguridad de los hijos mientras están en línea.
Crear fácilmente un perfil para cada miembro de la familia y establecer límites de tiempo personalizados y asignaciones de tiempo en línea.

Mantener a la familia segura en línea con configuraciones de seguridad de un toque que bloquean sitios web según la edad.

Establecer límites sobre la cantidad de tiempo que cada miembro de la familia puede pasar en línea.

Comprobar qué sitios visitan los hijos y cuánto tiempo pasan en cada uno para asegurarse de que estén seguros mientras se divierten en línea.

Tomarse un descanso de la conexión Wi-Fi para cenar y noches de juegos familiares. Basta pulsar un botón para suspender el acceso a Internet para todos en el hogar.
Todos los Decos
trabajan juntos
Deco M4 es compatible con cualquier otro modelo Deco para
formar una red Mesh. Expanda la cobertura de Mesh Wi-Fi en
cualquier momento simplemente agregando más Decos.
Deco Network Management at Your Fingertips!
The Deco app provides the easiest way to set up, manage and monitor your Deco Whole Home Mesh Wi-Fi System through your iOS or Android devices.
Setup Just Got a Lot Easier
Unbox Deco, install the app and then simply follow the on-screen directions. Deco app will take care of the rest and get your network up and running in minutes.
Connect Deco to your cable modem and turn on both devices

Download and launch the Deco app

Follow the in-app instructions to configure your Deco system.
Simple Management
Deco makes it easy to manage your Wi-Fi from anywhere, whether you're on the couch, at work, or anywhere in between.
Simple Management Dashboard

View the working status of your network, check the connected devices and get all the features your router offers.

Multiple Decos, One App

The Deco app manages all your Deco networks and devices connected to your Deco Wi-Fi.

Check the Connected Devices

View a list of your connected devices with the ability to pause and resume internet access, test the internet speed and prioritize or block the devices.

Remote Management

Remotely take control of the network with a tap of your phone—no matter where you find yourself.
Powerful Parental Controls
Simple, intuitive parental controls make it easy to keep your children safe while they're online.
Easily create a profile for each family member and set custom time limits and online time allowances. Assign devices to profiles so rules extend to individual devices as well as family members.

Keep your family safe online with one-touch security settings that block content based on age-appropriateness.

Set limits on how much time each person in your family can spend online.

With Insights, you can check out which sites your children visit and how much time they spend on each. It's a great way to know your children are safe while they're having fun online.

Take a break from Wi-Fi for dinner and family game nights. Just tap a button to suspend internet access for everyone in your home.
An Intuitive App Full of Features
Monthly Usage Summary
See a comprehensive list of your network details every month, including usage,
blocked content, security threats and more.
Home Automation
Make your life easy with powerful automation and voice control tools.
*Currently only for Deco M9 Plus
Flexible Shortcut
Flexibly control all devices from your phone or tablet with just one click.
*Currently only for Deco M9 Plus
Protect Your Network
Built-in Antivirus helps you defend against malicious website and guard your online payment.
*Currently only for Deco M9 Plus, Deco P7 and Deco M5
Prioritize Your Devices
Choose which devices always have the fastest connections
or set priority for a specific time duration.
Set Application Priorities
Allocate more bandwidth for the activities most important to you with simple controls.
*Currently only for Deco M9 Plus, Deco P7 and Deco M5
Share Wi-Fi with Friends
Set up separate Wi-Fi profiles for guests and share the password to
make it easier for them to hop online.
Check Your Speed
Run a speed test to ensure you're getting the internet speeds you're paying for.
View every device on your network and see how much bandwidth they're using.
Our Support Always Has Your Back
Have questions about Deco? Help is always just a click away. Find the answers in Deco app and don't hesitate to contact us with just a simple click.
Support
Notes: App interfaces and functions may vary slightly based on the app version and Deco models.
WIRELESS
Standards
Wi-Fi 5
IEEE 802.11ac/n/a 5 GHz
IEEE 802.11n/b/g 2.4 GHz
WiFi Speeds
AC1200
5 GHz: 867 Mbps (802.11ac)
2.4 GHz: 300 Mbps (802.11n
WiFi Range
Casas de 3 a 5 dormitorios (paquete de 3)

---

Tecnología de malla TP-Link
El backhaul Ethernet opcional funciona en conjunto para vincular las unidades Deco y brindar una cobertura perfecta

2 × antenas (internas)
Varias antenas forman una matriz de refuerzo de señal para cubrir más direcciones y áreas grandes

Beamforming
Concentra la intensidad de la señal inalámbrica hacia los clientes para ampliar el alcance de WiFi
WiFi Capacity
Media

---

Doble banda
Distribuya dispositivos a diferentes bandas para un rendimiento óptimo

MU-MIMO
Silmultáneamente se comunica con múltiples clientes MU-MIMO
Working Modes
Modo router
Modo punto de acceso
SEGURIDAD
Network Security
Cortafuegos SPI
Control de acceso
Guest Network
Red de invitados de 1 × 5 GHz
1 red de invitados de 2,4 GHz
WiFi Encryption
WPA-Personal
WPA2-Personal
HARDWARE
Ethernet Ports
2 × puertos Gigabit

* Por unidad deco
Admite detección automática de WAN / LAN
Botones
Botón de reinicio
SOFTWARE
Protocols
IPv4
IPv6
Parental Controls
Filtrado de URL
Controles de tiempo
WAN Types
IP dinámica
IP estática
PPPoE
PPTP
L2TP
Quality of Service
QoS por dispositivo
Cloud Service
Actualización de firmware OTA
ID de TP-Link
DDNS
NAT Forwarding
Port Forwarding
UPnP
IPTV
Proxy IGMP
Inspección IGMP
Puente
Etiqueta VLAN
DHCP
Dirección de reservas
Lista de clientes DHCP
Servidor
DDNS
TP-Link
Management
Deco App
TEST DATA
WiFi Transmission Power
CE:
<20 dBm (2.4 GHz)
<23 dBm (5 GHz)
FCC:
<30 dBm
PHYSICAL
Dimensions (W×D×H)
3.6 × 3.6 × 7.5 in
(90.7 × 90.7 × 190 mm)
Package Contents
Deco M4 (paquete de 3)
3 unidades Deco M4R
1 cable Ethernet RJ45
3 adaptadores de corriente
1 guía de instalación rápida

Deco M4 (paquete de 2)
2 unidades Deco M4R
1 cable Ethernet RJ45
2 adaptadores de corriente
1 guía de instalación rápida

Deco M4 (paquete de 1)
1 unidad Deco M4R
1 cable Ethernet RJ45
1 adaptador de corriente
1 guía de instalación rápida
OTROS
Requisitos del Sistema
Android 5.0 or later
iOS 9.0 or later
*Note: The minimum system requirements will be updated alongside updates to the app, subject to official website information.
Certificaciones
CE, FCC, IC, NCC, BSMI, IDA, RCM, JPA, JRF, VCCI, KC, RoHS
Ambiente
Temperatura de funcionamiento: 0 ℃ ~ 40 ℃ (32 ℉ ~ 104 ℉)
Temperatura de almacenamiento: -40 ℃ ~ 70 ℃ (-40 ℉ ~ 158 ℉)
Humedad de funcionamiento: 10% ~ 90% sin condensación
Humedad de almacenamiento: 5% ~ 90% sin condensación
† La capacidad para conectar 100 dispositivos se basa en pruebas con una combinación mixta de dispositivos. Las velocidades máximas de transmisión inalámbrica son las velocidades físicas derivadas de las especificaciones del estándar IEEE 802.11. El alcance, la cobertura y la cantidad máxima de dispositivos conectados se basan en los resultados de las pruebas en condiciones normales de uso. Rendimiento de datos inalámbricos real. La cobertura inalámbrica y la cantidad de dispositivos conectados no están garantizados y variarán como resultado de 1) factores ambientales, incluidos materiales de construcción, objetos físicos y obstáculos, 2) condiciones de la red, incluidas interferencias locales, volumen y densidad de tráfico, ubicación del producto , complejidad de la red y sobrecarga de la red, y 3) limitaciones del cliente, incluido el rendimiento nominal, la ubicación, la calidad de la conexión y la condición del cliente.
‡ Los clientes deben admitir 802.11k / v / r y pueden requerir una configuración adicional. El rendimiento puede variar según el dispositivo cliente.
From United States?
Get products, events and services for your region.