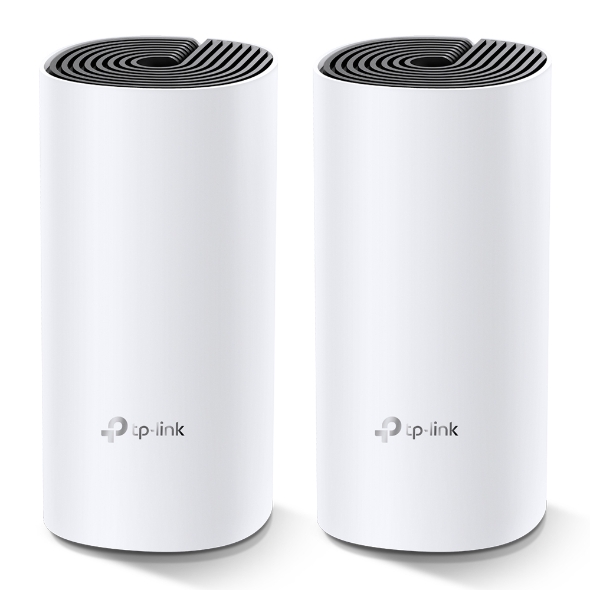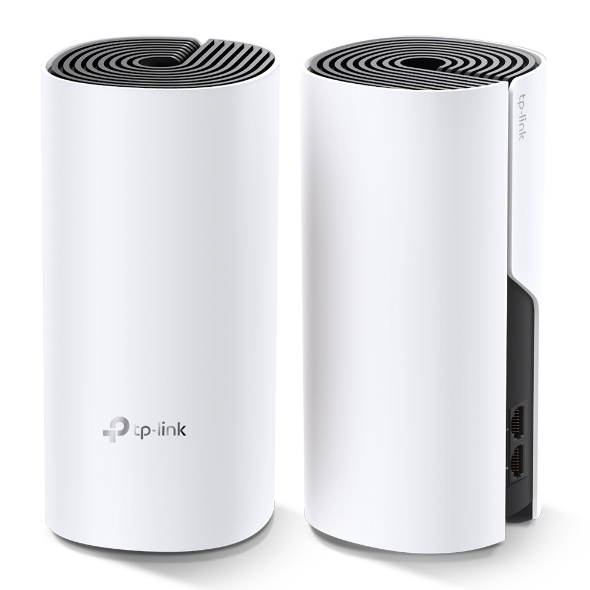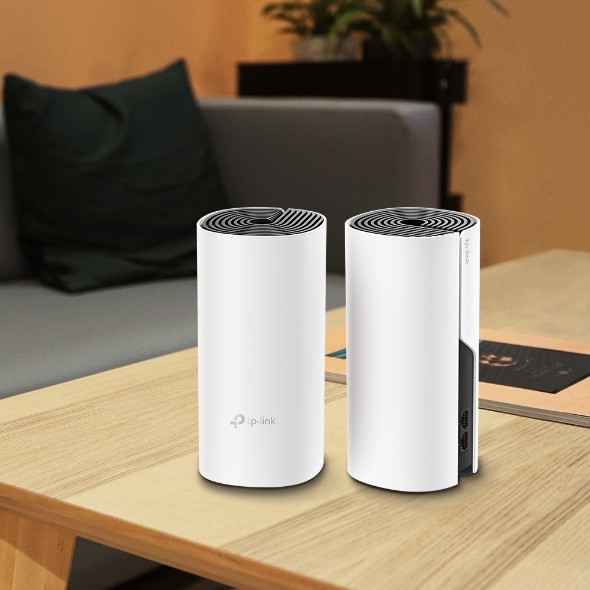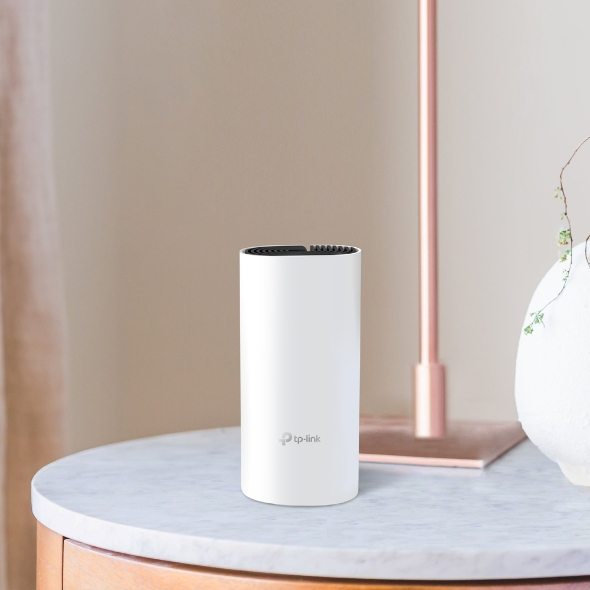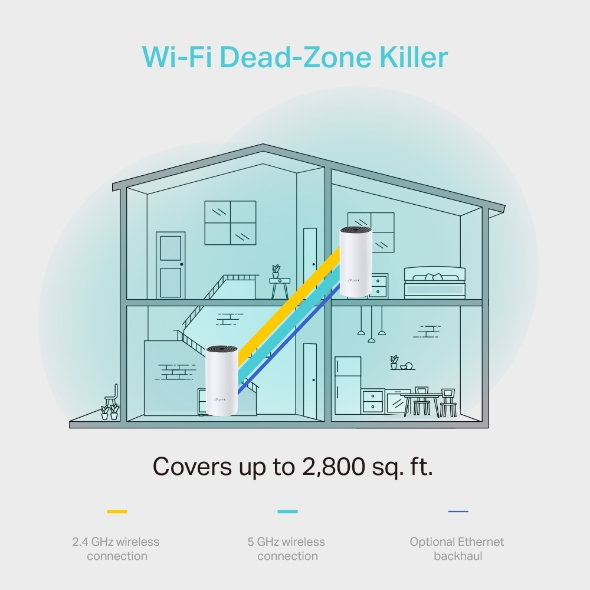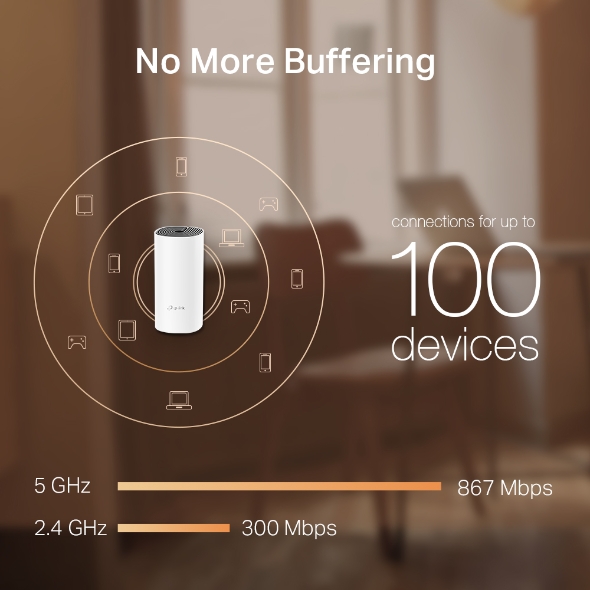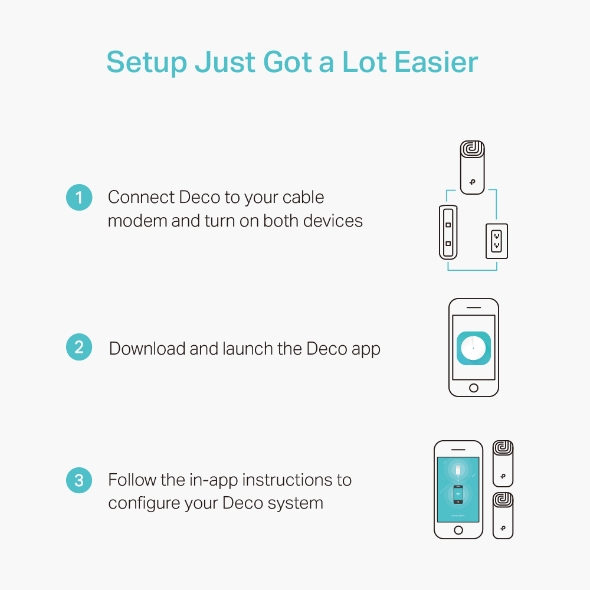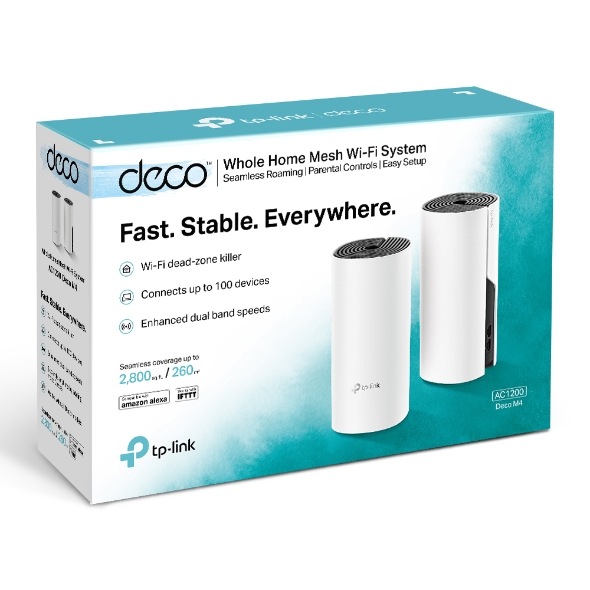 Sistema de Wi-Fi en malla para toda la casa AC1200
Deco utiliza un sistema de torres para lograr una cobertura de Wi-Fi sin interrupciones en todo el hogar: ¡elimine las áreas de señal débil de una vez por todas!
Con la avanzada tecnología Deco Mesh, las torres trabajan en conjunto para formar una red unificada con un solo nombre de red. Los dispositivos cambian automáticamente entre Decos a medida que se desplaza por su hogar para obtener las velocidades más rápidas posibles.
Un paquete de dos Deco M4 ofrece Wi-Fi de gran conbertura. Y si eso no es suficiente, simplemente agregue más Decos a la red en cualquier momento para aumentar la cobertura.
Deco M4 proporciona conexiones rápidas y estables con velocidades de hasta 1167 Mbps y funciona con los principales proveedores de servicios de Internet (ISP).
Deco puede manejar el tráfico incluso desde las redes más ocupadas, proporcionando conexiones sin demora para hasta 100 dispositivos.
El control parental limita el tiempo en línea y bloquea los sitios web inapropiados de acuerdo con los perfiles únicos creados para cada miembro de la familia.
La configuración es más fácil que nunca con la aplicación Deco para guiarte en cada paso.
Rápido. Estable. En todos lados.
Sistema Wi-Fi de malla para todo el hogar
Wi-Fi de doble banda AC1200
Experimenta Wi-Fi como nunca antes
Deco M4 utiliza la tecnología TP-Link Mesh para cubrir toda tu casa con una potente conexión Wi-Fi. Varias unidades funcionan a la perfección juntas para crear una red doméstica como ninguna que haya experimentado.
No más zonas sin señal
Deco M4 es la forma más sencilla de garantizar una fuerte señal de Wi-Fi en cada rincón de su hogar de hasta 2.800 pies cuadrados (paquete de 2, versión de la UE). Las conexiones inalámbricas y el backhaul de Ethernet opcional funcionan en conjunto para vincular unidades Deco, proporcionando velocidades de red aún más rápidas y una cobertura realmente perfecta.
¿Quieres más cobertura? Simplemente agregue otro Deco
Conexión inalámbrica de 2,4 GHz Conexión inalámbrica de 5 GHz. Conexión de red Ethernet opcional
Roaming sin interrupciones con un nombre de Wi-Fi
TP-Link Mesh significa que las unidades Deco se juntan para formar una red unificada. Tu teléfono o tableta se conecta automáticamente al Deco más rápido a medida que se desplaza por tu hogar, creando una experiencia Wi-Fi verdaderamente fluida..
Sin interrupciones
Las velocidades de red es tres veces más rápidas que la de los routers de la generación anterior, gracias a la tecnología inalámbrica 802.11ac, hacen que Deco sea capaz de proporcionar una conexión sin demoras a hasta 100 dispositivos.
Single-application
connections for up to
100
devices
Smooth Operation for Multiple Applications
*Testing of multiple applications conducted by TP-Link in December 2018.
2-in-1 Router and Access Point Modes
Flexible and multifunctional, the Deco M4 includes a variety of features allowing it to serve as a router or access point. Just choose the mode for your actual network demands and experience the maximum wireless flexibility.
Router (Default)

Instantly generate a private
wireless network.

Access Point

Create Wi-Fi access for any
existing wired network.

Range Extender*

Extend Wi-Fi range to
eliminate dead zones.
*Range Extender mode requires to update the firmware to the latest version, which will be released soon.
Wi-Fi fácil
Connfiguración basada en aplicaciones

Instalar Deco M4 es rápido y fácil. Simplemente desempaqueta el sistema, descargua la aplicación Deco y siga las instrucciones en pantalla.

Learn how to set up the Deco system >>

Manejo sencillo

Administra tu Wi-Fi en casa o fuera desde la aplicación Deco, que incluye ver los dispositivos conectados, priorizar tus dispositivos, configurar una red de invitados y más.

Control de voz

Empareja con Alexa para controlar Deco M4 con comandos de voz simples. Disfruta la vida conveniente.
Controles parentales robustos
Los controles parentales simples e intuitivos hacen que sea fácil,
manten a tus hijos seguros mientras están en línea.
Crea fácilmente un perfil para cada miembro de la familia y establece límites de tiempo personalizados y asignaciones de tiempo en línea.

Manten a tu familia segura en línea con la configuración de seguridad da un toque que bloquea los sitios web según la idoneidad de la edad

Límites de tiempo

Establece límites sobre cuánto tiempo cada persona de tu familia puede pasar en línea.

Percepciones

Ve qué sitios visitan tus hijos y cuánto tiempo pasan en cada uno para garantizar que tus hijos estén seguros mientras se divierten en línea.

Tómate un descanso del Wi-Fi para la cena y las noches de juegos familiares. Simplemente toca un botón para suspender el acceso a Internet para todos en su hogar.
Todos los Decos
Trabajar juntos
Deco M4 es compatible con cualquier otro modelo Deco para
formar una red de malla. Ampliar la cobertura de Mesh Wi-Fi
en cualquier momento simplemente agregando más Decos..
Deco M9 Plus (próximamente)
ALIMENTACIÓN
Entrada del adaptador AC
100-240V ~ 50/60Hz 0.4A
Salida del adaptador AC
12V ⎓ 1.2A
CARACTERÍSTICAS DE HARDWARE
Procesador
Qualcomm CPU
Interface
2 Gigabit Ethernet Ports (WAN/LAN auto-sensing) per Deco unit
Botón
1 Reset button on the underside
Fuente de Alimentación Externa
12 V/1.2 A
Dimensiones
Φ3.6 in. x 7.5 in. (Φ90.7 mm x 190 mm)
Tipo de Antena
2 internal dual-band antennas per Deco unit
CARACTERÍSTICAS INALÁMBRICAS
Estándares Inalámbricos
IEEE 802.11 ac/n/a 5 GHz, IEEE 802.11 b/g/n 2.4 GHz
Frecuencia
2.4 GHz and 5 GHz
Tasa de Señal
300 Mbps on 2.4 GHz867 Mbps on 5 GHz
Potencia de Transmision
FCC: <30 dBmCE: <20 dBm (2.4 GHz) <23 dBm (5 GHz)
Seguridad Inalámbrica
WPA-PSK/WPA2-PSK
Funciones Avanzadas
● Router/ Access Point Mode● Optional Ethernet Backhaul● Guest network● TP-Link Mesh Technology:MU-MIMOAuto Path SelectionSelf-HealingAP SteeringBand SteeringBeamforming
CARACTERÍSTICAS DE SOFTWARE
Calidad de servicio
WMM
IPv6
Support
WAN Type
Dynamic IP/Static IP/PPPoE/L2TP/PPTP
Administración
Local Management, Remote Management
DHCP
Server, Client
Port Forwarding
Support
Control de Acceso
Blacklist
Seguridad de cortafuegos
SPI Firewall
Protocolos
Supports IPv4 and IPv6
Características Avanzadas
Parental ControlsQuality of Service
Funciones Avanzadas
Monthly ReportsAuto FW UpdateExpand Wi-Fi by adding more Deco units
Red de invitados
2.4 GHz guest network x 15 GHz guest network x 1
Beamforming
Support
APP
Easy setup via Deco App
OTROS
Certificacion
CE, FCC, IC, NCC, BSMI, IDA, RCM, JPA, JRF, VCCI, KC, RoHS
Contenido del paquete
● Deco M4 (3-pack):3 Deco units1 RJ45 Ethernet Cable3 power adapters1 quick installation guide● Deco M4 (2-pack):2 Deco units1 RJ45 Ethernet Cable2 power adapters1 quick installation guide● Deco M4 (1-pack):1 Deco unit1 RJ45 Ethernet Cable1 power adapter1 quick installation guide
Requisitos de Teléfono Inteligente / Tableta
iOS 9.0 or later, Android 4.4 or later
Ambiente
Operating Temperature: 0℃~40℃ (32℉~104℉)Storage Temperature: -40℃~70℃ (-40℉~158℉)Operating Humidity: 10%~90% non-condensingStorage Humidity: 5%~90% non-condensing
* 1. Las velocidades máximas de transmisión inalámbrica son las velocidades físicas derivadas de las especificaciones IEEE Standard 802.11. El alcance, la cobertura y la cantidad máxima de dispositivos conectados se basan en los resultados de las pruebas en condiciones de uso normales. Rendimiento de datos inalámbrico real. La cobertura inalámbrica y la cantidad de dispositivos conectados no están garantizados y variarán como resultado de 1) Factores ambientales, incluidos los materiales de construcción, objetos físicos y obstáculos, 2) Las condiciones de la red, incluidas la interferencia local, el volumen y la densidad del tráfico, la ubicación del producto , la complejidad de la red y la sobrecarga de la red, y 3) Las limitaciones del cliente, incluido el rendimiento nominal, la ubicación, la calidad de la conexión y la condición del cliente.
* 2. Los Deco M3W serán lanzado pronto.
SubscriptionTP-Link toma en serio su privacidad. Para obtener más detalles sobre las prácticas de privacidad de TP-Link, consulte la Política de privacidad de TP-Link.
From United States (English)?
Check products and services for your region.