Wofür stehen die LED-Anzeigen des TP-Link Powerline-Adapters?
Normalerweise haben TP-LINK Powerline-Adapter drei LED-Anzeigen:
1. Erstens steht man für Macht;
2. Zweitens steht für Powerline-Verbindung;
3. Der dritte steht für die Ethernet-Verbindung.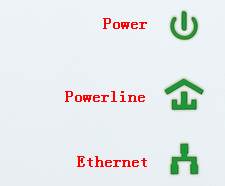 Erläuterung:
Power LED:
Es sollte die ganze Zeit an sein. Wenn es ausgeschaltet ist, tauschen Sie bitte eine Steckdose aus, um es zu versuchen. Wenn sich das Gerät immer noch nicht einschalten lässt, vereinbaren Sie einen Austausch.
Während des Pairing-Vorgangs oder im Energiesparmodus blinkt die Power-LED. Nach Beendigung des Vorgangs leuchtet die Power-LED wieder konstant. Bei HomeplugAV2 wie TL-PA8010P oder TL-PA8030P blinkt sie alle 15 Sekunden, wenn der Energiesparmodus aktiviert ist. Informationen zum Koppeln finden Sie in den folgenden FAQ:
Wie kann man das Powerline Network sichern?
Powerline LED:
After you have successfully made the powerline connection, the Powerline LED will be on. It will be off when it is in Power-save mode.
For TL-PA511/TL-PA551, there are three colors for this light.

For homeplugAV2 like TL-PA8010P, TL-PA8030P, there are three kinds of status.

Ethernet-LED:
Wenn ein Gerät an den Ethernet-Port angeschlossen und eingeschaltet ist, leuchtet die Ethernet-LED. Sie blinkt bei der Datenübertragung. Erst wenn die LED länger als 5 Minuten aus ist, befindet sie sich im Energiesparmodus.
Für HomeplugAV2 wie TL-PA8010P, TL-PA8030P ist nur Ein / Aus verfügbar, dh der Ethernet-Port ist verbunden oder nicht verbunden.
Wi-Fi LED:
Normalerweise leuchtet die Wi-Fi-LED oder blinkt schnell, um die drahtlose Verbindung zu aktivieren. Während des Wi-Fi-Klonvorgangs blinkt die Anzeige langsam. Halten Sie die WLAN-Taste mindestens 5 Sekunden lang gedrückt, um die WLAN-Funktion ein- oder auszuschalten. Die Wireless-Funktion ist standardmäßig aktiviert. Sie können es nachts aus- und morgens wieder einschalten, indem Sie diese Taste drücken.
Erfahren Sie mehr über die einzelnen Funktionen und Konfigurationen. Rufen Sie das Download-Center auf, um das Handbuch Ihres Produkts herunterzuladen.
Finden Sie diese FAQ hilfreich?
Mit Ihrer Rückmeldung tragen Sie dazu bei, dass wir unsere Webpräsenz verbessern.
Subscription Für TP-Link ist Datenschutz sehr wichtig. Weitere Informationen zu unseren Datenschutzbedingungen finden Sie in der Datenschutzerklärung von TP-Link.
From United States?
Check products and services for your region.