Warum können Sie sich nicht über NOD 32 ESET in die Management-Seite einloggen?
Die NOD32 ESET-Software inklusive ESET EAV (ESET Anti-virus) und ESS(ESET Smart Security) Version 5 beeinflusst erfahrungsgemäß die normale Login-Protokollierung der Management-Seite in Windows OS. Nachdem Sie die korrekte Login-Adresse eingegeben haben, wird auf der Webseite Benutzername und Passwort falsch angezeigt.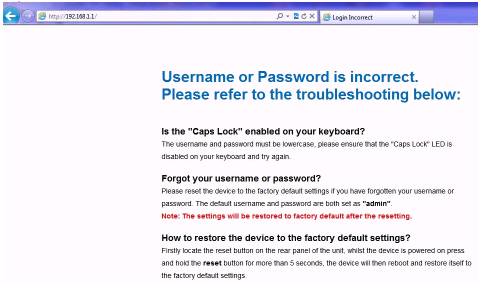 Hier ist eine Schritt-für-Schritt-Anleitung zur Behandlung dieses Problems
Schritt 1 Öffnen Sie die Hauptoberfläche der ESET-Software.
Schritt 2 Drücken Sie F5 um auf Advanced Setup (Erweiterte Einstellungen) zu gehen, klicken Sie dann auf Web and email ->protocol filtering->Excluded IP addresses (Web und E-mail ->Protokollfilterung->Ausgeschlossene IP-Adressen).
Schritt 3 Klicken Sie auf Add IPv4 address (Ipv4-Adresse Hinzufügen) in Windows 7/Vista oder Add Address (Adresse hinzufügen) in Windows XP und geben Sie in das LAN-IP-Feld Ihres Routers ein (Standard ist 192.168.1.1 oder 192.168.0.1), dann klicken Sie auf OK.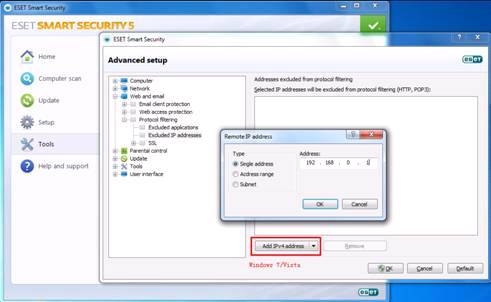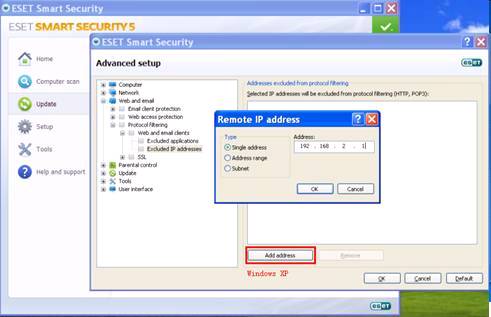 Schritt 4 Öffnen Sie den Webbrowser und geben Sie die IP-Adresse des Gerätes in die Adressleiste ein (Standard ist 192.168.1.1 oder 192.168.0.1). Drücken Sie Enter.
Schritt 5 Geben Sie den Benutzernamen und das Passwort auf die Login-Seite ein, der Benutzername und das Passwort sind beide admin, dann klicken Sie auf OK, um sich auf das Gerät einzuloggen
Finden Sie diese FAQ hilfreich?
Mit Ihrer Rückmeldung tragen Sie dazu bei, dass wir unsere Webpräsenz verbessern.
Subscription Für TP-Link ist Datenschutz sehr wichtig. Weitere Informationen zu unseren Datenschutzbedingungen finden Sie in der Datenschutzerklärung von TP-Link.
From United States?
Check products and services for your region.