How to configure Bandwidth Control on 3G/4G Wireless Router TL-MR3420 (new logo)
Note: TL-MR3420_V5 is used for demonstration in this article.
1. Visit http://tplinkwifi.net, and log in with the password you set for the router. For details, please refer to How do I log into the web-based Utility (Management Page) of TP-Link wireless router?
2. Go to Advanced > Bandwidth Control.
3. Enable Bandwidth Control and enter the Total Upstream Bandwidth and Total Downstream Bandwidth.

4. Click Save.
To set controlling rules:
Click Add and fill in the blanks.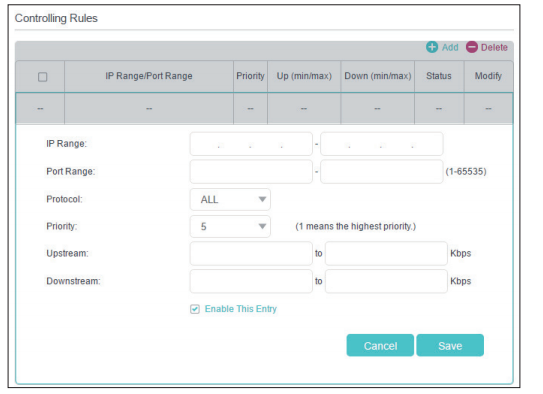 • IP Range: Enter the IP range of your devices that you want to apply Bandwidth Control to.
• Port Range: Enter the Port range of the protocols.
• Protocol: Select the protocols of services that you want to control.
• Priority: Select priority from 1 to 5. 1 means the highest priority.
• Upstream/Downstream: Enter the minimum and maximum upstream/ downstream bandwidth you want to allocate.
Click Save.
Get to know more details of each function and configuration please go to Download Center to download the manual of your product.
Finden Sie diese FAQ hilfreich?
Mit Ihrer Rückmeldung tragen Sie dazu bei, dass wir unsere Webpräsenz verbessern.
Subscription Für TP-Link ist Datenschutz sehr wichtig. Weitere Informationen zu unseren Datenschutzbedingungen finden Sie in der Datenschutzerklärung von TP-Link.
Von United States?
Erhalten Sie Produkte, Events und Leistungen speziell für Ihre Region