Wie richte ich QoS mit tpPLC Utility (neues Logo) ein?
Mit QoS (Quality of Service) können Sie einer bestimmten Verbindung die höchste Priorität geben. Das Powerline-Gerät wird zuerst die Übertragung der ausgewählten Verbindung priorisieren falls ein Datenverbindungsstau vorliegt.
Befolgen Sie die folgenden Schritte, um QoS einzurichten:
Bitte beachten Sie: Wenn das Dienstprogramm noch nicht installiert wurde, lesen Sie bitte unter: Wie bereiten Sie sich auf die Verwendung des tpPLC-Dienstprogramms (neues Logo) vor?
1. Öffnen Sie das Dienstprogramm, bewegen Sie die Maus über ein Gerät und klicken Sie auf das Symbol

(Erweitert).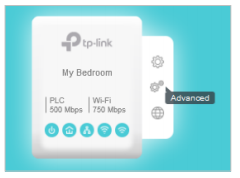 2. Wechseln Sie zur QoS-Seite, wählen Sie einen Datenverbindungstypen und klicken Sie auf Speichern.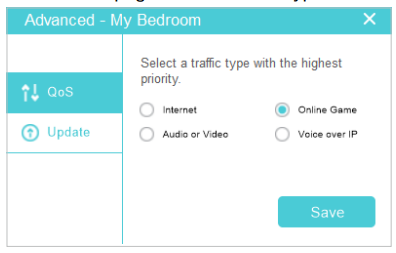 Jetzt garantiert das Powerline-Gerät zunächst die Übertragung des von Ihnen gewählten Verkehrstyps bei Datenverkehrsstaus.
Weitere Informationen zu jeder Funktion und Konfiguration erhalten Sie im Download Center, um das Handbuch zu Ihrem Produkt herunterzuladen.
Finden Sie diese FAQ hilfreich?
Mit Ihrer Rückmeldung tragen Sie dazu bei, dass wir unsere Webpräsenz verbessern.
Subscription Für TP-Link ist Datenschutz sehr wichtig. Weitere Informationen zu unseren Datenschutzbedingungen finden Sie in der Datenschutzerklärung von TP-Link.
From United States?
Check products and services for your region.