How to Configure Parental Control on the TL-WR902AC (Standard Router and Hotspot Router Mode)
Parental Controls allows you to block inappropriate and malicious websites, and control access to specific websites at specific time for your children's devices.
For example, you want the children's PC with the MAC address 00-11-22-33-44-AA can access www.tp-link.com on Saturday only while the parent PC with the MAC address 00-11-22-33-44-BB is without any restriction.
1. Visit http://tplinkwifi.net, and log in with the username and password you set for the router.
2. Go to Advanced > Access Control > Schedule.
3. Click Add New to create a new schedule entry with Schedule Description as Schedule_1, Day as Sat and Time as all day-24 hours. And click Save.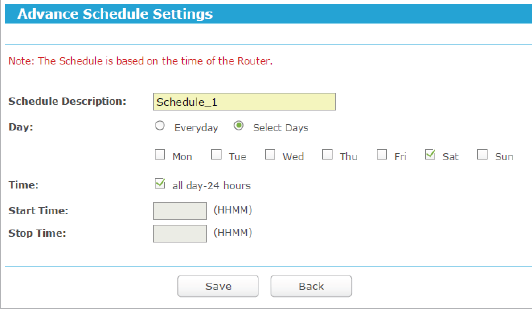 4. Go to Advanced > Parental Control.
5. Select Enable and enter the MAC address 00-11-22-33-44-BB in the MAC Address of Parental PC field.
6. Click Add New, and enter appropriate parameters in corresponding fields.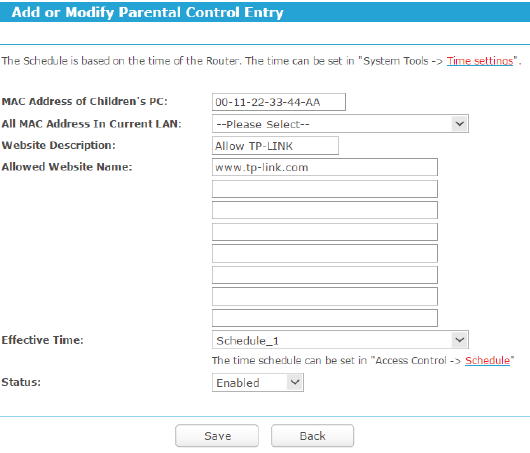 Enter 00-11-22-33-44-AA in the MAC Address of Children's PC field.
Enter Allow TP-LINK in the Website Description field.
Enter www.tp-link.com in the Allowed Website Name field.
Select Schedule_1 you created just now from the Effective Time drop-down list.
In the Status field, select Enabled.
7. Click Save.
Then you can go back to the Parental Control Settings page to check the following list.

Get to know more details of each function and configuration please go to Download Center to download the manual of your product.
Finden Sie diese FAQ hilfreich?
Mit Ihrer Rückmeldung tragen Sie dazu bei, dass wir unsere Webpräsenz verbessern.
Subscription Für TP-Link ist Datenschutz sehr wichtig. Weitere Informationen zu unseren Datenschutzbedingungen finden Sie in der Datenschutzerklärung von TP-Link.
Von United States?
Erhalten Sie Produkte, Events und Leistungen speziell für Ihre Region