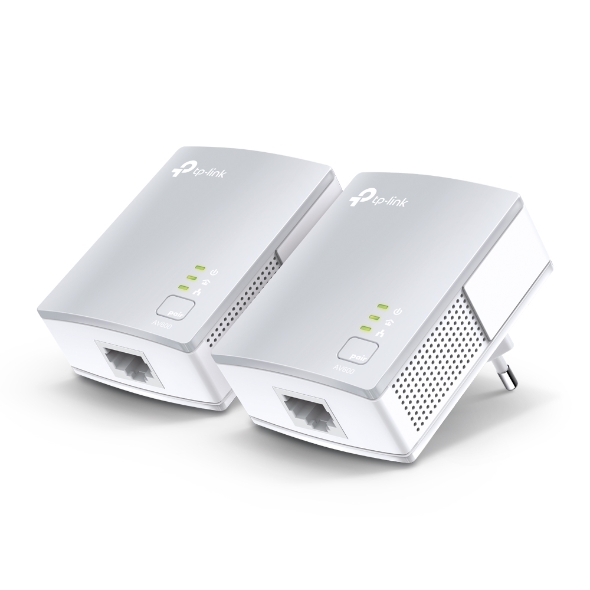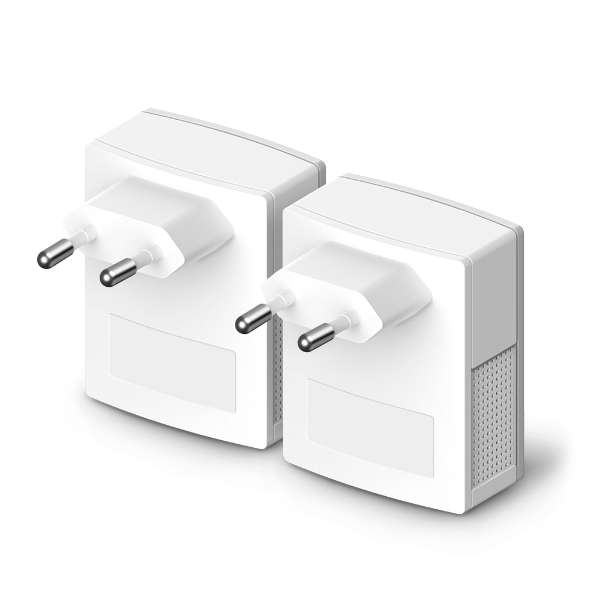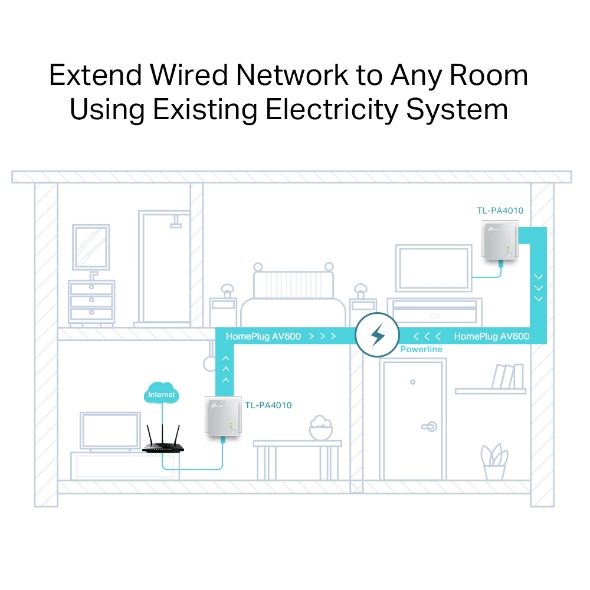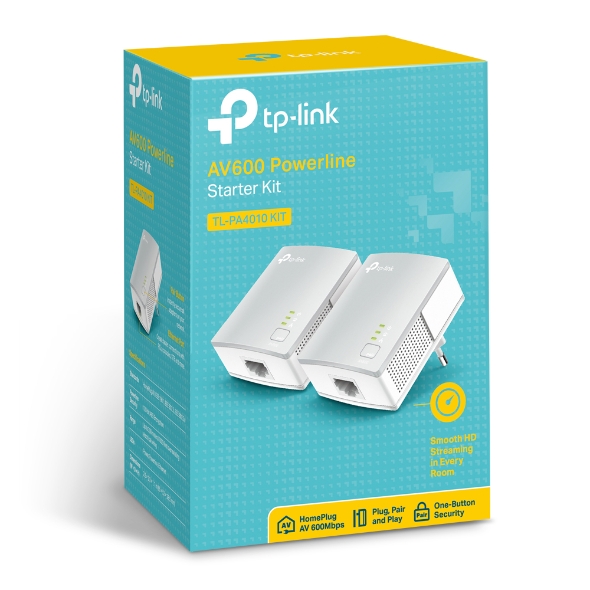 TL-PA4010 KIT
AV600-Powerline-Adapter KIT
Homplug-AV-Standard, bis zu 600 Mbit/s über bestehende Stromleitungen1
Kompaktes Mini-Design, verschwindet diskret aus dem sichtbaren Bereich
Plug & Play, keine Konfiguration erforderlich
Patentierter Energiesparmodus senkt den Stromverbrauch um bis zu 85%2
Internet-Erweiterung
für Ihr ganzes Heim
AV600 Powerline Starter Kit
TL-PA4010 KIT
Erweiterung des kabelgebundenen Netzwerks auf Ihr ganzes Haus
TP-Links TL-PA4010 KIT nutzt Ihre vorhandenen Stromleitungen zur Datenübertragung. Damit können Sie einfach durch Einstecken des Adapters in die Steckdose ein neues Netzwerk aufbauen - und das ohne lästiges Kabelverlegen oder Bohren.
Hinweis: Für die Einrichtung eines Powerline-Netzwerks benötigen Sie mindestens 2 Adapter. Der TL-PA4010 KIT ist kompatibel mit allen gängigen Router und Powerline-Produkten.
Internet
HomePlug AV600
HomePlug AV600
TL-PA4010
TL-PA4010
Powerline
Plug and Play. Keine Konfiguration erforderlich
Die Inbetriebnahme der Powerline-Adapter ist sehr einfach:
Schritt1: Verbinden Sie den ersten Powerline-Adapter mit Ihrem Router.
Schritt2: Stecken Sie einen weiteren Powerline-Adapter in dem Raum ein, in dem Sie einen Netzwerkanschluss benötigen.
Hinweis:Drücken Sie die PAIR-Tasten an den Adaptern, um diese miteinander zu verbinden und die Kommunikation zu verschlüsseln.
600Mbit/s-Powerline-Geschwindigkeit
bis zu 300 Meter Stromkabelreichweite
Die Übertragungsgeschwindigkeiten von bis zu 600 Mbit/s nach Homeplug AV mit 300 Meter Reichweite ermöglichen unterbrechungsfreies HD-Videostreaming, Online-Gaming und Herunterladen großer Dateien.
Internet
Router
TL-PA4010
TL-PA4010
HOMEPLUG
AV600
Bis zu 300 Meter
*Die tatsächlichen Homeplug AV-Geschwindigkeiten können aufgrund von Netzwerk- und Umgebungsfaktoren variieren.
Kompaktes Miniatur-Design
Dank ultrakompaktem Gehäuse ist das TL-PA4010KIT deutlich kleiner als andere 600 Mbit/s-Powerline-Adapter. Mit einer Tiefe von gerade mal 28,5mm und seinem modernen Design lassen sich die Adapter unauffällig in jedes Wohnambiente integrieren.
52mm
65mm
86mm
54mm
28.5mm
23mm
Bis zu 85% Energieeinsparung
Das TL-PA4010 KIT gehört einer neuen Generation von Powerline-Adaptern an und ist deutlich stromsparender. Wird das verbundene Endgerät abgeschaltet, wechselt der Powerline automatisch in den Energiesparmodus und spart dadurch bis zu 85%* Energie ein.*.
*Die tatsächlichen Werte können aufgrund von Netzwerk- und Umgebungsfaktoren variieren.
*1. Die maximale theoretisch erreichbare Datentransferrate ist von den Homeplug-AV2-Spezifikationen abgleitet. Die tatsächliche Datentransferrate kann je nach Umgebungsfaktoren wie Entfernung, Netzwerkauslastung, Gebäudebeschaffenheit und nach Qualität der Elektroinstallationssysteme variieren.
*2. Die tatsächliche Energieeinsparung kann je nach Netzwerk- und Umgebungsfaktoren variieren.
*3. Kompatibel mit HomePlug AV and AV2 Standard Powerline Adaptern.
HARDWARE-FUNKTIONEN
Steckertyp
EU
Standards und Protokolle
HomePlug AV
IEEE802.3
IEEE802.3u
Schnittstelle
10/100Mbit/s-Ethernet-Port
Taste
Pair
Energieverbrauch
Maximum: 4,6W
Durchschnitt: 4,26W
Standby: 0,88W
LEDs
PWR, PLC, ETH
Abmessungen (B*T*H)
65mm*52mm*28,5mm
Reichweite
bis zu 300m in Gebäuden
SONSTIGES
Zertifizierung
CE
FCC
RoHS
Verpackungsinhalt
2 TL-PA4010-Powerlineadapter
2 RJ45-Ethernetkabel
CD
Schnellinstallationsanleitung
Systemanforderungen
Microsoft® Windows® 2000/XP/2003/Vista/7/8/10
MacOS®
Linux
Umgebung
Betriebstemperatur: 0°C..40°C
Lagertemperatur: -40°C..70°C
Betriebsfeuchtigkeit: 10%..90%, nicht kondensierend
Lagerfeuchtigkeit: 5%..90%, nicht kondensierend
Auszeichnungen

BUY IT Now

TL-PA4010KIT received a 'Buy It Now' award from ComputerActive in UK.

2013, UK

Best Tested

TL-PA4010KIT won Best Tested in Powerline Adaptors comparison test

2013, Netherland
Subscription Für TP-Link ist Datenschutz sehr wichtig. Weitere Informationen zu unseren Datenschutzbedingungen finden Sie in der Datenschutzerklärung von TP-Link.