May.2023

19
TP-Link Unveils World's 1st Whole Home Mesh WiFi 7 System — Deco BE95
SHENZHEN, China — May. 2023 — TP-Link, a leading global provider of consumer and business networking products, today released the world's first and the most high-class mesh WiFi 7 system, Deco BE95.
If you are a huge fan of the latest high-tech, demand the fastest speeds online for NAS servers and extreme gaming, or live in a spacious house pursuing quality life with enhanced security, then Deco BE95 is one of the most recommended choices for you. Users require secure high-speed networks to enjoy 8K video, AR/VR, and other applications. Deco BE95 aims to deliver the fastest and most stable network possible.
The Industry's Most High-Class Mesh Ever — 33 Gbps with WiFi 7
As the flagship of WiFi 7 Mesh, Deco BE95 is the industry's fastest Quad-Band Whole Home Mesh system, featuring the latest 6 GHz band, 320 MHz bandwidth, and 4K-QAM for a combined speed of up to 33 Gbps across 16 streams.†
Deco BE95 integrates the latest WiFi 7 technology, ushering WiFi into a new era. The brand-new 6 GHz band is exclusive to 6G-compatible devices, eliminating interference from legacy devices. The additional 3× 320 MHz channels make the 6 GHz band the widest band ever opened for WiFi devices, enabling many more simultaneous transmissions at the highest possible speeds. 4K-QAM brings 20% higher theoretical transmission rates than 1024-QAM. Also, Multi-RU and MLO (Multi-Link Operation) make full use of every resource and deliver more reliable networks.△
Entering a True 10G Era
Deco BE95 also comes with two 10 Gbps WAN/LAN ports — one RJ45 port and an RJ45/SFP+ combo port. It converts fiber data to Ethernet cable data with the SFP module, building long-range point-to-point connections easily. Now, you can flexibly choose fiber or Ethernet access for your ISP connection. Meanwhile, with 10GbE, unified storage within a local area network (LAN) becomes more feasible. Users can store video archives and larger media files super-fast and stream them from any authorized device.
Additionally, the other two 2.5 Gbps ports and one USB 3.0 port make it an ideal solution for future-proofing your home network.§
Whole Home Multi-Gigabit Connectivity
Deco BE95 not only brings 10 Gbps wired connections but also delivers up to 10 Gbps wireless signals. TP-Link has conducted a series of speed tests with the Deco BE95, to test its overall performance under different scenarios. Each test was conducted in different house sizes and layouts in different locations to ensure the authenticity of the results.
The following test was conducted in a 4,600 sq. ft. two-story villa with 5 bedrooms and an interior made up of drywall. The 2-pack Deco BE95 was tested with 4×4 MLO-compatible clients. Whether the Deco units were connected with wired or wireless backhaul, the Mesh system delivered from 5 to 10 Gbps speed to cover every corner of the house. Every room where Deco BE95 was located even received 9-10 Gbps speeds due to the 10 Gbps wired backhaul connection. With stats like these, you can enjoy smooth media streaming, extreme gaming, and a blazing-fast NAS server thanks to a true whole home multi-gigabit WiFi network.***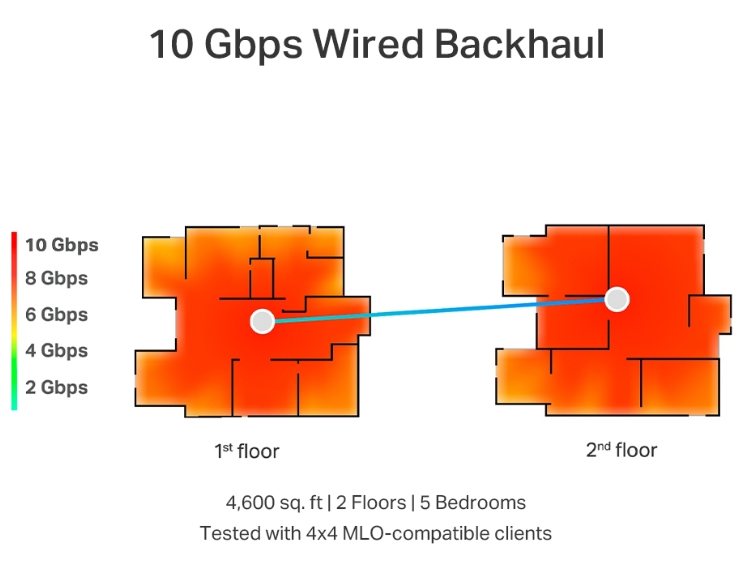 The Ultimate Backhaul: Stronger and More Flexible
As a quad-band WiFi Mesh system, Deco BE95 has two 6 GHz bands that allow users to use one of them as the dedicated backhaul for a stronger and more stable connection, and the other can be used as an open network. This way, the backhaul performance between Deco units improves, bringing the most stable and strongest network. It also benefits the overall WiFi performance significantly even if you don't have WiFi 7 compatible devices.
Brand-New Features on Deco: TSS and Matter-Compatible for a Simpler IoT
With the release of our very first WiFi 7 Mesh solution, Deco BE95 comes with the TSS (TP-Link Simple Setup) function and Matter protocol.◊ This is our first time supporting TSS and Matter for more interoperability. As the name implies, TSS detects your TP-Link smart home devices automatically and asks them to join the network with just one tap instead of a series of tedious configuration processes.
With the Matter protocol, you're able to manage all your Matter-certified devices once they are connected to the central controller, Deco BE95. Matter enables seamless communication among IoT devices across platforms, regardless of their manufacturer. This saves you time and money for the complicated management of different brands' smart home devices. All you need is just one Deco app.
Worry-Free Security — Iterative Upgrades on HomeShield
With WiFi 7 entering the scene alongside our Deco/Router systems' iterative upgrades, our security software HomeShield has also been upgraded, adding more features and two new apps for comprehensive protection. HomeShield provides a series of built-in services that protect all your devices comprehensively with various features for when you're at home or on the go. New features include Ad blocking, App blocking, SafeSearch, YouTube restrictions, and a VPN client. Most importantly, it also keeps you and your family secure while they are away from home. Through the device security app, every device remains secure everywhere so even businesses don't have to worry about info leakage or virus intrusions. Furthermore, parental controls also feature the exclusive app, KidShield, for parents to monitor their kids' locations and set geofencing.*
###
About TP-Link
TP-Link is a global innovator and provider of consumer and enterprise networking products and the world's No. 1 provider of WLAN and broadband CPE devices*** with products available in over 120 countries for hundreds of millions of customers. TP-Link provides award-winning networking products in wireless routers, cable/DSL gateways, powerline adapters, range extenders, cloud cameras, smart home devices, and accessories for global end-users. We remain committed to intensive R&D, efficient production, and strict quality control. TP-Link also endeavors to provide stable Business Wi-Fi solutions for small and medium business customers and reliable enterprise switches and routers.
For more information about TP-Link, please visit us online at www.tp-link.com or follow us on:
- Facebook: facebook.com/tplink
- Twitter: twitter.com/tplink
- YouTube: youtube.com/tplinktech
- LinkedIn: linkedin.com/company/tp-link-technologies-co-ltd/
- TP-Link Community: community.tp-link.com
Media Contact: pr@tp-link.com
All information and pricing provided are subject to change without notice. TP-Link is a registered trademark of TP-Link Corporation Limited. All trade names are the property of their respective owners.
†Maximum wireless signal rates are the physical rates derived from IEEE Standard 802.11 specifications. Actual wireless data throughput, wireless coverage, and quantity of connected devices are not guaranteed and will vary as a result of network conditions, client limitations, and environmental factors, including building materials, obstacles, volume and density of traffic, and client location. The 160 MHz and 240 MHz bandwidth might not be available on the 5 GHz band, and the 320 MHz bandwidth might not be available on the 6 GHz band in some regions/countries due to regulatory limits on the spectrum, hence the theoretical speeds may vary.
‡Clients need to support 802.11k/v/r and may require additional setup. Performance may vary depending on the client device.
△Use of WiFi 7 (802.11be), WiFi 6 (802.11ax), WiFi 6E (802.11ax), and other features including MLO, 320 MHz Bandwidth, 4K-QAM, Multi-RUs, OFDMA, MU-MIMO, and BSS Color requires clients to also support the corresponding features. The 320 MHz bandwidth is only available on the 6 GHz band. Not all 320 MHz channels may be available in the 6 GHz band in some regions/countries due to regulatory restrictions.
§10 Gbps and 2.5 Gbps internet speeds require compatible service plans and equipment. All WAN/LAN ports will operate as either WAN or LAN ports. Only one port can serve as a WAN port at a time.
◊Matter compatibility is under development and will be supported with subsequent updates.
*HomeShield includes the Free Basic Plan. Fees apply for the Pro Plan. Visit tp-link.com/homeshield for more information. Some features are under development and will be supported with subsequent software updates.
**WiFi generations represent the wireless standard IEEE 802.11 a/b/g/n/ac/ax/be.
***The test was conducted in a 4,600 sq. ft. two-story villa with 5 bedrooms and an interior made up of drywall. The Deco BE95 was tested with 4×4 MLO-compatible clients. Home networking performance may vary, depending on the network's speeds, fiber or Ethernet access, WiFi interference, obstacles, walls, areas, and clients.
Google and Google Home are trademarks of Google LLC.
Actual network speed may be limited by the rate of the product's Ethernet WAN or LAN port, the rate supported by the network cable, internet service provider factors, and other environmental conditions.
This Deco may not support all the mandatory features as ratified in IEEE 802.11be specification.
Further software upgrades for feature availability may be required.
From United States?
Get products, events and services for your region.