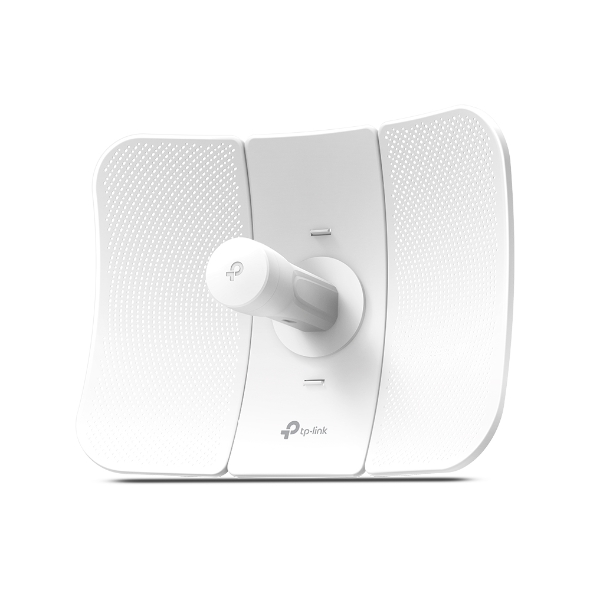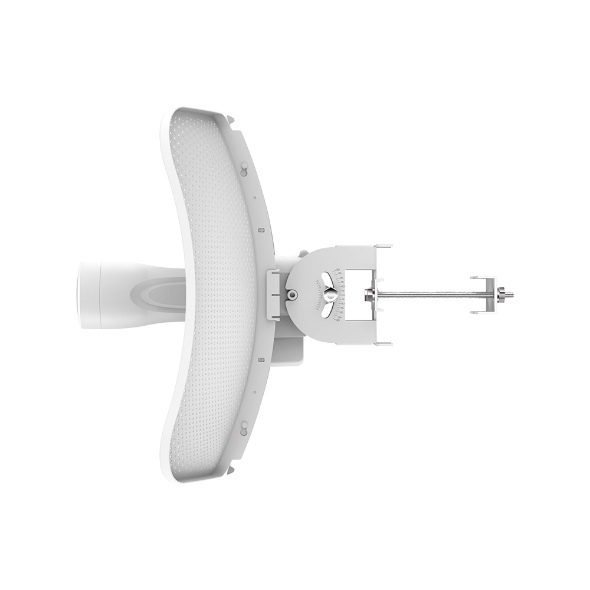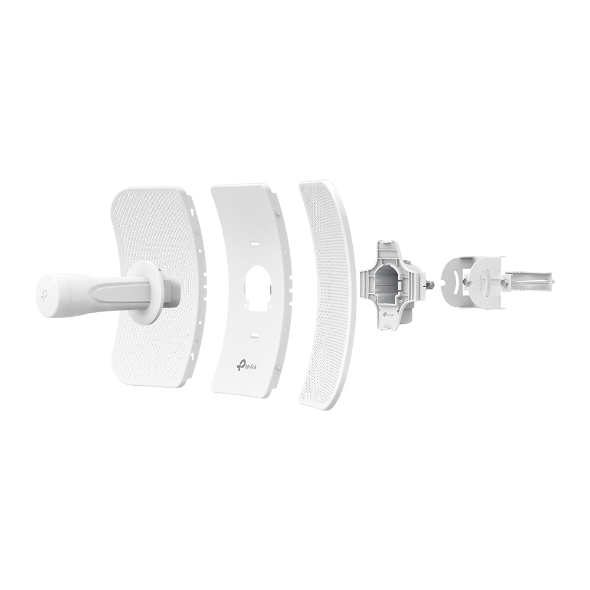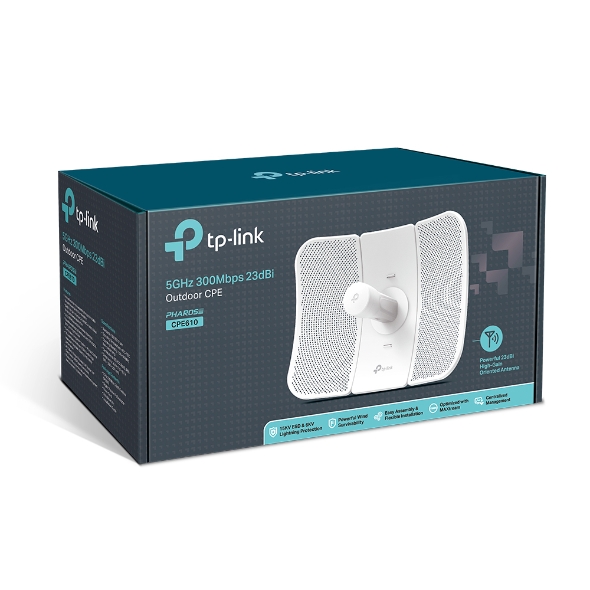 CPE610
CPE Outdoor 23dBi tốc độ 300Mbps băng tần 5GHz
Lên tới 300Mbps trên tốc độ truyền tải không dây ở băng tầng 5GHz
Antenna 2 × 2 MIMO 23dBi độ lợi cao đẳng hướng và tấm kim loại phản xạ sóng chuyên dụng cho truyền tải khoảng cách xa
Khả năng tập trung sóng tuyệt vời, cải thiện độ trễ và khả năng khử tiếng ồn
Các khớp nối được thiết kế thông minh hỗ trợ việc lắp ráp nhanh và chắc chắn giúp cho CPE610 ổn định ngay cả khi có gió mạnh
Vỏ bảo vệ chuẩn IP65 cùng với chống tĩnh điện 15 kV và chống sét 6kV đảm bảo sự phù hợp mọi loại thời tiết
Công nghệ Pharos MAXtream TDMA độc quyền của TP-Link giúp cải thiện hiệu suất, công suất và giảm tối đa độ trễ
Pharos Control cung cấp cho quản trị viên một hệ thống quản lý tập trung miễn phí
Chế độ hoạt động AP / Client / Bridge / Repeater / AP Router / AP Client Router (WISP)
Passive PoE hỗ trợ cho phép triển khai linh hoạt và cài đặt thuận tiện
2×2 MIMO
MAXtream TDMA
Antenna đẳng hướng độ lợi 23dBi với thiết kế bền vững giúp truyền dẫn tín hiệu không dây khoảng cách xa
Antenna đẳng hướng
23dBi

Lắp ráp dễ dàng
Cài đặt linh hoạt

Với thiết kế
chống chịu được gió

Vỏ bảo vệ
chuẩn IP65

Chống sét 6KV &
chống tĩnh điện 15KV
Antenna đẳng hướng tiêu chuẩn 23dBi
Antenna truyền dẫn không dây tầm xa
Với độ lợi 23dBi đẳng hướng 2 × 2 MIMO và tấm phản xạ kim loại chuyên dụng, CPE610 cung cấp khả năng tập trung sóng tuyệt vời, độ trễ được cải thiện và chống nhiễu. Hiệu năng chuyên nghiệp, kết hợp với thiết kế thân thiện với người dùng, làm cho CPE610 5dB 300Mbps 23dBi trở thành lựa chọn lý tưởng và giải pháp tiết kiệm chi phí cho các mô hình mạng không dây ngoài trời.
Cấu trúc được thiết kế ổn định giúp lắp đặt linh hoạt
Antenna

Tấm
phản xạ biên
Tấm
phản xạ trung tâm
Tấm
phản xạ biên
Khớp lắp cột
Giá đỡ
Khớp nối snap-lock giúp cho lắp ráp đơn giản và thuận tiện
Bộ công cụ lắp vào cột với 3 trục điều khiển linh hoạt
Thiết kế chắc chắn đảm bảo sự ổn định trong điều kiện có gió
Đóng gói nhỏ gọn và nhẹ
nhỏ gọn và nhẹ
Hộp nhỏ và nhẹ
mang lại lợi ích cho việc vận chuyển, hậu cần và bán lẻ.
17.5cm
0cm
0cm
32.6cm
0cm
32.5cm
0cm
14.2cm
Pharos Control – Hệ thống quản lý tập trung
CPE610 được trang bị phần mềm quản lý tập trung Pharos Control, giúp người dùng dễ dàng quản lý tất cả các thiết bị trong mạng của họ từ một máy tính. Các chức năng bao gồm phát hiện, giám sát trạng thái, nâng cấp firmware của các CPE và bảo trì mạng. Giao diện dựa trên web trực quan - PharOS - cung cấp một phương pháp quản lý và cấu hình một cách dễ dàng.
Wireless Networking for Elevators

TP-Link offers wireless point to point link delivering up to 300 Mbps throughput. The point to point link provides wireless coverage to the entire shaft, and delivers network to the elevator car, connecting the surveillance cameras or digital signage. So that real time video can be recorded to a DVR without hard wiring coax cable directly from the camera to the recorder.

Easy, Flexible Installation
Stable Connections at High-Speeds
Ideal for Elevator Camera
No Complex Cabling
PoE Support
TÍNH NĂNG PHẦN CỨNG
Bộ xử lý
Qualcomm 560MHz CPU, MIPS 74Kc
Bộ nhớ
64MB DDR2 RAM,8MB Flash
Giao diện
1 cổng 10/100Mbps LAN/POE
1 nút reset

Bộ cấp nguồn
Passive Power over Ethernet via LAN (+4,5pins; -7,8pins)
Vôn: 16-27VDC
Kích thước ( R x D x C )
366 x 280 x 207 mm (14.4 x 11.0 x 8.1 in.)
Dimensions
360 x 280 x 207 mm (14.4 x 11.0 x 8.1 in.)
Độ lợi Ăng ten
23dBi
Độ rộng bước sóng Ăng ten
9°(phủ sóng chiều ngang), 7°(phủ sóng chiều dọc)
Bảo vệ
Chống tĩnh điện 15KV
Chống sét 6KV

Enclosure
Chất liệu: nhựa PC siêu bền
Kháng thời tiết: thiết kế chống bụi và nước chuẩn IP65

TÍNH NĂNG WI-FI
Chuẩn Wi-Fi
IEEE 802.11a/n
Proprietary Protocol
TDMA Mode (cần bật Pharos MAXtream)
Tốc độ Wi-Fi
Lến đến 300Mbps (40MHz,Dynamic)
Lên đến 144.4Mbps (20MHz,Dynamic)
Lên đến 72.2Mbps (10MHz,Dynamic)
Lên đến 36.1Mbps (5MHz,Dynamic)

Băng tần
5.15~5.85GHz
Công suất truyền tải
Tối đa. 29dBm/790mW (Adjustable power by 1dBm)
TÍNH NĂNG PHẦN MỀM
Operating Modes
AP / Client / Bridge / Repeater / AP Router / AP Client Router (WISP Client)
Cấu hình mạng
WAN: Static/Dynamic/PPPoE/L2TP/PPTP
LAN: Static/Dynamic/DHCP
Forwarding: DMZ/ALG/UPnP/Virtual Server/Port Trigger
Bảo mật: SPI Firewall/ Ping Forbidden/VPN/DoS Protection
Kiểm soát truy cập
Static Routing
Kiểm soát băng thông
Liên kết IP & MAC
Cấu hình Wi-Fi
Công nghệ Pharos MAXtream TDMA
Tùy chọn độ rộng kênh: 5/10/20/40MHz
Chọn kênh tự động
Tùy chỉnh công suất truyền tải
Dynamic Frequency Selection (DFS)
Hỗ trợ WDS
Bảo mật: mã hóa WPA/WPA2, WPA-PSK/WPA2-PSK (AES/TKIP), mã hóa 64/128/152-bit WEP
SSID Broadcast Enable/Disable
Multi-SSID với VLAN Tagging(AP Mode)
Distance/ACK Timeout Setting
Wireless MAC Address Filter
Tính năng nâng cao:
Beacon Interval/RTS Threshold/Fragmentation Threshold/DTIM Interval/AP Isolation/Short GI/Wi-Fi Multimedia

Quản lý
Phát hiện và quản lý từ xa bằng phần mềm Pharos Control
HTTP/HTTPS Web-based management
System log
SNMP Agent(v2c)
Ping Watch Dog
Dynamic DDNS
SSH Server

Công cụ hệ thống
Indicators:Signal Strength/Noise/Transmit CCQ/CPU/MemoryMonitors: Throughput/Stations/Interfaces/ARP/Routes/WAN/DHCPSpectrum AnalyzerSpeed TestPingTraceroute
System-level Optimizations
Optimized IGMP Snooping/Proxy for multicast applicationsHardware watch dog
POE ADAPTER FEATURES
Kích thước (R x D x C)
85.8×43.9×29.7 mm
Interfaces
1 AC Jack with Earth Ground1 10/100Mbps Shielded Ethernet Port (Power + Data)1 10/100Mbps Shielded Ethernet Port (Data)
Button
Remote Reset Button
Power Status LEDs
Green
Input
100-240VAC, 50/60Hz
Output
24VDC, 0.5A Max+4, 5pins; -7, 8pins. (Support up to 60m Power over Ethernet)
Efficiency
>84.29%
Chứng chỉ
CE/FCC/UL/IC/GS/PSB/C-tick/SAA/S-Mark/KC-mark
KHÁC
Chứng chỉ
CE, FCC, RoHS, IP65
Sản phẩm bao gồm
CPE Outdoor không dây
24V 0.5A Passive PoE Adapter
Bộ công cụ lắp vào cột
Dây nguồn AC
Hướng dẫn sử dụng

System Requirements
Microsoft Windows 98SE, NT, 2000, XP, Vista™ hoặc Windows 10, Windows 8, Windows 7, MAC OS, NetWare, UNIX hoặc Linux.
Lưu ý: Chúng tôi khuyên bạn nên sử dụng một trong các trình duyệt web sau để có trải nghiệm tốt nhất: Google Chrome, Safari và Firefox. Trình duyệt IE không được khuyến nghị.
Môi trường
Nhiệt độ hoạt động: -40℃~70℃ (-40℉~158℉)
Nhiệt độ bảo quản: -40℃~70℃ (-40℉~158℉)
Độ ẩm hoạt động: 10%~90% không ngưng tụ
Độ ẩm bảo quản: 5%~95% không ngưng tụ

SubscriptionTP-Link takes your privacy seriously. For further details on TP-Link's privacy practices, see TP-Link's Privacy Policy.
From United States (English)?
Check products and services for your region.