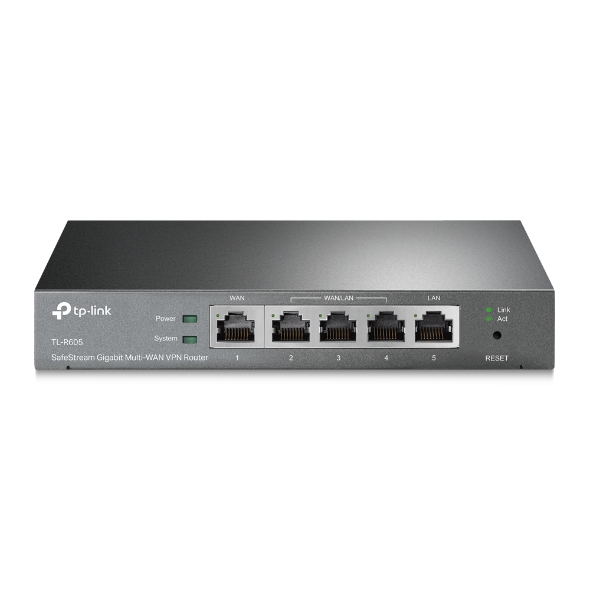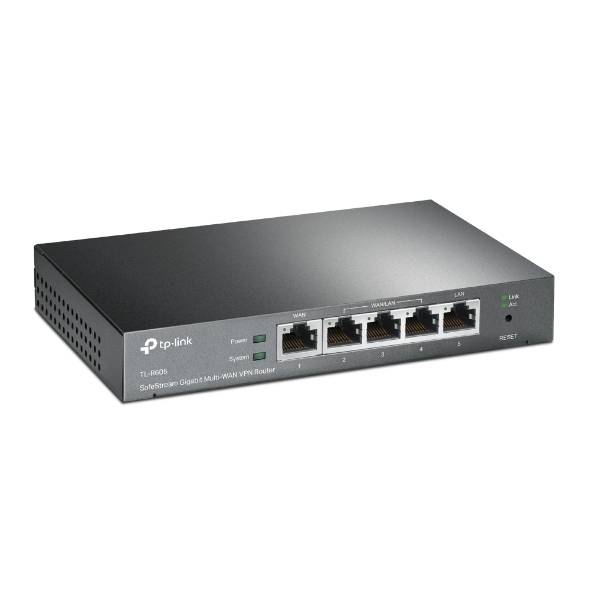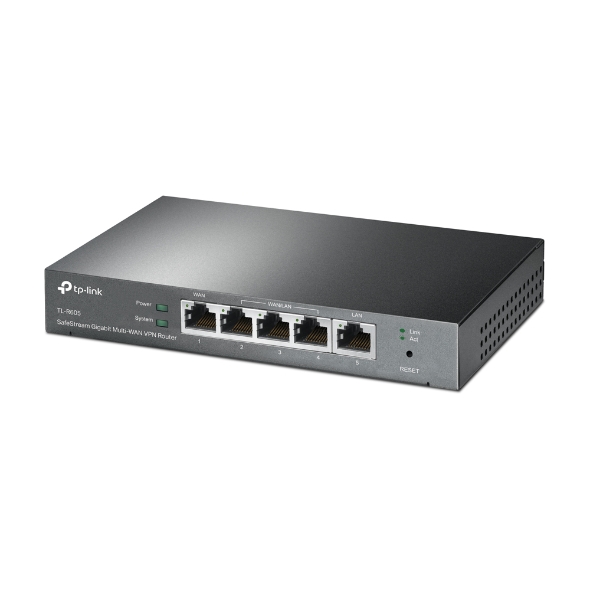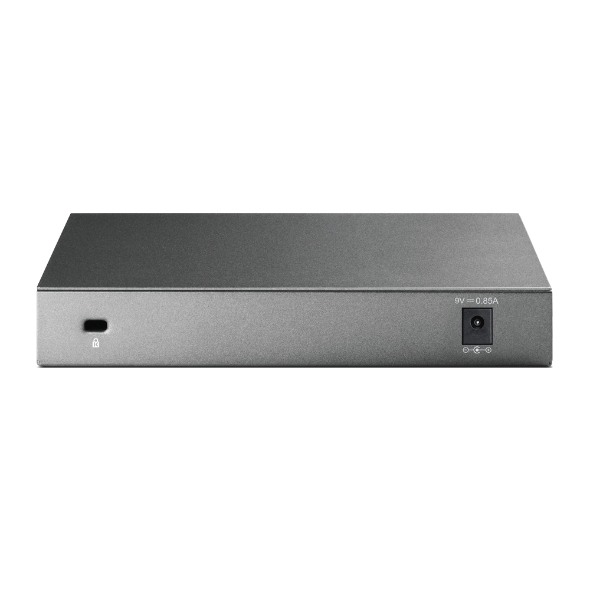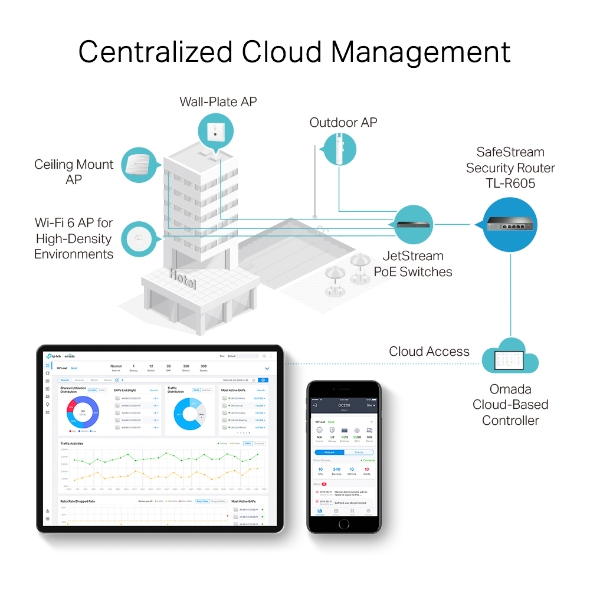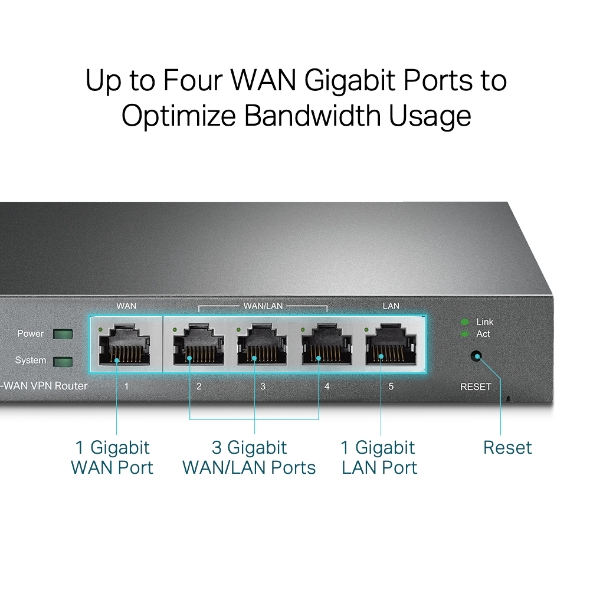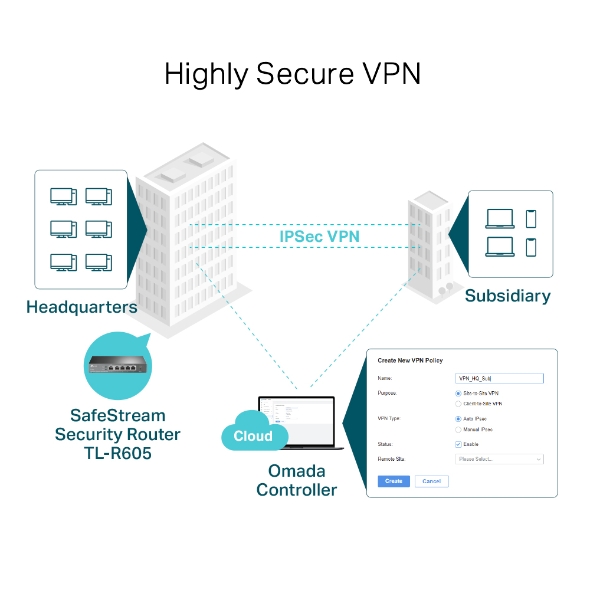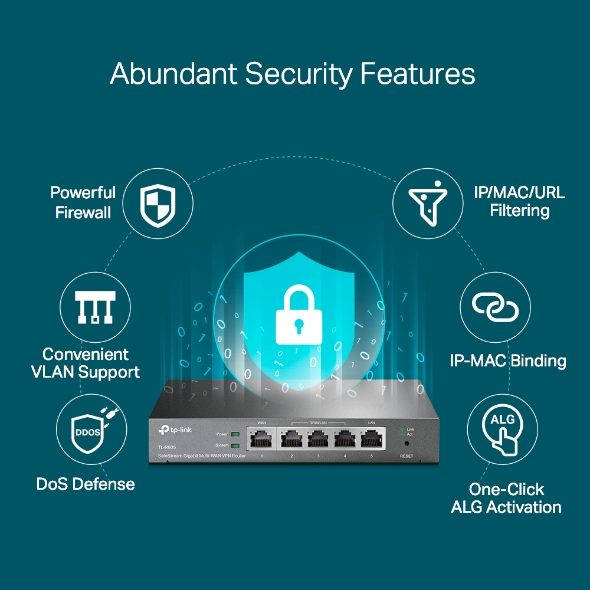 SafeStream Gigabit Multi-WAN VPN-outer
Geïntegreerd in Omada SDN: Zero-Touch Provisioning (ZTP)‡, gecentraliseerd cloudbeheer en slimme bewaking.
Gecentraliseerd beheer: Cloudtoegang en Omada app voor extra gebruiksgemak en eenvoudig beheer.
5 gigabit poorten: Zeer snelle bekabelde verbindingen
Tot 4 WAN-poorten: 1 gigabit WAN-poort en 3 gigabit WAN/LAN-poorten optimaliseren het gebruik van de bandbreedte.
Sterk beveiligde VPN: Ondersteunt tot 20× LAN-to-LAN IPsec-, 16× OpenVPN-*, 16× L2TP- en 16× PPTP VPN-verbindingen.
Voldoende beveiligingsstrategieën: Geavanceerd firewall-beleid, DoS Defense, IP/MAC/URL-filters en andere beveiligingsfuncties beschermen je netwerk en gegevens.
Een professionele, beveiligde en betrouwbare gigabit multi-WAN VPN-router met gecentraliseerd beheer
SafeStream TL-R605
Gecentraliseerd beheer

Gigabit-poorten

Tot 4 WAN-poorten

Load Balance

IPSec/OpenVPN/ PPTP/L2TP

Krachtige firewall

VLAN
Omada SDN — de slimmere cloud-oplossing voor zakelijke netwerken
De TL-R605 is een gateway die naadloos kan worden geïntegreerd in het Omada SDN-platform (Software Defined Networking) zodat extern en gecentraliseerd beheer altijd en overal mogelijk is. Zelfstandig beheer via de online gebruikersinterface is ook mogelijk voor extra gebruiksgemak.
Access point met wifi 6 voor omgevingen met een hoge dichtheid
Access point (wandmontage)
Access point (buiten)
Access point (plafondmontage)
JetStream PoE-switches
SafeStream Security-router TL-R605
Cloudtoegang
Omada
Cloudcontroller
Probleemloos en centraal cloudbeheer:
100% gecentraliseerd cloudbeheer voor het hele netwerk, vanaf verschillende locaties – kan altijd en overal volledig via één interface worden bediend.
Tot 4 WAN gigabit-poorten om het gebruik van de bandbreedte te optimaliseren
Drie uitwisselbare poorten kunnen worden ingesteld als WAN- of LAN-poort, waardoor de router tot vier WAN-poorten kan ondersteunen. Zo kun je gebruikmaken van verschillende opties voor internettoegang met behulp van één apparaat. Met de functie multi-WAN Load Balancing worden datastromen op basis van de bandbreedte van elke WAN-poort verdeeld om het verbruikspercentage van multi-line-breedband te verhogen.
1 gigabit WAN-poort 3 gigabit WAN-/LAN-poorten 1 gigabit LAN-poorten Reset
Sterk beveiligde VPN
De TL-R605 ondersteunt IPSec/PPTP/L2TP VPN en IPSec/SSL-protocollen. De router heeft een stevige constructie en biedt ondersteuning en beheeropties voor maximaal 20× LAN-to-LAN IPsec-, 16× OpenVPN-*, 16× L2TP- en 16× PPTP VPN-verbindingen. De functie One-click auto IPSec VPN* maakt de VPN-configuratie aanzienlijk eenvoudiger en maakt netwerkbeheer en -implementatie mogelijk en zorgt tegelijkertijd voor beveiligde en versleutelde gegevensoverdracht via internet.
Hoofdkantoor Omada-controller IPSec VPN Dochteronderneming
Voldoende beveiligingsfucties
Krachtige firewall
Geavanceerd firewall-beleid
beschermt je netwerk en gegevens.
Praktische VLAN-ondersteuning
Maak virtuele netwerksegmenten voor
een verbeterde beveiliging en vereenvoudigd
netwerkbeheer.
DoS Defense
Automatische detectie en blokkering van DoS-aanvallen
(Denial of Service) zoals TCP/UDP/ICMP Flooding, Ping
of Death en andere vergelijkbare bedreigingen.
Filters voor IP-/MAC-adres en URL's
Voorkomen virussen en
aanvallen van buitenaf.
IP-MAC Binding
Reserveert een statische toewijzing van IP-adressen
om clients te beschermen tegen ARP-aanvallen
en adresvervalsing (spoofing).
ALG-activering met één klik
ALG-activering met één klik voor
toepassingen zoals FTP, H323, SIP,
IPsec en PPTP.
Beheerstrategie voor internettoegang
Standaardiseer het online gedrag van gebruikers en geef eenvoudig de toegangsrechten voor internet en de strategieën voor werknemers op via Access Control List (ACL) en filters voor IP- en MAC-adressen en URL's. Met Captive Portal-authenticatie beheer je netwerkbronnen door de gebruikstoegang te registreren, authenticeren en classificeren. Ook kun je geschikte netwerkbronnen toewijzen aan verschillende gebruikers of gasten.
Hospitality

TP-Link Omada allows hotels to build reliable WiFi networks. Hotel WiFi network solutions including network topology, design, features, installation, and products are introduced.

Full WiFi coverage and wired connections
Flexible guest control
Seamless roaming
Easy Management

Education

Due to its reliable, scalable, and secure network solution, TP-Link has been widely acknowledged by global customers in the Education market ranging from infant schools with a few APs up to colleges and universities with hundreds of APs.

Easy management
High-density WiFi
Full WiFi coverage and wired connections
VPN and security

Branch Location

TP-Link Omada offers enterprise-level VPN, real-time network monitoring, and quick network troubleshooting to meet the requirements of headquarters and branches.

VPN
Easy management
Network monitoring and troubleshooting
High security
Tang Palace Restaurant

TP-Link Provides Wireless Coverage for Fine Dining Chinese Restaurant in Dubai

Tang Palace Restaurant

TP-Link Provides Wireless Coverage for Fine Dining Chinese Restaurant in Dubai

"Tang Palace management and owner, Antai Peng, were satisfied with the performance of newly implemented wireless network. Since September 2015 TP-Link's Omada solution delivered reliable, high-performing wireless network and provided guests with a strong and consistent Wi-Fi signal."

Grupoinfo 24

TP-Link Helps Grupoinfo24 to Build Reliable and Affordable Business Network

Grupoinfo 24

TP-Link Helps Grupoinfo24 to Build Reliable and Affordable Business Network

"TP-Link's products provide us with excellent performance, ease-of-management, and a robust feature set. All the important features that we can expect from a correct networking infrastructure are provided by TP-Link's products, and a wise configuration will permit us to profit from the benefits and security required by each company or case." —Grupoinfo 24
Functionaliteit van de Hardware
Standaarden en protocollen
• IEEE 802.3, 802.3u, 802.3ab
• TCP/IP, DHCP, ICMP, NAT, PPPoE, SNTP, HTTP, DNS, IPSec, PPTP, L2TP
Interface
• 1 vaste gigabit WAN-poort
• 1 vaste gigabit LAN-poort
• 3 verwisselbare gigabit WAN-/LAN-poorten
Netwerkmedia
• 10BASE-T: UTP-kabel categorie 3, 4, 5 (max. 100 m)
EIA/TIA-568 100Ω STP (max. 100 m)
• 100BASE-TX: UTP-kabel categorie 5, 5e (max. 100 m)
EIA/TIA-568 100Ω STP (max. 100 m)
• 1000BASE-T: UTP-kabel categorie 5, 5e, 6 (max. 100 m)
Knop
Resetknopp
Uitgangsvermogen
Externe 9 V/0,85 A DC-adapter
Flash
SPI 16 MB
Dram
128 MB
LED
PWR, SYS, WAN, LAN
Afmetingen ( B x D x H )
158 × 101 × 25 mm
Prestatie
Concurrent Session
25,000
IPsec VPN Throughput
41.5 Mbps
Basisfuncties
WAN verbindingstype
• Statisch/dynamisch IP-adres
• PPPoE
• PPTP
• L2TP
DHCP
• DHCP-server/-client
• DHCP-adresreservering
• Multi-net DHCP
MAC Kloon
Aanpasbaar WAN-MAC-adres
IPTV
IGMP v2/v3 Proxy
IPv6
Developing**IPv6 is being developed and will be updated in the following software versions
VLAN
802.1Q VLAN
ADVANCED FUNCTIONS
ACL
Filters voor IP-adres/poorten/protocollen/domeinnamen
Advanced Routing
• Statische routering
• Policy Routing
VLAN
802.1Q VLAN
ARP Inspectie
Binding van IP-/MAC-adres
Bandbreedte Controle
• Bandbreedtebeheer op basis van IP-adres/poort
• Gegarandeerde en beperkte bandbreedte
Forwarding
• Virtuele server
• Port Triggering
• DMZ
• UPnP
• One-to-One NAT
Beveiliging
• SPI-firewall
• VPN Passthrough
• FTP/H.323/PPTP/SIP/IPsec ALG
• DoS Defence, Ping of Death
• Lokaal beheer
VPN
IPsec VPN
• 20 IPsec VPN-tunnels
• LAN-to-LAN
• Main, Aggressive Negotiation Mode
• DES, 3DES, AES128, AES192, AES256-encryptie-algoritme
• MD5, SHA1-authenticatie-algoritme
• Handmatige beheermodus voor IKE-sleutels
• Dead Peer Detection (DPD)
• Perfect Forward Secrecy (PFS)
PPTP VPN
• 16 PPTP VPN-tunnels
• PPTP VPN-server
• PPTP met MPPE-encryptie
L2TP VPN
• 16 L2TP VPN-tunnels
OpenVPN
• 16 OpenVPN-tunnels
Beheer
Omada App
Ja
Centralized Management
• Omada-cloudcontroller
• Omada-hardwarecontroller (OC300)
• Omada-hardwarecontroller (OC200)
• Omada-softwarecontroller
Services
Dynamische DNS (Dyndns, No-IP, Peanuthull, Comexe)
Cloud Access
Ja (via OC300, OC200, Omada-cloudcontroller of Omada-softwarecontroller)
Onderhoud
• Tijdsinstelling
• Diagnostieken
• Firmware bijwerken
• Fabrieksinstellingen/opnieuw opstarten
• Back-up maken en herstellen
• Systemlogs
• Beheer op afstand
• Statistieken
• Controller-instellingen
• SNMP
Management Features
• Automatic Device Discovery• Intelligent Network Monitoring• Abnormal Event Warnings• Unified Configuration• Reboot Schedule• Captive Portal Configuration• ZTP (Zero-Touch Provisioning)**Zero-Touch Provisioning is supported only when using Omada Cloud-Based Controller.
Overige
Certificatie
CE, FCC, RoHS
Pakketinhoud
• TL-R605
• Voedingsadapter
• RJ45- Ethernetkabel
• Snelle installatiegids
Systeemvereisten
Microsoft® Windows® 10, 8, 7, Vista™, XP of MAC® OS, NetWare®, UNIX® of Linux
Omgeving
Gebruikstemperatuur: 0°C~40℃
Bewaartemperatuur: -40°C~70℃
Rel. luchtvochtigheid gebruik: 10%~90%, niet-condenserend
Rel. luchtvochtigheid bewaren: 5%~90%, niet-condenserend
‡Voor deze functies is het gebruik van de Omada-hardwarecontroller, -softwarecontroller of -cloudcontroller vereist.
‡Voor de functie Zero-Touch Provisioning is het gebruik van de Omada-cloudcontroller vereist.
Abonneer
TP-Link hecht veel waarde aan privacy. Voor meer informatie over ons privacybeleid kan je onze Privacy Policy bekijken.
Krijg updates over nieuwe producten, samenwerkingen en ander interessant nieuws
From United States?
Check products and services for your region.