Hoe wijzig ik de draadloze instellingen via de Deco app?
In deze gids wordt u getoond hoe u de naam, het wachtwoord of het beveiligingstype van het Deco-netwerk kunt wijzigen.
We nemen Deco M5 als voorbeeld.
OPMERKING: De functies die beschikbaar zijn in Deco kunnen afwijken op basis van het model en de softwareversie. Alle stappen en afbeeldingen in dit artikel zijn slechts voorbeelden en komen mogelijk niet overeen met uw Deco.
1. Maak met uw telefoon verbinding met de wifi van Deco en open de Deco app.
2. Klik op Meer->Wifi-instellingen.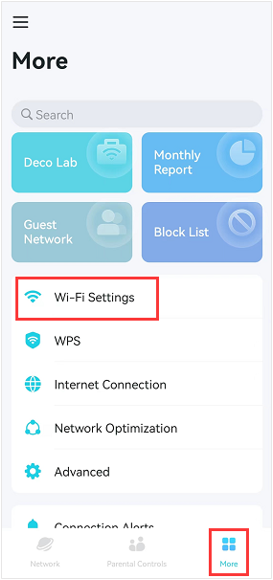 3. U kunt de naam en het wachtwoord van het wifi-netwerk wijzigen op de pagina Wifi-instellingen.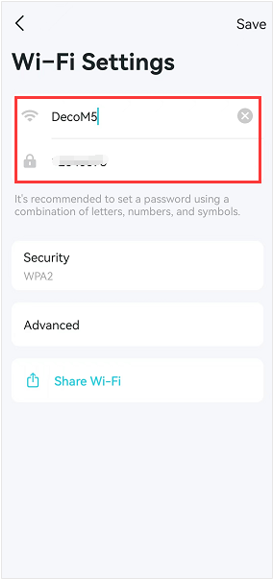 Als u het beveiligingstype van het draadloze netwerk wilt wijzigen, tikt u op Beveiliging om een andere te kiezen.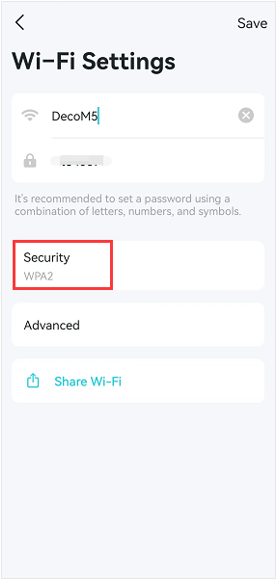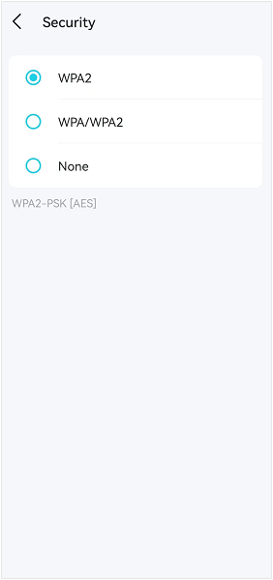 4. Tik op Geavanceerd->Band om de wifi-band van de Deco te selecteren.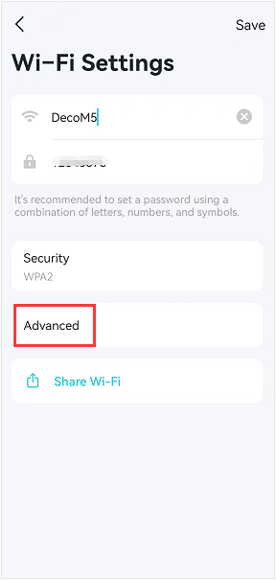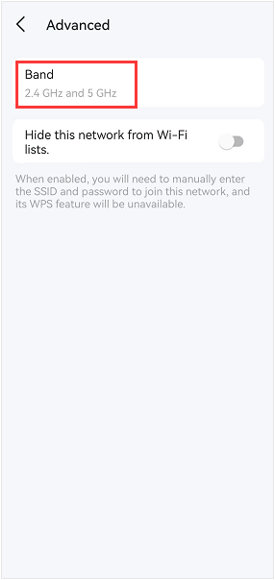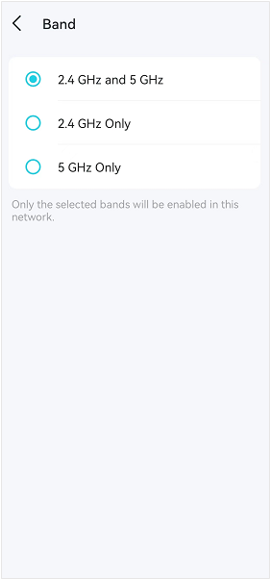 U kunt de wisselknop Dit netwerk verbergen in lijst met wifi-netwerken inschakelen als u uw SSID wilt verbergen. Als deze optie is ingeschakeld moet u de SSID en het wachtwoord handmatig opgeven om verbinding te maken met dit netwerk. Daarnaast is de functie WPS niet beschikbaar.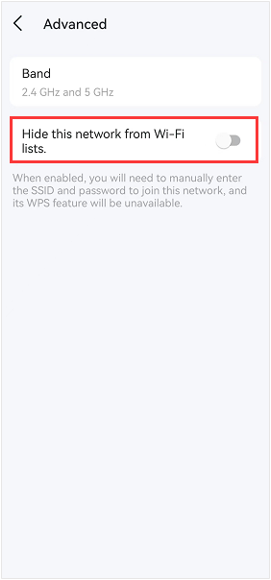 5. Ga terug naar de pagina Wifi-instellingen en klik op Opslaan om uw wijzigingen op te slaan.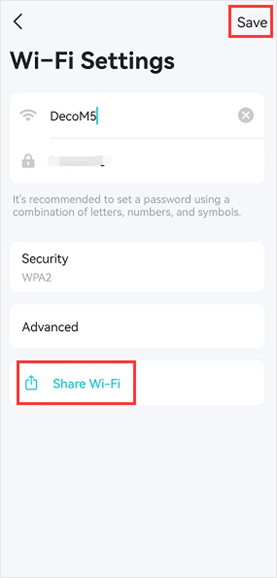 6. Klik op Wifi delen en u ziet een pagina met een QR-code en een wifi-naam en -wachtwoord. U kunt deze delen met een persoon die verbinding wil maken met het Deco-netwerk.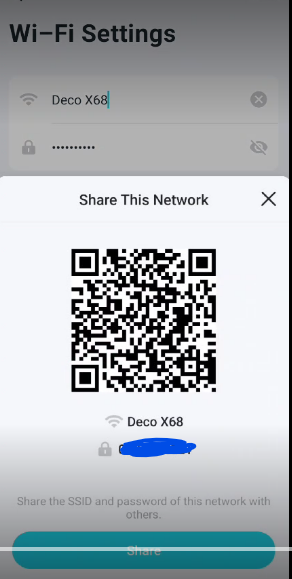 7. Als u een gastnetwerk wilt opzetten, raadpleeg dan hier de instructies.
Ga naar het ​Downloadcentrum voor meer informatie over de functies en configuratie en om de handleiding van uw product te downloaden.
Is this faq useful?
Your feedback helps improve this site.
From United States?
Get products, events and services for your region.