Wat moet ik doen als ik geen e-mail ontvang wanneer ik mijn cloud-account heb geregistreerd of mijn wachtwoord heb gereset?
Stap 1:
Controleer het domeintype van uw e-mailadres. De SMTP-server controleer de ontvanger om ervoor te zorgen dat de e-mail wordt verzonden. De verificatiemethode werkt voor e-mails van domeinen die toebehoren aan bedrijven, medische instellingen, onderwijsinstellingen of overheidsinstanties. We raden aan om de bovenstaande domeinen niet te gebruiken.
Stap 2:
Controleer de instellingen voor het e-mailfilter van uw e-mailaccount. In dit voorbeeld gebruiken we de instellingen van Gmail.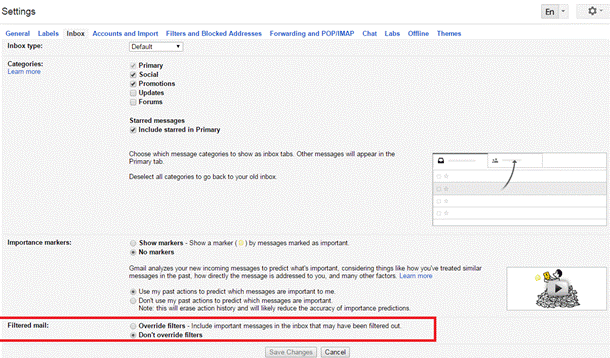 Stap 3:
Ga naar e-mailinstellingen en voeg noreply@tp-link.com toe aan de White list (door te klikken op Nieuw filter maken).
Op de pagina Filters en geblokkeerde adressen kunt u zien welke e-mailadressen worden geblokkeerd.

Wanneer bovenstaande stappen niet helpen om het probleem op te lossen:
We raden aan om een ander e-mailadres voor uw cloud-account te gebruiken. In onze cloud worden gegevens van klanten geheim gehouden.
U ontvangt geen e-mail van onze cloud door de blokkeringsinstellingen van uw e-mailacount. Sommige e-mailaccounts hebben een hoog beveiligingsniveau, waardoor de e-mails van ons cloud-adres automatisch geblokkeerd worden.
Bovendien is de SMTP-server op basis van SPF-records waarschijnlijk niet bevoegd om e-mails te verzenden. SPF staat voor Sender Policy Framework en wordt gebruikt om aan de hand van het IP-adres de identiteit van de verzender te valideren en spam te voorkomen. Voor de ontvanger zijn er verschillende verificatiemethoden. De SPF van het TP-LINK-domein maakt een extra record aan dat over het algemeen geschikt is voor gebruikelijke e-mails.
Ga naar het ​Download Center voor meer informatie over de functies en configuratie en om de handleiding van uw product te downloaden.
Is this faq useful?
Your feedback helps improve this site.
From United States?
Get products, events and services for your region.