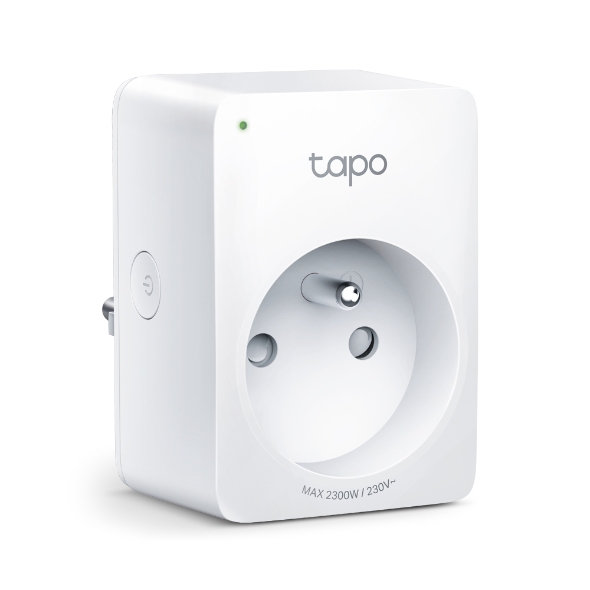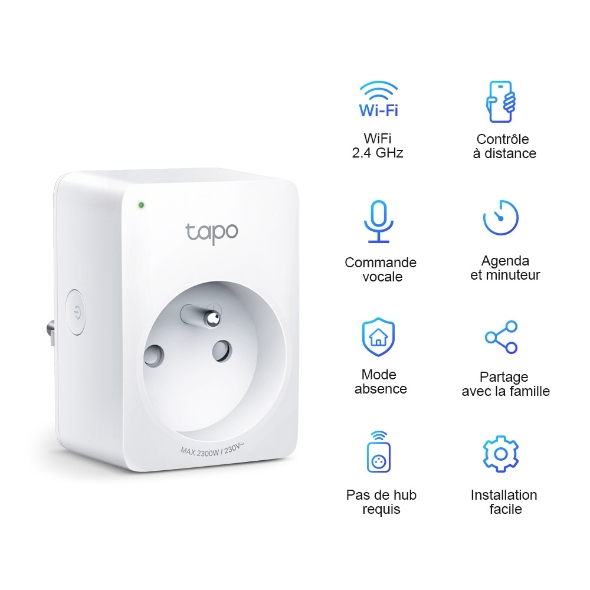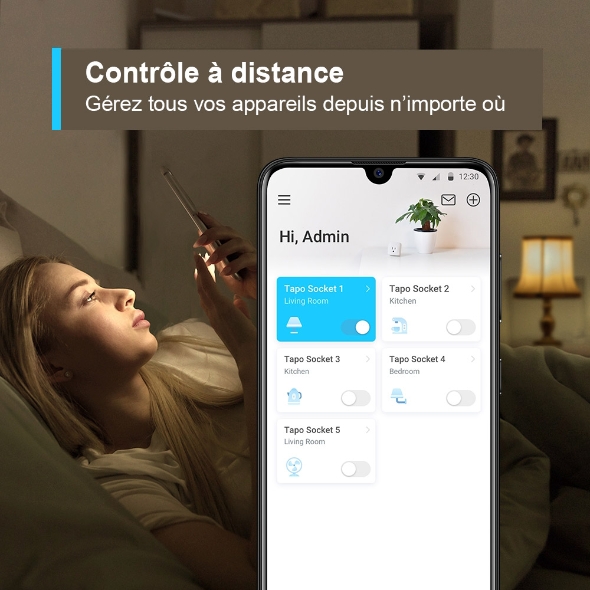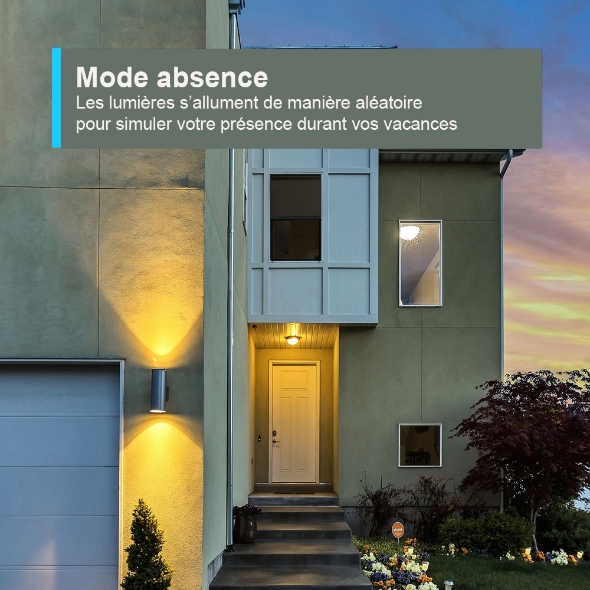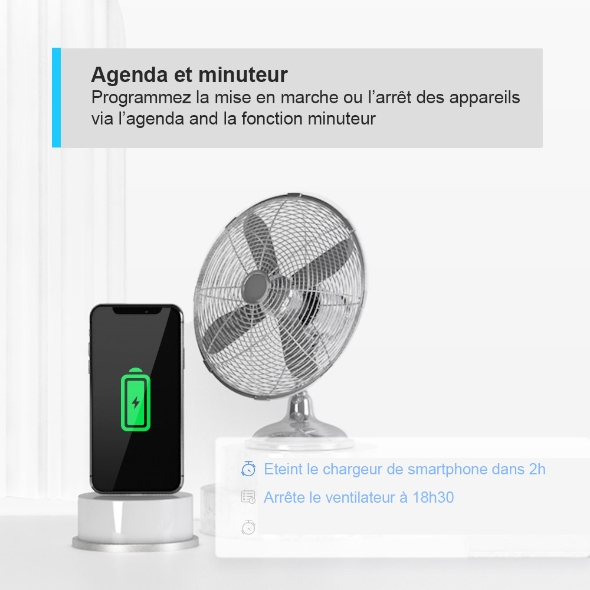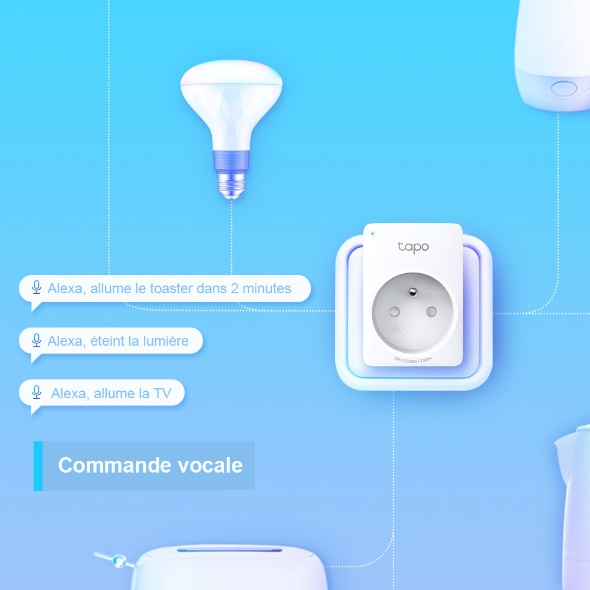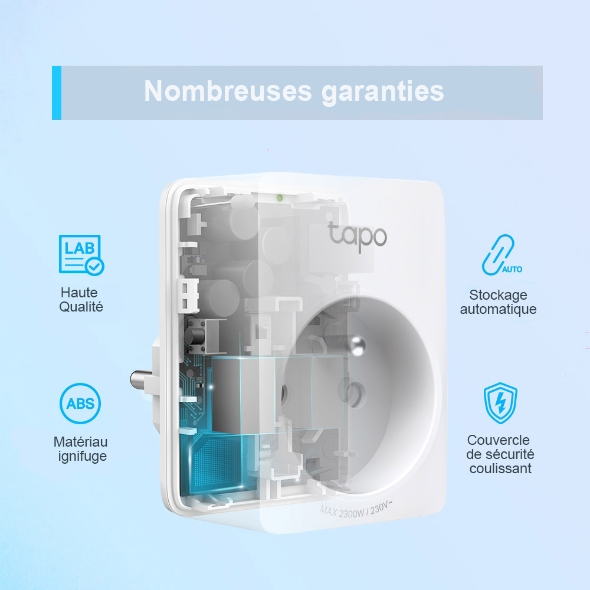 Mini Smart Wifi-stopcontact
Bediening op afstand – zet verbonden apparaten overal aan/uit via de Tapo app
Schema – stel een schema in om apparaten automatisch te beheren
Timer -

maak lijsten met een afteltimer voor aangesloten elektronica

Spraakbesturing – beheer jouw

smart-stopcontact met spraakopdrachten

via Amazon Alexa of Google Assistant

Afwezigheidsmodus – schakel apparaten automatisch op verschillende tijdstippen in en uit om de indruk te wekken dat er iemand thuis is
Compact design -

klein formaat zodat aangrenzende

stopcontacten niet worden geblokkeerd
Eenvoudige installatie en eenvoudig in gebruik

– geen hub vereist, stel het stopcontact snel en eenvoudig in met de gratis app
De superieure slimme partner voor kleine apparaten
Mini Smart Wifi-stopcontact P100
Bediening op afstand

Schema & timer

Spraakbesturing

Compact ontwerp

Afwezigheidsmodus

Delen met familie

Meerdere veiligheidsgaranties

Eenvoudige installatie
Overal te bedienen
Zet verbonden apparaten overal aan/uit via de Tapo app. Ontworpen om jouw leven gemakkelijker te maken en mogelijke veiligheidsrisico's te voorkomen.
Leef slimmer door tijden in te stellen
Met behulp van de functies schema en timer kun je een wekelijks schema en aftelplannen maken. Alle verbonden apparaten worden automatisch op de ingestelde tijd ingeschakeld, dat maakt jouw leven niet alleen slimmer en gemakkelijker, maar je bespaart ook nog eens energie.
Schakel de telefoonoplader na 2 uur uit.
Schakel de ventilator om 6.10 uur in.
Schakel de lamp om 22.00 uur uit.
Schakel de luchtbevochtiger na 30 minuten in.
……
Houd je handen vrij dankzij spraakbesturing
Krachtige functies en compact formaat
Tapo P100 is zo ontworpen dat aangrenzende stopcontacten nog steeds gebruikt kunnen worden. Daarom is hij handig voor dagelijks gebruik.
Een afschrikmiddel voor jouw woning
Met de afwezigheidsmodus wordt op slimme wijze de indruk gewekt dat er iemand thuis is. Zo wordt een aangesloten apparaat (zoals een lamp) in- of uitgeschakeld, zodat je ook wanneer je op reis bent ervoor kunt zorgen dat mensen met kwade bedoelingen wegblijven.
Delen met familie
Je kunt familieleden toestemming geven om de apparaten te beheren. Dit bespaart tijd en verhoogt de gebruiksvriendelijkheid, met name voor ouderen.
Meerdere veiligheidsgaranties
Strenge kwaliteitsinspectie in het lab van TP-Link en gecertificeerd door een wereldwijde autoriteit.

Brandwerende ABS-materialen helpen om brandgevaar tot een minimum te beperken.

Automatische opslag na uitschakelen of een verbroken verbinding.

Beschermkap voorkomt elektrische schokken.
Kwaliteitsinspectie

Brandwerend materiaal

Automatische opslag

Beschermkap
Eenvoudige installatie en eenvoudig in gebruik
Unieke Bluetooth-technologie vereenvoudigt het installatieproces zodat je sneller verbinding maakt (binnen 20 seconden) en wordt voorkomen dat je apparaten niet kunt koppelen.
*Geen aparte hub of accessoires vereist
*Bluetooth wordt alleen voor de installatie gebruikt
*Het totale vermogen van de verbonden elektrische apparatuur mag niet hoger zijn dan de maximale stroombelasting (10A).
*Gebruik het apparaat niet in natte of vochtige omgevingen.
*De Bluetooth-snelheid is gebaseerd op testresultaten. Werkelijke installatietijd kan variëren op basis van verschillende netwerkomstandigheden en omgevingen.
Netwerk
Protocol
IEEE 802.11b/g/n, Bluetooth 4.2 (alleen voor installatie)
Systeemvereisten
Android 4.3 of hoger, iOS 9.0 of hoger
Wireless Type
2.4 GHz
Algemeen
Certificeringen
RoHS, CE
Verpakkingsinhoud
Mini Smart Wi-Fi Socket Tapo P100 x 1Quick Start Guide x 1
Compatibility
AlexaGoogle Assistant
Omgeving
• Operating Temperature: 0 ºC–35 ºC• Operating Humidity: 10%~90%RH, Non-condensing
Afmetingen (B x D x H)
51 x 72,0 x 40 mm
Materia
PC
Knoppen
Aan-uitknop
Statusled
Power Requirements
AC 220-240 V~50/60 Hz 10 A
Overige
Pakketinhoud
Mini Smart Wifi-stopcontact Tapo P100
Snelstartgids
Certificaties
CE, RoHS
Omgeving
Gebruikstemperatuur: 0 °C~35 ℃
Rel. luchtvochtigheid gebruik: 10%~90%, niet-condenserend

From United States?
Get products, events and services for your region.