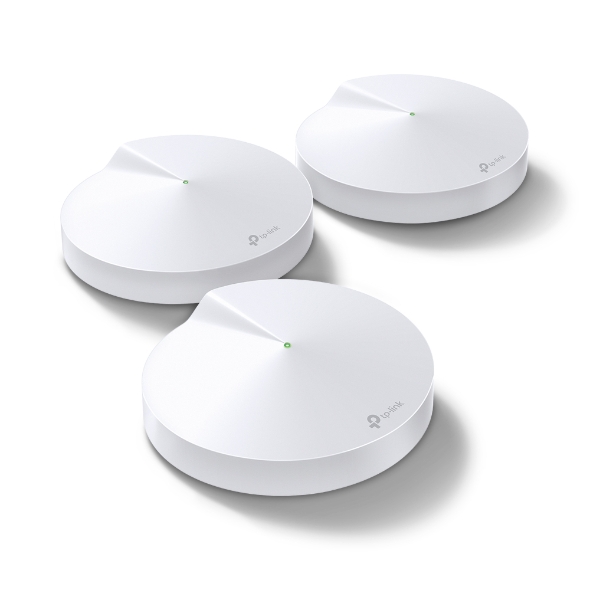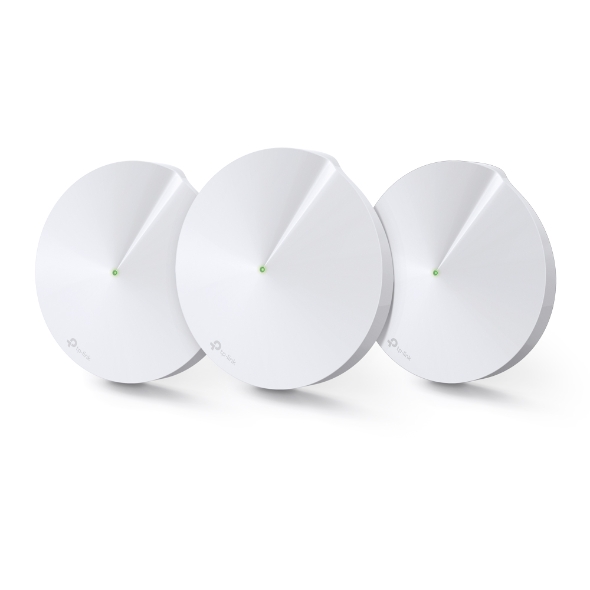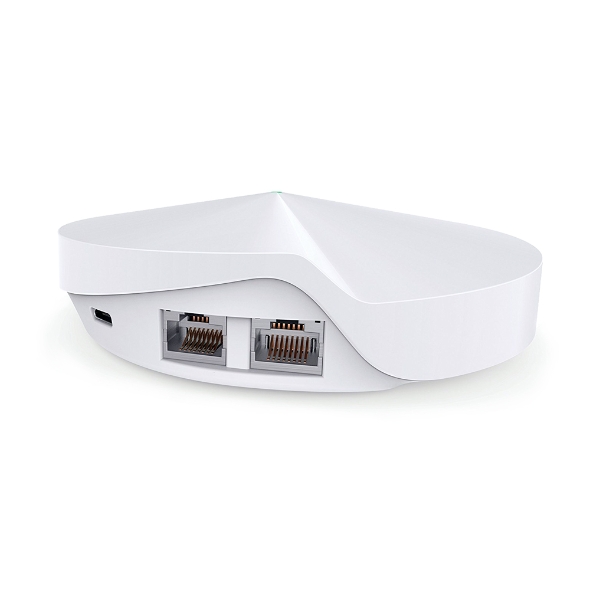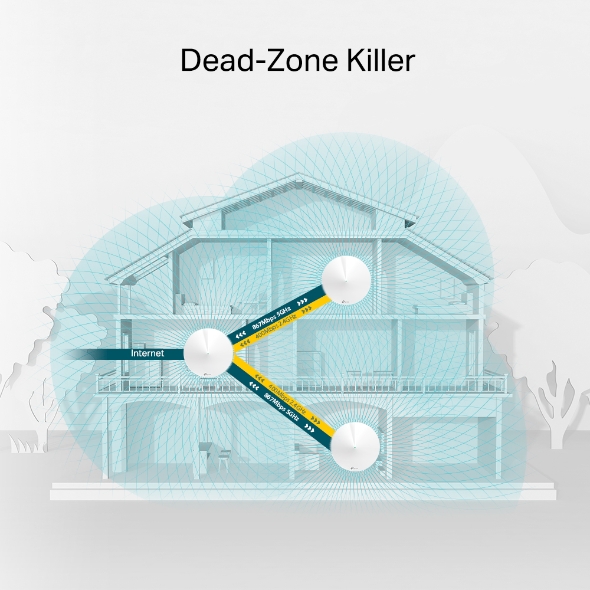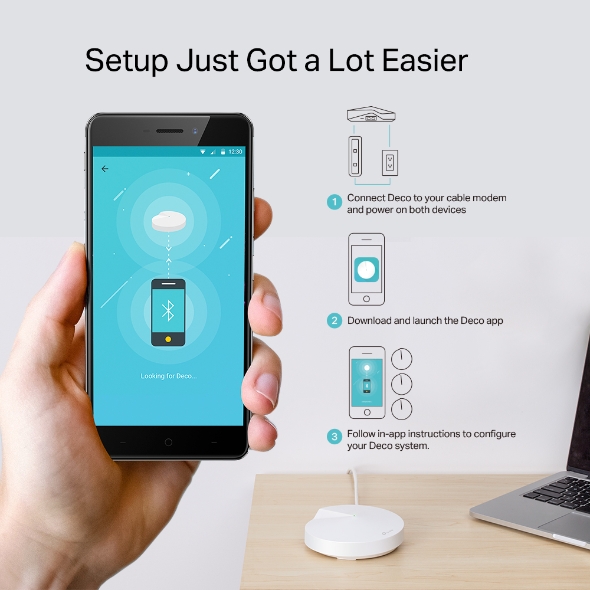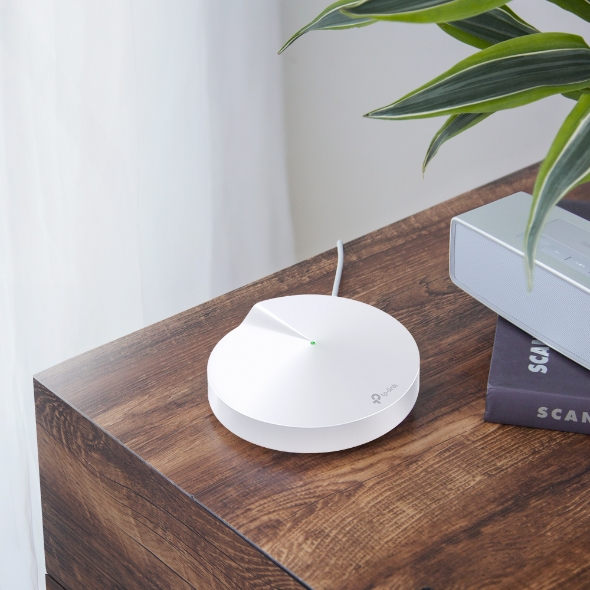 Deco : repeignez votre maison en Wi-Fi ! Deco M5
Deco uses a system of units to achieve seamless whole-home Wi-Fi coverage — eliminate weak signal areas once and for all!
With advanced Deco Mesh Technology, units work together to form one unified whole-home network with the same network name. Devices automatically switch between Decos as you move through your home for the fastest possible speeds.
A Deco M5 three-pack delivers Wi-Fi to an area of up to 5500 square feet, while a Deco M5 two-pack delivers up to 3800 square feet. And if that's not enough, simply add more Decos to the network anytime to increase coverage.
Deco M5 provides fast and stable connections with speeds of up to 1267Mbps and works with any internet service provider (ISP) and modem.
Deco can handle traffic from even the busiest of networks, providing lag-free connections for over 100 devices.
TP-Link HomeCareTM provides a suite of personalized and secure features, including Parental Controls, built-in Antivirus and Quality of Service (QoS).
Setup is easier than ever with the Deco app there to walk you through every step.
Vivre sa vie non stop
Deco est la solution Wi-Fi complète pour la maison qui inclut un haut niveau de sécurité. Il offre une connexion Wi-Fi rapide et ininterrompue à chaque pièce en exploitant les trois boitiers Wi-Fi AC1300 pour générer une couverture sur l'intégralité de la maison. Deco est également facile à configurer et à grandir lorsque vous ajoutez des appareils à votre domicile. Et Deco est soutenu par le seul support 24/7 à vie de l'industrie.
Routeur Deco
Routeur standard avec répéteur
Des caractéristiques à la pointe de la technologie
HomeCareTM

HomeCare permet à Deco d'être le système Wi-Fi le plus sûr du marché

Inclus avec HomecareTM

Contrôle Parental dernière génération avec accès Internet personnalisé

Gère le contenu et l'accès Internet pour chaque appareil et chaque membre de la famille.

Antivirus intégré durant 3 ans (développé par Trend Micro)

Protége tous vos appareils connectés sur votre réseau domestique contre les virus et malwares.

Rapports détaillés

Chaque mois, un rapport récapitule la liste des connexions, contenus bloqués et menaces de sécurité.

Qualité de Service

Gèrer la priorité des appareils et des appliccations selon vos besoins afin d'optimiser les performances réseau et garantir le meilleur débit possible.

EN SAVOIS PLUS
Installation assistée

Deco vous aide à trouver le meilleur emplacement pour chaque boitier Deco.
Test de débit

Vérifier les débits en téléchargement et upload de votre réseau afin de maintenir les meilleures vitesse
ART (Adaptive Routing Technology)

Choisir automatiquement et en temps réel le chemin le plus direct et le plus efficace pour tous les appareils en se basant sur l'emplacement de chaque boitier Deco.
Parce que le Wi-Fi devrait toujours fonctionner
Deco est une solution Wi-Fi qui maintient votre réseau performant, peu importe la taille ou le type de construction de votre maison. Il crée un réseau Wi-Fi unifié afin que vous puissiez profiter d'une connexion transparente lorsque vous vous déplacez dans votre maison.
TP-Link ARTTM
(Adaptive Routing Technology)
La meilleure connexion. A chaque instant. Dans chaque pièce.
ART choisit automatiquement le chemin le plus efficace pour tous les appareils de votre domicile en fonction de l'emplacement de chaque unité Deco. Peu importe où vous êtes, vous aurez toujours la meilleure connexion possible, via un seul et unique SSID (nom de réseau). Qu'il s'agisse de 2,4 GHz ou de 5 GHz, ART place vos appareils sur le bon groupe en fonction du type d''appareil et de ce que vous l'utilisez. Avec ART, vous êtes libre de vous déplacer d'une pièce à l'autre lorsque vous regardez, écoutez, surfez ou bien téléchargez grâce à cette connexion Wi-Fi unifiée.
Optimisation automatique du réseau Wi-Fi Deco
Connexion automatique sur le meilleur boitier Deco afin de garantir la meilleure connexion Web possible
TP-Link HomeCareTM
Wi-Fi et sécurité pour toute la maison.
HomeCare s'appuie sur Trend Micro (une valeur d'environ 300 euros) pour protèger chaque appareil connecté à votre réseau de plus de 100 000 nouvelles menaces de sécurité par jour. AV-TEST, un institut de test indépendant, a classé cet antivirus en premier dans les catégories de protection, de performance et de facilité d'utilisation. Ce logiciel intégré à Deco traite près de huit milliards d'URL chaque jour peuvant affecter les appareils compatibles Wi-Fi tels que les ordinateurs, les smartphones, les serrures intelligentes et les caméras IP.
Lorsque de nouvelles URL malveillantes apparaissent, elles sont bloquées dans les 15 minutes. Un système de défense triphasé bloque les menaces malveillantes et les sites de phishing, apprend à cesser d'attaquer le trafic et à isoler les dispositifs infectés. Pour mieux protéger votre réseau contre les virus et les logiciels malveillants, Deco se met automatiquement à jour et fournit un contrôle parental puissant et facile à utiliser.
EN SAVOIR PLUS
3 ans de HomeCare gratuit via Trend Micro

Un contrôle parental permettant de filtrer le contenu par groupes d'âge

Fixer les périodes d'utilisation autorisées pour chaque membre de la famille

Mettre en mode Pause Internet chaque fois que vous le souhaitez

Contrôlez votre réseau ou d'autres (avec votre permission) à distance

Rapport d'activité/connexion Internet
L'Application qui gère Deco depuis n'importe où
Faites fonctionner vos appareils à votre vitesse.
L'application mobile Deco va au-delà du Wi-Fi. L'application vous donne la possibilité de gérer les priorité entre les différents appareils affin d'optimiser les débits, le tout à partir de votre smartphone !
Priorisez les appareils et les applications pour des performances plus rapides

Partagez avec vos invités les informations sur le réseau Wi-Fi

Dépannage, test de débit et réalisation des diagnostics

Surveillez le trafic pour chaque appareil
Caractéristiques
Tout est dans les détails.
CPU Quad-core
Wi-Fi: 400 Mbps en 2.4 GHz + 867 Mbps en 5 GHz
4 antennes internes par boitier Deco
2 ports Gigabit par boitier Deco
1 port USB Type-C
Compatible avec IPv6 (Internet Protocol version 6)
Dimensions boitier (Diamètre : 120 mm x Hauteur: 38 mm)
Bluetooth 4.2
En comparaison
Deco M5
Eero
Luma
Google WiFi

Caractéristiques

Wi-Fi

MU-MIMO
Auto Path Selection
AP Steering
Band Steering
Beamforming

Facilité d'utilisation

Mobile App
Bluetooth Onboarding
Location Assistant
Speedtest
Device List
Easy Guest Wi-Fi Sharing

Logiciel & Sécurité

Network Scanning
Antivirus
Firewall Security
QoS (By Device)
QoS (By Application)
Device Activity Report
Parental Controls (Time Restrictive)
Parental Controls (URL Filtering)
Monthly Usage Reports
Auto FW Update
*Veuillez noter que ce tableau comparatif a été réalisé sur la base des informations disponivbles sur les brochures produits au 12/04/2017. Aucun test produit a été réalisé.
Commencer avec Deco
M5
Deco est le système Wi-Fi complet pour toute la maison qui grandit avec vous et tous vos appareils connectés à ce réseau unifié.
ACHETER MAINTENANT
*1. Maximum wireless transmission rates are the physical rates derived from IEEE Standard 802.11 specifications. Range, coverage, and maximum quantity of connected devices are based on test results under normal usage conditions. Actual wireless data throughput. wireless coverage, and quantity of connected devices are not guaranteed and will vary as a result of 1) environmental factors, including building materials, physical objects, and obstacles, 2) network conditions, including local interference, volume and density of traffic, product location, network complexity, and network overhead, and 3) client limitations, including rated performance, location, connection quality, and client condition.
*2. A basic TP-Link HomeCareTM, powered by Trend MicroTM, package is included for 3 years from date of activation at no additional cost. It includes Parental controls, Quality of Service, and Antivirus. Deactivation of HomeCareTM will disable certain controls and protections. For a complete list of HomeCareTM functions, go to www.tp-link.com/HomeCare/
ALIMENTATION
Entrée de l'adaptateur AC
100-240V ~ 50/60Hz 0.4A
Sortie de l'adaptateur AC
12V ⎓ 1.2A
CARACTERISTIQUES MATERIELLES
Processeur
CPU Quad-Core
Interface
2 ports Ethernet LAN/WAN Gigabit
Bouton
1 bouton de réinitialisation sur le dessous
Alimentation externe
12 V/1.2 A
Flash
32 Mo
SDRAM
256 Mo
Dimensions
Φ120 mm x 38 mm
Antenne
4 antennes internes par boitier Deco
Version Bluetooth
4.2 et versions inférieures
Caractéristiques WiFi
Standards WiFi
IEEE 802.11 ac/n/a 5 GHz, IEEE 802.11 b/g/n 2.4 GHz
Fréquence
2.4 GHz et 5 GHz
Vitesse du signal
400 Mbps en 2.4 GHz
867 Mbps en 5 GHz
Puissance de transmission
FCC: <30 dBm
CE: <20 dBm (2.4 GHz)
<23 dBm (5 GHz)
Sécurité WiFi
WPA-PSK/WPA2-PSK
Fonctions avancées
TP-Link Mesh Technology:
MU-MIMO
Auto Path Selection
AP Steering
Band Steering
Beamforming
CARACTERISTIQUES LOGICIELLES
Qualité de Service QoS
WMM
IPv6
Compatible
Type de WAN
Dynamic IP/Static IP/PPPoE
Administration
Local Management, Remote Management
DHCP
Serveur, Client
Redirection de port
Support
Contrôle d'accès
Blacklist
Sécurité Pare-feu
SPI Firewall
Protocoles
Compatible IPV4 et IPV6
Caractéristiques avancées
Homecare:
Antivirus
Contrôle Parental
Qualité de Service
Fonctions avancées
Speedtest
Monthly Usage Reports
Auto FW Update
Expand for more deco
Réseau invité
1* réseau invités 2.4 GHz
1* réseau invités 5 GHz
Beamforming
Compatible
APP
Installation facile via application Deco
Autres
Certification
CE, FCC, IC, NCC, BSMI, IDA,
Contenu de l'emballage
● Deco M5 (3-pack):
3 Deco units
1 RJ45 Ethernet Cable
3 Power Adapters

● Deco M5 (1-pack):
1 Deco unit
1 RJ45 Ethernet Cable
1 Power Adapter
Versions requises Smartphone/Tablette
iOS 8.0 ou supérieur
Android 4.3 ou supérieur
Bluetooth 4.0 ou supérieur
Environnement
Température de fonctionnement : 0℃~40℃
Température de stockage: -40℃~70℃
Humidité de fonctionnement: 10%~90% sans condensation
Humidité de stockage: 5%~90% sans condensation