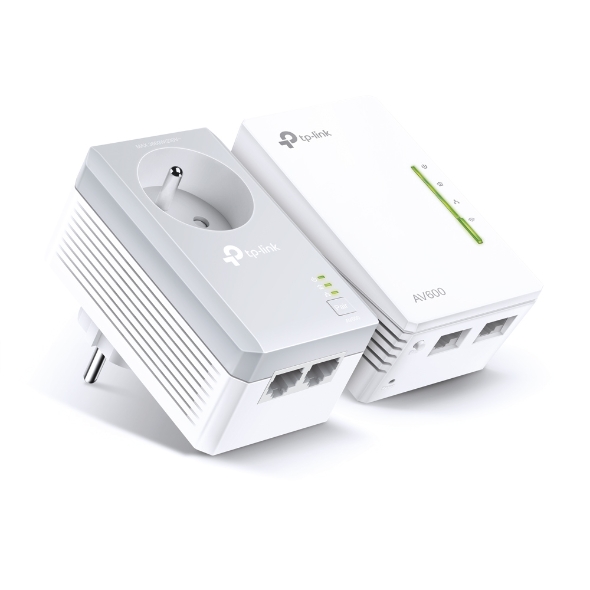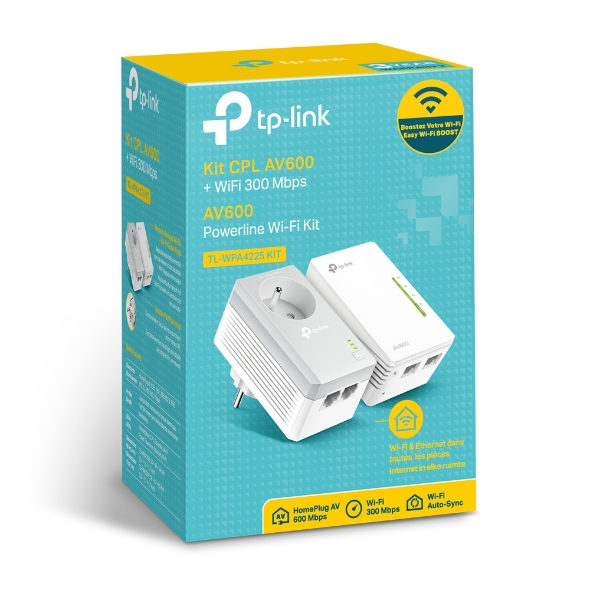 Kit de démarrage Extenseur CPL AV600 Wi-Fi N 300
Extension de portée d'un simple appui sur le bouton Wi-Fi Clone, simplifie la configuration de votre réseau Wi-Fi et vous aide à construire un réseau domestique unifié sans difficultés.
La norme Homeplug AV permet des débits théoriques jusqu'à 600Mbps via un réseau électrique domestique, c'est idéal pour diffuser des vidéos 3D ou HD fluides et les jeux en ligne.
Etend le réseau sans fil à 300Mbps jusqu'aux zones d'ombres de votre domicile ou de votre bureau.
Fonctionnalités
Le TL-WPA4225 KIT de TP-LINK étend votre connexion Internet dans chaque pièce de la maison via le réseau électrique. Il comporte un bouton de clonage Wi-Fi permettant d'étendre la couverture réseau, ce qui signifie qu'il peut copier automatiquement le SSID et le mot de passe de votre routeur compatible WPS. De cette façon, TL-WPA4225 KIT simplifie la configuration Wi-Fi et vous permet une itinérance Wi-Fi aisée à domicile.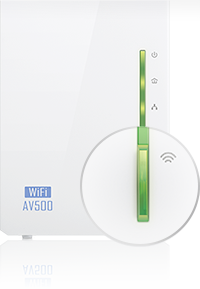 Extension de portée instantanée
Avec son bouton de clonage Wi-Fi permettant d'étendre la couverture réseau, le TL-WPA4225 KIT peut copier automatiquement le nom du réseau sans fil (SSID) et le mot de passe de votre routeur à la simple pression d'un bouton. Après avoir appuyé sur le bouton, vous pouvez placer l'adaptateur CPL où vous avez besoin d'un accès filaire ou sans fil et profiter d'un réseau homogène à à votre domicile ou votre bureau.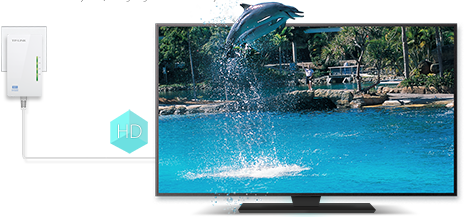 Jusqu'à 500Mbps - Idéal pour la diffusion de vidéos HD
Avec la technologie évoluée HomePlug AV, le TL-WPA4225 KIT fournit, un débit stable allant jusqu'à 600 Mbps sur une longueur de 300 mètres. Il est un excellent choix pour une solution d'interconnexion des : ordinateurs, consoles de jeux, décodeurs TV, imprimantes et NAS à domicile comme au bureau.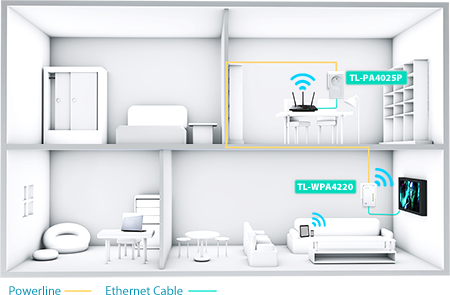 Etendez la couverture WiFi à toutes les pièces
Avec un débit maximal de 300Mbps, vous pouvez sans effort étendre votre couverture sans fil en utilisant le réseau CPL pour diffuser et partager les données de vos appareils WIFI dans toutes les pièces de votre domicile ou de votre bureau.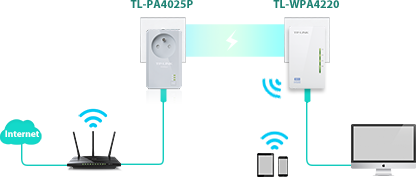 Branchez et Utilisez
Vous pouvez configurer un réseau CPL en quelques minutes avec les adapateurs CPL TP-LINK, branchez et utilisez. En outre, les boutons "Pair" des adaptateurs peuvent être utilisés pour sécuriser et gérer plusieurs adaptateurs Powerline de votre réseau CPL domestique.
1. Branchez un adaptateur CPL à proximité de votre connexion internet (Box ou modem routeur)
2. Connectez des adaptateurs supplémentaires pour relier : Ordinateurs de bureau ou portables, télévision ou d'autres appareils via un câble Ethernet ou via le Wi-Fi. C'est tout !
* Nous vous recommandons : Appuyez sur les boutons Pair pour chiffrer les données et sécuriser le réseau CPL. Remarque : les adaptateurs CPL doivent être utilisés par deux ou plus.
CARACTERISTIQUES MATERIELLES
Type de prise
FR
Standards et Protocoles
HomePlug AV, IEEE802.3, IEEE802.3u, IEEE802.11b/g/n, IEEE1901
Interface
2 * 10/100Mbps Ethernet Ports –TL-WPA4220
2 * 10/100Mbps Ethernet Ports – TL-PA4020P
Bouton
Pair, Reset, Wi-Fi/Wi-Fi Clone
Consommation
TL-WPA4220: Maximum: 5.6W, Typical: 5.2W
TL-PA4025P: Maximum: 5.4W, Typical: 4.8W
Témoins lumineux
PWR, PLC, ETH, Wi-Fi/Wi-Fi Clone
Dimensions (LxPxH)
3.7 x 2.1 x 1.6 in. (94 x 54 x 40mm)
3.7 x 2.3 x 1.7 in. (95 x 58 x 42 mm)
Gamme
300 meters over electrical circuit
Compatibilité
Compatible with all HomePlug AV & AV2 standard powerline adapters
Vitesses de transmission
Powerline: up to 600 Mbps
Ethernet: 10/100 Mbps
CARACTERISTIQUES LOGICIELLES
Administration
TP-Link tpPLC AppOr download new tpPLC Utility on PCs: www.tp-link.com/support/download.
Technologie de modulation
OFDM (PLC)
Chiffrement
Powerline Security:
128-bit AES
Wireless Security:
WEP, WPA/WPA2, WPA-PSK/WPA2-PSK Encryption
Autres
Certification
CE, FCC, RoHS
Contenu de l'emballage
Powerline Ethernet Adapter TL-WPA4220 & TL-PA4020P
6.5 ft. (2 m) Ethernet cable (RJ45)
Resource CD
Quick Installation Guide
Système requis
Windows 8/7/Vista/XP, Mac OS or Linux-based operating system
Environnement
Operating Temperature: 0°C~40°C (32°F ~104°F)
Storage Temperature: -40°C~70°C (-40°F ~158°F)
Operating Humidity: 10%~90% non-condensing
Storage Humidity: 5%~90% non-condensing
SubscriptionTP-Link prend votre vie privée au sérieux. Pour plus de détails sur la politique de confidentialité de TP-Link, veuillez consultez la page suivante Politique de confidentialité de TP-Link .
De United States?
Infos produits, événements, services pour votre pays.