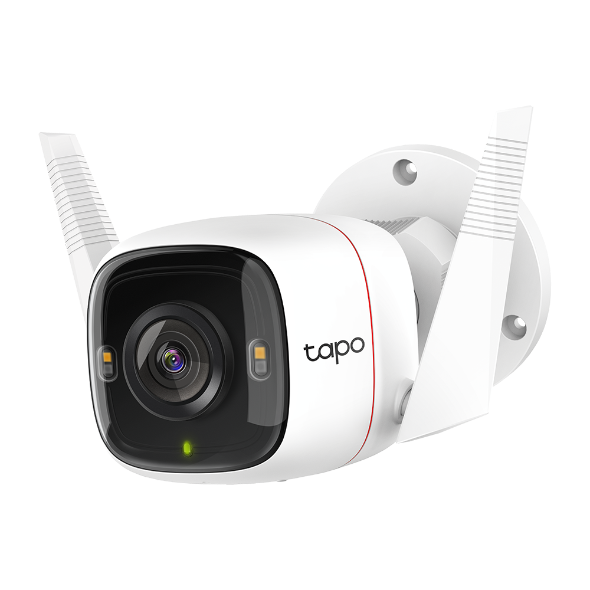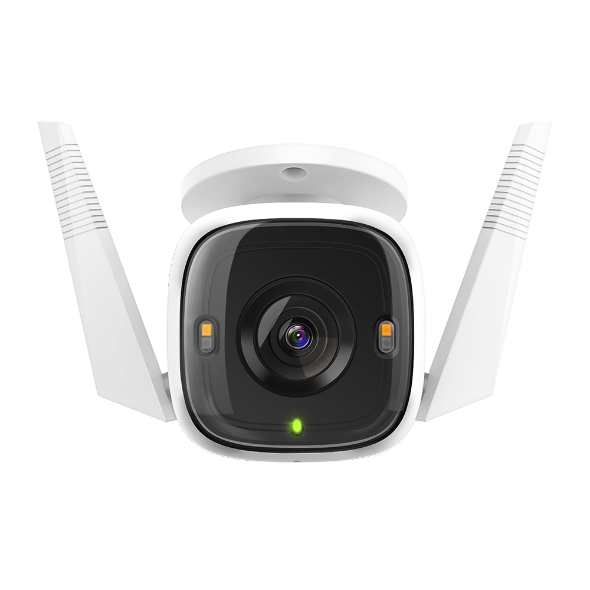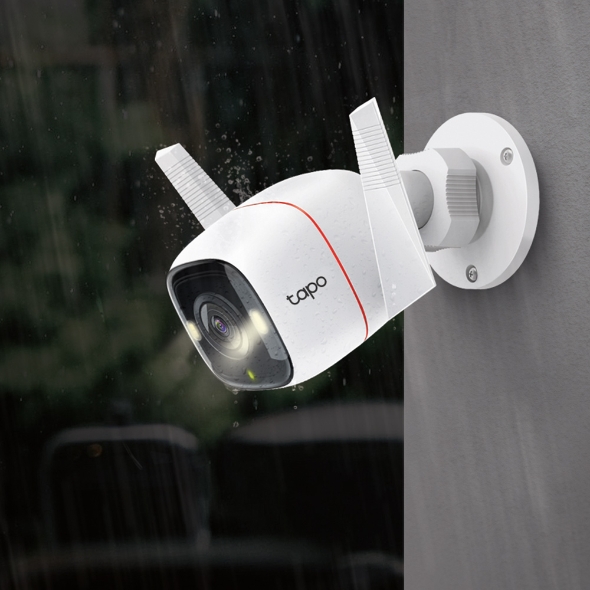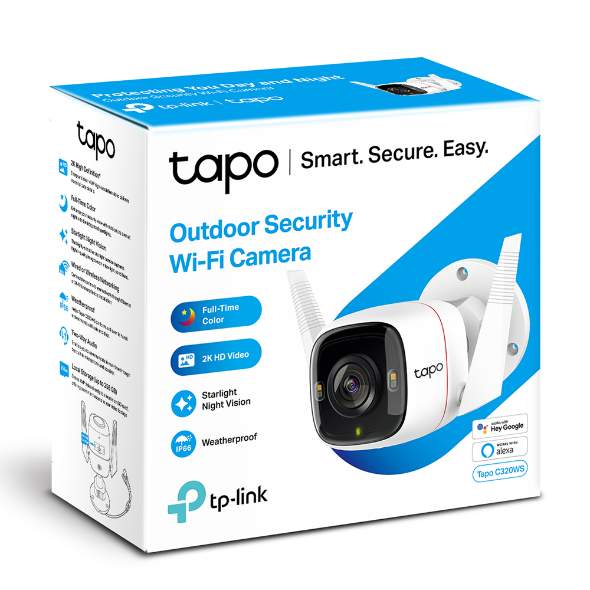 Tapo C320WS
Cámara Wi-Fi de seguridad para exteriores
Video de ultra-alta-definición: graba cada imagen con una definición nítida de 3MP.
Conexión en red cableada o inalámbrica: conecte su cámara a la red a través de Ethernet o WiFi para una instalación más flexible.
Visión nocturna avanzada: proporciona una distancia visual de hasta 30 m (98 pies) incluso en la oscuridad total.
Detección de movimiento y notificaciones: le notifica cuando la cámara detecta movimiento.
Alarma de luz y sonido: active los efectos de luz y sonido para ahuyentar a los visitantes no deseados.
Audio bidireccional: permite la comunicación a través de un micrófono y un altavoz integrados.
Almacenamiento seguro: almacena localmente hasta 128 GB de video de 3MP en una tarjeta microSD, lo que ofrece un acceso conveniente a sus secuencias de video.
Control de voz: libere sus manos con control de voz: funciona con el Asistente de Google y Amazon Alexa. (Google Assistant y Amazon Alexa no están disponibles en todos los idiomas y países).

Total color incluso en la oscuridad
Cámara Wi-Fi de seguridad para exteriores
Tapo C320WS
Visión nocturna Luz de estrellas

Detección de movimiento y notificaciones

IP66 resistente a la intemperie

Almacenamiento local†
(Up to 256GB)
†La tarjeta microSD no está incluida.
QHD 2K, claro y brillante cada segundo
Con una resolución de 2560x1440, QHD ofrece detalles más delicados. La función de aumento de tiempo de 8x también puede ayudarlo a ver más lejos.
La vista vívida a todo color en la noche oscura
A diferencia de la vista en blanco y negro de las cámaras normales, Tapo C320WS está equipado con el sensor de alta resolución y la luz de relleno, capturando más colores.
Sensores ordinarios
Cámara Tapo a todo color
Más brillante, incluso para la luz de las estrellas
El sensor de luz estelar de alta sensibilidad captura imágenes de mayor calidad incluso en condiciones de poca luz para que los detalles no se pierdan en las sombras.
Sensores ordinarios

Sensor Tapo Luz de las estrellas
Personalice su propia detección de movimiento
Detección de intrusión en el área

Detección de cruce de línea

Detección de cobertura
Alarma de sirena de alto decibel
Puede iniciar la sirena incorporada para disuadirlo. Y la alarma de sirena también puede trabajar en conjunto con las diferentes detecciones de movimiento automáticamente.
Audio bidireccional
Esté siempre en el sitio con audio bidireccional. Comuníquese con el delivery para su conveniencia.
Aplicación Tapo dedicada
Visualización en vivo, reproducción, guardado de clips y configuración, todo en una aplicación.
Descarga la aplicación Tapo
Enciende tu cámara y conéctala
Siga la guía en la aplicación
CAMARA
Sensor de Imagen
1/2.7"
Resolución
4 MP (2560 × 1440)
Lens
F/NO: 2.2; Focal Length: 3.89mm
Night Vision
850 nm IR LED up to 98 ft (30m)
NETWORK
Seguridad
128 bit AES encryption with SSL/TLS
Wireless Rate
11Mbps(802.11b)54Mbps(802.11g)150Mbps(802.11n)
Frecuencia
2.4 GHz
Wireless Security
WPA/WPA2-PSK
VIDEO
Compresión de Video
H.264
Cuadros por segundo
15fps
Vídeo transmitido en vivo
4MP
SISTEMA
Certificación Regulatoria
CE, NCC
Requisitos del sistema
iOS 10+, Android 5.0+
AMBIENTE
Temperatura en Funcionamiento
-20°C~45°C (-4°F~113°F)
Temperatura en Almacenamiento
-20°C~70°C (-4°F~158°F)
Humedad en Funcionamiento
10%~90%RH non-condensing
Humedad en Almacenamiento
5%~90%RH non-condensing
CONTENIDOS DEL PAQUETE
Contenido del paquete
Tapo C320WSPower AdapterMounting TemplateAnchors and ScrewsWaterproof SealWaterproof Cable AttachmentsQuick Start Guide
HARDWARE
Botón
Reset button
LED Indicador
System LED
Entrada del Adaptador
100-240VAC, 50/60Hz, 0.3A
Salida del Adaptador
9.0V/0.6A (DC Power)
Dimensiones (W x D x H)
5.6 x 4.1 x 2.5 in. (142.3 x 103.4 x 64.3 mm)
AUDIO
Comunicación de audio
2-way audio
Audio Input & Output:
Built-in microphone and speaker
From United States?
Get products, events and services for your region.