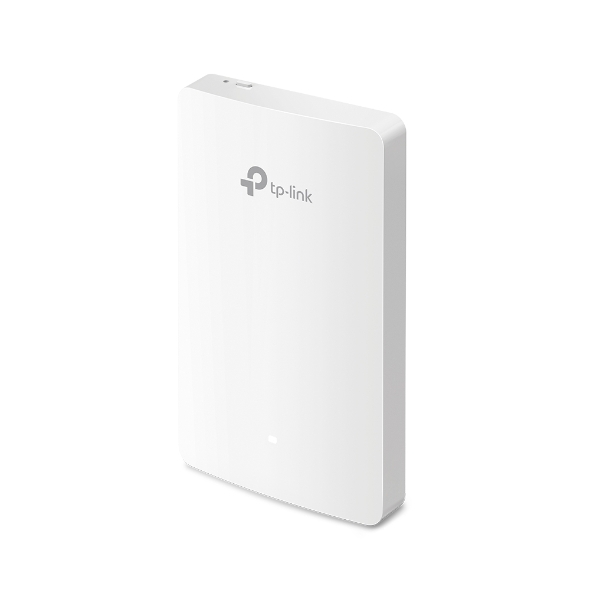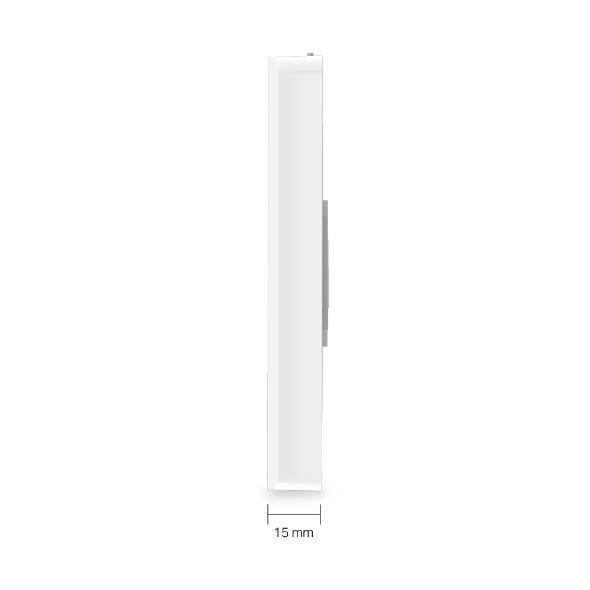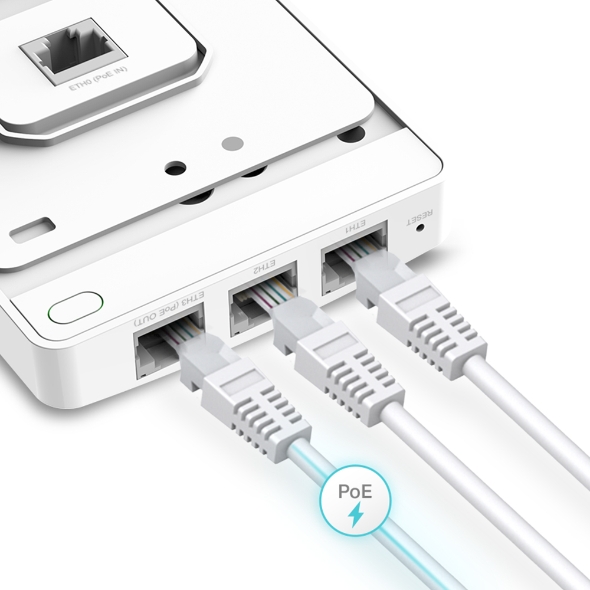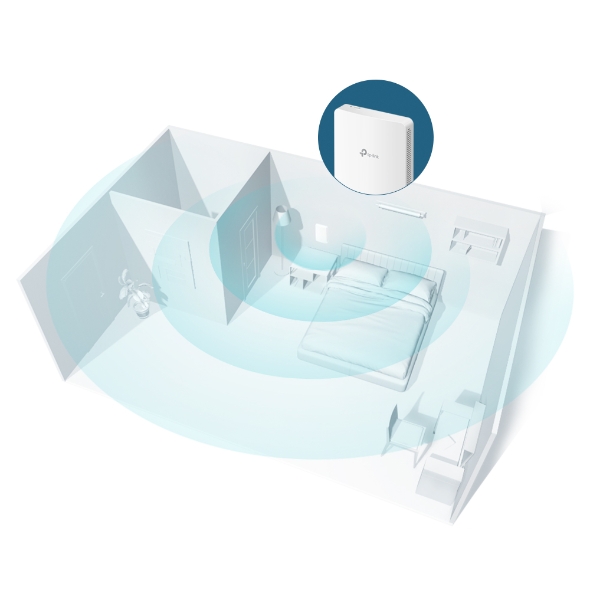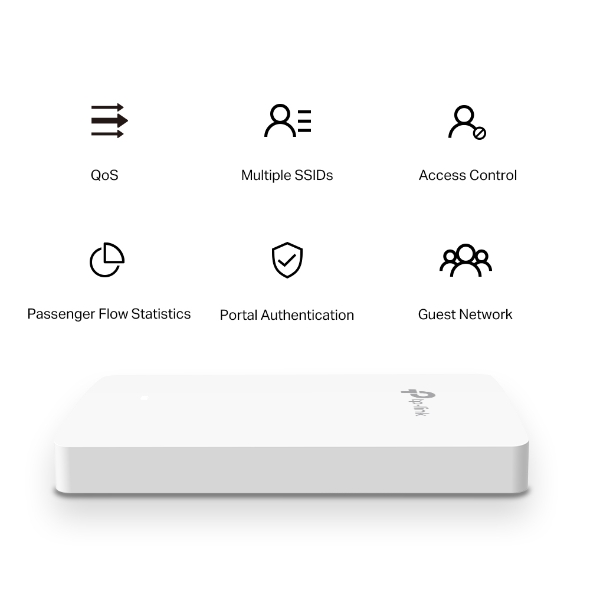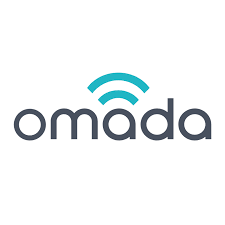 EAP235-Wall
Punto de Acceso de pared Gigabit WiFi MU-MIMO Omada AC1200
Wi-Fi rápido de doble banda : 300 Mbps simultáneos en 2.4 GHz y 867 Mbps en 5 GHz totalizan velocidades Wi-Fi de 1,167 Mbps con MU-MIMO. †
Cuatro puertos Gigabit : 4 puertos Gigabit Ethernet (1 × enlace ascendente + 3 × enlace descendente), con un puerto de enlace descendente que admite el paso de PoE para proporcionar alimentación al dispositivo cableado.
Integrado en Omada SDN : aprovisionamiento sin intervención (ZTP) ‡ , administración centralizada en la nube y monitoreo inteligente.
Gestión centralizada : acceso a la nube y la aplicación Omada para una máxima comodidad y una gestión sencilla.
Aspecto elegante : el diseño ultradelgado y llamativo se integra en habitaciones de hotel, hospitales, oficinas, dormitorios y cualquier otro entorno.
Fácil instalación y compatibilidad con PoE : construcción de fácil montaje, compatible con cajas de conexiones estándar de 86 mm y de la UE y EE. UU. Y compatibilidad con 802.3af / at PoE.
Red de invitados segura : junto con múltiples opciones de autenticación (SMS / Facebook Wi-Fi / Voucher, etc.) y abundantes tecnologías de seguridad inalámbrica.
Tecnología inalámbrica avanzada : Optimice el rendimiento de la red con las tecnologías MU-MIMO, Band Steering y Beamforming.
Wi-Fi 11ac para la mejor conexión
habitación por habitación

EAP235-Pared
Red Wi-Fi privada, completa y dedicada en cada habitación
Un EAP en cada habitación permite a los huéspedes disfrutar de su propia red Wi-Fi privada que es rápida, brinda una señal fuerte y brinda cobertura de esquina a esquina.
MU-MIMO + de doble banda: conéctese más rápido y más
La tecnología 802.11ac wave 2 MU-MIMO permite que varios usuarios accedan a Internet simultáneamente, lo que aumenta en gran medida la velocidad de su red de hasta 1200 Mbps. Capaz de transmitir en banda inalámbrica de 2,4 GHz y 5 GHz, proporciona una mayor compatibilidad para conectar variedades de dispositivos. †
5 GHz

867 Mbps

2,4 GHz

300 Mbps
Con MU-MIMO
Sin MU-MIMO
Absolutamente más fino y discreto
La placa de pared AP más delgada disponible (solo 15 mm) con una apariencia elegante y minimalista. Diseñado para combinarse con la decoración de habitaciones de hotel, hospitales, oficinas y dormitorios escolares, para brindar un potente Wi-Fi sin chocar con la habitación.
Implementación sin esfuerzo con PoE Powered
Con la compatibilidad con 802.3af / 802.3at Power over Ethernet, no es necesario instalar cableado adicional en el edificio. Simplemente conecte los cables Ethernet existentes y estará listo para comenzar.
Cable Ethernet para
conmutador TP-Link PoE
Instalación rápida y simplificada
EAP235-Wall es fácil de instalar, por lo que los costos, el tiempo o los conocimientos profesionales adicionales son completamente innecesarios.
* Se adapta a tres tipos de uniones de pared
Caja de conexiones de pared de 86 mm

Caja de conexiones de pared estándar de la UE

Caja de conexiones de pared estándar de EE. UU.
Puertos Gigabit completos para puentear la red
Equipado con cuatro puertos de datos Gigabit (1 * enlace ascendente + 3 * enlace descendente), un puerto de enlace descendente que ofrece paso a través de PoE, para conectar varios dispositivos a su red gigabit. Los dispositivos con cable, como los teléfonos VoIP, se pueden alimentar sin necesidad de cables eléctricos adicionales.
Omada SDN: solución en la nube más inteligente para redes empresariales
La plataforma Omada Software Defined Networking (SDN) integra dispositivos de red que incluyen puntos de acceso, conmutadores y puertas de enlace, lo que garantiza una red comercial potente con mayor eficiencia, mayor seguridad y mayor confiabilidad.
AP Wi-Fi 6 para entornos de alta densidad
AP de montaje en techo
Placa de pared AP EAP235-Wall
AP al aire libre
Conmutadores JetStream PoE
Puerta de enlace Omada
Acceso a la nube
Controlador Omada
basado en la nube
Administración en la nube centralizada sin complicaciones: administración en la nube
100% centralizada de toda la red desde diferentes sitios, todo controlado desde una única interfaz en cualquier lugar y en cualquier momento.
Hospitality

TP-Link Omada allows hotels to build reliable WiFi networks. Hotel WiFi network solutions including network topology, design, features, installation, and products are introduced.

Full WiFi coverage and wired connections
Flexible guest control
Seamless roaming
Easy Management

Education

Due to its reliable, scalable, and secure network solution, TP-Link has been widely acknowledged by global customers in the Education market ranging from infant schools with a few APs up to colleges and universities with hundreds of APs.

Easy management
High-density WiFi
Full WiFi coverage and wired connections
VPN and security

WiFi Marketing

Here you will have the opportunity to show them your products, services, offers, promotions or simply information related to your business. With TP-Link captive portal functions, boost your online business through guest Wi-Fi with Facebook Login, Voucher, and other flexible authentication options.

Boost Business with a Customized Page
Facebook WiFi
Secure Guest Network
Easy Configuration
Supported by all Omada APs
Arion Hotel

TP-Link's suitable networking solution has improved the overall connection experience in Arion Hotel.

Arion Hotel

TP-Link's suitable networking solution has improved the overall connection experience in Arion Hotel.

"We knew that our premises had wiring problems. We have tried various other networking solutions to no avail. We greatly appreciated the fact that when we approached TP-Link and its partner (Go Group), they did not just try to sell us materials but did a needs-based survey as well as a site survey. It was crucial that the suggested design, installation, and operation, was not based on the best available solution but on the most suitable solution, for our case, as the Project Manager of TP-Link said. The result was much more than the expected and contributes to a remarkable customer experience, along with a smooth hospitality operation." —-Commercial Manager of Arion Hotel
CARACTERÍSTICAS DE HARDWARE
Interface
Subida: 1 puerto 10/100/1000 Mbps Ethernet
Descarga: 3 puertos 10/100/1000 Mbps Ethernet (Un puerto soporta PoE OUT. El PoE OUT necesita que el equipo sea alimentado con 802.3at PoE+ y la salida de energía máxima es de 13W.)

Cerradura de Seguridad Física
Sí
Botón
Reset
Fuente de Alimentación
802.3af/802.3at PoE
Consumo de Energía
9.8 watts /24.4 watts (Salida PoE incluida)
Dimensiones (W X D X H)
143 × 86 × 20 mm (5.6 × 3.4 × 0.8 in)
Antena
2 Antenas Banda Dual
2.4GHz: 2*4dBi
5GHz: 2*4dBi
Montaje
Montaje en Pared
CARACTERÍSTICAS INALÁMBRICAS
Estándares Inalámbricos
IEEE 802.11a/b/g/n/ac
Frecuencia
2.4GHz y 5GHz
Tasa de Señal
5GHz: Hasta 867Mbps
2.4GHz: Hasta 300Mbps
Funciones Inalámbricas
16 SSIDs(Hasta 8 SSIDs en cada banda)
On/Off Radio WiFi
Asignación Automática de Canales
Control de Potencia de Transmisión (Ajuste en dBm)
QoS(WMM)
MU-MIMO
Band Steering
Beamforming
Balanceo de Carga
Limitador de Velocidad
Agendar Reboot
Agendar Emisión Inalámbrica
Estadísticas WiFi en base a SSID/AP/Cliente
Seguridad Inalámbrica
Autenticación Portal Cautivo
Control de Acceso
Filtrado Direcciones MAC Inalámbricas
Aislamiento Inalámbrico entre Clientes
Mapeo VLAN por SSID
Puerto LAN local basado en VLAN
Detección AP no deseado
Soporte 802.1X
64/128/152-bit WEP, WPA/WPA2-PSK, WPA/WPA2-Enterprise
Potencia de Transmisión
CE:
≤20 dBm (2.4 GHz, EIRP)
≤23 dBm (5 GHz, EIRP)

FCC:
≤21 dBm (2.4 GHz)
≤21 dBm (5 GHz)
ADMINISTRACIÓN
Omada App
Sí
Centralized Management
• Controlador basado en la nube Omada
• Controlador de hardware Omada (OC300)
• Controlador de hardware Omada (OC200)
• Controlador de software Omada
Cloud Access
Sí (a través de OC300, OC200, Omada Cloud-Based Controller o Omada Software Controller)
Alertas de Correo Electrónico
Sí
LED ON/OFF Control
Sí
Management MAC Access Control
Sí
SNMP
v1,v2c
System Logging Local/Remote Syslog
Local/Remoto Syslog
SSH
Sí
Web-based Management
HTTP/HTTPS
L3 Management
Sí
Multi-site Management
Sí
Management VLAN
Sí
Zero-Touch Provisioning
Sí. Requiere el uso del controlador basado en la nube de Omada.
Otros
Certificacion
CE, FCC, RoHS
Contenidos del Paquete
Punto de Acceso Omada AC1200 Wireless MU-MIMO Gigabit de Pared EAP235-Wall
Guía de Instalación
Tornillos de Montaje
Requisitos del Sistema
Microsoft Windows XP, Vista, Windows 7, Windows 8, Windows10 , MAC (navegador web)
Ambiente
Temperatura de Funcionamiento: 0℃~40℃ (32℉~104℉)
Temperatura de Almacenamiento: -40℃~70℃ (-40℉~158℉)
Humedad de Funcionamiento: 10%~90% sin condensación
Humedad de Almacenamiento: 5%~90% sin condensación
† Las tasas máximas de señal inalámbrica son las tasas físicas derivadas de las especificaciones del estándar IEEE 802.11. El rendimiento real de datos inalámbricos y la cobertura inalámbrica no están garantizados y variarán como resultado de 1) factores ambientales, incluidos materiales de construcción, objetos físicos y obstáculos, 2) condiciones de la red, incluidas interferencias locales, volumen y densidad del tráfico, ubicación del producto, complejidad de la red y sobrecarga de la red, y 3) limitaciones del cliente, incluido el rendimiento nominal, la ubicación, la conexión, la calidad y la condición del cliente.
§ El paso de PoE solo está disponible cuando 802.3at alimenta el dispositivo. La salida de potencia máxima para el paso de POE es de 13 W, según pruebas de laboratorio. La potencia real entregada al dispositivo puede variar.
‡ El aprovisionamiento Zero-Touch requiere el uso del controlador basado en la nube de Omada. Vaya a la lista de productos del controlador basado en la nube de Omada para encontrar todos los modelos compatibles con el controlador basado en la nube de Omada.
*El portal cautivo y el acceso a la nube requieren el uso de controladores Omada SDN.
From United States?
Get products, events and services for your region.