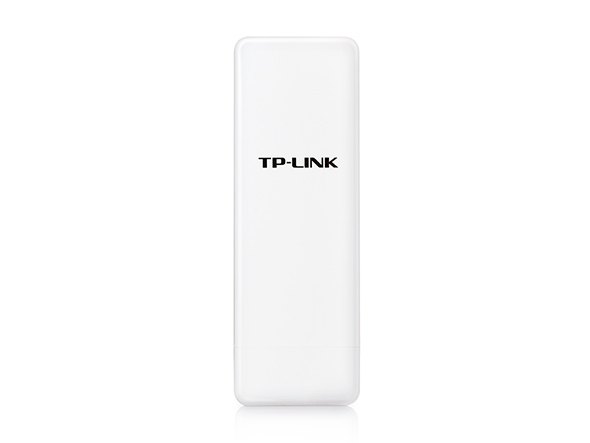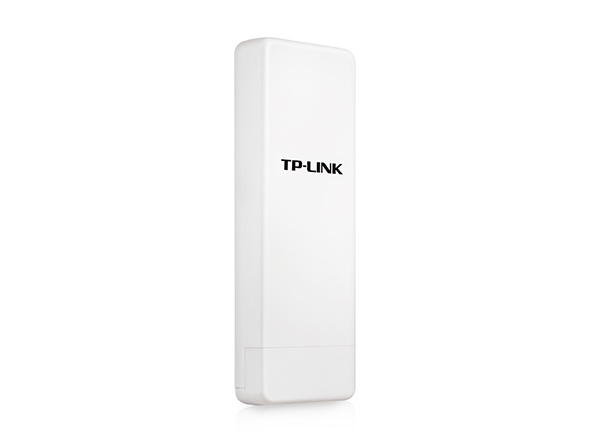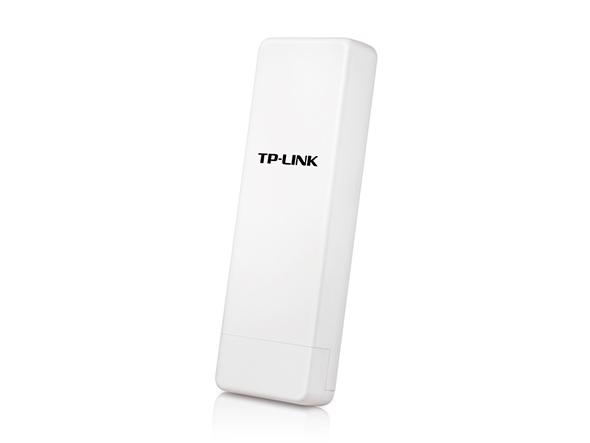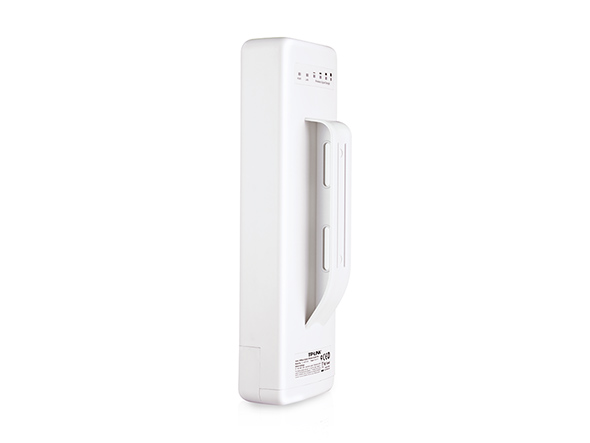 5GHz-150Mbit/s-Outdoor-Accesspoint
Bis zu 150 Mbit/s WLAN-Geschwindigkeit auf 5GHz
Interne dualpolarisierte 15dBi-Richtantenne
Sendeleistung bis zu 500mW für große Übertragungsdistanzen
Verschiedene Management-Tools für einfache Verwaltung
Betriebsarten: AP / Client / Repeater / AP-Router / AP-Client-Router (WISP-Client)
Unterstützt passives PoE bis zu 60m
Hohe Sendeleistung
Professionelle Outdoor-Lösung
Mit einer Sendeleistung von bis zu 500mW und einer dualpolarisierten 15dBi High-Gain-Antenne kann der TL-WA510N ein stabiles WLAN-Signal zur Überbrückung großer Distanzen über mehrere Kilometer bereitstellen.
Mit seinem wetterfesten Outdoor-Gehäuse arbeitet der TL-WA7510N unter verschiedensten Witterungen und unter extremen Temperaturbedingungen von -30 bis +70°C. Passive PoE-Unterstützung, ein 15kV-ESD- und ein 4000V-Blitzschutz machen ihn zu einer robusten Outdoor-Lösung.
Wetterfestes

Gehäuse
4000V

Blitzschutz
15KV

ESD-Schutz
Temperaturbereich

-30°C to 70°C
PoE bis zu 60mErdungsanschluss
Verschiedene Betriebsmodi
Der TL-WA7510N unterstützt mehrere Betriebsmodi. Neben dem AP-Modus stehen die Modi AP-Client-Router (WISP-Client), AP-Router, Bridge, Repeater und Client zur Verfügung. Damit lässt er sich flexibel an verschiedene Einsatzszenarien anpassen.
WLAN-Access
WLAN-Backbone
WLAN-Überwachung
TL-WA7510N
Intelligente Management-Tools
Tool 1: Antennenausrichtung

Dieses Tool vereinfacht die Ausrichtung der Antennen für bestmöglichen Empfang.

Tool 2: ACK Timeout

ACK Timeout ermöglicht es Ihnen, die Distanz zwischen zwei Accesspoints festzulegen, um die bestmögliche Verbindung aufzubauen.

Tool 3: Ping Watch Dog

Mit Ping Watch Dog können Sie durch Festlegung bestimmter Parameter für den Ping-Befehl die Qualität Ihrer WLAN-Verbindung ermitteln.
CPE510
CPE210
TL-WA7510N
TL-WA7210N
TL-WA5210G

WLAN

Frequenz/Datenrate

5GHz/300Mbps

2,4GHz/300Mbps

5GHz/150Mbps

2,4GHz/150Mbps

2,4GHz/54Mbps

Sendeleistung

23dBm

27dBm

27dBm

27dBm

27dBm

Antenne

13dBi

9dBi

15dBi

12dBi

12dBi

MIMO

√

√

-

-

-

Reichweite unter Idealbedingungen

15km

5km

5km

5km

2km

HARDWARE

Prozessor

560MHz

560MHz

400MHz

400MHz

180MHz

Speicher

64MB DDR2

64MB DDR2

32MB DDR

32MB DDR

16MB DDR

Kompatibilität

802.11a/n

802.11b/g/n

802.11a/n

802.11b/g/n

802.11 b/g

Externer Antennenanschluss

-

-

1 * RP-SMA

1 * RP-SMA

1 * RP-SMA

Wetterfestes Gehäuse

√(IPX5)

√(IPX5)

√

√

√

Zwei Ethernet-Ports

√

√

-

-

-

PoE-Passthrough

√

√

-

-

-

Erdungsanschluss

√

√

√

√

√

Blitzschutz über Ethernetkabel

√

√

-

-

-

ESD-Schutz

15kV

15kV

15kV

15kV

15kV

Blitzschutz

6kV

6kV

4kV

4kV

4kV

Spannungsversorgung

24V über passives PoE

24V über passives PoE

12V über Spannungsadapter oder passives PoE

SOFTWARE

Betriebsarten

AP / Client / Bridge / Repeater / AP-Client-Router (WISP-Client) / AP-Router

MAXtream (TDMA)

√

√

-

-

-

Kanalbreite

5/10/20/40MHz

5/10/20/40MHz

20/40MHz

20/40MHz

20MHz

Sendeleistung

in 1dBm-Schritten

in 1dBm-Schritten

in 3dBm-Schritten

in 3dBm-Schritten

-

Antennenausrichtung

√

√

√

√

√

Durchsatzmonitor

√

√

-

-

-

Spectrum-Analyzer

√

√

-

-

-

Iperf-Speedtest

√

√

-

-

-

Pharos-Control unterstützt
(Zentrale Managementsoftware)

√

√

-

-

-
Wireless Networking for Elevators

TP-Link offers wireless point to point link delivering up to 300 Mbps throughput. The point to point link provides wireless coverage to the entire shaft, and delivers network to the elevator car, connecting the surveillance cameras or digital signage. So that real time video can be recorded to a DVR without hard wiring coax cable directly from the camera to the recorder.

Easy, Flexible Installation
Stable Connections at High-Speeds
Ideal for Elevator Camera
No Complex Cabling
PoE Support
HARDWARE-FUNKTIONEN
Schnittstelle
10/100Mbit/s-RJ45-Port mit Autoabstimmung, Auto-MDI/MDIX und PoE
Externer Reverse-SMA-Anschluss
Erdungsanschluss
Taste
Reset
Externe Spannungsversorgung
12V, 1A DC
WLAN-Standards
IEEE802.11a
IEEE802.11n
Abmessungen (B*T*H)
250mm*85mm*60,5mm
Antenne
Dualpolarisierte 15dBi-Richtantenne
Antennenstrahldurchmesser
Horizontal: 60°
Vertikal: 14°
Schutz
15kV-ESD-Schutz
4000V-Blitzschutz
Erdungsanschluss
WLAN-FUNKTIONEN
Frequenz
5,180..5,240GHz
5,745..5,825GHz
Hinweis: Ortsabhängig.
Signalrate
11a: Bis zu 54 Mbit/s (dynamisch)
11n: Bis zu 150 Mbit/s (dynamisch)
Empfängerempfindlichkeit
802.11a
54M: -77dBm
48M: -79dBm
36M: -83dBm
24M: -86dBm
18M: -91dBm
12M: -92dBm
9M: -93dBm
6M: -94dBm

802.11n
150M: -73dBm
121,5M: -76dBm
108M: -77dBm
81M: -81dBm
54M: -84dBm
40,5M: -88dBm
27M: -91dBm
13,5M: -93dBm
WLAN-Modi
AP-Router
AP-Client-Router (WISP-Client)
AP / Client / Bridge / Repeater
WLAN-Funktionen
WDS-Bridge
WLAN-Statistiken
WLAN-Sicherheit
SSID versteckbar
MAC-Adressfilter
WEP mit 64, 128 und 152 Bit
WPA/WPA2
WPA-PSK/WPA2-PSK (AES/TKIP)
Erweiterte Funktionen
PoE bis zu 60m weit
4 LEDs zur Anzeige der Empfangsstärke
Sendeleistung
max. 20dBm (EIRP. In Ländern, in denen die CE-Standards gelten)
max. 27dBm (Maximalleistung. In Ländern, in denen die FCC-Standards gelten)
SONSTIGES
Zertifizierung
CE
FCC
RoHS
Verpackungsinhalt
TL-WA7510N
Spannungsadapter
Powerinjektor
CD
Schnellinstallationsanleitung
Systemanforderungen
Windows® 98SE, NT, 2000, XP, Vista™, 7, 8 oder 10
MacOS®
NetWare®
UNIX®
Linux
Umgebung
Betriebstemperatur: -30°C..70°C
Lagertemperatur: -40°C..70°C
Betriebsluftfeuchtigkeit: 10%..90%, nicht kondensierend
Lagerluftfeuchtigkeit: 5%..95%, nicht kondensierend
Subscription Für TP-Link ist Datenschutz sehr wichtig. Weitere Informationen zu unseren Datenschutzbedingungen finden Sie in der Datenschutzerklärung von TP-Link.
Von United States?
Erhalten Sie Produkte, Events und Leistungen speziell für Ihre Region