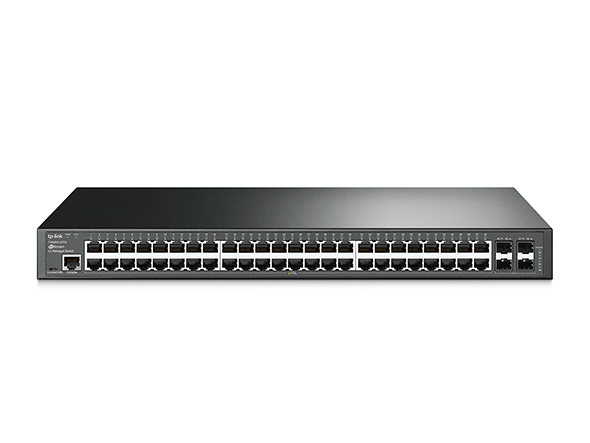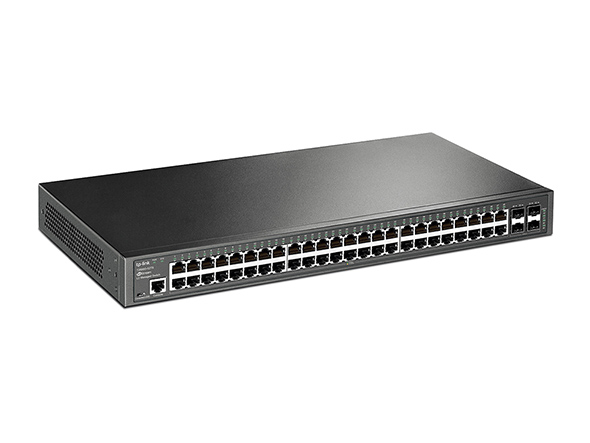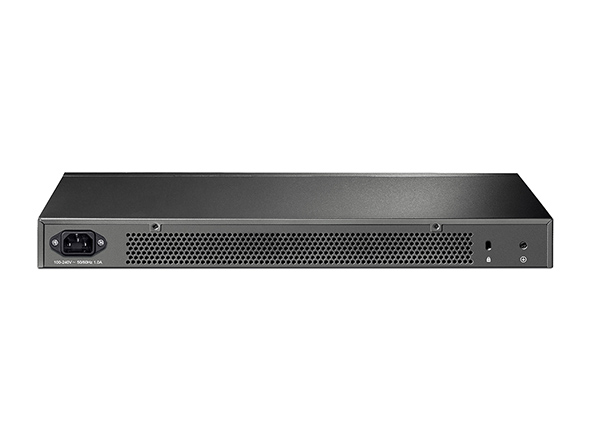 T2600G-52TS (TL-SG3452)
JetStream-48-Port-Gigabit-L2-Managed Switch mit 4 SFP-Slots
Gigabit-Ethernet-Verbindungen auf allen Ports sorgen für höchste Datenübertragungsgeschwindigkeiten
L2+-Funktion – Statisches Routing hilft dabei den internen Traffic optimal zu verwalten und die Ressourcen effektiv zu nutzen
Fortgeschrittene Sicherheitsfunktionen wie IP-MAC-Port-Binding, ACL, Port-Sicherheit, DoS-Schutz, Sturm-Kontrolle, DHCP-Snooping sowie 802.1X- und RADIUS-Authentifizierung
L2/L3/L4-QoS und IGMP-Snooping optimieren Voice- und Videoapplikationen
IPv4/IPv6-Unterstützung mit Dual-Stack, MLD-Snooping, IPv6-Neighbor-Discovery
Management über Weboberfläche, CLI (Konsole/Telnet/SSH), SNMP und RMON
Produktfunktionalitäten
TP-Links JetStream-48-Port-Gigabit-L2-Managed Switch T2600G-52TS mit 4 SFP-Slots verfügt über 48 10/100/1000Mbit/s-Ethernet- sowie vier SFP-Slots. Er bietet gute Performance, mächtige L2- und L2+-Funktionen wie Statisches Routing, QoS auf Enterprise-Ebene und weitere erweiterte Sicherheitsstrategien. IP-/MAC-Adress-Port-Bindung und die Zugriffskontrollliste (ACL) schützen vor Broadcast-Storms, ARP- und Denial-of-Service(DoS)-Angriffen. Quality-of-Service (QoS, L2 bis L4) bietet eine verbesserte Traffic-Management-Funktion, um Ihre Daten reibungsloser und schneller zu transportieren. Weiterhin sorgt die einfach zu bedienende Weboberfläche zusammen mit CLI, SNMP und RMON für eine schnellere Installation und Konfiguration mit weniger Ausfallzeiten. Für Arbeitsgruppen und Abteilungen, die einen kostensparenden Layer-2-Switch und zusätzliche Gigabit-Fähigkeiten benötigen, kann JetStream-48-Port-Gigabit-L2-Managed Switch von TP-Link die ideale Lösung sein.
Ein sicheres Netz
Der T2600G-52TS unterstützt IP-/MAC-Adress-/Port-Binding, Portsicherheit, Storm-Control und DHCP-Snooping, um vor gewissen Angriffen zu schützen. Weiterhin grenzen die L2..L4-Zugriffskontrolllisten (ACLs, L2 bis L4) die Angriffsmöglichkeiten auf Ihre Ressourcen ein, indem Pakete abhängig von Quell- und Ziel-IP-/MAC-Adresse, TCP-/UDP-Port und sogar VLAN-ID verworfen werden können. Zudem unterstützt der Switch 802.1X, was Clients die Authentifizierung über einen externen RADIUS-Server ermöglicht. Die Gast-VLAN-Funktion ist in der Lage, Nicht-802.1X-Clients eingeschränkten Zugriff zu erlauben.
Erweiterte QoS-Merkmale
Der Switch verfügt über umfassende QoS-Eigenschaften für die Integration von Sprach-, Daten- und Videodiensten in einem Netz. Der Administrator legt die Priorität des Verkehrs basierend auf mehreren Variablen fest, u. a. Port-, 802.1P- und DSCP-Priorität, um sicherzustellen, dass die Sprach- und Videoübertragung immer klar, reibungslos und frei von Störungen ist. Zusammen mit "Voice-VLAN" ist für alle Anwendungen immer beste Qualität garantiert.
Üppige Layer2- und Layer2+-Features
Der T2600G-52TS verfügt über eine ganze Latte von L2-Features, wie z.B. Tag-VLAN nach 802.1Q, Port-Isolation, Port-Mirroring, STP/RSTP/MSTP, Link-Aggregation und Flusskontrolle nach 802.3x. Weiterhin bietet der Switch erweiterte hilfreiche Funktionen wie Loopback-Erkennung, Kabeltest und IGMP-Snooping. IGMP-Snooping stellt sicher, dass der Switch Multicast-Streams ganz intelligent nur an die vorgesehenen Empfänger weiterleitet, während IGMP-Throttling und -Filtering die Empfänger an bestimmte Ports bindet, um unerlaubten Empfang zu unterbinden. Außerdem unterstützt der Switch L2+-Funktionen wie Statisches Routing, was Ihren internen Datenverkehr effizient weiterleitet.
IPv6-Unterstützung
Der T2600G-52TS unterstützt verschiedene IPv6-Funktionen wie Dual-IPv4/IPv6-Stack, MLD-Snooping, Path-Maximum-Transmission-Unit-Discovery (PMTU) und IPv6-Neighbor-Discovery.
OAM*
Der T2600G-52TS bietet OAM nach 802.3ah sowie Geräte-Link-Erkennungsprotokoll (DLDP)-Funktionen, was für verbesserte Überwachung und Fehlerbehebung in Ihrem Netzwerk sorgt.
*Diese Funktion ist in der aktuellen Firmware erhalten.
Management-Features auf Enterprise-Ebene
Der T2600G-52TS ist benutzer- und verwaltungsfreundlich. Er unterstützt viele standardmäßige Managementfunktionen, wie z. B. die intuitive, Weboberfläche (GUI) oder SNMP (v1/2/3). RMON ermöglicht den Abruf wertvoller Statusinformationen über den Switch sowie den Versand von Traps zu abnormalen Ereignissen.
Grupoinfo 24

TP-Link Helps Grupoinfo24 to Build Reliable and Affordable Business Network

Grupoinfo 24

TP-Link Helps Grupoinfo24 to Build Reliable and Affordable Business Network

"TP-Link's products provide us with excellent performance, ease-of-management, and a robust feature set. All the important features that we can expect from a correct networking infrastructure are provided by TP-Link's products, and a wise configuration will permit us to profit from the benefits and security required by each company or case." —Grupoinfo 24
HARDWARE-FUNKTIONEN
Standards und Protokolle
IEEE802.3i
IEEE802.3u
IEEE 802.3ab
IEEE802.3z
IEEE 802.3ad
IEEE 802.3x
IEEE 802.1d
IEEE 802.1s
IEEE 802.1w
IEEE 802.1q
IEEE 802.1x
IEEE 802.1p
Schnittstelle
48 10/100/1000Mbit/s-RJ45-Anschlüsse mit Autoabstimmung und Auto-MDI/MDIX
4 Gigabit-SFP-Steckplätze
1 RJ45-Konsolenanschluss
1 Micro-USB-Konsolenanschluss
Kabel
10BASE-T: UTP-Kategorien 3, 4, 5 (max. 100m)
100BASE-TX: UTP-Kategorie 5 oder höher (max. 100m)
1000BASE-X: UTP-Kategorie 6 oder höher (max. 100m)
100BASE-FX/1000BASE-X: MMF, SMF
Anzahl Lüfter
0
Physischer Diebstahlschutz
Yes
Spannungsversorgung
100..240V/50..60Hz-Wechselspannung
Energieverbrauch
Maximal 33,52W (bei 230V/50Hz)
Abmessungen (B*T*H)
440mm*220mm*44mm
Montage
Rack Mountable
Maximale Leistungsaufnahme
33.52W (220V/50Hz)
Maximale Wärmeabgabe
114.37 BTU/h
PERFORMANCE
Switchingkapazität
104Gbps
Paketweiterleitungsrate
77,4Mpps
MAC-Adresstabelle
16k
Jumbo-Frames
9216B
SOFTWARE-FUNKTIONEN
Quality of Service
802.1p-CoS/DSCP-Priorität
8 Prioritätswarteschlangen
Warteschlangenplanung: SP, WRR, SP+WRR
Port-/Flussbasierende Datenratenbegrenzung
Voice-VLAN
Layer2- und Layer2+-Funktionen
Statisches Routing
DHCP-Relay
IGMP-Snooping V1/V2/V3
802.3ad-LACP (Bis zu 14 Aggregationsgruppen mit 8 Ports pro Gruppe)
Spanning Tree STP/RSTP/MSTP
BPDU-Filtering/Guard
TC/Root-Protect
Loopback-Erkennung
Flusskontrolle nach 802.3x
L2PT
VLAN
Bis zu 4k VLANs
Port-/MAC-Adress-/Protokoll-basierendes VLAN, privates VLAN
GARP/GVRP
Zugriffskontrollliste
L2..L4-Paketfilterung, basierend auf Quell- und Ziel-MAC-/IP-Adresse und TCP-/UDP-Port, 802.1p, DSCP, Protokoll und VLAN-ID
Zeitbasierend
Sicherheit
IP-/MAC-Port-VID-Binding
AAA
802.1x- und RADIUS-Authentifizierung
DoS-Abwehr
Dynamische ARP-Inspektion (DAI)
SSH v1/v2
SSL v3/TLSv1
Portsicherheit
Filterung von Broadcast/Multicast/Unknown-Unicast-Angriffen
IPv6
Dual-Stack
MLD(Multicast-Listener-Discovery)-Snooping
IPv6-Neighbor-Discovery (ND)
Path-MTU(Maximum Transmission Unit)-Discovery
ICMP (Internet Control Message Protocol) Version 6
TCPv6/UDPv6
IPv6-Anwendungen
DHCPv6-Client
Ping6
Traceroute6
Telnet(v6)
IPv6-SNMP
IPv6-SSH
IPv6-SSL
HTTP/HTTPS
IPv6-TFTP
IPv6-ACL
IPv6-Interface
IPv6-Routing
DHCPv6-Relay
DHCPv6-Snooping
Verwaltung
Weboberfläche
SNMP v1/v2c/v3, kompatibel zu öffentlichen MIBs und TP-Link-eigenen MIBs
RMON (Gruppen 1, 2, 3 und 9)
sFlow
PPPoE-Circuit-ID
DHCP-Relay
DHCP-Server
DHCP-/BOOTP-Client, DHCP-Snooping, DHCP-Option 82
Dual-Image
CPU-Überwachung
Port-Mirroring
Uhrzeiteinstellung über SNTP
NDP/NTDP integriert
Firmware-Upgrade über TFTP und Web
Systemdiagnose: VCT
Systemprotokoll und öffentliche MIBs
Passwortwiederherstellung
SONSTIGES
Zertifizierung
CE
FCC
RoHS
Verpackungsinhalt
48-Port-JetStream-Gigabit-L2-Managed Switch mit 4 SFP-Slots
Stromkabel
Schnellinstallationsanleitung
CD
Rack-Montageset
Gummifüßchen
Systemanforderungen
Ethernet
Umgebung
Betriebstemperatur: 0°C..40°C
Lagertemperatur: -40°C..70°C
Betriebsfeuchtigkeit: 10%..90%, nicht kondensierend
Lagerfeuchtigkeit: 5%..90%, nicht kondensierend
Subscription Für TP-Link ist Datenschutz sehr wichtig. Weitere Informationen zu unseren Datenschutzbedingungen finden Sie in der Datenschutzerklärung von TP-Link.
Von United States?
Erhalten Sie Produkte, Events und Leistungen speziell für Ihre Region