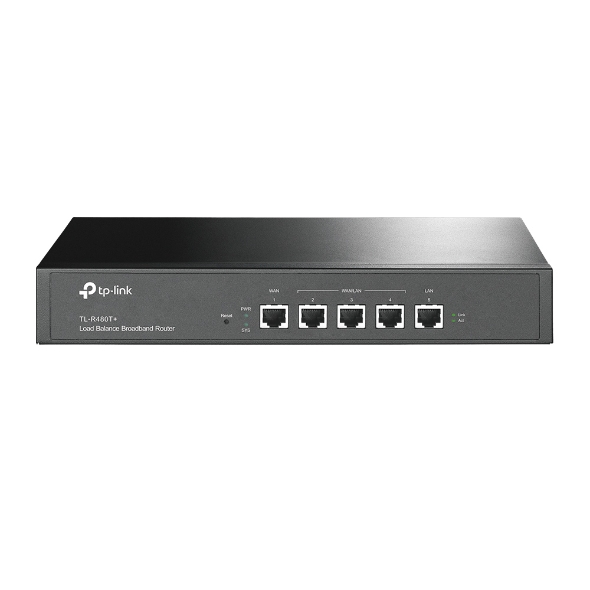 TL-R480T+
Loadbalance-Breitbandrouter
1 fester 10/100Mbit/s-WAN-Port, 1 fester 10/100Mbps-LAN-Port und 3 frei konfigurierbare 10/100Mbit/s-Ports (nur Version 4.0)
Die Loadbalancing-Funktion wählt in Abhängigkeit zur Datenmenge automatisch die beste Leitung aus
Professioneller Blitzschutz hält Ihre Investitionen so sicher wie möglich
Produktfunktionalitäten
Der TL-R480T+ ist ein Produkt, das für kleine Unternehmen konzipiert wurde. Er verfügt über drei wechselbare Schnittstellen, die entweder auf LAN oder auf WAN eingestellt werden können und die es dem Router ermöglichen, bis zu vier WAN-Ports zu anzubieten, um verschiedene Zugangsvoraussetzungen für das Internet mithilfe eines einzigen Geräts zu erfüllen. Zur gleichen Zeit wird der Netzwerkverkehr gesteuert, um sicherzustellen, dass die Daten korrekt an die Ports verteilt werden. Der TL-R480T+ von TP-LINK wird Ihnen eine konsistente Netzverfügbarkeit und eine zuverlässige Ethernet-Konnektivität liefern.
Online-Erkennung und Tests auf der WAN-Schnittstelle
Die Online-Erkennung und Tests auf der WAN-Schnittstelle dienen dazu, um die Konnektivität der Leitung durch PING/Tracert-Erkennung oder durch eine DNS-Anfrage zu testen und ist eine große Hilfe für Administratoren, um Barrieren und Fehler zu überprüfen und auszuschließen.
IP-/MAC-Adressen-Bindung verhindert Netzwerkangriffe effizient
Die IP-/MAC-Adressbindung sorgt dafür, dass nur die Computer auf das Netzwerk zugreifen können, die bei der Authentifizierung sowohl die korrekte IP- als auch MAC-Adresse benutzen, was die Möglichkeit böswilliger Netzattacken von außen einschränkt.
Sicherheitsorientierte Unternehmensinvestitionen
Der professionelle Blitzschutz ist dafür ausgelegt, das Eindringen von Überspannungen in das Innere der elektrischen Ausrüstung zu verhindern und diese harmlos in die Erde zu entladen. Dieser Router wehrt unter gut geerdeten Bedingungen Blitzschläge von bis zu 4kV ab. Diese Funktion stellt sicher, dass Ihre Investitionen in die Netzwerk-Infrastruktur so gut wie möglich von den Gewalten von Mutter Natur verschont bleiben.
Intelligentes Loadbalancing
Die interne automatische Leitungsumleitungsstrategie kann Datenströme entsprechend der Bandbreitenproportion und der Auslastungsrate des Multi-line-Breitbands verteilen. Darüber hinaus können Sie manuell in der Form eines Prozentsatzes die Bandbreite des WAN verwalten. Damit wird es für Sie sehr einfach, Loadbalancing-Regeln einzurichten.
IP- und Port-basiertes QoS
Der TL-R480T+ von TP-LINK unterstützt IP- und portbasiertes QoS, was Ihr Multimediastreaming, Ihre Videokonferenzen, Spiele etc. mit hoher Performance ermöglicht.
HARDWARE-FUNKTIONEN
Standards und Protokolle
IEEE802.3
ISSS802.3u
ISSS802.3x
TCP/IP, DHCP, ICMP, NAT, PPPoE, SNTP, HTTP, DNS
Schnittstelle
1 fixer 10/100Mbit/s-WAN-Port
1 fixer 10/100Mbit/s-LAN-Port
3 austauschbare 10/100Mbit/s-WAN/LAN-Ports (nur Version 4.0)
1 Konsolen-Port (RJ45 auf RS232)
Kabel
10BASE-T: UTP-Kabel der Kategorien 3, 4, 5 (maximal 100m)
EIA/TIA-568 100Ω STP (maximal 100m)
100BASE-TX: UTP-Kabel der Kategorien 5, 5e (maximal 100m)
EIA/TIA-568 100Ω STP (maximal 100m)

Taste
Reset
Spannungsversorgung
Internes Netzteil
100..240V, 50/60Hz Wechselspannung
Flash
4MB
DRAM
64MB
LED
PWR, SYS, WAN, LAN, WAN/LAN
Abmessungen (B*T*H)
294mm*180mm*44mm
13-Zoll-Rack-fähig, 1U Einbauhöhe
GRUNDFUNKTIONEN
WAN-Verbindungstyp
Statische/Dynamische IP-Adresse, PPPoE, PPTP, L2TP, Dual Access, Bigpond Cable
Klonen der MAC-Adresse
WAN/LAN-MAC-Adresse änderbar
DHCP
DHCP-Server/Client
DHCP-Adressreservierung
Switch-Einstellungen
Portspiegelung
Ratenkontrolle
Portkonfiguration
Port-VLAN
ERWEITERTE FUNKTIONEN
ACL
Filterung nach IP-/MAC-Adresse und URL
IGMP
IGMP Proxy/IGMP Snooping
Weiterleitung
Virtuelle Server
Port-Triggering
DMZ
Loadbalancing
Policy-Routing
Link-Backup
NAT
One-to-One NAT
Multi-Nets-NAT
Routing
Statisches Routing
Sicherheit
FTP/SIP/PPTP/IPsec/H.323-ALG
DoS-Anwehr
Ping of Death
Traffickontrolle
QoS
Sitzungsbegrenzung
VERWALTUNG
Dienst
PPPoE-Server
E-Bulletin
Dynamisches DNS
UPnP
Anwendungsfilter
Wartung
Zeiteinstellung, Diagnose, Firmwareupgrade, Reset, Neustart, Konfigurationsbackup und -restore, Systemprotokoll, Fernwartung, Statistiken
SONSTIGES
Zertifizierung
CE
FCC
RoHS
Verpackungsinhalt
TL-R480T+
CD
RJ45-Ethernet-Kabel
Rackeinbausatz
Systemanforderungen
Microsoft Windows® 98SE, NT, 2000, XP, Vista™, 7, 8 oder 10
MacOS®
NetWare®
UNIX®
Linux
Umgebung
Betriebstemperatur: 0°C..40°C
Lagertemperatur: -40°C..70°C
Betriebsfeuchtigkeit: 10%..90%, nicht kondensierend
Lagerfeuchtigkeit: 5%..90%, nicht kondensierend
Subscription Für TP-Link ist Datenschutz sehr wichtig. Weitere Informationen zu unseren Datenschutzbedingungen finden Sie in der Datenschutzerklärung von TP-Link.
From United States?
Check products and services for your region.