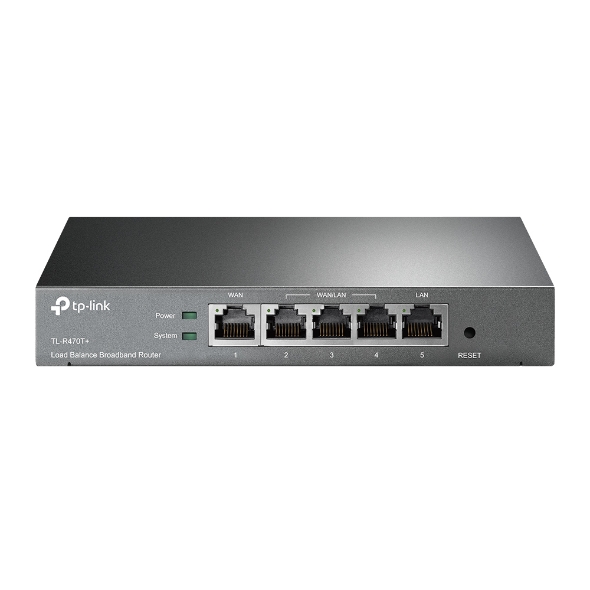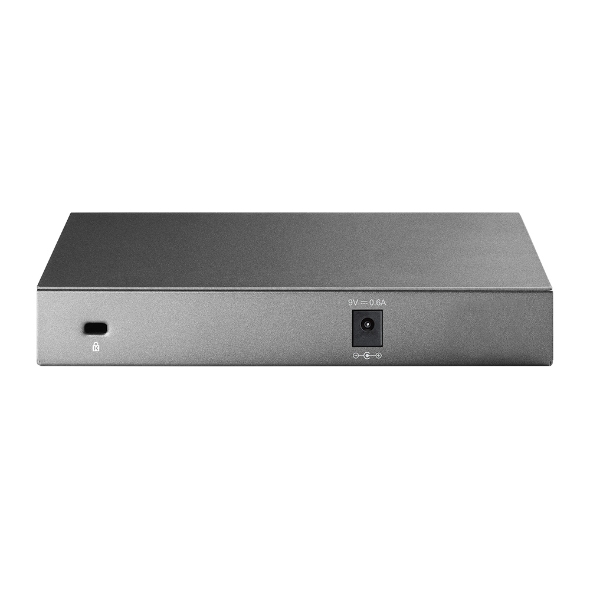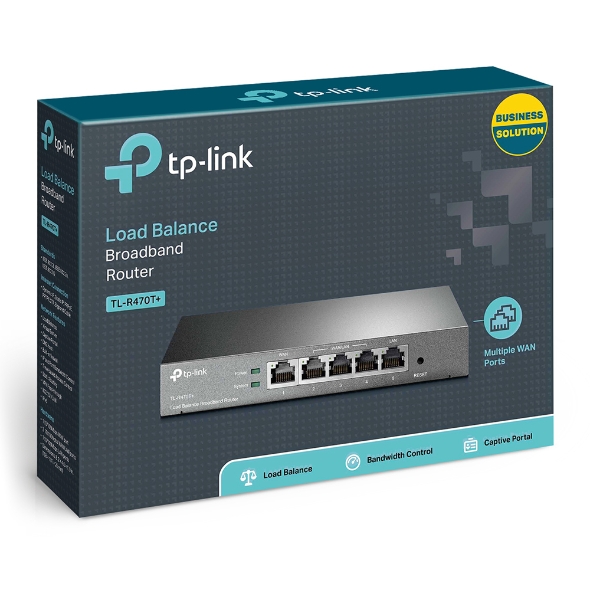 TL-R470T+
Loadbalance-Breitbandrouter
Frei konfigurierbare WAN/LAN-Ports für eine flexible Ressourcenzuordnung im Netzwerk
Mehrfache Leitungskapazität nutzbar, nutzt verschiedene Dienste, die von verschiedenen ISPs zur Verfügung gestellt werden
Internetzugang mit bis zu 4 WAN-Ports
Die Loadbalancing-Funktion wählt in Abhängigkeit zur Datenmenge automatisch die beste Leitung aus
Kleineres Gehäuse für eine kostengünstige Lösung für die Netzwerke kleiner Büros oder von Internetcafés
Produktfunktionalitäten
Der Loadbalance-Breitband-Router TL-R470T+ verfügt über eine größere Datenübertragungskapazität und -stabilität und ist kostengünstig für Netzwerke in lokalen Netzen wie Internetcafés und in kleinen Büros einsetzbar.
Drei wechselbare LAN/WAN-Ports
Der TL-R470T+ verfügt über drei konfigurierbare Schnittstellen, die entweder auf LAN oder auf WAN eingestellt werden können und die es dem Router ermöglichen, bis zu vier WAN-Ports zu unterstützen, um verschiedene Zugangsvoraussetzungen für das Internet mit Hilfe eines einzigen Geräts zu erfüllen. Der Router verfügt darüber hinaus auch über eine integrierte intelligente Loadbalancing-Funktion, welche je nach Datenlast und Bandbreitenbedarf automatisch die effizienteste Leitung auswählt und damit die Nutzer mit einer konsistenten Netzwerk-Uptime und einer zuverlässigen Ethernet-Konnektivität versorgt.
Werkseitig ist der TL-R470T+ standardmäßig auf dem Betrieb im Dual-WAN-Ports-Modus eingestellt: Ports 1 und 2 werden als WAN-Ports betrieben, während die Ports 3 bis 5 LAN-Ports sind.
Steuerung für eine Fluid-Networking-Experience
Durch die Integration mehrerer Loadbalancing-Strategien, der IP- und Port-basierten Bandbreitensteuerung, dem Session-Limit, der Domain-Filterung und der IP/MAC-Adressen-Filterung bietet der TL-R470T+ den Anwendern ein durchgängiges Netzwerkerlebnis ohne Verzögerungen und ohne Verbindungsabbrüche.
Leicht zu installieren und zu bedienen
Mit der benutzerfreundlichen webbasierten Steuerung, der Fernsteuerung und den Funktionen des Backup und zur Wiederherstellung von Daten bietet der TL-R470T+ viele umfangreiche Funktionen, die einfach einzusetzen und aufrecht zu erhalten sind. Dies gilt vor allem für Unternehmen, in denen es keine professionellen IT-Mitarbeiter gibt.
Hervorragende Leistung und hohe Stabilität
Der Router verfügt über einen Netzwerk-orientierten Prozessor mit einer 400MHz-Taktung für eine kraftvolle Rechnerleistung, ein internes Netzteil, das einen langfristigen, stabilen Betrieb ermöglicht, und einen professionellen Blitzschutz, der Ihre Investitionen so sicher wie möglich hält.
HARDWARE-FUNKTIONEN
Standards und Protokolle
IEEE802.3
IEEE802.3u
IEEE802.3x
TCP/IP, DHCP, ICMP, NAT, PPPoE, SNTP, HTTP, DNS
Schnittstelle
1 fixer Ethernet-WAN-Port
1 fixer Ethernet-LAN-Port
3 austauschbare Ethernet-WAN/LAN-Ports

Kabel
10BASE-T: UTP-Kabel der Kategorien 3, 4, 5 (maximal 100m)
EIA/TIA-568 100Ω STP (maximal 100m)
100BASE-TX: UTP-Kabel der Kategorien 5, 5e (maximal 100m)
EIA/TIA-568 100Ω STP (maximal 100m)

Taste
Reset
Spannungsversorgung
Internes Netzteil
100..240V, 50/60Hz Wechselspannung
Flash
4MB
DRAM
64MB
LED
PWR, SYS, WAN, LAN, WAN/LAN
Abmessungen (B*T*H)
209mm*126mm*26mm
GRUNDFUNKTIONEN
WAN-Verbindungstyp
Statische/Dynamische IP-Adresse, PPPoE, PPTP, L2TP, Dual Access, Bigpond Cable
Klonen der MAC-Adresse
WAN/LAN-MAC-Adresse änderbar
DHCP
DHCP-Server/Client
DHCP-Adressreservierung
Switch-Einstellungen
Portspiegelung
Datenratenkontrolle
Portkonfiguration
Port-VLAN
ERWEITERTE FUNKTIONEN
ACL
Filterung nach IP-/MAC-Adresse und URL
IGMP
IGMP Proxy/IGMP Snooping
Weiterleitung
Virtuelle Server
Port-Triggering
DMZ
Loadbalancing
Policy-Routing
Link-Backup
Routing
Statisches Routing
Sicherheit
FTP/SIP/PPTP/IPsec/H.323-ALG
DoS-Anwehr
Ping of Death
IP/MAC-Bindung
Traffickontrolle
QoS
Sitzungsbegrenzung
VERWALTUNG
Dienst
PPPoE-Server
E-Bulletin
Dynamisches DNS
UPnP
Anwendungsfilter
Wartung
Zeiteinstellung, Diagnose, Firmwareupgrade, Reset, Neustart, Konfigurationsbackup und -restore, Systemprotokoll, Fernwartung, Statistiken
SONSTIGES
Zertifizierung
CE
FCC
RoHS
Verpackungsinhalt
TL-R470T+
Spannungskabel
RJ45-Ethernet-Kabel
Konfigurationsanleitung für WAN/LAN-Ports
CD
Systemanforderungen
Microsoft® Windows® 10, 8, 7, Vista™, XP, 2000, 98SE, 98, 95
MacOS®
NetWare®
UNIX®
Linux
Temperatur
Betrieb: 0°C..40°C
Lagerung: -40°C..70°C
Umgebung
Betriebstemperatur: 0°C..40°C
Lagertemperatur: -40°C..70°C
Betriebsfeuchtigkeit: 10%..90%, nicht kondensierend
Lagerfeuchtigkeit: 5%..90%, nicht kondensierend
Subscription Für TP-Link ist Datenschutz sehr wichtig. Weitere Informationen zu unseren Datenschutzbedingungen finden Sie in der Datenschutzerklärung von TP-Link.
From United States?
Check products and services for your region.