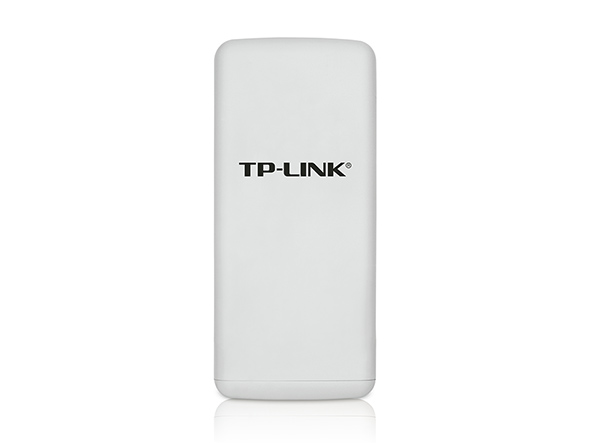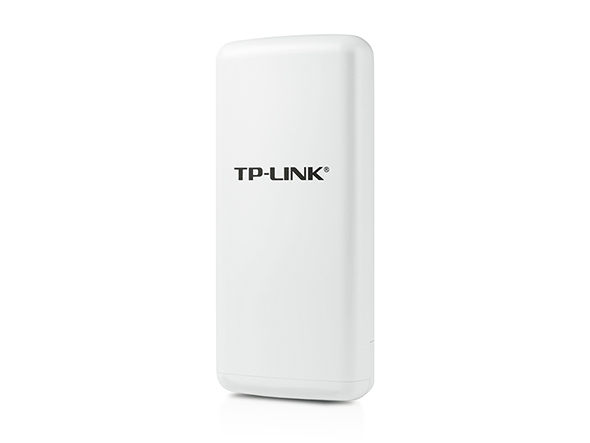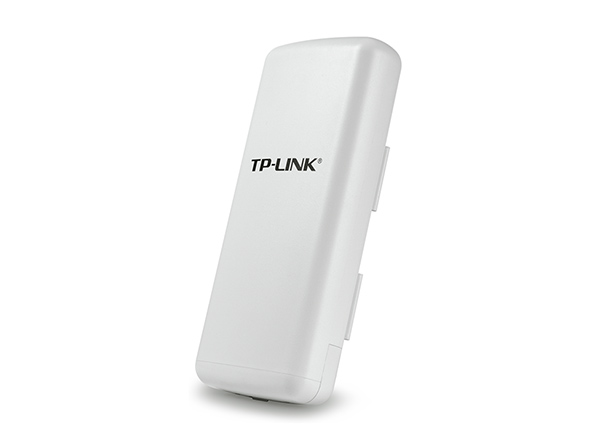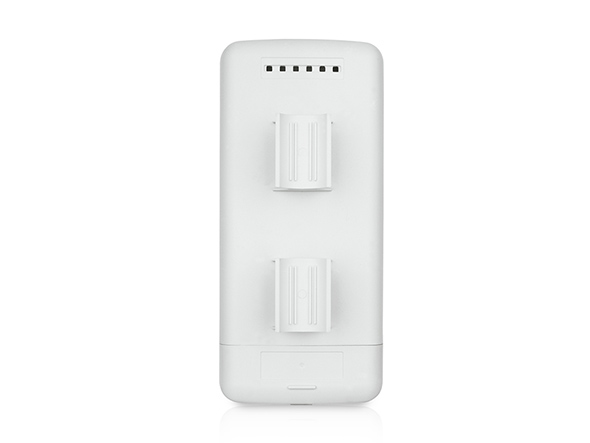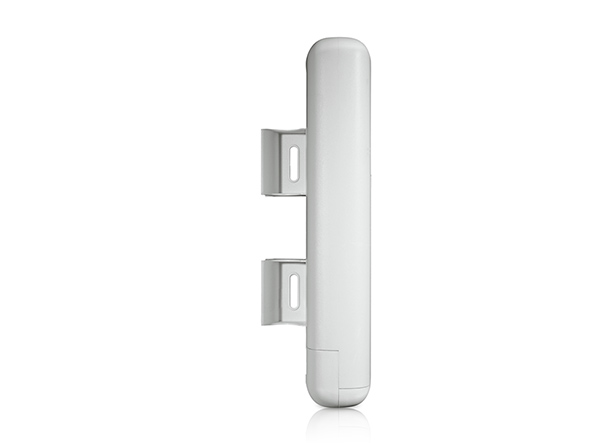 2.4GHz High Power Wireless Outdoor CPE
Voldoet aan IEEE 802.11b/g, draadloze snelheid tot 54Mbps
Weerbestendig met 4000V bliksem-/15kV ESD-beveiliging
12dBi dual-gepolariseerde antenne voor WiFi-verbindingen tot 15km
Met hoog vermogen om uw signaaldekking en verbindingssnelheid te verhogen
Passive Power over Ethernet (PPoE) voor een flexibele inzetbaarheid
De TL-WA5210G 2,4GHz High Power Draadloze Outdoor CPE is bedoeld voor WISP CPE toepassing en draadloos netwerk toepassingen voor grote afstanden.
Het is een multifunctioneel access point voor buiten, ontworpen voor kleine ondernemingen,
kantoren en huizen met behoefte voor een buitennetwerk.
Waterdicht ontwerp, duurzame toepassing voor in de open lucht
De TL-WA5210G is ontworpen om in een ruwe omgeving in de open lucht te werken. Gebouwd met een waterdichte behuizing voor in de open lucht en met interne hardware met hoge temperatuurbestendigheid (-30°C~70°C), kan de AP op plaatsen werken in extreem slechte weersomstandigheden. De ingebouwde 4000V verlichting en 15KV ESD beschermingsontwerp bieden bovendien bescherming tegen storm en bliksemstoten en waarborgen een betrouwbare werking.
Weerbestendig

materiaal

Uitgerust met een weerbestendige behuizing en materiaal bestend tegen hoge temperaturen, zoals een aluminuim antenne en hoogwaardige componenten. De CPE kan gebruikt worden in verschillende weersomstandigheden, van droog tot vochtig, van temperaturen van -30 graden tot 70+ graden.
15KV

ESD Bescherming

Elektrostatische ontlading is een serieus probleem in solid state electronics, vooral in droge omgevingen. De geïntegreerde schakelingen in de producten kunnen worden beschadigd door hoge elektrostatische voltages. TP-LINK's ingebouwde ESD beschermingsschakelingen voorkomt dit en verzekert betrouwbare werking.
4000V

Bescherming tegen Blikseminslag &


Grounding Terminal

geïntegreerd

Een van de grootste uitdagingen voor buitenproducten zijn onweer, vanwege de hoge voltage die door de bliksem kan inslaan in het product en daarmee grote schade kan aanrichten aan bijvoorbeeld de antenne of zelfs ethernetpoorten. TP-LINK biedt een product met ingebouwde grounding terminal en 4000V blikseminslag bescherming, om storm en bliksem schade te voorkomen.
Grote afstanden in de open lucht, doorbreek de beperking van Wi-Fi.
De TL-WA5210G heeft 12dBi dubbel gepolariseerde antennes, wat de sleuteleigenschap is voor het aanleggen
van een grote-afstands WiFi verbinding. Met de ACK software met aanpasbare timeout door de afstand tussen twee AP's in
te stellen, stelt het u in staat de timeout waarde tot 15km in te stellen voor grote afstanden
in de open lucht, of zelfs 52km met ondersteuning van een antenne met grote versterking
Groot
Vermogen

en hoge

Ontvangstgevoeligheid

Net als een groot volume speaker om uw geluid verder te brengen, heeft het apparaat veel vermogen voor hogere snelheden bij een verder bereik voor grote afstandsapplicaties, wat uw netwerk de flexibiliteit geeft om verder te gaan. Signaaldegradatie bij het overbruggen van grote afstanden wordt verminderd door het gebruik van hoge RX gevoeligheid, wat inhoudt dat u een hogere snelheid krijgt bij grote afstanden, net als een hoge gevoeligheidshoofdtelefoon, wat de AP toestaat de zwakste signalen te detecteren en te ontvangen. Door het samenwerken van deze twee aspecten wordt gewaarborgd dat de signalen verder gaan en hogere snelheden geven bij dezelfde afstand dan normale.
12dBi

Dual Polarized Antenne

De CPE bevat een krachtige 12dBi Dual-Polarized antenne in de behuizing, om een maximale overdrachtsafstand en verbindingsstabiliteit te leveren. De Dual Polarized antenne kan verticaal of horizontaal worden ingesteld om compatibel te zijn met hoge aantallen WISPs.
1. WISP Cliënt
Cliënt router modus voor WISP service
2. Internet delen
Vebind met het draadloze lange afstandsnetwerk
3. Draadloos Toezicht
Toezichtsmogelijkheden over lange afstand via wireless
CPE510
CPE210
TL-WA7510N
TL-WA7210N
TL-WA5210G

Draadloze Prestatie

Draadloze Snelheid

5GHz 300Mbps

2.4GHz 300Mbps

5GHz 150Mbps

2.4GHz 150Mbps

2.4GHz 54Mbps

Zendvermogen

27dBm

27dBm

27dBm

27dBm

27dBm

Antenne

13dBi

9dBi

15dBi

12dBi

12dBi

MIMO

√

√

-

-

-

Bereik

15km+

5km+

5km+

5km+

2km+

Hardware

Processor

560MHz

560MHz

400MHz

400MHz

180MHz

Geheugen

64MB DDR2

64MB DDR2

32MB DDR

32MB DDR

16MB DDR

Compatibiliteit

802.11a/n

802.11b/g/n

802.11a/n

802.11b/g/n

802.11 b/g

Interface Externe Antenne

-

-

1 * RP-SMA

1 * RP-SMA

1 * RP-SMA

Weerbestendige Behuizing

√(IPX5)

√(IPX5)

√

√

√

Dual Ethernet Poorten

√

√

-

-

-

PoE Doorvoer

√

√

-

-

-

Grounding Terminal

√

√

√

√

√

Bescherming tegen Blikseminslag
via Ethernet Kabel

√

√

-

-

-

ESD Bescherming

15kV

15kV

15kV

15kV

15kV

Bescherming tegen Blikseminslag

6kV

6kV

4kV

4kV

4kV

Strooomvoorziening

24V Passieve PoE
Adapter
24V Passieve PoE
Adapter

12V Voedingsadapter + Passieve PoE Injector

Software

Werkmodus

AP / Client / Bridge / Repeater / AP Client Router (WISP Client) / AP Router Modus

MAXtream TDMA Modus

√

√

-

-

-

Bandbreedte Kanaal

5/10/20/40MHz

5/10/20/40MHz

20/40MHz

20/40MHz

20MHz

Transmit Energiebeheer

Stepping 1dBm

Stepping 1dBm

Stepping 3dBm

Stepping 3dBm

-

Antenne Afstemming

√

√

√

√

√

Throughtput Monitors

√

√

-

-

-

Spectrum Analyzer

√

√

-

-

-

Iperf Speed Test Tool

√

√

-

-

-

Pharos Beheer Ondersteuning
(Centraal Netwerk Management)

√

√

-

-

-
Wireless Networking for Elevators

TP-Link offers wireless point to point link delivering up to 300 Mbps throughput. The point to point link provides wireless coverage to the entire shaft, and delivers network to the elevator car, connecting the surveillance cameras or digital signage. So that real time video can be recorded to a DVR without hard wiring coax cable directly from the camera to the recorder.

Easy, Flexible Installation
Stable Connections at High-Speeds
Ideal for Elevator Camera
No Complex Cabling
PoE Support
Peru WISP

TP-Link Helps WISP to Provide Reliable Wireless Connectivity in Peru

Peru WISP

TP-Link Helps WISP to Provide Reliable Wireless Connectivity in Peru

"The performance of CPE was better than expected, working stable even with -85 dBm of received power." —David Grillo, Engineer, Kroton

ADINET WISP in Indonesia

TP-Link Helps Local WISP Provide Long Distance Wireless Connectivity in Indonesia

ADINET WISP in Indonesia

TP-Link Helps Local WISP Provide Long Distance Wireless Connectivity in Indonesia

"Amazing! The performance of the Pharos Wireless Broadband Solution has exceeded even our wildest expectations." —Bagus Prakoso, Owner of ADINET
Functionaliteit van de Hardware
Interface
1 10/100Mbps Auto-Sensing RJ45-poort (Auto MDI/MDIX, PoE)
1 externe SMA-connector met omgekeerde polariteit, 1 aardverbindingsklem

Knop
Reset-knop
Externe Voeding
12VDC / 1,0A lineaire PSU
Standaarden voor Draadloze Netwerken
IEEE 802.11g, IEEE 802.11b
Afmetingen ( B x D x H )
10,4 x 4,7 x 3,2 " (265 x 120 x 83 mm)
Antenne
12dBi dual-gepolariseerde directionele antenne
Beambreedte Antenne
Horizontaal: 60° Verticaal: 30°
Beveiliging
15kV ESD-beveiliging,
4000V bliksembeveiliging
Geïntegreerde aardverbindingsklem
Draadloze Functies
Frequentie
2,4-2,4835 GHz
Overdrachtssnelheid
11g: Tot 54Mbps (dynamisch)
11b: Tot 11Mbps (dynamisch)
Ontvangstgevoeligheid
802.11g 54M: -76dBm 48M: -78dBm 36M: -82dBm 12M: -91dBm 9M:-92dBm 802.11b 11M:-90dBm 5,5M:-92dBm 1M:-98dBm
Draadloos Zendvermogen
<20dBm (EIRP, voor landen met CE-normering)
<27dBm (piekvermogen, voor landen met FCC-normering)
Draadloze Modi
AP router-modus, AP Client router-modus (WISP Clent) AP/Client/WDS Bridge/Repeater-modus
Draadloze Functies
WDS Bridge, Draadloze Statistics
Draadloze Beveiliging
SSID Enable/Disable MAC Address Filter 64/128/152-bit WEP-encryptie WPA/WPA2/WPA-PSK/WPA2-PSK (AES/TKIP) encryptie

Bereik Draadloos Netwerk
15km met geïntegreerde antenne 50 km maximaal (high-gain directionele antenne vereist)
Geavanceerde Functies
PoE wordt ondersteund tot op 60 meter
Met 4-traps signaal LED-indicator
Overige
Certificatie
CE, FCC, RoHS
Pakketinhoud
TL-WA5210G
Voedingseenheid
Stroominjector
CD met extra tools
Gids voor snelle installatie
Systeemvereisten
Microsoft Windows 98SE, NT, 2000, XP, Vista™ of Windows 7, MAC OS, NetWare, UNIX of Linux.
Omgeving
Bedrijfstemperatuur: -30°C~70°C (-22℉~158℉)
Opslagtemperatuur: -40 °C – 70 °C (-40 °F – 158 °F)
Luchtvochtigheid in bedrijf: 10% ~ 90% zonder condens
Luchtvochtigheid in opslag: 5% ~ 95% zonder condens
Awards

Selection of Experts

TL-WA5210G got Selection of Experts award from it-word in Russia 2011 Russia

2011, Russia
AbonneerTP-Link hecht veel waarde aan privacy. Voor meer informatie over ons privacybeleid kan je onze Privacy Policy bekijken.
Krijg updates over nieuwe producten, samenwerkingen en ander interessant nieuws
From United States?
Check products and services for your region.