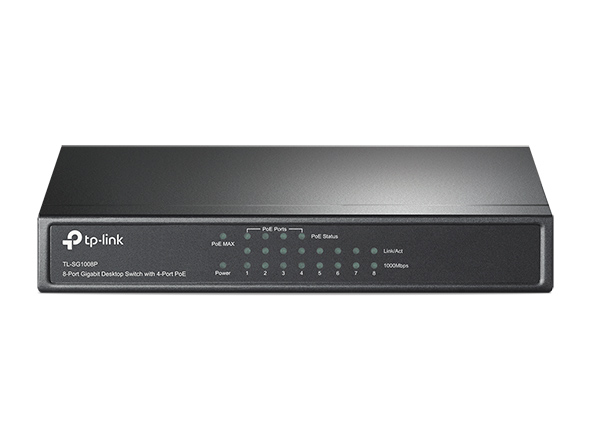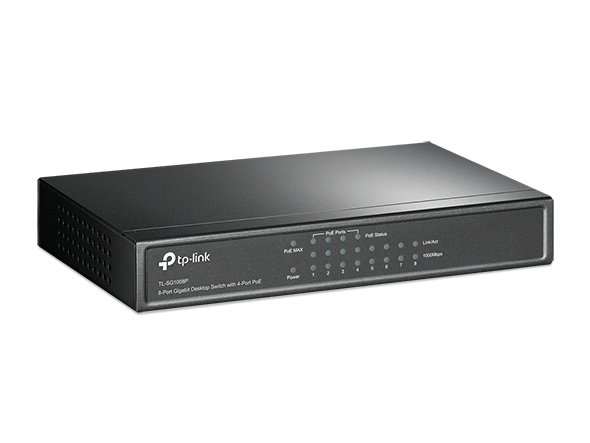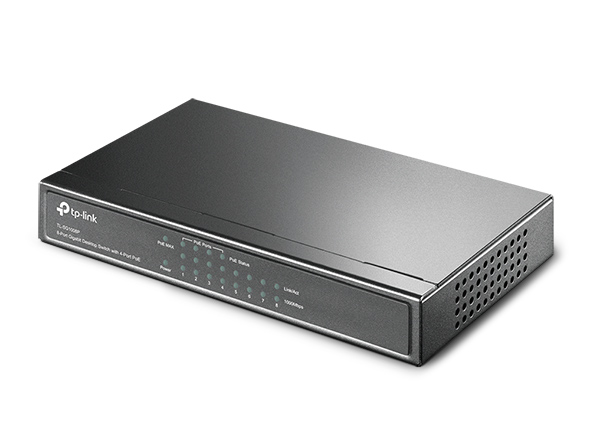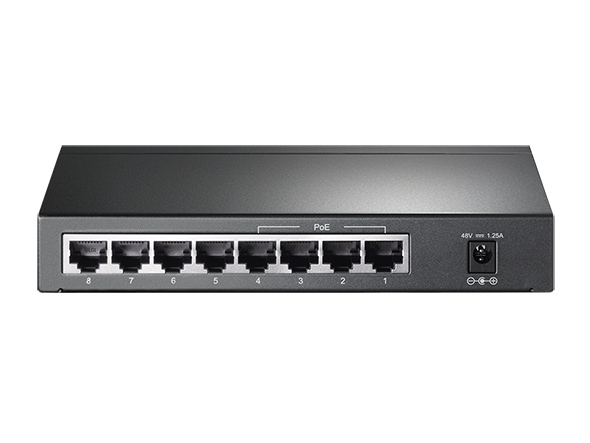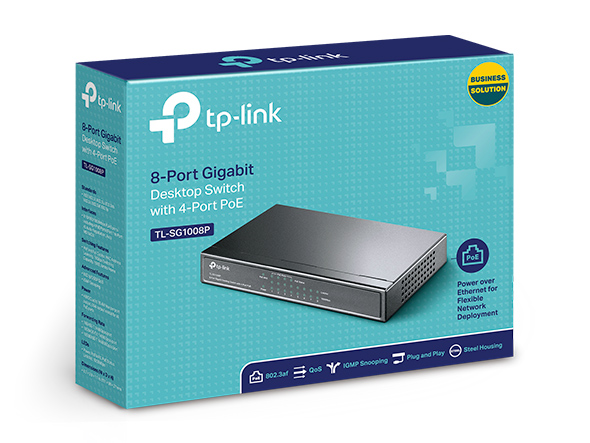 TL-SG1008P
Gigabit desktop switch met 8 aansluitingen waarvan op 4 met PoE
8 x 10/100/1000 Mbps RJ45 aansluitingen
Op vier PoE aansluitingen gaan data en voeding via één kabel
Werkt met IEEE 802.3af conforme PD's, uitbreiding van thuis- of kantoornetwerk
Geen configuratie of installatie nodig 
*Prioriteit (aansl.1>aansl.2>aansl.3>aansl.4): Deze functie helpt het systeem te beschermen als de stroomtoevoer overbelast wordt. Als aansluiting 1, 2 en 4 bijvoorbeeld elk 15,4 W gebruiken (max. stroomtoevoer per aansluiting is 15,4 W), is de stroomtoevoer naar het systeem 46,2 W in totaal (PoE max. lampje is rood). Als er dan nog een PD met 10 W op aansluiting 3 wordt aangesloten, sluit het systeem aansluiting 4 af om het systeem te beschermen. Dit betekent dat aansluiting 1 en 2 elk 15,4 W gebruiken en aansluiting 3 10 W. Aansluiting 4 heeft dan geen stroomtoevoer.
De Gigabit desktop switch met 8 aansluitingen en PoE op 4 daarvan maakt naadloze netwerk­aansluitingen mogelijk. Hij beschikt over 1000 Mbps Gigabit Ethernet en 10/100 Mbps Fast Ethernet capaciteit.
De TL-SG1008P is eenvoudig te installeren en te gebruiken. Er is geen configuratie of installatie nodig. Met zijn desktop vormgeving, uitstekende prestaties en kwaliteit is de TL-SG1008P met 8 Gigabit aansluitingen waarvan 4 met PoE van TP-LINK een uitstekende keuze voor het uitbreiden van uw thuis- of kantoornetwerk.
Vier van de acht Auto-Negotiation RJ45 aansluitingen (aansluiting 1 t/m 4) van de switch ondersteunen de Power over Ethernet (PoE) functie. Deze PoE aansluitingen kunnen automatisch IEEE 802.3af conforme Powered Devices (PD's) detecteren en die van stroom voorzien. In deze situatie vindt de stroomtoevoer tezamen met de datatransmissie via één kabel plaats, zodat u uw netwerk kunt uitbreiden naar plaatsen waar geen stroomtoevoer is en u apparaten zoals AP's, IP-camera's, of IP-telefoons wilt installeren.
De TL-SG1008P heeft een prioriteit* functie, die het systeem beschermt tegen overbelasting. Als het stroomverbruik van alle PoE PD's >= 53 W is, wordt er een prioriteit aan de PoE aansluitingen toegewezen, waarna het systeem de stroomtoevoer naar de aansluiting met de laagste prioriteit afsluit.
Functionaliteit van de Hardware
Interface
8 x 10/100/1000 Mbps RJ45 aansluitingen
AUTO Negotiation/AUTO MDI/MDIX
Netwerkmedia

10BASE-T: UTP categorie 3, 4, 5 kabel (max. 100 m)
EIA/TIA-568 100 Ω STP (max. 100 m)
100BASE-TX: UTP categorie 5, 5e kabel (max. 100 m)
EIA/TIA-568 100 Ω STP (max. 100 m)
1000BASE-T: UTP categorie 5, 5e, 6 of hoger kabel (max. 100 m)
EIA/TIA-568 100 Ω STP (max. 100 m)
Ventilator Aantal
Fanless
Physical Security Lock
No
Energieverbruik
6.7*3.9*1.1 in. (171*98*27 mm)
Externe Voeding
Externe voedingsadapter (uitgang: 48 VDC / 1,25 A)
Backup-Bandbreedte
16Gbps
PoE Ports (RJ45)
4
Backbound Bandbreedte
16Gbps
Adressentabel MAC
1K
Buffergrootte
2Mbits
Afmetingen ( B x D x H )
6.7*3.9*1.1 in. (171*98*27 mm)
Max Power Consumption
5.49W(220/50Hz. no PD connected)65.24W(220/50Hz. with 55W PD connected)
Max Heat Dissipation
18.73BTU/h(no PD connected)222.60BTU/h(with 55W PD connected)
Functionaliteit van de Software
Overdrachtsmethode
Store-And-Forward

Transmissie Methode
Store-And-Forward
Geavanceerde Functies
Compatibel met IEEE 802.3af conforme PD's
Prioriteit functie
Mac-adres Auto-Learning en Auto-Aging
IEEE802.3x Flow Control voor full-duplex modus en Backpressure voor half-duplex modus
Overige
Certificatie
FCC, CE

Pakketinhoud
TL-SG1008P, voedingsadapter, gebruikershandleiding
Systeemvereisten
Microsoft® Windows® XP, Vista™ or Windows 7, Windows 8, MAC® OS, NetWare®, UNIX® or Linux.
Omgeving
TL-SG1008P, voedingsadapter, gebruikershandleiding
Awards

Recommended

TL-SG1008P received the Recommended Award from Hexus in UK

2013, UK
Subscription
TP-Link hecht veel waarde aan privacy. Voor meer informatie over ons privacybeleid kan je onze Privacy Policy bekijken.