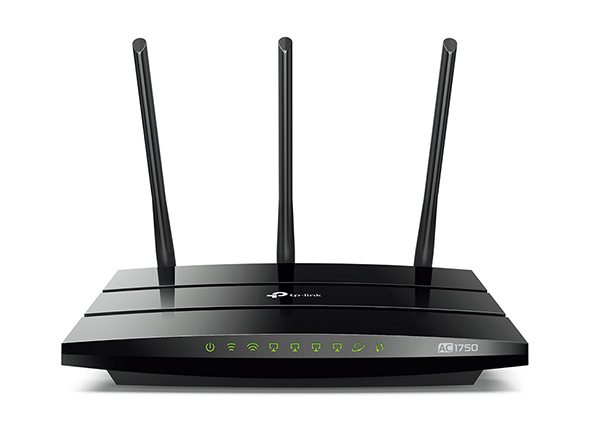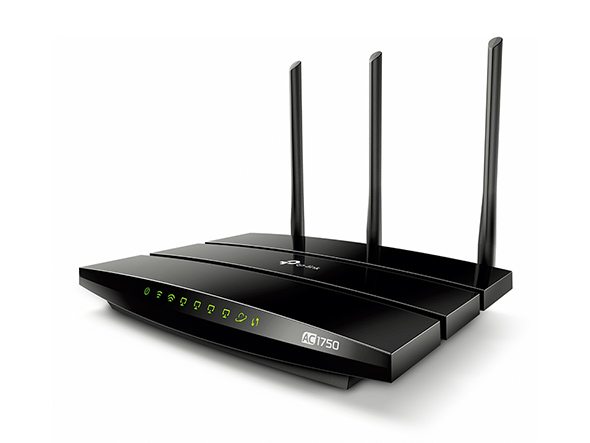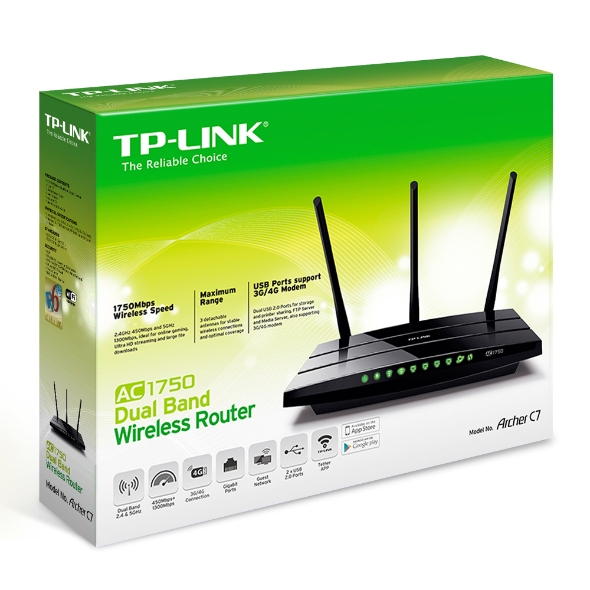 AC1750 Draadloze dubbelband gigabit router Archer C7
Ondersteunt de 802.11ac standaard - de volgende generatie Wi-Fi
Gelijktijdige 2,4 GHz 450 Mbps en 5 GHz 1300 Mbps verbindingen voor in totaal 1,75 Gbps beschikbare bandbreedte
3 x 5 dBi externe antennes en 3 interne antennes bieden maximale omnidirectionele draadloos dekking en betrouwbaarheid
Twee USB-aansluitingen om gemakkelijk printers, bestanden en media met vrienden of familie lokaal of via het Internet te delen
Guest Network Access biedt beveiligd gebruik van Wi-Fi voor gasten die uw thuis- of kantoornetwerk willen gebruiken 
802.11ac
De volgende generatie Wi-Fi
De Archer C7 van TP-LINK is uitgerust volgens de nieuwe Wi-Fi generatie 802.11ac, 3 maal sneller dan draadloos N en met een gecombineerde draadloze datatransmissie tot 1,75 Gbps. Met een 1,3 Gbps draadloos snelheid via de kristalheldere 5 GHz band en 450 Mbps via de 2,4 GHz band is de Archer C7 de allerbeste keuze voor naadloze HD streaming, online gaming en andere bandbreedte-intensieve taken.
1,75 Gbps dual band verbindingen voor vertragingsvrij werken en entertainment
De Archer C7 werkt op de 2,4 GHz en 5 GHz band, met een draadloos snelheid waar je versteld van staat. Twee banden tegelijk biedt de flexibiliteit van twee afzonderlijke netwerken, met meermaals de bandbreedte die u nodig hebt. Eenvoudige taken zoals e-mail verzenden of surfen worden op de 2,4 GHz band verwerkt, terwijl bandbreedte-intensieve taken zoals online gaming of HD video streaming op de 5 GHZ band plaatsvinden – en dat alles tegelijk.
6 Antennes voor de grootst mogelijke dekking
Met 3 externe 5 dBi antennes voor de 5 GHz band en 3 interne antennes voor de 2,4 GHz band, gecombineerd met antennetechniek van hoge kwaliteit, behoudt u hogere snelheden over grotere afstanden. Hierdoor beschikt u over een enorme draadloos dekking en betrouwbaarheid overal in uw grote woning of kantoor.
2.4GHZ

3 optimaal geplaatste interne antennes reduceren potentiële onderbrekingen van andere kanalen, met als resultaat verbeterde prestaties.
5GHz 5dBi

3 externe antennes maken volledig gebruik van de 5GHz draadloze band, wat zorgt voor het doorkomen van een sterker draadloos signaal.
Twee multifunctionele USB-aansluitingen voor opslag en delen
Multifunctionele USB-aansluitingen - 2 USB 2.0 aansluiting Een printer lokaal delen en bestanden en media met apparaten in het netwerk of op afstand via FTP Server delen.
FTP Server
Media Server
Opslag Deling
Printer Deling
Volledige gigabit kabelverbindingen voor supersnelle datatransmissie
Met één gigabit WAN- en vier gigabit LAN-aansluitingen kan de snelheid tot 10x maal hoger zijn dan met een standaard ethernetaansluiting. De Archer C7 is zeer krachtig en kan een robuust en supersnel bekabeld netwerk ondersteunen.
Gastnetwerk

Het gastnetwerk biedt aan gasten die uw thuis- of kantoornetwerk willen gebruiken beveiligde Wi-Fi toegang, op een gecontroleerde manier en zonder dat u privé Wi-Fi toegangscodes of andere persoonlijke gegevens hoeft vrij te geven.

IPv6 Ondersteuning

De Archer C2 ondersteunt IPv6, dat fundamenteel is voor de volgende generatie Internet en een reeks nieuwe diensten en betere gebruikservaring mogelijk maakt.

Eenvoudige installatie

Het geoptimaliseerde configuratie hulpprogramma van TP-LINK op de meegeleverde CD helpt gebruikers met het installeren van de software en instellen van het draadloze netwerk binnen een paar minuten.
Functionaliteit van de Hardware
Interface
4 x 10/100/1000 Mbps LAN-aansluitingen
1 x 10/100/1000 Mbps WAN-aansluiting
2 x USB 2.0-aansluiting
Knop
WPS/Reset toets
Draadloos aan/uit toets
Aan/uit toets
Antenne
Drie afneembare 5 GHz 5 dBi antennes (RP-SMA)
Drie 2,4 GHz interne antennes
Externe Voeding
12 V DC / 2,5 A
Afmetingen ( B x D x H )
243x160,6x32,5 mm
Type Antenne
Three detachable antennas ( RP-SMA)
Draadloze Functies
Standaarden voor Draadloze Netwerken
IEEE 802.11ac/n/a 5 GHz
IEEE 802.11b/g/n 2,4 GHz
Frequentie
2,4 GHz en 5 GHz
Overdrachtssnelheid
5 GHz: tot 1300 Mbps
2,4 GHz: tot 450 Mbps
Ontvangstgevoeligheid
5 GHz:
11a 6 Mbps-96 dBm
11a 54 Mbps: -79 dBm
11ac HT20: -71 dBm
11ac HT40: -66 dBm
11ac HT80: -63 dBm
2,4 GHz
11g 54M: -77 dBm
11n HT20: -74 dBm
11n HT40: -72 dBm
Draadloos Zendvermogen
CE:
<20dBm(2.4GHz)
<23dBm(5GHz)
FCC:
<30dBm
Draadloze Functies
Draadloos radio aan/uit, WDS Bridge, WMM, draadloos statistieken
Draadloze Beveiliging
64-/128-bits WEP,WPA / WPA2,WPA-PSK/ WPA2-PSK versleuteling
Functionaliteit van de Software
Kwaliteit van de Dienst (QoS)
WMM, bandbreedte regeling
WAN-Type
Dynamic IP/Static IP/PPPoE/
PPTP (Dual Access)/L2TP (Dual Access)/BigPond
Management
Access Control
Local Management
Remote Management
DHCP
Server, Client, DHCP Client List,
Address Reservation
Poort Doorsturen
Virtual Server, Port Triggering, UPnP, DMZ
Dynamische DNS
DynDns, Comexe, NO-IP
VPN-Doorvoer
PPTP, L2TP, IPSec
Toegangsbeheer
Parental Control, Local Management Control, Host List, Access Schedule, Rule Management
Firewallbeveiliging
DoS, SPI Firewall
IP Address Filter/MAC Address Filter/Domain Filter
IP en MAC Address Binding
Protocollen
Ondersteunt IPv4 en IPv6
USB Deling
Ondersteuning voor Samba (opslag)/FTP server/Media Server/Printer Server
Gastnetwerk
2,4 GHz gastnetwerk × 1
5 GHz gastnetwerk × 1
Overige
Certificatie
CE, FCC, RoHS
Pakketinhoud
Archer C7 AC1750 Draadloze Dual Band Gigabit Router Archer C7
3 Afneembare antennes
Stroomadapter
Installatie CD
Ethernet Cable
Snelstart gids
Systeemvereisten
Microsoft Windows 98SE, NT, 2000, XP, Vista™ of Windows 7, Windows 8, MAC OS, NetWare, UNIX of Linux.
Omgeving
Gebruikstemperatuur: 0℃~40℃
Bewaartemperatuur: -40℃~70℃
Rel. luchtvochtigheid gebruik: 10%~90%, niet-condenserend
Rel. luchtvochtigheid opslag: 5%~90%, niet-condenserend
Reviews

It's one of the less expensive performers, In return for that price, web surfers get a solid, consistent 802.11 ac signal. The Archer's key strength is its powerful antennae, which beam both 2.4 GHz and 5GHz signals throughout homes.

The best router for most people is the Archer C7 ($100). It's a dual-band 802.11ac router, meaning it can run both 2.4GHz and 5 GHz Wi-Fi networks, and it supports the fastest Wi-Fi speeds of every wireless device you can buy, including the MacBook Pro, the Samsung Galaxy S6 or the brand-new iPhone 6s. The Archer C7 is faster over longer distances than most routers that cost $150 or more, and it's the best value of the more than two dozen routers The Wirecutter tested in the last two years.
Awards

Price Tip

ArcherC7 won award from CHIP Test&Kauf in Germany.

2013, Germany

Performance

Archer C7 received a performance award from Play3r in UK.

2013, UK

Product of the Year

Archer C7 won Product of the Year from PCKOLOJİ magazine in Turkey.

2013, Turkey

BEST PRODUCT 2014

Archer C7 has received award BEST PRODUCT 2014 – SILVER from PUREPC.PL.

2015, Poland