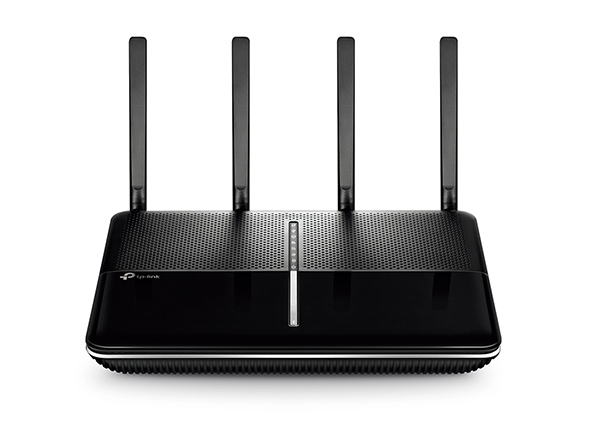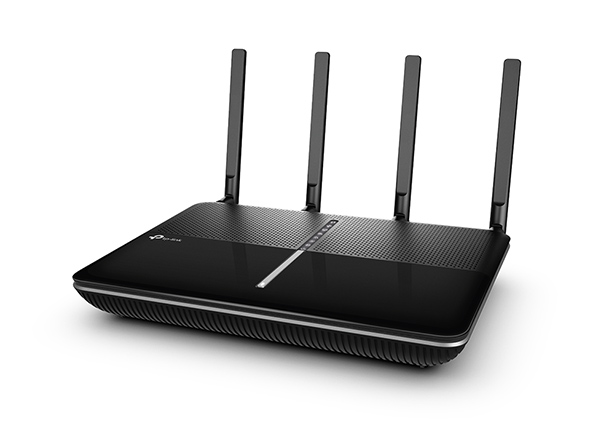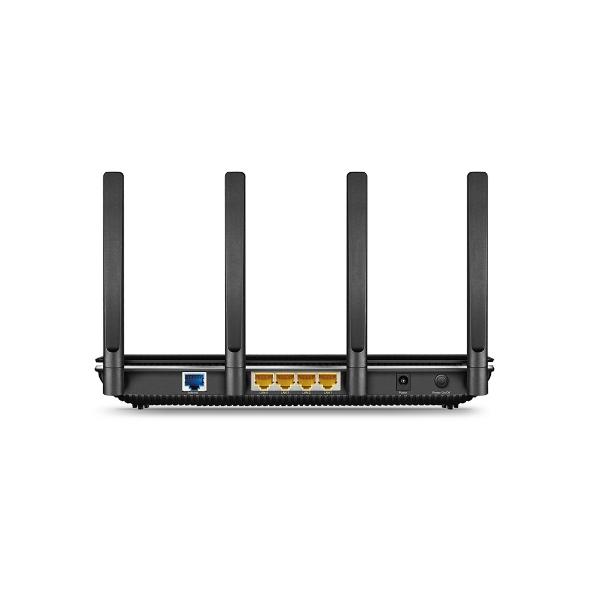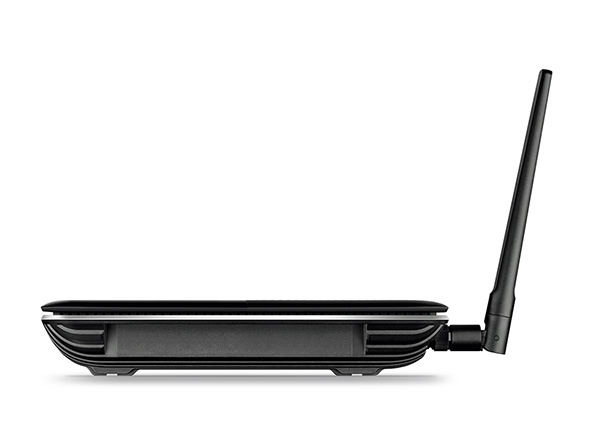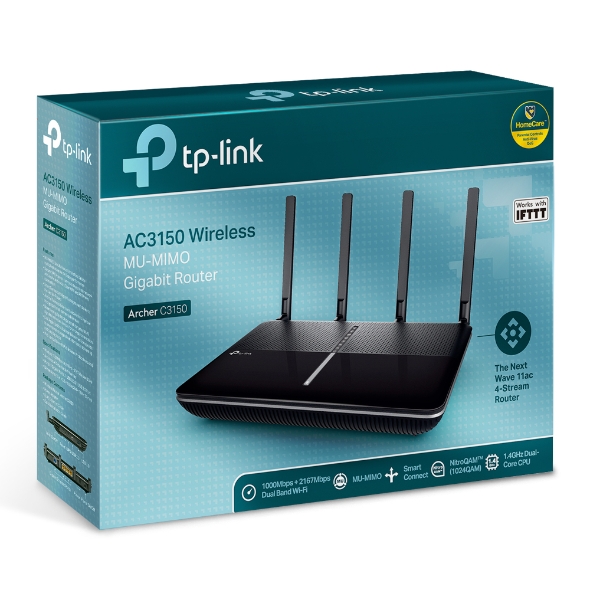 Archer C3150
AC3150 Wireless MU-MIMO Gigabit Router
Boost Your Wi-Fi — The Archer C3150 runs at combined speeds of up to 3150Mbps across its 2.4GHz and 5GHz bands
Larger Data Streams — Broadcom® NitroQAM™(1024-QAM) technology with 4-Stream lets the Archer C3150 transmit 25% more data
Multiple Reliable Connections — MU-MIMO(Multi-User MIMO) technology allows the router to run several devices at the same time to achieve speeds up to 4X faster than standard AC routers
Higher Efficiency — Beamforming technology delivers highly efficient wireless connection
Smoother Performance — Smart Connect technology assigns each of your devices to the best available Wi-Fi band
Powerful Processing — A 1.4GHz dual-core processor ensures simultaneous browsing, streaming, and gaming without delay
Sneller Wifi
Ongelofelijke snelheid
NitroQAM
MU-MIMO
Entertainment
Krachtige CPU
Maximale Dekking
Elegant Ontwerp
Gigabit Bedraad
Makkelijk in te stellen
Rijke Functionaliteit
Sneller Wifi
voor elk apparaat
More Games.
More Movies.
More Fun.
Draadloos MU-MIMO Gigabit Router
Maakt ongelooflijke snelheden werkelijkheid
Met gecombineerde snelheden tot 3150Mbps kan de Archer C3150 gemakkelijk veeleisende activiteiten tegelijkertijd aan. De router gebruikt de recentste innovaties op het gebied van wifi technologie om een sneller, sterker en betrouwbaarder draadloos netwerk voor thuis te creëren. Met de Archer C3150 behoren vertragingen, verbroken verbindingen en dode zones tot het verleden.
3167
Mbps
NitroQAM en 4-Stream voor Maximale Wifi Snelheden
De Archer C3150 heeft een krachtige combinatie van geavanceerde Broadcom® NitroQAM™ Technologie en 4-stream technologie, die draadloze snelheden verhoogt met 25%. Dit zorgt voor de snelheid en elite prestaties die u nodig heeft om de meeste van uw veeleisende online applicaties te beheren, inclusief simultaan 4K streamen en online gamen.
0
BOOST
C3150 V2
Vorige generatie
2.4GHz1000Mbps
5GHz2167Mbps

Meer verbindingen en meer snelheid voor iedereen
De Archer C3150 doet meer dan alleen sneller wifi creëren, het helpt u ook om optimale prestaties te bereiken op uw apparaten door communicaties efficiënter te maken. Met de MU-MIMO technologie, kan de Archer C3150 vier gelijktijdige datastromen bieden, wat alle verbonden apparaten toestaat om snelheden te behalen die wel 4x sneller zijn dan standaard AC routers.
Bovendien selecteert dynamisch Smart Connect technologie de beste beschikbare verbinding voor elk apparaat.
Archer C3150 V2

Router verstuurt gelijktijdig data naar meerdere apparaten voor hogere snelheden
Traditionele SU-MIMO

(Single-gebruiker MIMO) Router verstuurt data naar een apparaat wat voor meer onderbrekeingen zorgt
Buitengewone Home Entertainment
Archer C3150 kan veel apparaten ondersteunen,wat bijvoorbeeld handig is wanneer uw vrienden langskomen en gebruik willen maken van het internet.De router kan meerdere simultane HD streaming,gaming en andere consumpties handhaven zonder vertragingen.De Archer C3150 kan een gemaximaliseerde dekking bieden en zorgt ervoor dat uw apparaten verbonden blijven,dicht of ver van de router vandaan.Laat uw mobiele levensstijl het streamen niet stoppen en geniet van uw huisfeest.
Airtime Fairness voor efficiëntere Wifi verdeling
Iedereen heeft er mee te maken, internet wat vertraagt wanneer er meerdere apparaten op hetzelfde moment verbinding proberen te maken met wifi.
Smartphones, laptops en tablets maken gebruik van oudere wifi standaarden en kunnen uw thuisnetwerk daardoor vertragen.
De Archer C3150 kan met Airtime Fairness de verbinding gelijkmatig verdelen over nieuwere en oudere apparaten om zo de wifi prestaties en betrouwbaarheid in het geheel te verbeteren,
zonder dat oudere apparaten uw netwerk zullen limiteren.
Met
Airtime Fairness
Zonder
Airtime Fairness

Data
De kracht in het hart van uw router
In tegenstelling tot normale routers, welke over single core processors beschikken, kenmerkt de Archer C3150 een krachtige 1.4 GHz dual-core processor. Dit opent het volledige potentieel van MU-MIMO en 4-stream technologiën, die u helpen om de potentiële maximale prestaties uit uw dual-band te halen.
5GHz
Co-processors
1.4GHz Dual-Core Processor
2.4GHz
Co-processors
Dekking voor uw gehele huis
Vier hoge-prestatie dual-band antennes en high-powered versterkers helpen een sterk en verreikende netwerk voor uw huis te creëren. Beamforming technologie focust op de wifi overdracht in de richting van uw verbonden apparaten, concentrerend op het signaal waar u het het meest nodig heeft. Dit biedt u de mogelijkheid om te genieten van snelle, stabiele wifi overal in uw huis, maar ook op het terras, bij het zwembad en zelfs in de tuin.
Vier hoge-prestatie dual-band antennes en high-powered versterkers helpen een sterk en verreikend netwerk voor uw huis te creëren.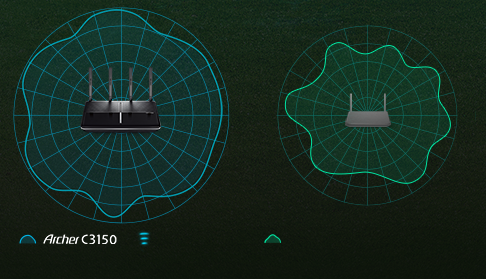 Beamforming
Andere Router zonder Beamforming
Een router waarmee u indruk maakt
Een elegant, minimalistisch ontwerp staat de Archer C3150 toe om naadloos geïntegreerd te worden bij het decor van elke kamer.De LED indicators kunnen uitgeschakeld worden om afleiding 's nachts te voorkomen wanneer hij in een slaapkamer of gemeenschappelijke ruimtes is geplaatst.
Sluit aan voor delen en stabilitiet
U kunt snel en gemakkelijk uw foto's, muziek en andere bestanden delen met uw familie en vrienden. Sluit een externe harde schijf aan op de Archer's C3150 USB 3.0 poort of USB 2.0 poort en begin direct met het genieten van razendsnelle overdrachten. Om uw bedrade apparaten te helpen om maximale prestaties te bereiken voor soepel gamen en streamen kunt u ook een snelle, stabiele bedrade verbinding creëren door de vier Gigabit poorten te gebruiken welke data overdragen met snelheden tot 10x hoger dan standaard ethernetpoorten.
Snel en gemakkelijk foto's, muziek en andere bestanden delen met de Archer's C3150 USB 3.0 poort of USB 2.0 poort. Creëer snelle, stabiele bedrade verbindingen door de vier Gigabit ethernetpoorten te gebruiken.
Harde Schijf Digital Camera Printer Flash Drive
Link Aggregation
Geniet van gecombineerde ethernetsnelheden tot wel 2Gbps op NAS apparaten door twee van de vier Gigabit LAN poorten samen te voegen. Verdubbel de verbindingsnelheden naar een externe opslag voor nog sneller streamen en data backups.
2X

sneller
Gemakkelijk installeren en gebruiken
Of u nu de voorkeur heeft aan de krachtige Tether App of aan de intuïtieve web interface, u kunt de Archer C3150 in slechts enkele minuten configureren. De Tether App staat u toe om uw netwerk instellingen te beheren, inclusief ouderlijk toezicht en media delen voorkeuren, vanaf uw Android of iOS apparaat.
Kom meer te weten over de intuïtieve web interface >
Bescherm het belangrijkste
Uw wifi zou geen beperkingen moeten hebben, tenzij u dat wilt. TP-Link HomeCareTM biedt een uitgebreide beveiliging zodat ieder apparaat in uw netwerk wordt beschermd tegen online bedreigingen. Met HomeCare van Trend MicroTM heeft u krachtig ouderlijk toezicht, antivirus en QoS binnen handbereik.
Antivirus

Doeltreffend filteren van kwaadaardige inhoud, indringing wordt voorkomen en geïnfecteerde apparaten worden automatisch in quarantaine geplaatst om uw netwerk te beveiligen tegen vijf miljard online bedreigingen.

Ouderlijk toezicht

Simpel, intuïtief ouderlijk toezicht maakt het eenvoudig om uw kinderen veilig te laten internetten.

QoS

Wijs bandbreedte toe aan de apparaten die u het vaakst gebruikt of stel de prioriteit in voor streamen, gamen, surfen of videochatten.
Gastnetwerk

Biedt een apart wifi netwerk aan voor
bezoekers en vrienden

Ouderlijk Toezicht

Beheer wanneer en hoe verbonden
apparaten toegang verkrijgen tot het internet

VPN
Server

Stel een beveiligde verbinding in tussen
uw privé netwerken naar het internet

Geavanceerde beveiliging

Maak gebruik van de WPA/WPA2
encryptie voor actieve verdediging tegen veiligheidsbedreigingen
Functionaliteit van de Hardware
Interface
4 10/100/1000Mbps LAN Ports,
1 10/100/1000Mbps WAN Port
1 USB 3.0 Port + 1 USB 2.0 Port

Knop
WPS Button, Reset Button, Wireless On/Off Button,
LED On/Off Button, Power On/Off Button
Externe Voeding
12V/5A
Afmetingen ( B x D x H )
10.4×7.8×1.5 in. (263.8×197.8×37.3mm)
Antenne
4 Detachable Antennas
Draadloze Functies
Standaarden voor Draadloze Netwerken
IEEE 802.11ac/n/a 5GHz
IEEE 802.11b/g/n 2.4GHz

Frequentie
2.4GHz and 5GHz
Overdrachtssnelheid
2167Mbps at 5GHz, 1000Mbps at 2.4GHz
Ontvangstgevoeligheid
5GHz: 11a 6Mbps: -91dBm
11a 54Mbps: -72dBm
11n HT20: -70dBm
11n HT40: -69dBm
11ac HT20: -60dBm
11ac HT40: -61dBm
11ac HT80: -56dBm
2.4GHz: 11g 54Mbps: -73dBm
11n HT20: -72dBm
11n HT40: -69dBm
Draadloze Functies
Enable/Disable Wireless Radio, WMM,
Wireless Statistics
Draadloze Beveiliging
64/128-bit WEP, WPA/WPA2, WPA-PSK/WPA-PSK2
encryptions
Kwaliteit van de Dienst (QoS)
Overdrachtsvermogen
CE: <20dBm(2.4GHz), <23dBm(5GHz)
FCC: <30dBm
Gastnetwerk
2.4GHz guest network x 1, 5GHz guest network x 1
Functionaliteit van de Software
Kwaliteit van de Dienst (QoS)
WMM, Bandwidth Control
WAN-Type
Dynamic IP/Static IP/PPPoE/
PPTP(Dual Access)/L2TP(Dual Access) /Bigpond

Management
Access Control, Local Management, Remote Management
DHCP
Server, Client, DHCP Client List, Address Reservation
Poort Doorsturen
Virtual Server, Port Triggering, UPnP, DMZ
Dynamische DNS
DynDns, NO-IP
VPN-Doorvoer
PPTP, L2TP, IPSec
VPN
Toegangsbeheer
Parental Control, Local Management Control,
Host list, Access Schedule, Rule Management
Protocollen
Supports IPv4 and IPv6
USB Deling
Support Samba(Storage)/FTP Server/Media Server/
Printer Server
VPN Server
PPTP, OpenVPN
Overige
Certificatie
CE, FCC, RoHS
Pakketinhoud
AC 3150 Wireless MU-MIMO Gigabit Router
Archer C3150
4 Detachable Antennas
Power Supply Unit
Ethernet Cable
Quick Installation Guide

Systeemvereisten
Microsoft Windows 98SE, NT, 2000, XP, Vista™ or Windows 7, 8, 8.1, 10, MAC OS, NetWare, UNIX or Linux
Internet Explorer 11, Firefox 12.0, Chrome 20.0, Safari 4.0, or other Java-enabled browser
Cable or DSL Modem
Subscription with an Internet Service Provider (for Internet access)

Omgeving
Operating Temperature: 0℃~40℃ (32℉ ~104℉)
Storage Temperature: -40℃~70℃ (-40℉ ~158℉)
Operating Humidity: 10%~90% non-condensing
Storage Humidity: 5%~90% non-condensing
*Maximum wireless signal rates are the physical rates derived from IEEE Standard 802.11 specifications. Actual wireless data throughput and wireless coverage are not guaranteed and will vary as a result of 1) environmental factors, including building materials, physical objects, and obstacles, 2) network conditions, including local interference, volume and density of traffic, product location, network complexity, and network overhead, and 3) client limitations, including rated performance, location, connection, quality, and client condition.
*Use of MU-MIMO and 1024-QAM requires clients to also support those functions.
*A basic TP-Link HomeCareTM, powered by Trend MicroTM, package is included for 3 years from date of activation at no additional cost. It includes Parental controls, Quality of Service, and Antivirus. Deactivation of HomeCareTM will disable certain controls and protections. For a complete list of HomeCareTM functions, go to www.tp-link.com.
Subscription
TP-Link hecht veel waarde aan privacy. Voor meer informatie over ons privacybeleid kan je onze Privacy Policy bekijken.
From United States (English)?
Check products and services for your region.