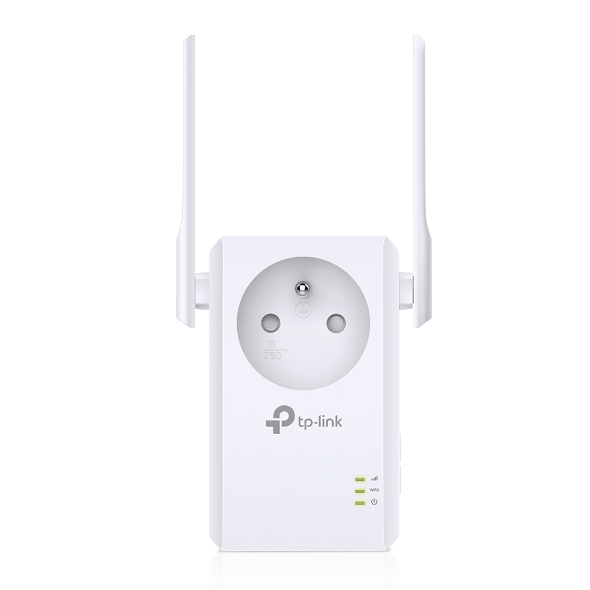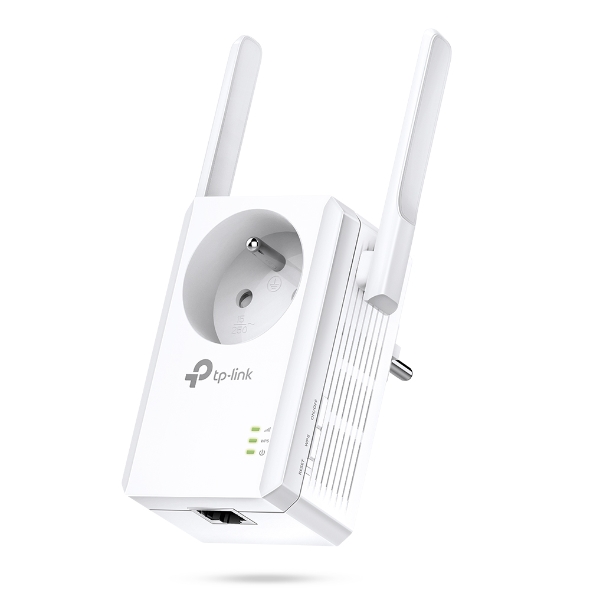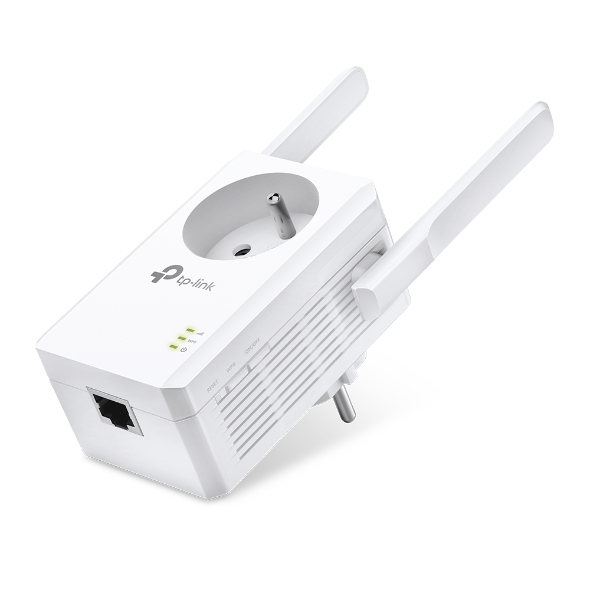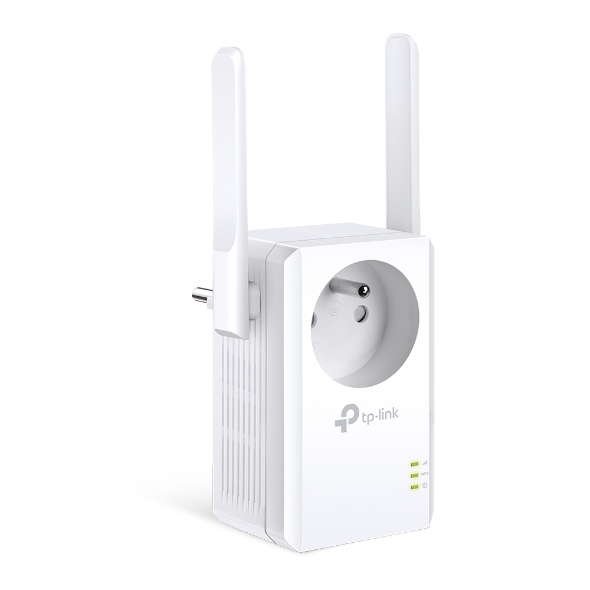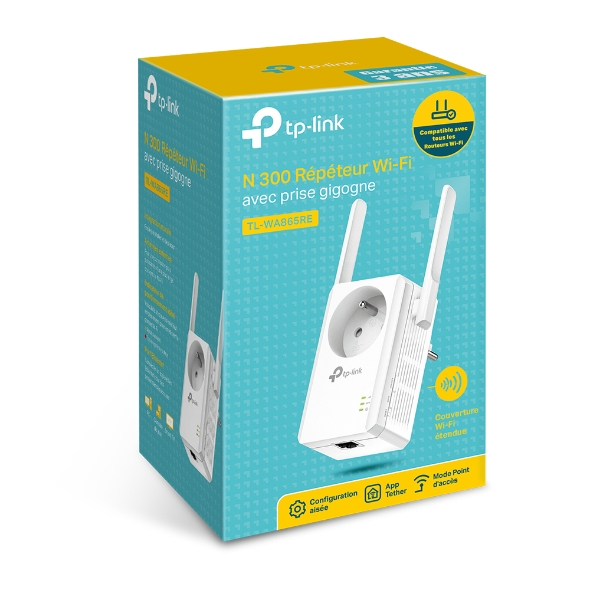 TL-WA865RE
300 Mbps Wifi Range Extender met Stopcontact
De range extender-modus versterkt het draadloze signaal naar moeilijk bereikbare plaatsen
Eenvoudig en flexibel: klein design dat aan de wand kan worden bevestigd
Dankzij het extra stopcontact gaat er geen stroomvoorziening verloren
2 vaste externe antennes bieden een uitstekende wifi-dekking en hoge betrouwbaarheid
Druk op de range extender-knop om het draadloze bereik uit te breiden
Creëer een nieuw wifi-accesspoint om het bedrade netwerk te verbeteren
300 Mbps Wifi Range Extender met Stopcontact
TL-WA865RE
Wifi in elk plekje van het huis
De TL-WA865RE is ontworpen om het bereik en de signaalsterkte van je draadloze netwerk te verbeteren. Met 2 externe antennes transformeert de TL-WA865RE onbereikbare zones in verbonden zones, zodat je erop kunt vertrouwen dat je mobiele apparaten, mediaspelers en computers verbonden blijven.
Dekking TL-WA865RE

Dekking router
Plug-and-play, enorm gebruiksgemak
Gebruikers kunnen eenvoudig het draadloze bereik uitbreiden door respectievelijk op de WPS-knop en de range extender-knop te drukken. Zodra de range extender met de router is gekoppeld, kunnen de gebruikers de range extender op elke plaats in huis gebruiken zonder de configuratie opnieuw uit te voeren.
Extra stopcontact komt altijd van pas
De TL-WA865RE heeft een geïntegreerd stopcontact zodat er geen stroomvoorziening verloren gaat.
Vind de beste locatie met de slimme signaal-indicator
Het slimme signaallampje toont de signaalsterkte die de TL-WA865RE ontvangt van de bestaande router. Dit helpt om de juiste locatie voor de range extender te vinden.
Goede verbinding

Te dicht bij de router

Te ver van de router vandaan

Geen verbinding
TL-WA865RE: meer dan een range extender
De TL-WA865RE beschikt over een accesspoint-modus zodat je een bedrade internetverbinding kunt gebruiken om een draadloos access point op te zetten. Bovendien kan de extender dienen als draadloze adapter om verbinding met draadloze apparaten te maken, zoals Blu-ray®-spelers, gameconsoles, DVR-recorders en smart-tv's.
Vanaf elke plek de extender bewaken en besturen
TP-Link Tether is een gratis intuïtieve app. Hiermee kunnen gebruikers eenvoudig de status van hun range extender bekijken, de functies bedienen en de instellingen wijzigen vanaf ieder apparaat met Android of iOS en een internetverbinding.
Maximale draadloze signaalfrequentie op basis van specificaties van de IEEE 802.11-standaard. De werkelijke draadloze gegevensdoorvoer en het draadloos bereik kunnen niet gegarandeerd worden en variëren op basis van 1) omgevingsfactoren, met inbegrip van bouwmaterialen, fysieke objecten en obstakels, 2) netwerkomstandigheden, met inbegrip van lokale interferentie, omvang en dichtheid van het verkeer, locatie van het product, complexiteit van het netwerk en netwerkverkeer, en 3) clientbeperkingen, met inbegrip van nominaal vermogen, locatie, verbinding, kwaliteit en toestand van de client.
Dit product is mogelijk niet compatibel met routers of gateways met firmware die is gewijzigd, is gebaseerd op opensourceprogramma's, niet-standaard of verouderd is.
From United States?
Get products, events and services for your region.